PHOTO TOUR: Centegra Hospital-Huntley
---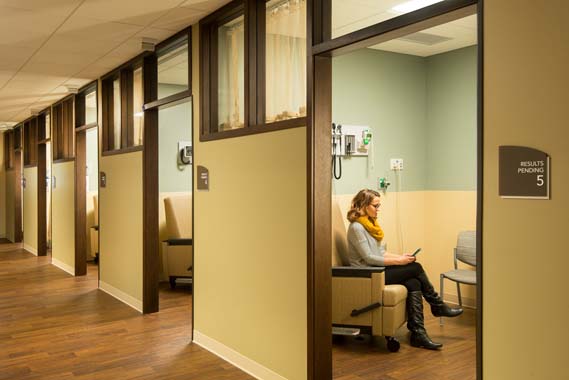 Wheelock Photography 2016
Centegra's ED addresses overcrowding by allowing providers to care for less acute patients in a more efficient manner while using the main ED beds to care for more acutely ill patients. An area designated as a results pending lounge is used for patients who are likely to be discharged from the ED and allows patients to be seen and treated more quickly.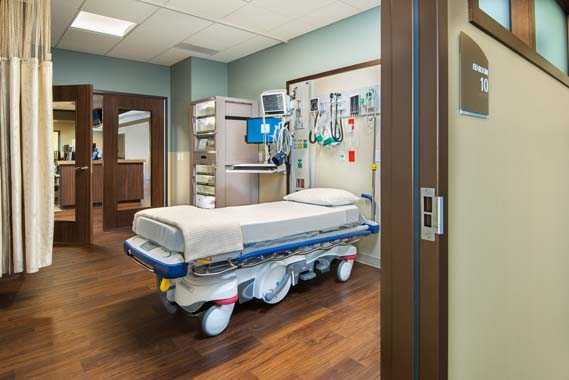 Wheelock Photography 2016
To further enable an efficient process in the ED, three distinct zones were created to streamline operations, ensure coordinated care, and preserve patient privacy. The back-of-house integrated care team collaboration zone is surrounded by dual-access exam and trauma rooms, and linked to both the results pending lounge and the clinical decision unit.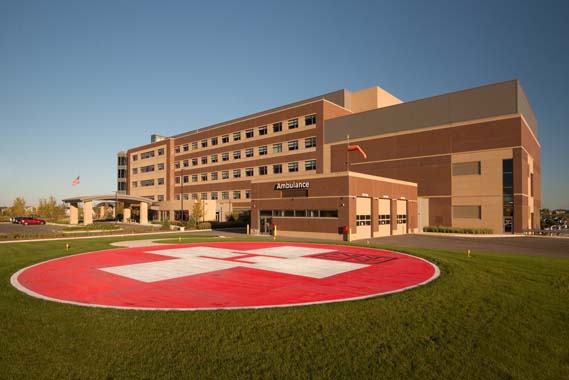 Wheelock Photography 2016
The ED helipad and ambulance entrance.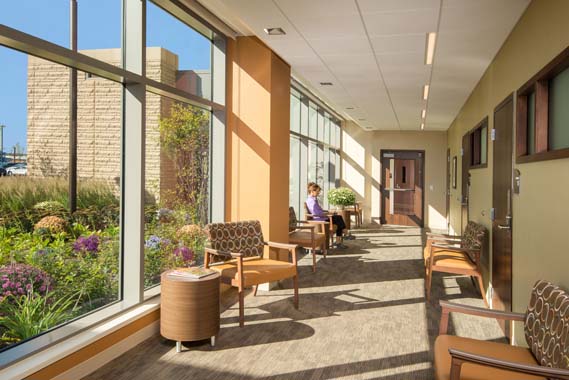 Wheelock Photography 2016
A private family waiting area outside the patient treatment bays in the ED gives family members access to their loved ones and also a quiet place to wait during procedures.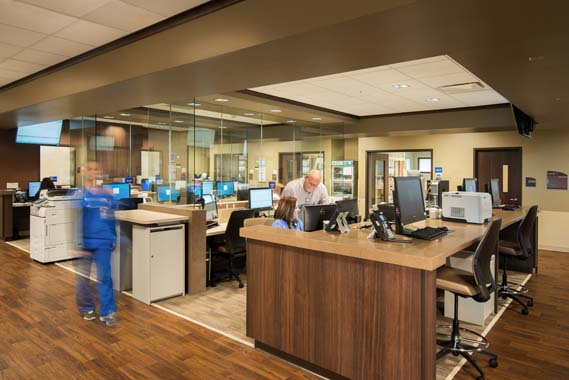 Wheelock Photography 2016
An ED team center was created to promote open communication between team members.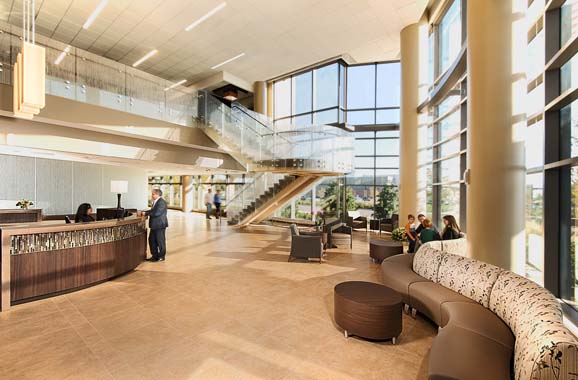 Wheelock Photography 2016
Emergency services patients and families are able to easily connect to the main hospital entry and amenities, including food service, outpatient pharmacy, and retail.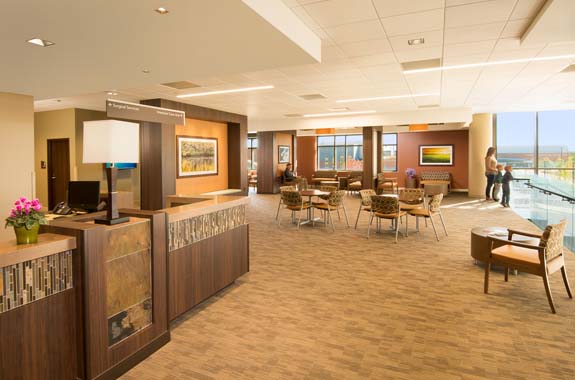 Patients in the procedural center are greeted by check-in staff and wait in a lounge with a variety of individual family-sized seating areas, ample daylight, and long views and a mix of entertainment and quiet zones.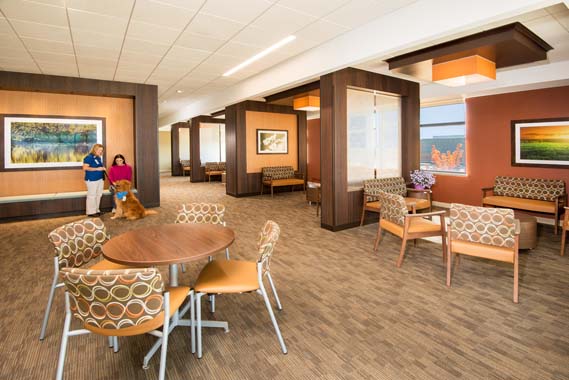 Wheelock Photography 2016
The role family members play in a patient's recovery was recognized in the design of Centegra Hospital-Huntley. Families visiting ICU patients share access to the procedural center lounge area, congregating those with the longest waits (during a loved one's procedure or an ICU recovery) in the area with the highest concentration of amenities.
Wheelock Photography 2016
The procedural center supports surgery, vascular labs, interventional radiology, cardiac catheterization, and endoscopy procedures with a large suite of preparatory and recovery rooms, as well as adjacent central sterile services and staff support areas.
Wheelock Photography 2016
All procedural patients progress through shared prep and recovery, procedure rooms, and back again, regardless of the modality. The care team work stations placed throughout the procedural center increase cross coverage, while providing a location to observe the status and flow of the department. Staff workstations are positioned to best observe the prep-recovery unit and minimize travel distance for staff from their workstations to patient rooms.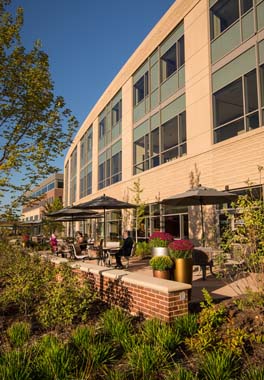 Wheelock Photography 2016
An outdoor dining terrace.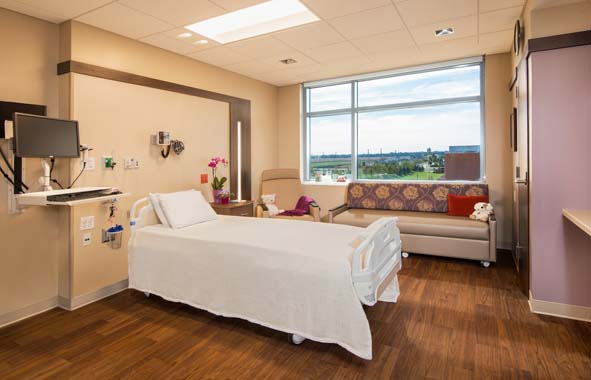 Wheelock Photography 2016
All mother-baby services are provided on one floor (pictured is a postpartum room).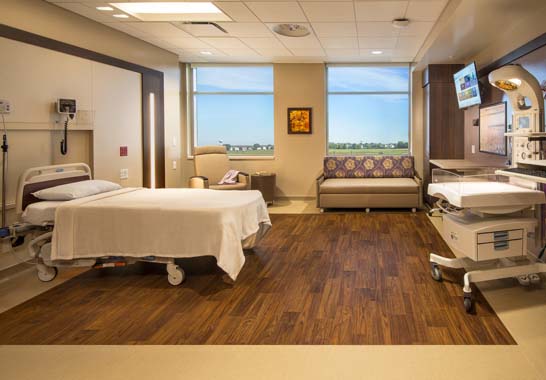 Wheelock Photography 2016
From either a labor and delivery room (pictured here) or C-section suite, a newborn in need of intensive care can be quickly transported via a short connecting corridor to a new, private-room NICU. By organizing the C-section suite in the central core of the hub-and-spoke plan, unnecessary travel time was minimized.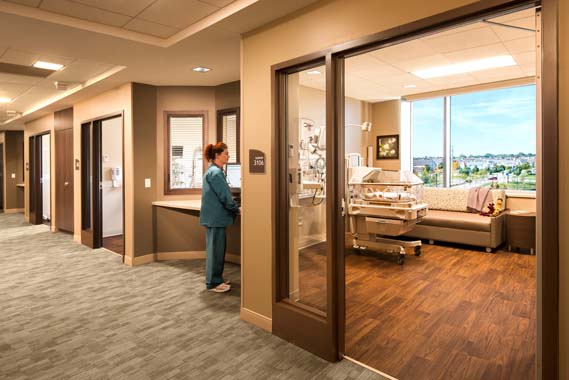 Wheelock Photography 2016
The privacy of a NICU room is balanced by the reassurance of high visibility to staff. The rooms are designed for twins and are large enough to accommodate nearby visiting postpartum moms that are arriving by bed. A parent sleeping area is provided in each room, and three additional family sleep rooms have been allocated to accommodate families with the longest stays.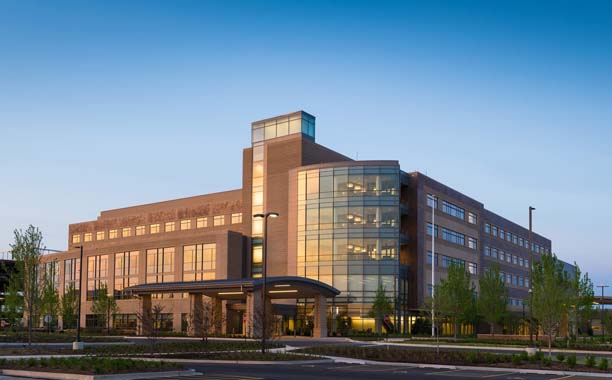 Wheelock Photography 2016
For departing patients, an off-stage path of travel includes a private elevator ride (outside of public flow), adjacent to the front door to protect patients' privacy. A departure lounge is provided next to the front door, so family members have easy wayfinding back to their point of arrival, while patients wait for transportation just beyond public view of those entering the front door.
---
Centegra Hospital-Huntley, a 384,000-square-foot, 128-bed facility that offers advanced technology and an architectural design intended to facilitate wellness and recovery, opened in August 2016. Kahler Slater master planned and designed the new hospital to answer expansive growth in the marketplace. Located on an established ambulatory and wellness campus, the location capitalizes on an existing Health Bridge Wellness Center and ambulatory services, as well as proximity to the Del Webb retirement community. These connections build upon its overarching "healthy campus" concept, with a special focus on orthopedics and sports medicine. Additional master planning goals captured with this new hospital focus on patient-centered care
Project details
Facility name: Centegra Hospital-Huntley
Location: Huntley, Ill.
Completion date: August 2016
Owner: Mike Eesley, CEO and president
Total building area: 384,000 sq. ft.
Total construction cost: $141.7 million
Architecture: Kahler Slater
Interior design: Kahler Slater
Contracting: Hammes, Owners Rep
Engineering: Graef (structural/civil), Korda (MEP)
Construction: Power Construction