Special Delivery: Virginia Mason Birth Center
---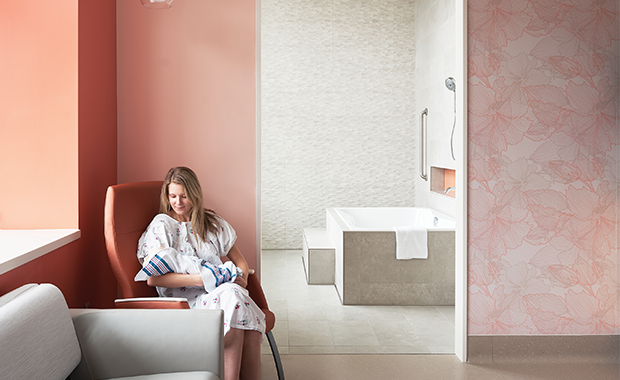 Kevin Scott
A birthing tub room, adjacent to one of the labor and delivery rooms and available to mothers who have been medically cleared for a water birth, features a soaring ceiling with faceted porcelain tile and a glass chandelier.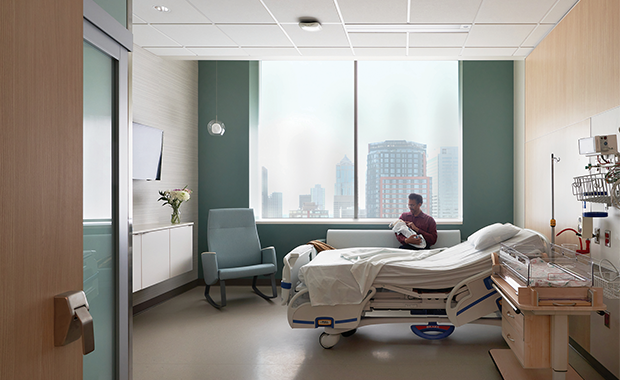 Kevin Scott
The center's "niclet" rooms include a neonatal headwall to provide the monitoring and support infants with Level II care needs require while remaining in a postpartum room. The rooms are finished in soft blue-green tones to promote a sense of calm and facilitate recovery.
---
Read "IIDA Announces 2023 Healthcare Design Awards Winners" for more on Virginia Mason Medical Center
Virginia Mason Medical Center in Seattle made a strategic decision to offer childbirth services on its main adult campus for the first time in more than 20 years, partnering with women's services provider Catholic Health Initiatives (CHI) Franciscan. "There was a natural synergy between CHI Franciscan and Virginia Mason," says Marie Henson, associate principal at Perkins&Will (Seattle), whose firm designed the new 20,000-square-foot Virginia Mason Birth Center, which opened in August 2020.
Located in shell space of an existing building on the Virginia Mason campus, the center offers comprehensive perinatal and postpartum services with three private labor and delivery rooms, six postpartum beds, two obstetric triage bays, cesarean rooms, a Level II special care nursery, waiting/sleeping area for family members, and a staff lounge.
A distinctive feature of the birth center is an innovative couplet care model called "niclet" care, in which infants with Level II needs, once stabilized in the Level II nursery, can recover in a private postpartum room, complete with neonatal headwall, alongside their mothers. "[Each room] has everything baby would need right there," Henson says.
Furthermore, the setup is designed so that the birth experience can be handled on a single floor, regardless of care level. "In other facilities you might be transferred to postpartum on another floor, and that would feel like a shift in your care," says Tiffany Knouff, registered nurse and executive division director of the women's and children's service line at Virginia Mason Franciscan Health. "We tried to build everything into the room from the lowest possible intervention birth you can experience to the highest."
The overall aesthetic of the birth center is a boutique setting with each patient room featuring a large window for ample daylighting and views to the surrounding neighborhood. To create a cozy and familiar environment, elements such as wood finishes and decorative pendant lighting were incorporated, while the color palette for the labor and delivery rooms is inspired by the natural gradient of a sunrise. "The overall color palette is used to create a calm and serene backdrop to what is a very intense and potentially overwhelming experience," Henson says.