11 New Healthcare Textile Products
---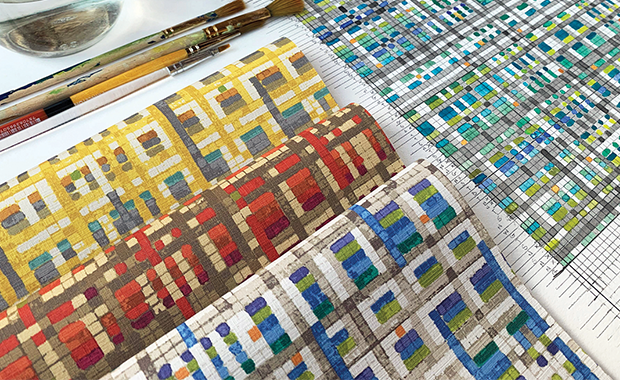 C.F. Stinson introduces Watercolor Grid, a coated fabric inspired by an original watercolor painting. The fabric comes in eight multicolored options including hues of yellow, red, orange, and blue. It's bleach cleanable and soil, stain, fade, and abrasion resistant. cfstinson.com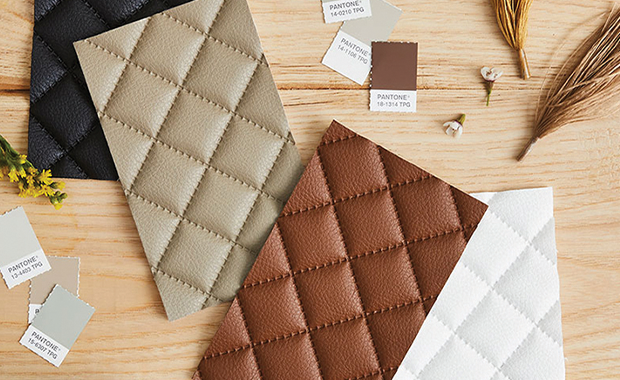 Troy Quilted, Cleanable Vinyl by Fabricut Contract is a coated polyurethane vinyl that's bleach-cleanable, durable, and ink and stain resistant. The line comes in nine neutral colorways including black, tan, dark brown, and white. Troy complies with the Healthier Hospitals Initiative and Prop 65. fabricutcontract.com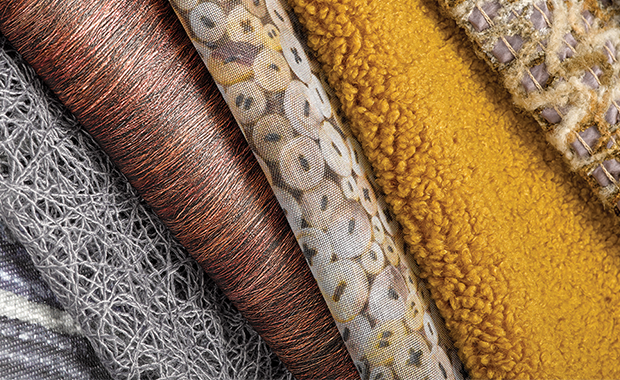 Knoll Textiles presents The Nick Cave Collection, a line of textiles that pays homage to artist and educator Nick Cave. The collection layers pattern and multiple craft techniques, including weaving, knitting, sewing, and embroidery. knolltextiles.com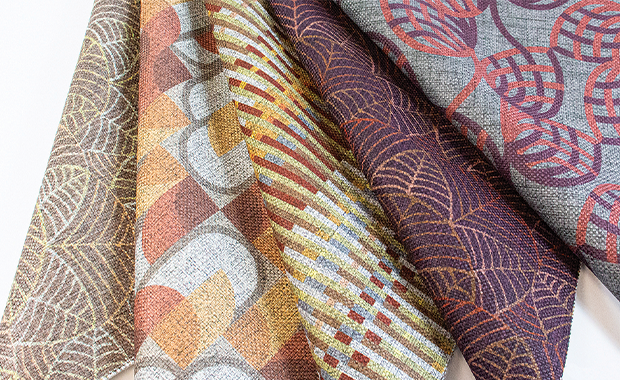 Nassimi developed a digital printing technology that enables distributors to create custom patterns (shown here are custom designs by KB Contract) on Supreen, a performance upholstery fabric line that's free of perfluoroalkyl and polyfluoroalkyl substances (PFAS). Supreen repels fluids, spills, stains, microbes, bacteria, and mildew. The line is Greenhealth and Living Building Challenge (LBC) Red List approved and Prop 65 compliant. supreenfabric.com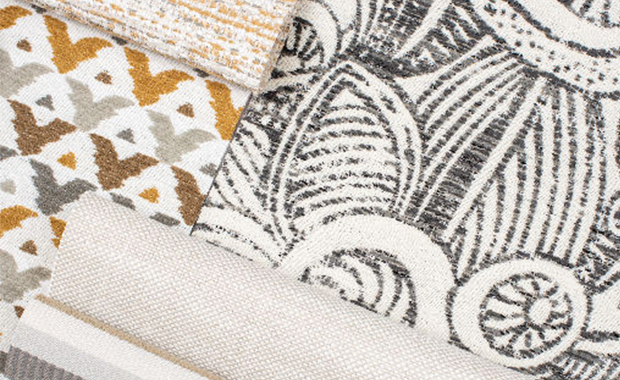 Symmetry Resources highlights Dwell Collection, an upholstery fabric line that comes in five designs including two richly textured solids, a mid-scale geometric, large-scale paisley, and modern stripe. The collection is bleach cleanable and resistant to stains and fading. Dwell is Greenguard Gold certified and LBC Red List Free. symmetryresources.com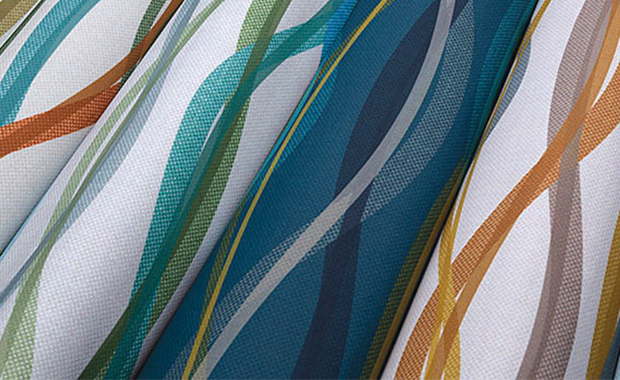 The Mitchell Group's Sta-Kleen Silicone coated fabric upholstery is available in three new digital print patterns, including botanical, floral, and geometric designs. Shown is Song, a pattern featuring undulating lines and intricate textural details. The line is made from silicone with a 100 percent polyester double-knit backing and is inherently resistant to stains and chemical disinfectants. mitchellfauxleathers.com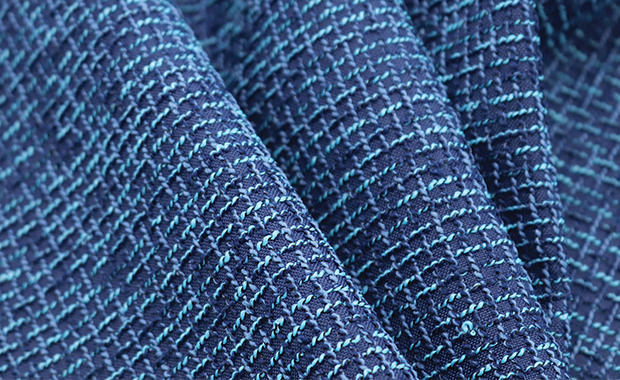 Design Dynamics 19 by Coral Fabrics is a fade-resistant and bleach-cleanable upholstery collection. It is composed of six different patterns including multicolored textures and nature-inspired designs. The collection exceeds up to 100,000 double rubs and has a stain-repellant finish. coralfabrics.com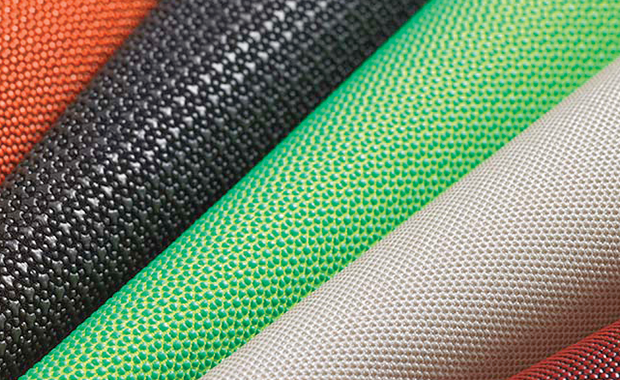 SuperFabric Am99 by Higher Dimension Materials Inc. is formulated with antimicrobial properties to protect against stains and odors caused by bacteria and other microbes. The fabric line contains no silver or copper nanoparticles and is available in any standard SuperFabric pattern or can be customized. superfabric.com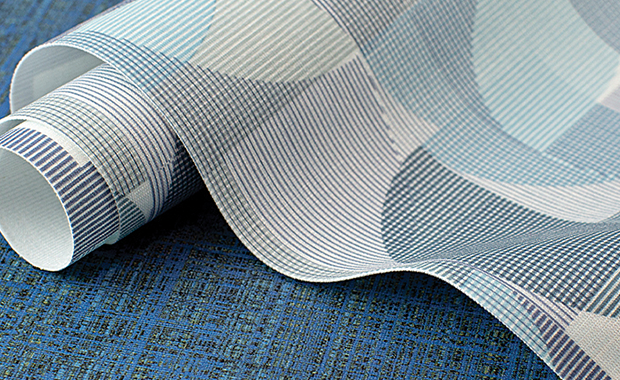 Mayer Fabrics offers two new patterns of PFAS-free vinyl upholstery fabric: Discovery and Shift. Discovery is available in six colors including oranges and greens, and Shift is offered in 12 colors including grays and blues. The Greenguard Certified fabrics are abrasion resistant and bleach cleanable and exceed 1 million double rubs. mayerfabrics.com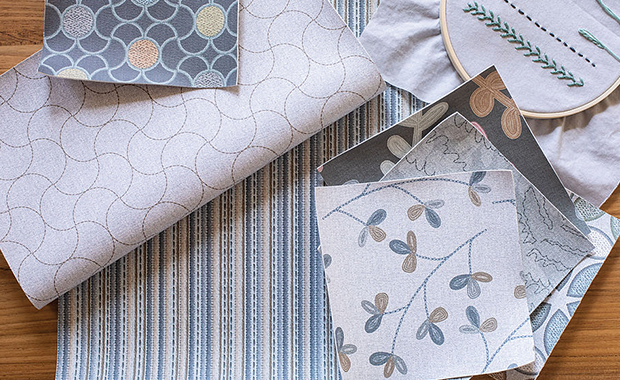 Design Pool LLC's Invisible Threads Collection comprises 10 upholstery patterns designed by founder Kristen Dettoni. The collection uses digital technology to print designs mimicking hand-stitched embroideries on EnviroLeather, a wipeable, coated fabric line by LDI Interiors. designpoolpatterns.com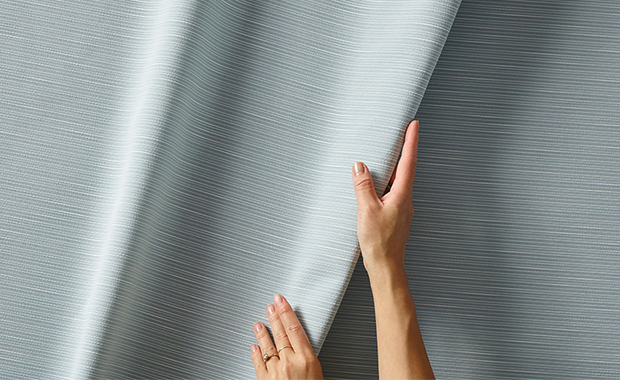 Carnegie's Quietude is a privacy curtain collection inspired by tranquil and soothing natural elements like wind chimes and waterfalls. The fabrics meet hospital-grade cleaning protocols. The collection withstands washing in up to 160 degrees Fahrenheit, which eliminates most resilient pathogens, and is bleach cleanable. carnegiefabrics.com
---
New healthcare textile products
From coated upholstery to custom digitally printed fabrics, vendors and manufacturers are introducing a spectrum of new textile products to support healthcare design environments.
These new collections are inspired by watercolor paintings and nature, and mimic hand-stitched embroideries. Suppliers are also supporting the healthcare industry's desire to create sustainable and healthy environments with textile lines that meet Greenhealth, Living Building Challenge (LBC) Red List, Prop 65, Healthier Hospitals, and Greenguard Gold certifications.
Above, click through a slideshow of some of the latest textile products to break into the healthcare design market.
Visit Healthcare Design's Products page for more healthcare-specific design products including healthcare textiles.