How To Specify Seating For Healthcare
---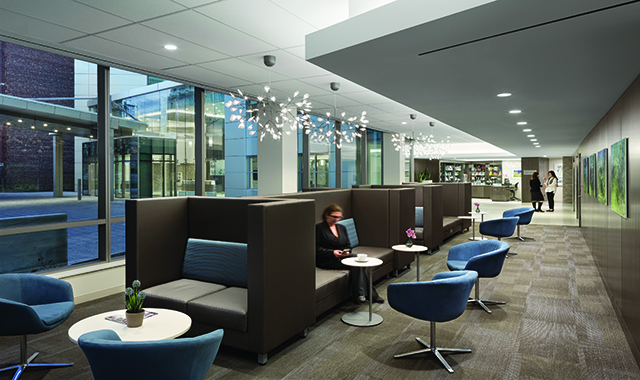 © Chris Cooper, Courtesy Perkins Eastman
High-backed seating in the lobby at White Plains Hospital Cancer Center in White Plains, N.Y., designed by Perkins Eastman, delivers visual and acoustical privacy for visitors and patients.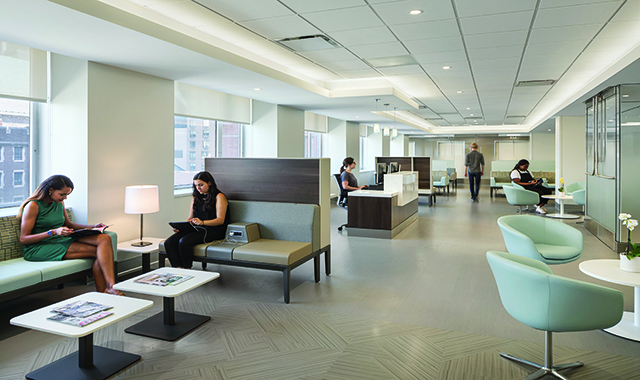 © Andrew Rugge, Courtesy Perkins Eastman
Waiting areas for the surgical suites within Mount Sinai West in New York, designed by Perkins Eastman, offer a range of seating options—from sofas and high-backed loveseats with integrated outlets and work surfaces to casual lounge chairs.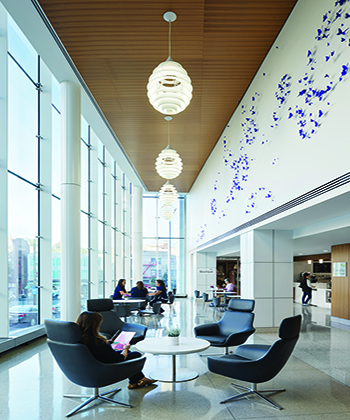 © Paul Rivera, Courtesy Perkins Eastman
The lobby at White Plains Hospital features areas with comfortable lounge seating options in a light-filled environment.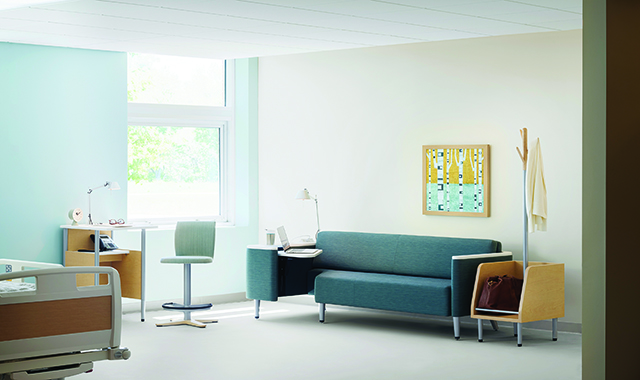 Christopher Barrett
This patient room guest sleeper designed by Jess Sorel for Nemschoff is an example of a seating piece that integrates work surfaces, task lighting, and power outlets to better support family members during hospital stays.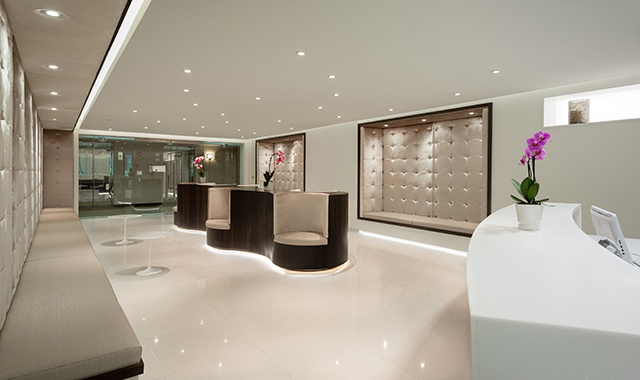 © Paul Burk
A renovated reception area at the National Center for Plastic Surgery in McLean, Va., designed by Architecture Inc., was heavily influenced by hospitality trends and includes a custom sculptural seating installation that replaces more traditional options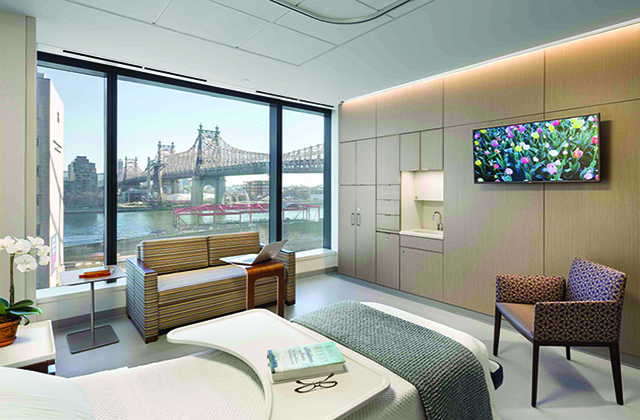 © Chris Cooper, Courtesy Perkins Eastman
Private recovery suites in Memorial Sloan Kettering's Josie Robertson Surgery Center in New York, designed by Perkins Eastman and Icrave, feature upholstered guest seating.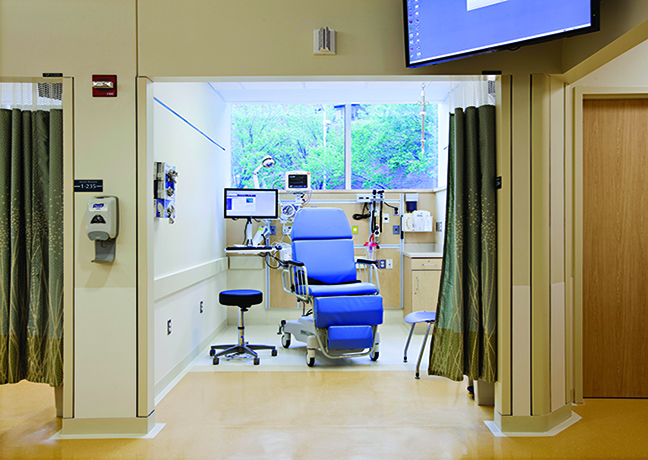 Rick Scanlon
For Yale New Haven Hospitals's ED renovation in New Haven, Conn., interior design firm Cama Inc. used reclining chairs, which put patients at eye level with clinicians.
---
The preferences of patients, families, and medical staff for interiors that mirror life outside facilities' walls is resulting in a healthcare design typology that's colored by retail, hospitality, and other design sectors. One area that's been transformed by this shift is healthcare seating, with designers looking to solutions used elsewhere to inspire offerings that facilitate desired human connections and support a variety of group sizes. To that end, manufacturers are stepping up with new seating options that are visually refined and flexible while meeting healthcare's requirements for durability and infection control.
New expectations
Much of the seating specified for healthcare is used in waiting areas, where designs accommodate varying physical needs and social preferences—from private to communal—as well as the expectations of different generations and cultures. For example, for Memorial Sloan Kettering's Josie Robertson Surgery Center in New York, designers from Perkins Eastman (New York) and Icrave (New York) incorporated flexible options, including clusters of sofas and lounge chairs, that allow large groups and families to sit close together, says Maureen Carley-Vallejo, a principal and senior healthcare interiors leader at Perkins Eastman (New York).
Additional options may include high-backed lounge seats that offer some acoustical and visual privacy for those who desire a place to retreat. "Healthcare environments need to acknowledge that one family could be grieving near another family that is celebrating," says Tanya Paz, a San Diego-based senior designer with Cama Inc., an interior design and experience consulting firm (New Haven, Conn.). "We lean on furniture to help us carve out areas that can support a variety of experiences."
Seating also plays a part in making waiting less of a passive activity thanks to new products, such as lounge seats with integrated power outlets and USB ports that support mobile devices, designed to foster connectivity and productivity. Another approach borrowed from hospitality design is the use of counter-height tables and bar-height seats that allow visitors to perch briefly or sit for longer periods to work or eat; as a bonus, these pieces offer a comfortable seating alternative for those with hip ailments. "A shift in surface heights not only meets diverse patient needs but also alters the topography of a space and adds visual interest," says Crystal Martinez, senior associate, creative director of interior design, at CO Architects (Los Angeles).
Seating in clinical areas and patient rooms is being updated, too. For example, some healthcare organizations are replacing traditional exam tables with patient recliners that flatten at the touch of a button, making them more accessible for seniors and others with physical limitations. These furnishings also place patients and clinicians at eye level, which puts patients at ease and fosters communication.
Additionally, designers are recognizing the role that family members play in the healing process. Solutions being delivered include elongated sofas and guest chairs that support a range of activities, such as sleeping, socializing, and working, by integrating amenities like built-in light sources, power outlets, coat hooks, and cubbies for personal items. Even highly specialized treatment areas such as cancer infusion bays are being tailored to enhance the experiences of both patients and their companions, with built-in units that serve as spatial dividers and incorporate upholstered seating for visitors.
Specifying seating
While the aesthetics of healthcare seating are increasingly influenced by other design sectors, these products must still meet stringent safety and durability requirements established by clients and organizations such as the Business and Institutional Furniture Manufacturers Association (BIFMA) and sustainability certification programs that govern dimensions, durability, and cleanability, among other factors.
Jess Sorel, founder of Sorelstudio (San Francisco), which designs furnishings for many major manufacturers, says he focuses on details that improve product longevity—a crucial factor in meeting healthcare clients' lifecycle budgets and goals that often demand warranty periods from 10 to 12 years or longer. Intensive testing and prototyping ensure that products meet these criteria. Sorel says he's seen a rise in the use of steel and aluminum for seating frames, which are durable and cost-effective options.
More healthcare seating products also incorporate solid surfaces, which can be costlier but are aesthetically appealing and stand up well to harsh chemical cleaners. Sorel points out that arm caps and upholstery are typically the first features to show wear and tear, so he aims to design products that allow these elements to be easily replaced.
Manufacturers are also now offering wider ranges of upholstery fabrics that are bleach cleanable, antimicrobial, and moisture-proof, making them able to withstand the harsh cleaning regimens followed by healthcare organizations. Carley-Vallejo says she prefers phthalate-free polyurethanes that are treated to resist stains but still feel soft to the touch: "We typically use faux leather on the seat and arms so the touchpoints are easily wiped down for increased life span, while we specify patterned woven fabrics on vertical surfaces for maximum visual impact."
Martinez says she's also seeing healthcare clients considering more vibrant options than in the past. "Color and pattern are being used more strategically for visual relief, impact, and wayfinding, and they can help set the mood of the space, from quiet and reflective to joyful and energetic," she says.
In addition to aesthetics, Carley-Vallejo says designers also need to carefully consider seating dimensions to ensure comfort for a wide range of users. For example, seat heights should be at least 17 inches or higher, and seat backs should extend at least 15 inches above that to provide maximum comfort. To aid patients in standing unaided, seats need at least one arm and firm cushions, she says. Another consideration for healthcare environments is seating that supports bariatric patients and visitors. Designers say they're forgoing bariatric-specific chairs and instead choosing benches and settees that meet necessary weight requirements and provide flexibility for additional uses, such as allowing an adult and child to sit together.
As healthcare models evolve alongside the expectations of building users, designers say interiors and furnishings will continue to play an important role in answering needs and contributing to the experience. "Furniture in healthcare environments should be carefully curated to offer a variety of options and experiences, thereby offering users more choices and minimizing potential stressors," Martinez says.
Murrye Bernard, AIA, LEED AP, is an architect, writer, editor, and strategist (Los Angeles). She can be reached at murrye@murrYebernard.com.