2022 HCD Conference Preview: Impacting Staff Wellness, Retention Through Design
---
---
The 2022 Healthcare Design Conference + Expo will be held Oct. 8-11 in San Antonio. The annual event will offer a variety of keynote and breakout sessions on a range of topics.
Healthcare Design is previewing some of the upcoming educational sessions in a series of Q+As with speakers, sharing what they plan to discuss and key takeaways they plan to offer attendees.
Session: "I Can't Work Another Minute: A study of nursing resiliency."
Speakers: Jennifer Wilcynski, senior associate, Orcutt Winslow Partnership; Virginia Prendergast, senior director advanced practice nursing and evidence-based research, St. Joseph's Hospital & Medical Center: Barrow Neurological Institute.
Research shows higher levels of stress on our frontline healthcare workers due to the current pandemic, which in turn decreases staff satisfaction, increases staff burnout, and thwarts resiliency. How can the built environment better support these people in times of duress?
This presentation will review current research into the utilization of two types of resilience rooms, dedicated to helping nursing staff cope with on-the-job work stress. This research seeks to link staff satisfaction and retention to the institution of these rooms by expanding their usage throughout the acute care hospital environment.
Healthcare Design: How has the conversation about resiliency and healthcare workers changed in the last few years?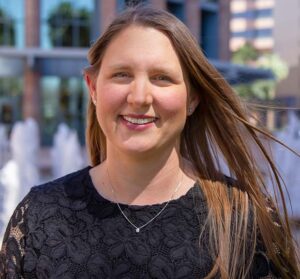 Jennifer Wilcynski: Healthcare systems know their most valuable assets are the people who provide patient care. The pandemic focused that spotlight on our frontline healthcare workers, their working conditions, and their job-related stress. Their mental health and resiliency through this adversity has become a priority.
How do resilience rooms help nurses cope with on-the-job work stress?
A resilience room allows for a short, private break to decompress and process the hardships of day-to-day work in such a fast-paced and vigorous environment. The resilience room is a vehicle to reduce staff burnout by offering dedicated reflection space to cope with what has happened or is happening to them personally throughout their shift.
What does recent data tell us about how a short break in these rooms impacts staff wellness and satisfaction?
Overwhelmingly, the data shows us that these resilience rooms do what was intended—they reduce stress in the moment.
We are now accessing data on how the addition of these spaces contributes to a nurse's overall satisfaction with their employer and their willingness to stay on the job.
What's one takeaway from your session that you hope attendees walk away with?
We hope to illustrate that while space is always a concern, finding devoted places for staff to prioritize a mental break is truly necessary. The addition of a resilience room positively affects the work of nurses and, therefore, the patient experience and the facility's bottom line. Overall, it's a win-win!
For more on the HCD Conference schedule and registration, visit hcdexpo.com.