Seismic Design At California Pacific Medical Center Van Ness
---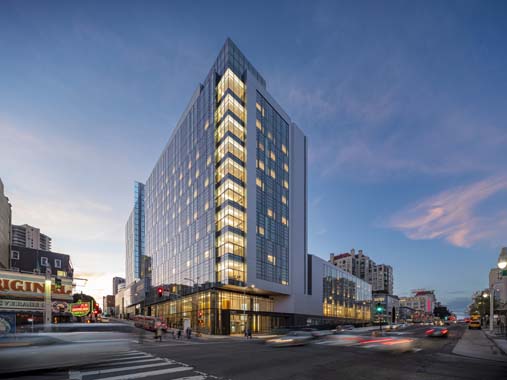 ©Kyle Jeffers
The 1 million-square-foot California Pacific Medical Center Van Ness campus hospital has a sleek contemporary look combining glass and stone reminiscent of San Francisco's new high-rises.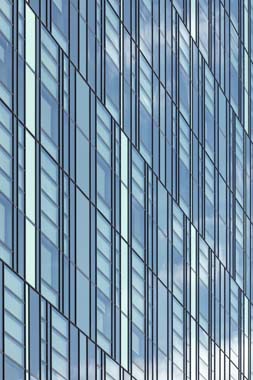 ©Tim Griffth
The curtain wall system of the patient tower drew inspiration from Dutch painter Piet Mondrian's work in the pattern of its glass.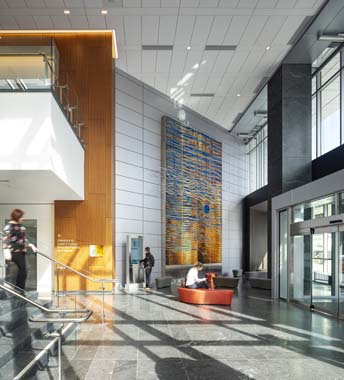 ©Kyle Jeffers
The double-height main lobby features a prominent art piece by Deanna Marsh that comprises back-lit glass panels printed in a pattern abstracted from examining medical gauze under a microscope.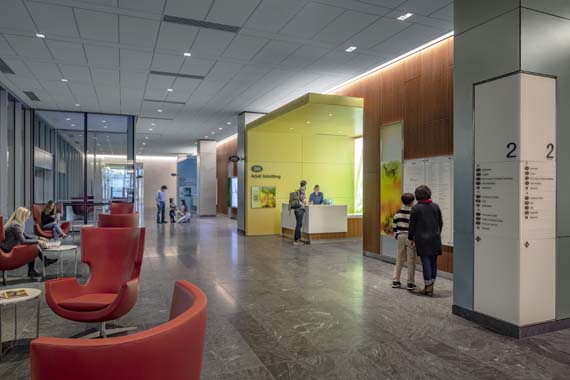 ©Tim Griffth
Wood walls line major public thoroughfares, lending a warm and welcoming feeling to the hospital.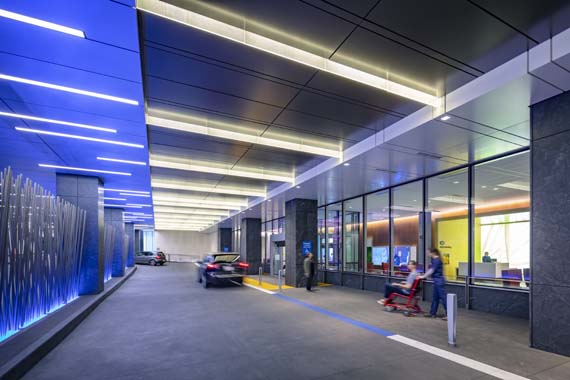 ©Tim Griffth
A passage under the building provides non-emergency patient drop-off and entrance to the parking garage below. An illuminated linear sculpture by Tim Logue (left) separates patient drop-off from the garage entry.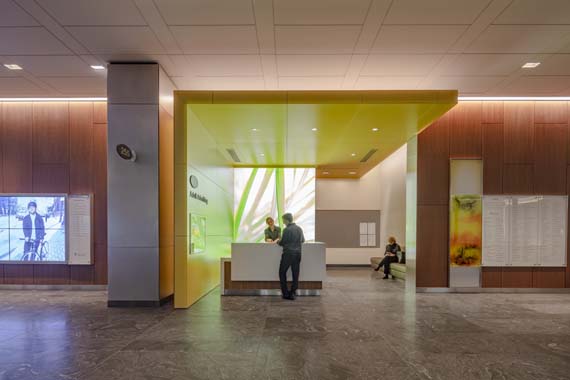 ©Tim Griffth
Key destinations along circulation pathways within the 1 million-square-foot hospital are denoted by illuminated graphic portal elements.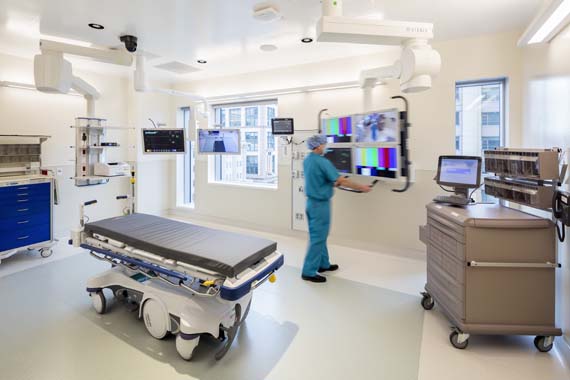 ©Kyle Jeffers
The hospital's integrated procedural platform consists of operating rooms and interventional procedure rooms where cardiac cath, vascular, and neuro procedures are performed.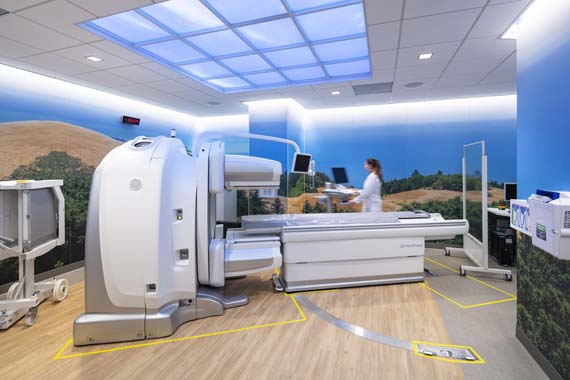 ©Kyle Jeffers
Floor-to-ceiling oversized graphics of nature scenes and backlit "skylights" in imaging rooms soften the space and minimize the visual prominence of the equipment.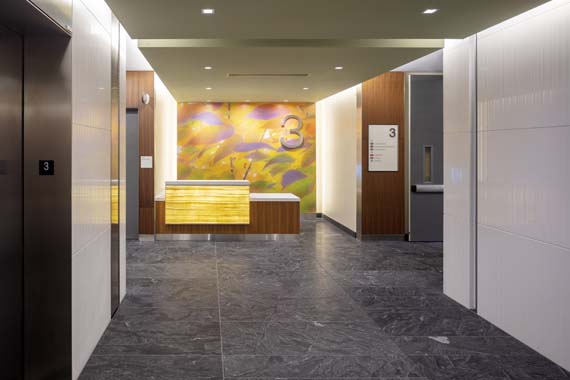 ©Kyle Jeffers
Walls around public elevators are illuminated to make them easy for visitors to find.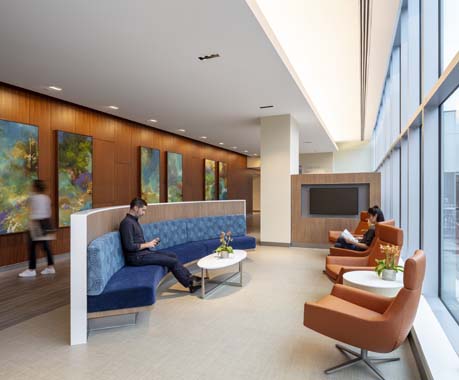 ©Kyle Jeffers
A sunlit lounge on the labor and delivery floor overlooks an accessible roof courtyard offering indoor/outdoor space to make the often long wait of childbirth more comfortable for extended family members.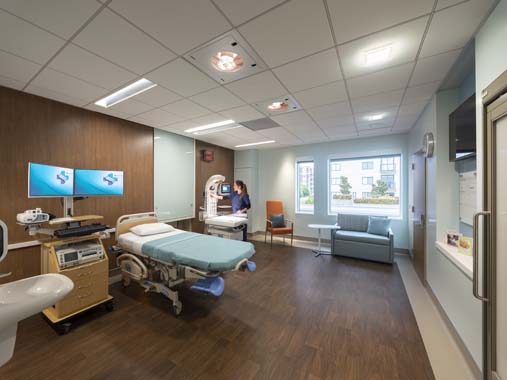 ©Kyle Jeffers
The new facility provides private inpatient and NICU rooms to meet patients' modern care expectations.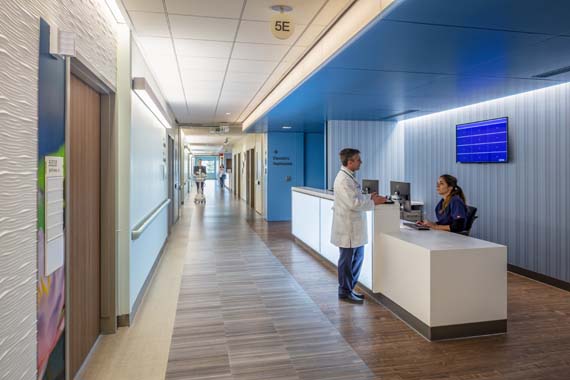 ©Kyle Jeffers
Nurses' hubs on the patient floors have a drop ceiling and illuminated station-fronts to make them easy for patients and families to identify.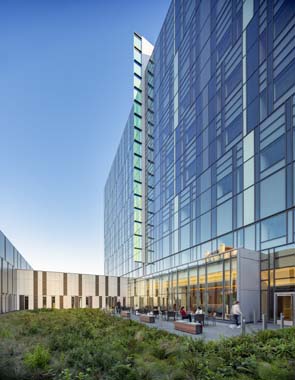 ©Kyle Jeffers
The building is designed to achieve LEED Silver certification and features five vegetated roofs totaling 25,000 square feet of green space, including an accessible green roof on the fifth floor.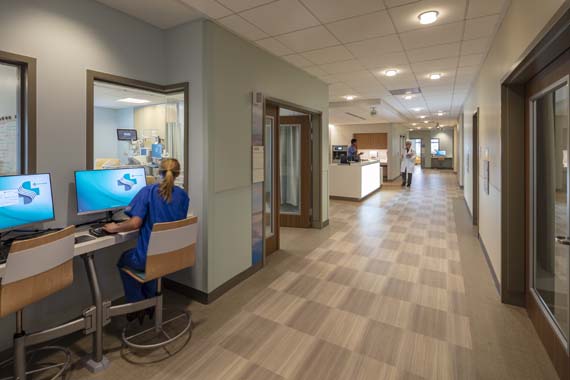 ©Tim Griffth
Charting stations for staff are provided at the bedside and within alcoves located in the hallways between each two patient rooms.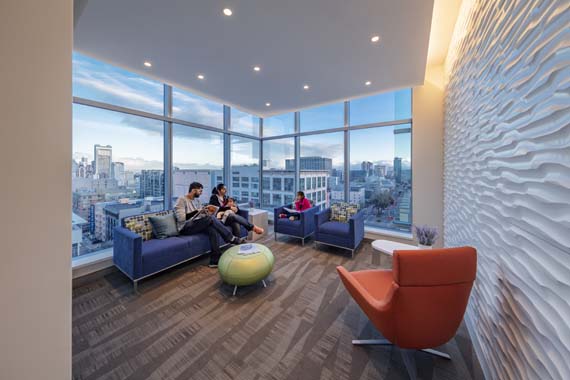 ©Tim Griffth
Family respite areas are located on each inpatient floor and include bright colors and different styles of furniture.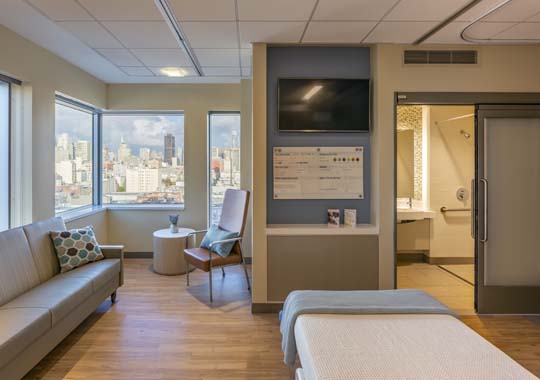 ©Kyle Jeffers
Patient rooms incorporate hospitality-like finishes, such as frosted barn door-style bathroom doors.
---
In the early 2000s, Sutter Health, a not-for-profit health system based in Northern California, began looking at its five California Pacific Medical Center (CPMC) campuses in San Francisco to assess how to meet the state's 2030 seismic requirements while also repositioning some of its major service lines.
Two sites, specifically—CPMC Pacific and CPMC California—stood out. Pacific supported adult care and California was a center of excellence for women and children, and both had outdated interiors and semiprivate patient rooms that didn't meet patients' evolving care expectations.
Because neither was ideal for updating, Sutter Health began looking to consolidate the two into one new location in the city. "It was an opportunity to create essentially a new integrated model of care for them," says Heather Chung, vice president at SmithGroup (San Francisco) and senior strategic planner and programmer on the project.
A greenfield project could also be designed to comply with the state's Seismic Safely Bill, which requires all hospitals by 2030 to be capable of remaining operational following an earthquake—something the existing facilities couldn't achieve.
This big vision, however, also required a significant amount of real estate in an already tight urban market. As the organization began looking for locations, Sutter Health was presented with the option to buy an entire city block in San Francisco, between Geary and Post streets and along the city's bustling Van Ness corridor.
With the site secured, planning and design on the new 1 million-square-foot California Pacific Medical Center Van Ness campus hospital began in 2007, with the goal to deliver the 274-patient bed facility by Jan. 1, 2020.
Implementing IPD
Recognizing that a project of this size would carry a lot of risk, including potential schedule and cost overruns, the healthcare organization began discussing the idea of an integrated project delivery (IPD) agreement to drive the project. There were few precedents at the time, especially for a project of this size.
But Sutter Health had some experience using the delivery method and saw the value of an integrated team to align stakeholders and keep everyone accountable to project goals and deadlines, says Kent Hetherwick, principal at SmithGroup and project manager on the Van Ness project.
Sutter Health began looking for project partners who were willing to go through the process with them. This included SmithGroup to deliver the architecture and interior design, and HerreroBoldt (a joint venture of Herrero Builders and The Boldt Co.) to serve as construction manager and general contractor.
The owner and partners created an integrated form of agreement with shared risk and reward among the team members, which eventually grew to 17 partners and more than 300 people working together.
"The team grew as necessary, as the project became more real and got into more detailed design work," Hetherwick says.
For the next decade, key team members were collocated in a big room near the project site, which helped build trust and collaboration as well as enable team members to quickly resolve issues as they arose.
"One of the formidable statements of the project team was 'Don't admire a problem too long,' because the people who are necessary to solve it are two desks away," Hetherwick says.
Communication and reporting protocols were implemented to guide decision-making, and weekly meetings were held to address issues and keep everyone up on project progress. Furthermore, the 17 risk partners met once a month to talk about how their individual progress was affecting the overall project.
"These discussions helped to engender the common bond we shared to deliver the job and ensure that we were rightsizing the project's team and bringing all the expertise and resources necessary to make the dates and meet the project's objectives," Hetherwick says.
Focus on seismic design features
Engaging partners early in the process also allowed for innovative systems to be incorporated into the facility, especially when it came time to address the seismic design needs. For example, an early plan called for using a traditional seismic structural solution of an isolation system for the podium and patient tower. However, the system was becoming expensive, Hetherwick says.
So, the team came together to rethink its approach. One suggestion was to use viscous wall dampers, which had been used extensively in Japan but never for a healthcare building in North America. The system works by placing two sets of dampers in opposing directions (north/south and east/west) around the perimeter of the floor plates to absorb the vibration of earthquakes.
"The floor plates work against each other and stop the motion," eliminating the need for a base isolation as well as seismic joints leading up the building, Hetherwick says.
To get approval, the project team had to work with the supplier, peer reviewers, and the Office of Statewide Health Planning and Development (OSHPD) to develop a prototype testing program before getting approval. But the effort paid off: The system led to cost savings as well as increased flexibility from a planning standpoint, says Vince Avallone, vice president at SmithGroup and lead medical planner on the project.
"It eliminated a system of diagonal bracing, which creates more flexibility inside the building and will make future renovations easier," he says.
Another design innovation on the project was a four-sided structurally glazed curtain wall system on the patient tower. This approach was driven by the desire for a clean, modern aesthetic that would stand out in the city skyline. The glazed exterior system attaches to an interior aluminum frame with a silicone sealant. It's been used in high-rise commercial and residential architecture in seismic zones but not for a hospital.
OSHPD requested that full testing be completed with an actual two-story mock-up of the constructed façade, which was racked by hydraulic rams and a spray nozzle array to determine its strength and waterproofing. The glazing system passed the test and, after further research, the IPD team received building permits to specify it.
Again, the benefits were multifold, with the glazing system not only meeting the project's desired aesthetic but also reducing building material costs. Additionally, the system is assembled in unitized, prefabricated panels, which made enclosure of the building faster. As a result, it improved construction time by moving up the start of interior work.
"Having an IPD team, with your partners engaged early in the process, is what allowed for these innovative systems to be designed into the project and maintain an ordinary schedule duration," Hetherwick says.
Beacon in the city
While CPMC Van Ness represented an opportunity for a new flagship for Sutter Health, its prominent location also provided a chance to create a beacon for health in San Francisco. Chung says the project team had a rigorous but supportive dialogue with the city planning team and the San Francisco Bay Area Planning and Urban Research Association about the shape of the building.
"They wanted a major new building along the skyline that promoted an image of newness and technological sophistication," she says.
But it also needed to fit in with the urban fabric. For example, the project team knew the building massing had the potential to become an overwhelming presence in the neighborhood.
An early design had the 11-story patient tower at the middle of the site, which would have cast shadows onto surrounding buildings, including condominiums across the street. The team decided to shift the tower location to the farthest southern end of the site, near Geary Street, so that the shadows would instead fall onto the hospital campus.
"We were really conscious of things like that," Avallone says.
The change also repositioned the tower's vertical elevator core and mechanical shafts over to one side to connect with the building podium, creating more flexibility for clinical and procedural platforms, including an integrated interventional platform for ORs.
Furthermore, the patient tower was designed in an irregular shape with a "bend" at the middle to break up the large structure, while dichroic glass fins placed at the bend on either side of the tower add a colorful decorative statement on the façade.
For the building podium, Virginia Mist granite and a rain screen metal panel system help ground the building on the lower levels. Additionally, mini retail components such as the cafeteria were added along Van Ness to promote interaction at the street level.
"San Francisco is still very pedestrian friendly, and we didn't want to make this feel like a gargantuan building you're walking by," Chung says.
Addressing site challenges
Another reality of the urban site that posed a challenge was a 36-foot grade change from the lowest point on Van Ness and Geary to the highest point at Post and Franklin. The team conducted traffic studies to determine the different portals and entries that would be needed to access the hospital, including public, emergency, and general logistics/support, as well as how to accommodate parking.
"All those things had to be negotiated within that city block," Chung says.
Taking advantage of the sloping site, three separate points of entry were created with the emergency drop-off tucked within the site at the northeast corner. Additionally, a 300-foot-long through-block runs through the base of the podium. This provides space for non-emergency patient drop-off, discharge pick-up, and entrance to the parking garage below.
The solution, however, meant that patients and visitors would be arriving from multiple entry points. To overcome this challenge, the interior design team worked with planners to create an architectural hierarchy of forms to aid with the wayfinding, says Kathryn Dunn, principal and interiors project manager at SmithGroup.
For example, wood walls line major public thoroughfares to guide visitors through the public areas.
Graphic "portal" elements serve as beacons along these circulation pathways and indicate arrival at individual units, with each floor drawing from a different nature-inspired theme. The system uses an earth theme on the lower floors and progresses through themes of flora, water, light, and air on subsequent floors.
"The portals are identified by a color that reinforces the theme of that floor," Dunn says, such as a "flora" theme for the third and fourth floors that's represented by cues of greenery, leaves, and woods.
Circulation is further aided with elevators designated for specific front-  or back-of-house tasks. The hospital has 10 elevators for supplies and staff, five for patients, and 10 for the public.
"The public are never mixing with our patients on stretchers or beds or mixing with supplies and food or whatever else we're moving through the building," says Jim Benney, senior project manager at Sutter Health. "It adds to the patient experience and expedites movement of patients so there's no delays."
Hospitality touches
The CPMC project kicked off as hospitality was becoming a buzz word in the healthcare design sector. Sutter Health embraced the concept to deliver a patient experience focused on comfort, warmth, and ease of navigation, Benney says.
For example, the private patient rooms offer hospitality-like finishes, such as mosaic tile in the bathrooms and frosted barn-style bathroom doors. Dedicated family zones have banquettes that convert to a bed.
Each patient floor also has a light-filled lounge to provide respite spaces for families and visitors. "We wanted to encourage families to stay over because it's good for patients," Benney says.
Hospitality-inspired features in the public spaces includes such materials as marble, wood, and faux finishes, and different styles of furniture.
"All those small touches make it feel more hospitality," Dunn says.
Another personal touch is the use of a discharge lounge in the parking structure, away from the hustle and bustle of the city, where families can pick up patients before driving out of the building.
"At the core, that's what the hospitality experience is about," she says. "It's about that human experience."
Winning results
After more than a decade in the making, CPMC Van Ness opened ahead of schedule and under budget—results the project team attributes to Sutter Health's decision to use IPD.
"Healthcare projects of this size, they're complex and they take a long time to execute," Chung says. "Having all the partners there that are envisioning and designing and programming, as well as the people who are going to be responsible for executing them, all in the same place—it was great to know we had trusted partners who bought into what the vision and intent was from the beginning."
It's a vision and process that Sutter Health has also been committed to sharing with the industry at large. The organization has held tours as well as conference presentations throughout the life of the project and as the organization settles into its new home.
"I'm proud of the state-of-the-art facility that's going to meet our community's  needs for years to come," Benney says. "It's a win for all when patients' anxiety is decreased because of the new, comfortable environment."
Anne DiNardo is executive editor of Healthcare Design. She can be reached at anne.dinardo@emeraldexpo.com. 
Project details for California Pacific Medical Center Van Ness Campus Hospital:
Project completion date: March 2019
Owner: Sutter Health
Total building area: 1 million sq. ft.
Total project cost: $1.9 billion
Architecture: SmithGroup
Interior design: SmithGroup
Contracting: HerreroBOLDT (a joint venture of Herrero Builders and The Boldt Co.)
Engineering: Ted Jacobs Engineering Group (mechanical and plumbing), Degenkolb Engineers (structural), Silverman and Light (electrical)
Specialty Consultants: OneEQ (formerly RTKL; medical equipment)
Construction: HerreroBoldt
Art Curator: Jane Thompson, Sutter Health Foundation
AV equipment/electronics/software: Vantage Technology Consulting (technology consultant)
Signage consultant: Kate Keating Associates, Inc.
Carpet/flooring: Mohawk Group, Tandus Centiva, Mannington, Lonseal, Johnsonite, C/S, Encore Commercial, Daltile
Graphic panels: C/S Acrovyn
Ceiling/wall systems: Armstrong, 3form, Forms + Surfaces, Modular Arts, Whisperwall System, Conwedwall Technology, 9 Wood
Doors/locks/hardware: Acrovyn, Besam, Schlage Rockwood Pulls
Fabric/textiles: Anzea, ArcCom, Architex, Carnegie, CF Stinson, Designtex, Environleather, Knoll, Maharam, Momentum, Pallas, Paul Brayton, Sit On It, Spinneybeck, Stinson, Ultrafabrics, Unika Vaev
Furniture—seating/casegoods: 3 Form, Allemuir, Altura, Andreu World, Bernhardt, Carolina, Cumberland, Crate & Barrel, Davis, DFM, FC Freshcoat, First Office, Geiger, Global Furniture, Gordon International, HAG, Haworth, HBF, Hightower, Humanscale, IOA, Janus et Cie, Landscape Forms, Loewenstein, Martin Brattrud, Nemschoff, Nucraft, OFS Brands, Paul Brayton, Peter Pepper, Powell & Bonnell, Sit-On-It, Sina Pearson Textiles, Symmetry, Tuohy, WCI, Wieland
Handrails/wall guards: Pilkington Planar Glass, C/S Acrovyn
Wall Protection: C/S Acrovyn
Headwalls/booms: Amico, Steris, Hill-Rom
Lighting: Erco, Bartco, Selux, Kurt Versen, Elliptipar, Vode, Color Kinetics, Zumtobel, iO, Peerless, Focal Point, Litecontrol, Translite Sonoma, Bega, A Light, IO Lighting Raye, RSA, Lighting Science Group, Louis Poulsen, Rambush, 3G Lighting, Targetti, Lumenpulse, Winona, Mark Architectural Lighting, Boyd Lighting, Nessen
Signage/wayfinding: Plexiglass, 3form, Electronic Kiosks
Surfaces—solid/other: Avonite, Corian, Caesarstone
Plastic Laminate: Lamin-Art, Nevamar, Wilsonart, Abet Laminati
Wallcoverings: Carnegie, Maharam
Tile, wall and floor: Daltile, Atlas Concorde, Spec Ceramics, Crossville, Voguebay
Cubicle Curtain: C/S Acrovyn, Carnegie
Decorative Glass: Skyline Glass, Vividglass
Paint: Benjamin Moore, Kelly Moore, Wolf-Gordon
Metal column covers and elevator cabs: Forms and Surfaces
Other: 3form (millwork, backlit graphics, portals, nurse station fronts), DIRTT (sliding store front doors and glass screens, surgery waiting), Mecho Shade (exterior blinds)
Project details are provided by the design team and are not vetted by Healthcare Design.