Main Attraction: Nexus Health Care
---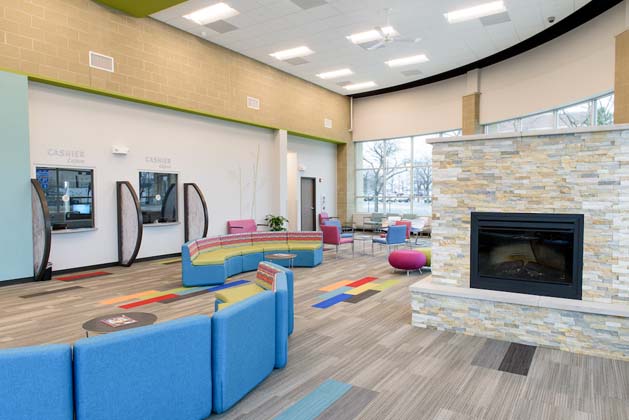 Mary Pencheff
The main waiting room is located near the front door and features a stone fireplace and colorful carpet tiles to give the setting a residential feel.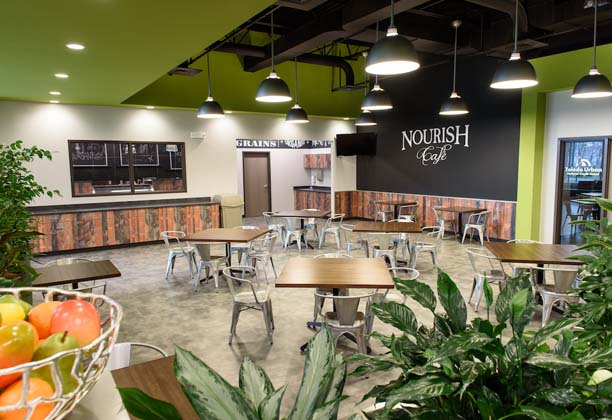 Mary Pencheff
An on-site café has a rustic but modern aesthetic that's meant to resemble a farmers' market and is open to staff and patients as well as the public.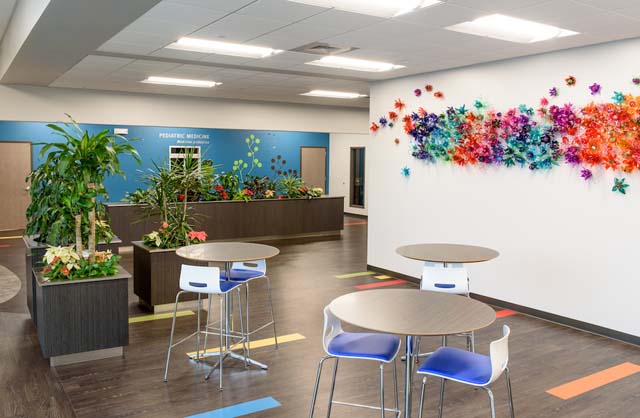 Mary Pencheff
Boxed plants and flowers adorn the walls in the pediatric waiting center, while artwork by local artists and flooring with bold color accents complement the colors on the pediatric exam room doors.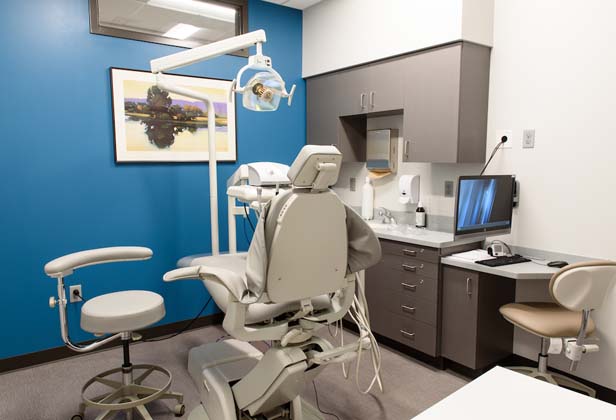 Mary Pencheff
Nexus Health Care's dental clinic includes six dental exam rooms.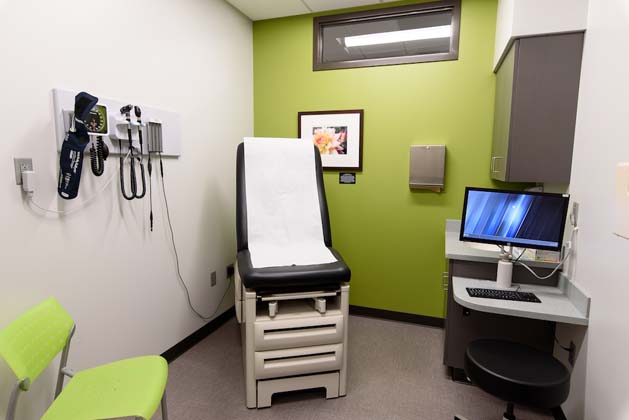 Mary Pencheff
Bold colors are used on the walls and furnishings of the women's clinic exam rooms.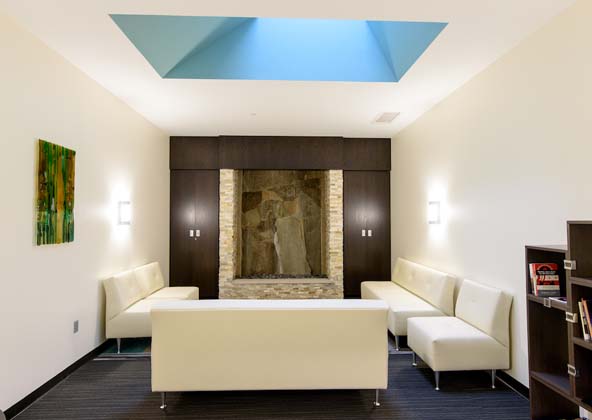 Mary Pencheff
The meditation room in the rear of the clinic houses contemporary furniture, a calming water feature, and a skylight, contributing to the relaxing environment.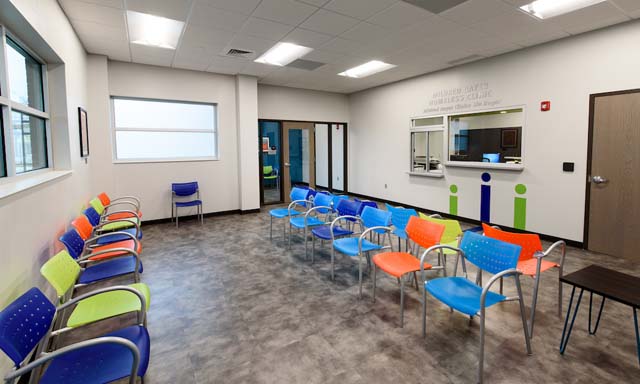 Mary Pencheff
The Mildred Bayer Clinic for the Homeless is connected to Nexus Health Care and has a separate entrance and waiting area, which includes colorful, hard-surface furniture.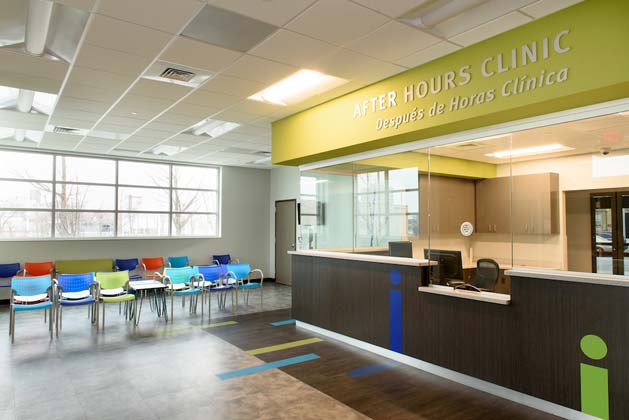 Mary Pencheff
A similar material and color palette was also used for the adjoining Harry Brown Sr. Urgent Care Center, which operates seven days a week.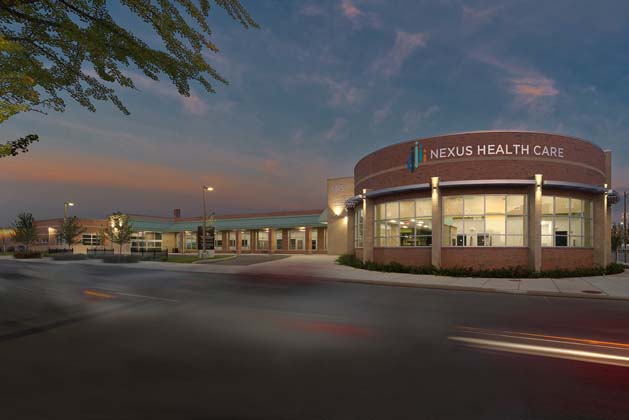 Mary Pencheff
The building façade features earth-colored brick and light sandstone accents to complement the neighborhood's existing architecture.
---
Toledo's urban UpTown neighborhood, located between downtown and the city's Old West End, was being served by two outdated healthcare clinics operated by Neighborhood Health Association (NHA): The Huron Women's Healthcare Clinic was located in a 100-year-old building that was unable to accommodate new technology and the Mildred Bayer Clinic, providing care to the area's homeless population, wasn't large enough to accommodate the influx of patients over the years.
In 2012, NHA decided it could make its organization more efficient and better serve the community by bringing these services together under one roof while also incorporating new medical and non-medical services into the new facility. A location near downtown Toledo with access to bus service and other nearby social services agencies was chosen because of its convenience and accessibility to a large number of patients, says Doni Miller, CEO of NHA, which provides care and supportive services on a sliding scale for the uninsured.
When Nexus Health Care opened in September 2016, the 42,000-square-foot medical center featured a range of services, including women's health, pediatrics, primary care, gerontology, cardiology, midwifery, and dental; the relocated Mildred Bayer Clinic for the Homeless; and a café, pharmacy, and community room. The adjoining Harry Brown Sr. Urgent Care Center, which operates seven days a week, opened a year later.
"The main thing was to consolidate these scattered clinics to make them more accessible," says architect Scot Rossi, vice president, Rossi & Associates Architects LLC (Toledo), who served as design lead on the project.
Miller's vision was to build a comfortable and accessible medical clinic that fit in with the neighborhood and would be a safe and welcoming space for the community. The project team worked with members of UpTown Association, which focuses on revitalization and redevelopment in the area, to pull architectural elements and design cues from surrounding buildings, including earth-colored brick and light sandstone accents, to incorporate into the clinic's exterior to help it fit in with the neighborhood.
Inside, Nexus Health Care's aim is to make patients feel welcome and at ease with a fireplace in the lobby that's intended to conjure up the look and feel of a living room. An on-site café, credit union, and community room for hosting events and programming are in the front of the building, while a pharmacy is accessible down a hallway. The café uses modern rustic finishes, such as laminate casework that resembles recycled barn siding, to give the space an outdoorsy feel that's distinct from the rest of the clinic.
A nondenominational meditation room set apart from the medical clinics is designed as a place for respite and includes prayer rugs, inspirational literature, and a soothing water feature carved from stone. "We want it to be part of what helps people get control and feel empowered, rested, and cared for," Miller says. "A lot of our people don't have a place where they can have quiet for a few minutes."
Vivid, non-traditional colors, such as ocean blues, lime greens, oranges, reds, and pinks, are used throughout the clinics in the furnishings and wall colors. To help with wayfinding, the facility also uses carpet tiles with color accents in the waiting area, which changes to LVT flooring but in a similar pattern in the clinical areas. True to its community-based roots, the project team contracted local art students to paint the pediatric rooms in bright colors, with 3-D renderings of frogs and butterflies affixed to the walls. Additionally, all the art in the building comes from Shared Lives Studio, a neighborhood art gallery that showcases work by artists who have developmental disabilities.
Daylighting also plays a big role in providing a calming, non-institutional setting with 80 percent of all rooms and about 50 percent of exam rooms providing access to natural light, while the main lobby offers a 180-degree panoramic view of downtown Toledo.
"The extensive use of exterior glazing and shading devices on the south façade help with daylighting and give the feeling of bringing the outdoors in," Rossi says.
The lobby houses the main waiting area with smaller, sub-waiting areas located near the pediatrics, primary care, gerontology, cardiology, and midwifery clinics. The primary care and women's clinics have a shared nurses' area between them to save space and share equipment, which helps reduce costs and facilitates communication between the staff, while the pediatrics area, located in the rear of the building, has a separate sick waiting room. Patients are escorted from the main lobby to the clinic areas, which are arranged on a racetrack layout with clinics around the perimeter (except for the dental clinic which is located in the interior space) and staff spaces in the center.
The Mildred Bayer Clinic, which treats about 30 medical patients and 25 dental patients a day, has a separate covered entry, waiting room, and medical services, including primary care, dental, and vision care. The lobby's bright color palette and colorful furnishings are like those in main clinic space, but the walk-in clinic also includes a shower, washer and dryer, and a clothing exchange, which patients can access during their visit, free of charge.
"It's all about enhancing the dignity and the respect with which we treat these patients so that they feel better suited to manage those issues that impact their ability to move forward with their lives," Miller says.
Overall, Miller says Nexus Health Clinic has become a major asset to the community since opening a year ago. "By making it so accessible, we begin to reduce the barrier between those folks providing healthcare and those people from the community," she says.
Hilary Daninhirsch is a freelance writer based in Pittsburgh. She can be reached at hdaninhirsch@gmail.com.
Project Source List:
Total building area: 43,000 sq. ft.
Total construction cost: $11.2 million
Cost/sq. ft.: $200.89 (hard cost)
Architecture: Rossi & Associates, LLC
Interior design: Meredith Hustwick
General Contractor: The Lathrop Company
Engineering: Structural Design Systems, Inc. (structural engineer), Design Engineers & Consulting (MEP Engineer), Oravecz & Associates, LLC (Civil Engineer)
Construction: The Lathrop Company
Art/pictures: Toledo School for the Arts, Shared Lives Studio
AV equipment/electronics/software: Total Comm, LLC (electronics), Torrance Sound and Equipment Co. (security & speaker systems)
Carpet/flooring: Commercial Flooring of Toledo
Ceiling/wall systems: Valley Interior
Fabric/textiles: American Interiors
Furniture—seating/casegoods: American Interiors
Lighting: Lathrop Construction/Colgan-Davis, Inc.
Signage/wayfinding: Toledo Sign Company
Wallcoverings: Inpro
Cabinets & Countertops: Rivereast Cabinets, Inc.
Glass and glazing: Interstate Commercial Glass & Door
Landscape Design:  Edge
Masonry: S.A. Storer & Sons Company
Painting: OCP Contractors, Inc.
Roofing: MJ Weis Roofing Company