PHOTO TOUR: Boulder Community Health – Erie Medical Center
---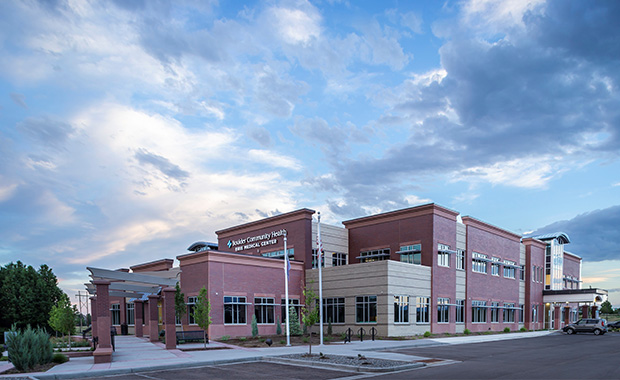 BENKO PhotoGraphics
Classic brick and stone material and towers with curved metal roofs create a landmark building for Boulder Community Health's first medical facility in Erie, Colo. The design complements the adjacent commercial district. A terraced and stamped concrete plaza also creates a walkable urban retreat within the community.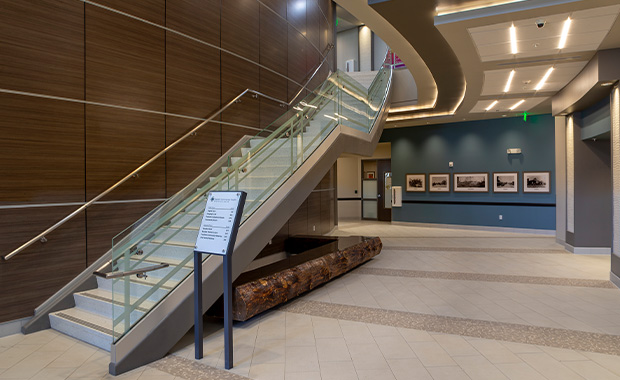 BENKO PhotoGraphics
The entry lobby includes a full-height wood feature wall and a natural log resting area to welcome visitors. Terraced soffits with recessed lighting follow the gentle curve of the floating second floor, providing intuitive wayfinding to interior corridors.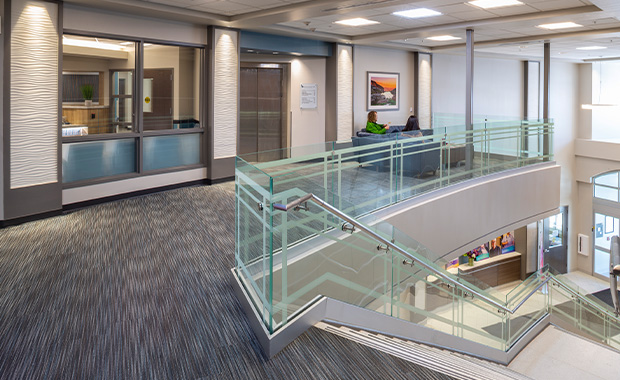 BENKO PhotoGraphics
The upper level waiting area overlooks the entry doors, while providing peaceful views of the Rocky Mountain foothills to the west.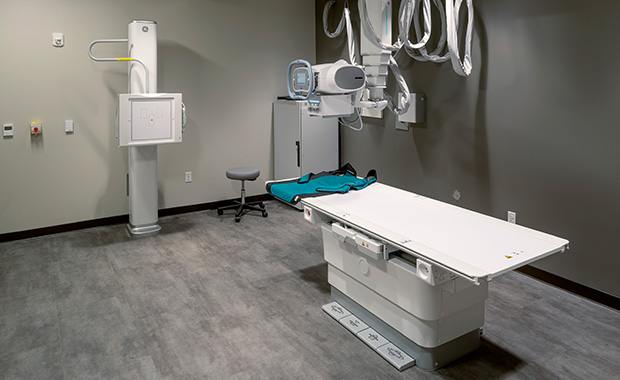 BENKO PhotoGraphics
The diagnostic and lab suite includes MRI, CT, X-ray, mammography, DEXA, and ultrasound services. Private changing and waiting areas adjacent to each imaging service were designed for a secure and relaxed patient experience.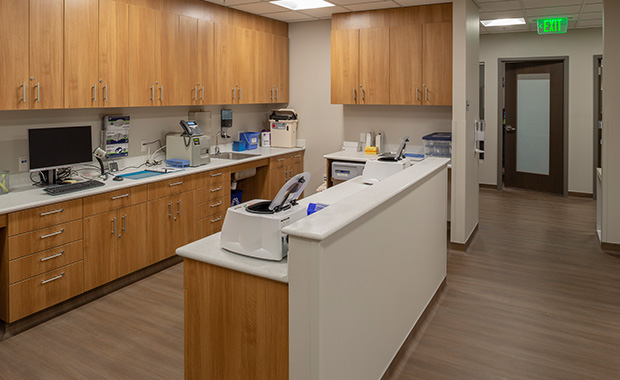 BENKO PhotoGraphics
The laboratory and specimen collection area of the diagnostic and imaging suite has direct access to the waiting area and can be isolated from the imaging suite for extended hours of operation.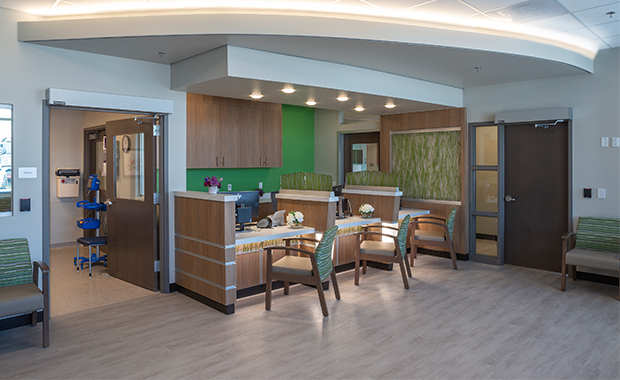 BENKO PhotoGraphics
Designers worked closely with providers and staff to create an urgent care facility that efficiently moves patients through the suite. The compact layout includes a triage room with direct access to the waiting room for immediate response.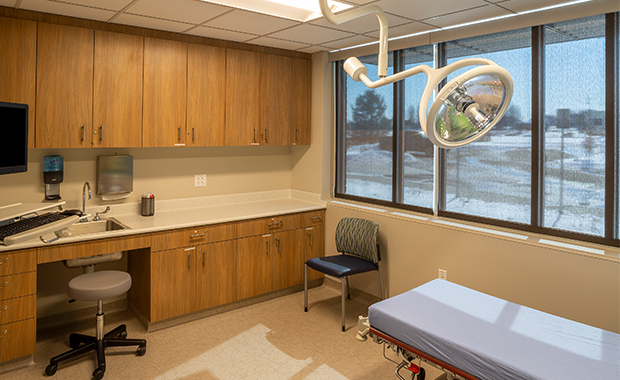 BENKO PhotoGraphics
Employee lab area, procedure room, and exam rooms surround a centrally located staff workstation, which allows staff to have direct supervision of all patient rooms. Striking a balance between supporting patient interaction with staff while maintaining privacy for both parties was integral to the layout of spaces.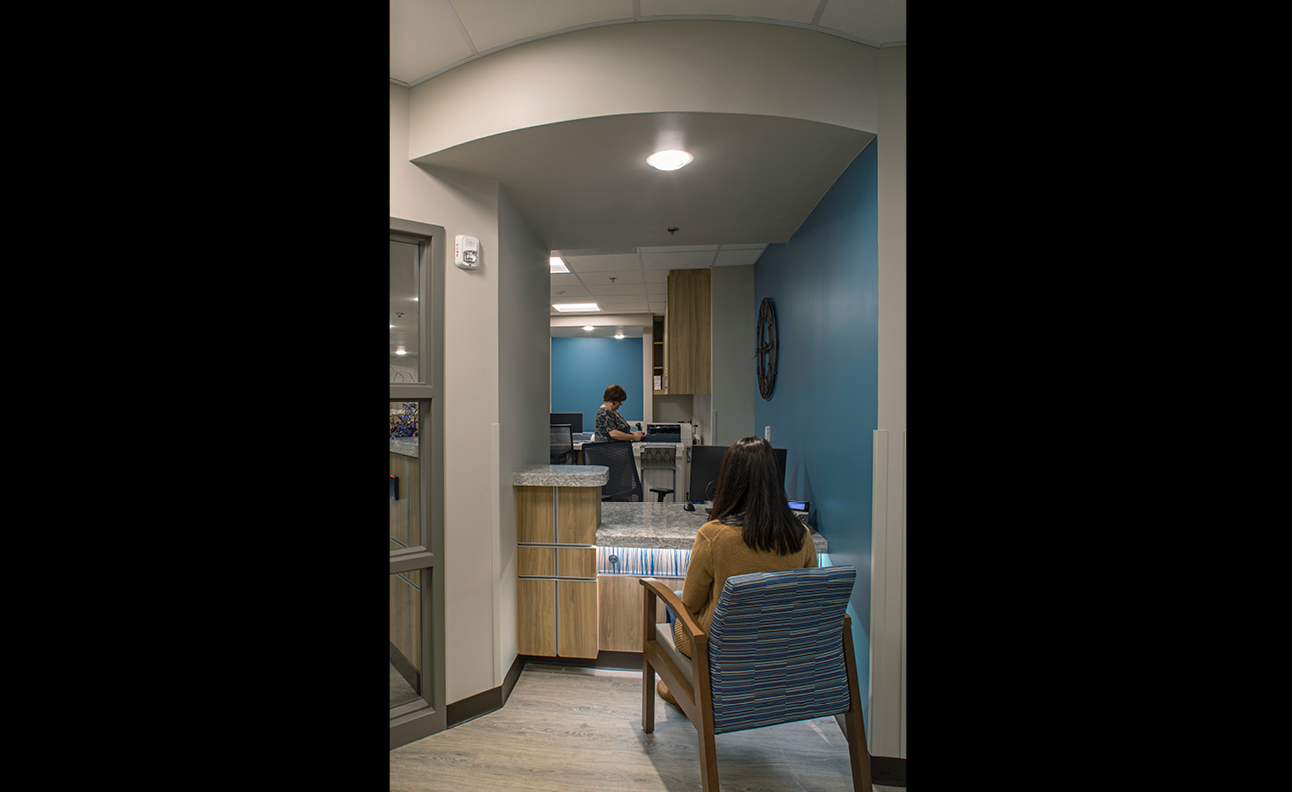 BENKO PhotoGraphics
A multispecialty suite combined five existing practices (cardiology, family medicine, internal medicine, midwifery, and women's care) into a single space. Shared check-in/checkout stations, lab, and utility spaces allow for an efficient use of space and staff, while maintaining clear identities for each practice.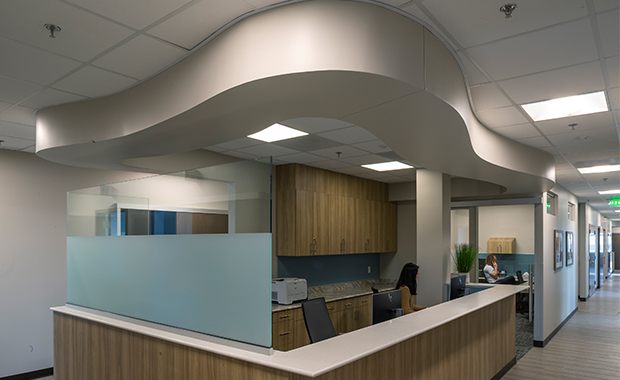 BENKO PhotoGraphics
Centralized care coordinator workstations for each practice of the multispecialty suite allows for touchdown team meetings and staff-to-staff consultations while maintaining a direct visual connection to exam and procedure rooms. Situated on the perimeter of the building, exam rooms offer bountiful natural light and views of the Rocky Mountains.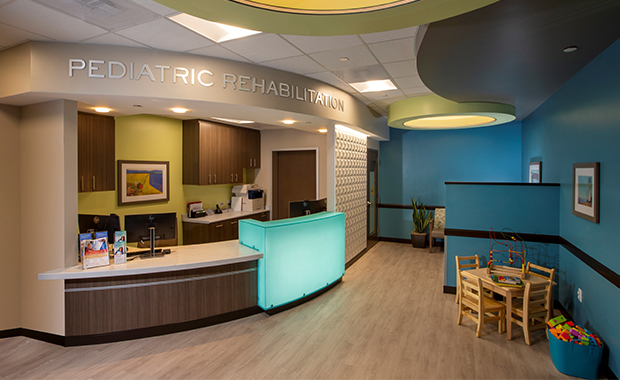 BENKO PhotoGraphics
The Outpatient Pediatric Rehabilitation Clinic was designed to increase the effectiveness of therapies for children with physical, sensory, motor, language, and cognitive disorders or developmental delays. Materials and finishes including three-dimensional wall tiles, colorful sheet vinyl flooring with serpentine patterns, vivid wall protection panels, and energetic paint schemes were carefully chosen to accept a high level of abuse yet are inviting and playful for young patients.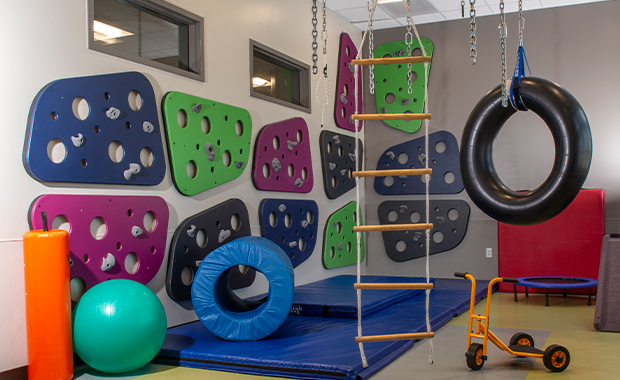 BENKO PhotoGraphics
Each specialized treatment room and gym space in the Outpatient Pediatric Rehabilitation Clinic were designed with a series of heavy-duty in-ceiling hook support systems that can be adapted for various therapy equipment and treatments. Special considerations were given to sound attenuation measures that directly contribute to the success of therapies.
---
Boulder Community Health (Boulder, Colo.) opened the two-story Erie Medical Center in Erie, Colo., in June 2019. The 41,650-square-foot medical office building (MOB) provides urgent care services, diagnostic imaging and laboratory services, outpatient pediatric rehabilitation services, and five distinct medical specialty practices.
Over the last decade, the town of Erie has been one of the fastest growing communities in Boulder County. Lacking existing healthcare facilities, Boulder Community Health recognized the need, and selected clinics for the Erie Medical Center through input from community members and leaders.
The design by PEH Architects (Boulder, Colo.) and interior design firm Bloom Studio (Westminster, Colo.) combines a modern approach, featuring a glass entry tower topped by a curved metal roof, with classic materials to create a landmark building that complements the adjacent historic downtown area.
Project details:
Facility name: Boulder Community Health – Erie Medical Center
Location: Erie, Colo.
Completion date: June 2019
Owner: Boulder Community Health
Total building area: 41,650 sq. ft.
Total construction cost: $12.8 million
Cost/sq. ft.: $306/sq. ft.
Architecture firm: PEH Architects
Interior design: Bloom Studio
General contractor: Golden Triangle Construction Inc.
Engineering: Cator Ruma and Associates (MEP), JVA Inc. (structural), Hurst and Associates Inc. (civil)