PHOTO TOUR: Capital Aesthetic + Laser Center/ Comprehensive Woundcare Services
---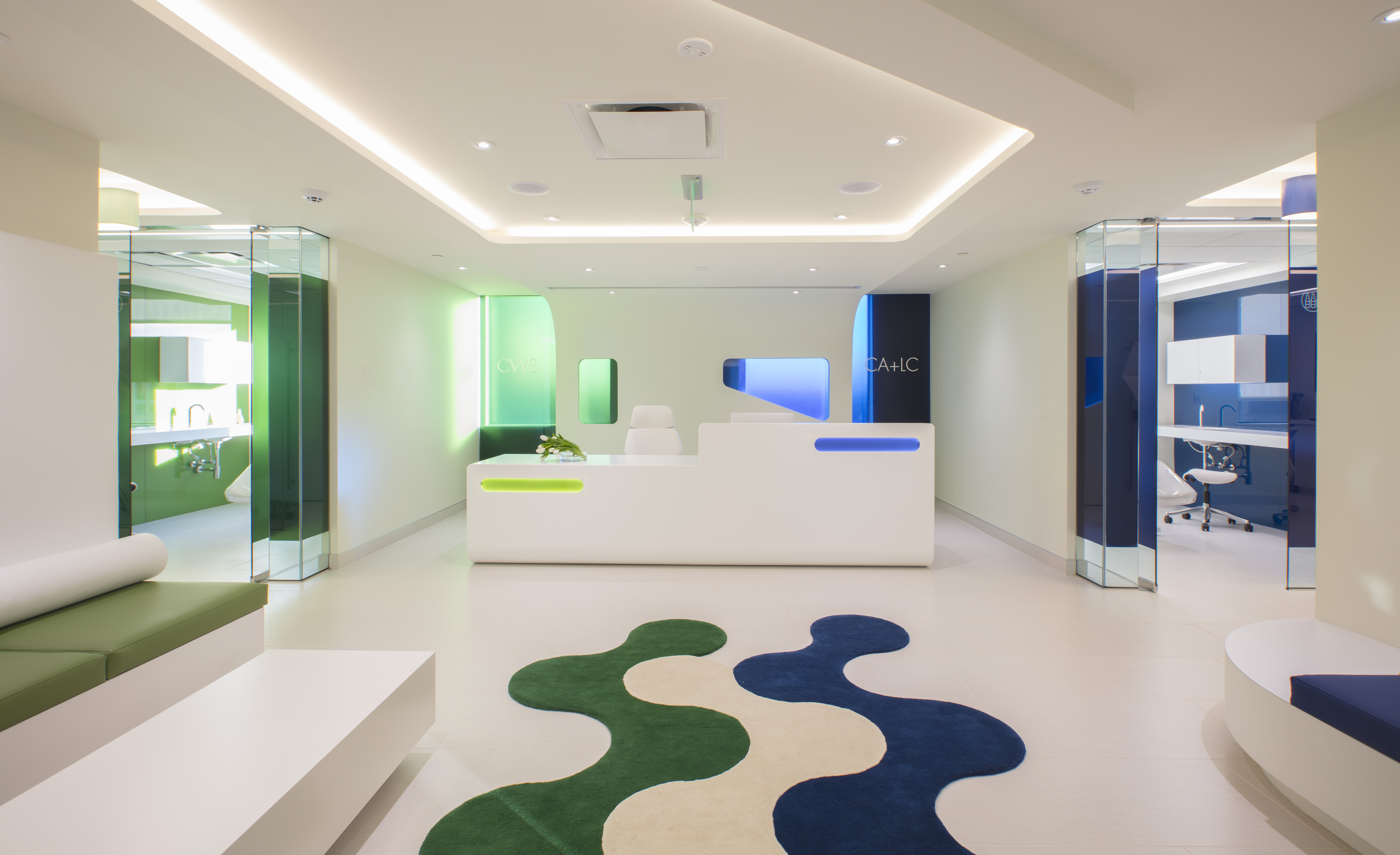 Geoffrey Hodgdon
 An organic-shaped area rug, in each clinic's brand colors, leads to the front desk, custom designed by the architect, with a backdrop of green or blue film filtering the daylight beyond.
Geoffrey Hodgdon
Each clinic's waiting area is denoted by customized high-back banquettes in that clinic's brand color. A custom coffee table on wheels was designed by the architects and is easily moveable to accommodate different functions in the reception area.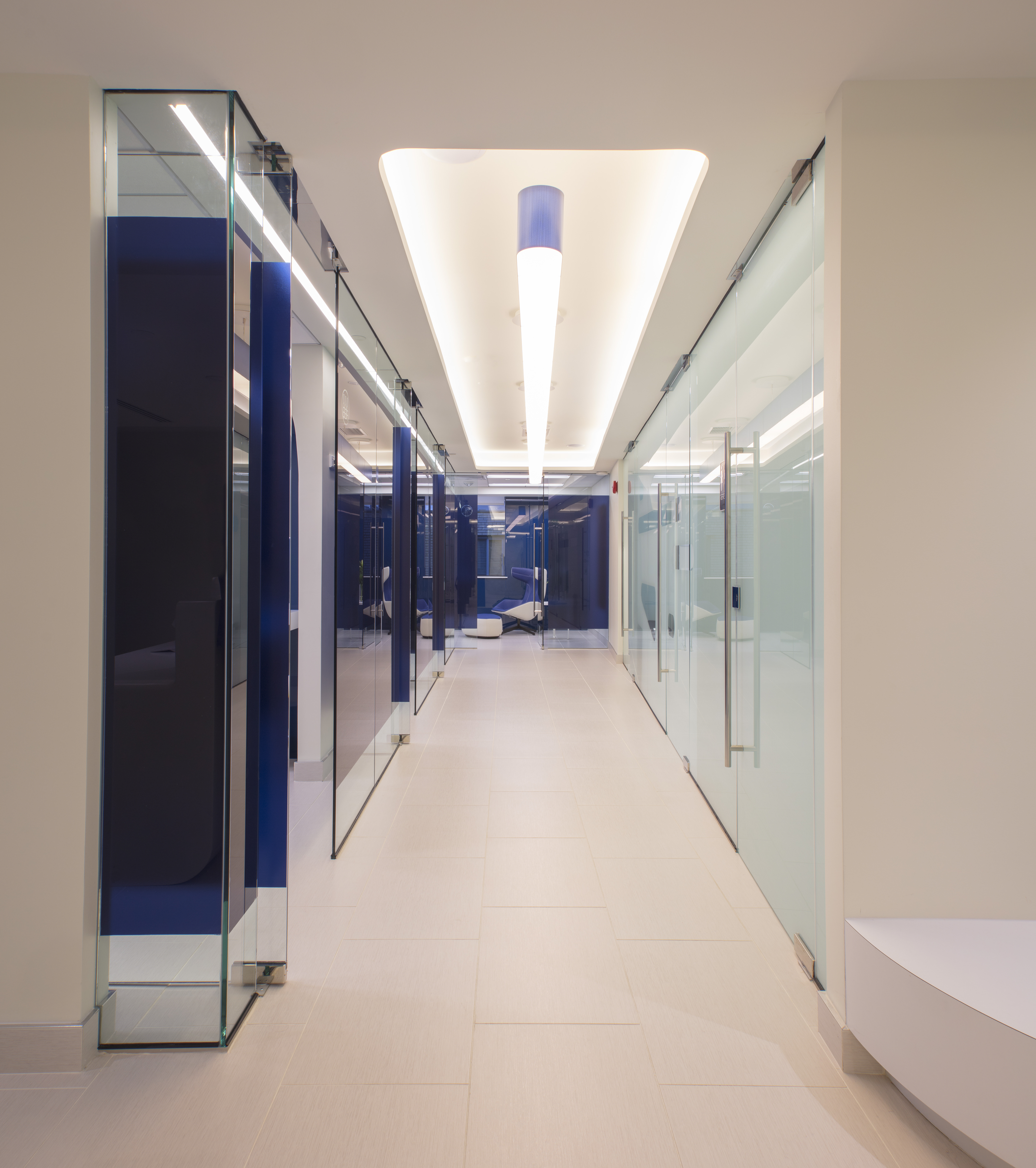 Geoffrey Hodgdon
The CA+LC corridor houses four exam rooms and procedure rooms on the left, and support areas, including a conference room, bathroom, and telephone room, on the right. Blue film is used to define all exam and procedure rooms, while the light fixtures were customized to match the color of the suite and the soft curves of the space.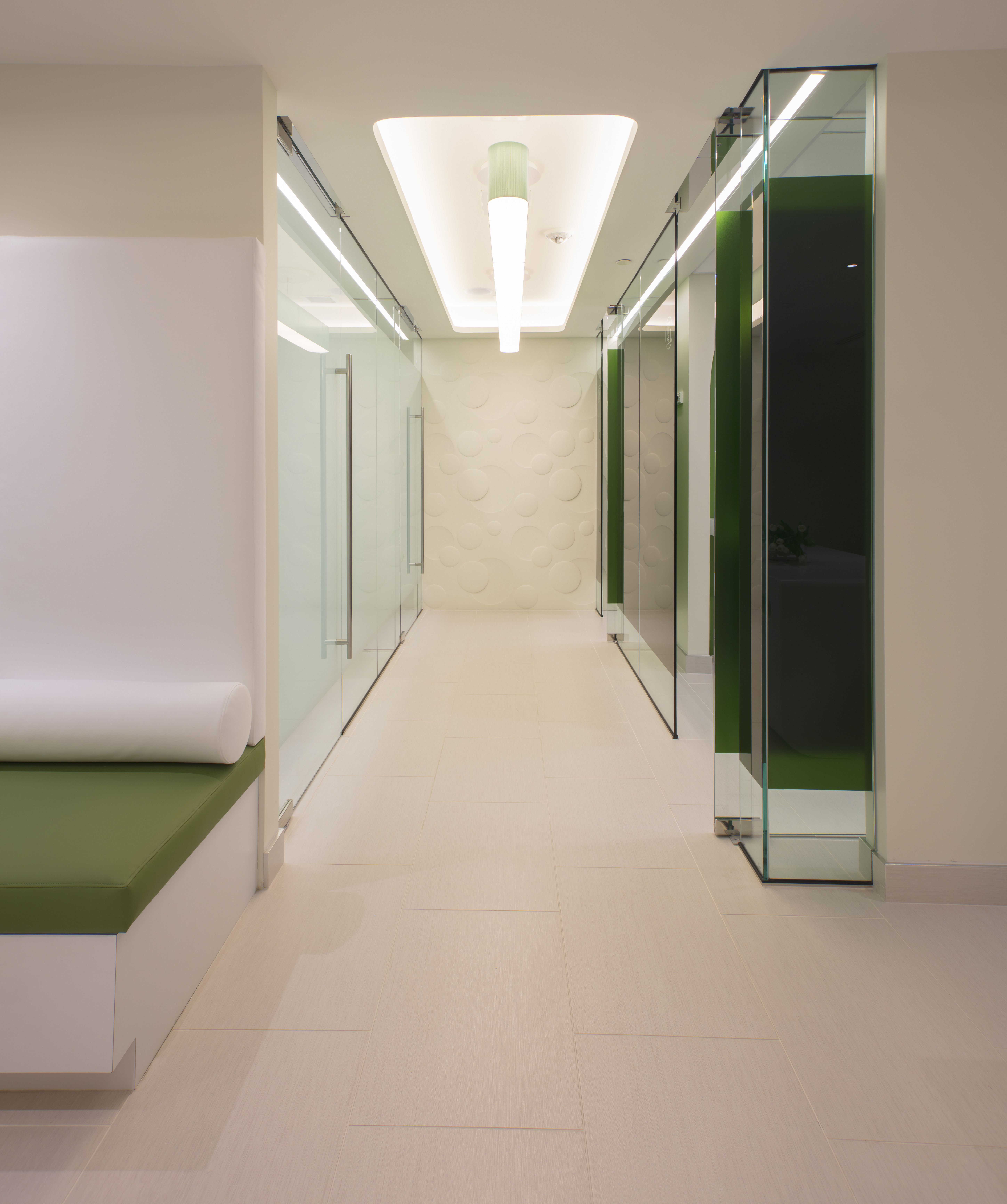 Geoffrey Hodgdon
The CWS corridor houses exam and procedure rooms, a management office, and doctor's private office, all with green accents.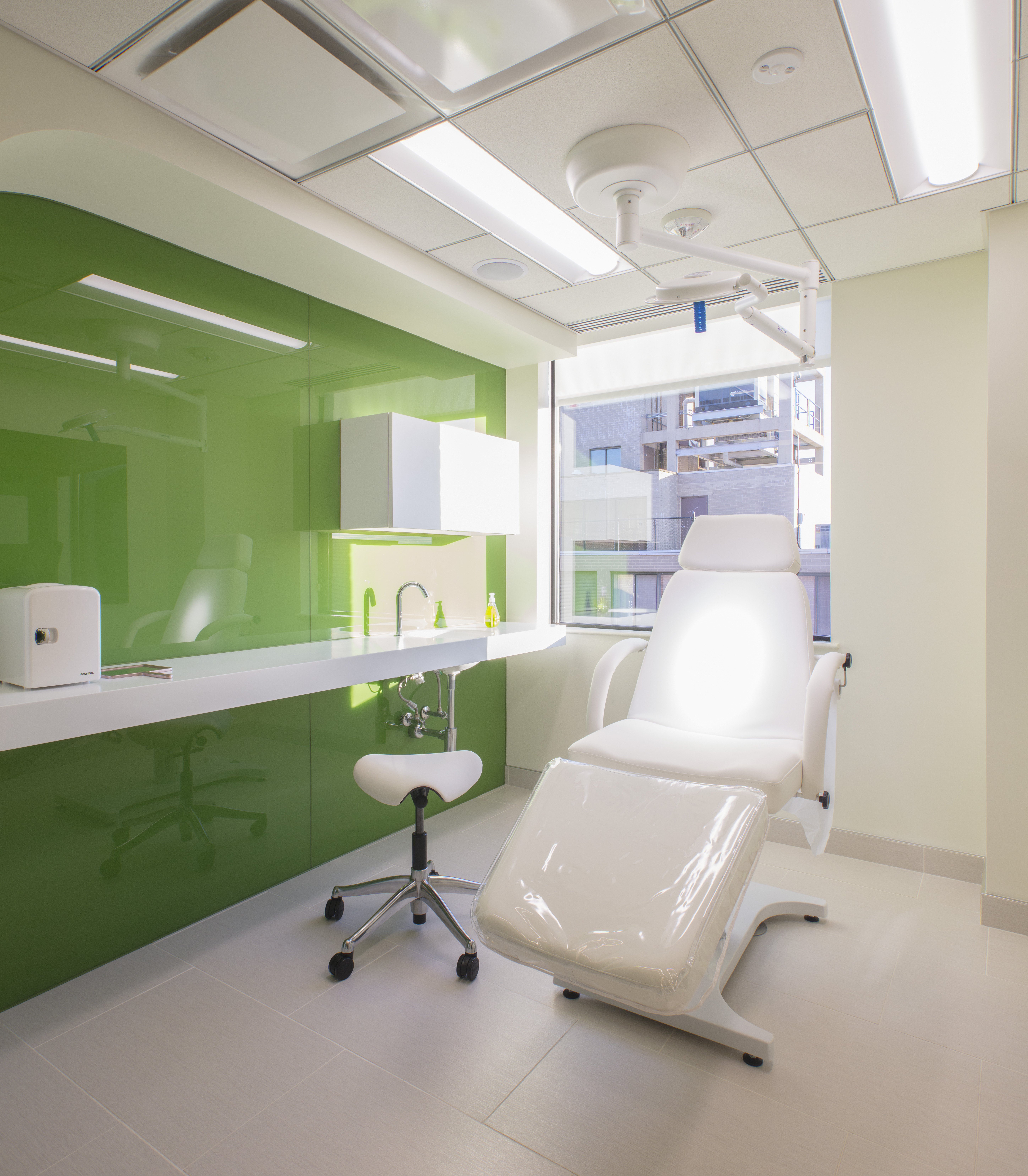 Geoffrey Hodgdon
All exam and procedure rooms are located on the perimeter of the building, allowing the back-painted green glass and white surfaces to reflect the daylight.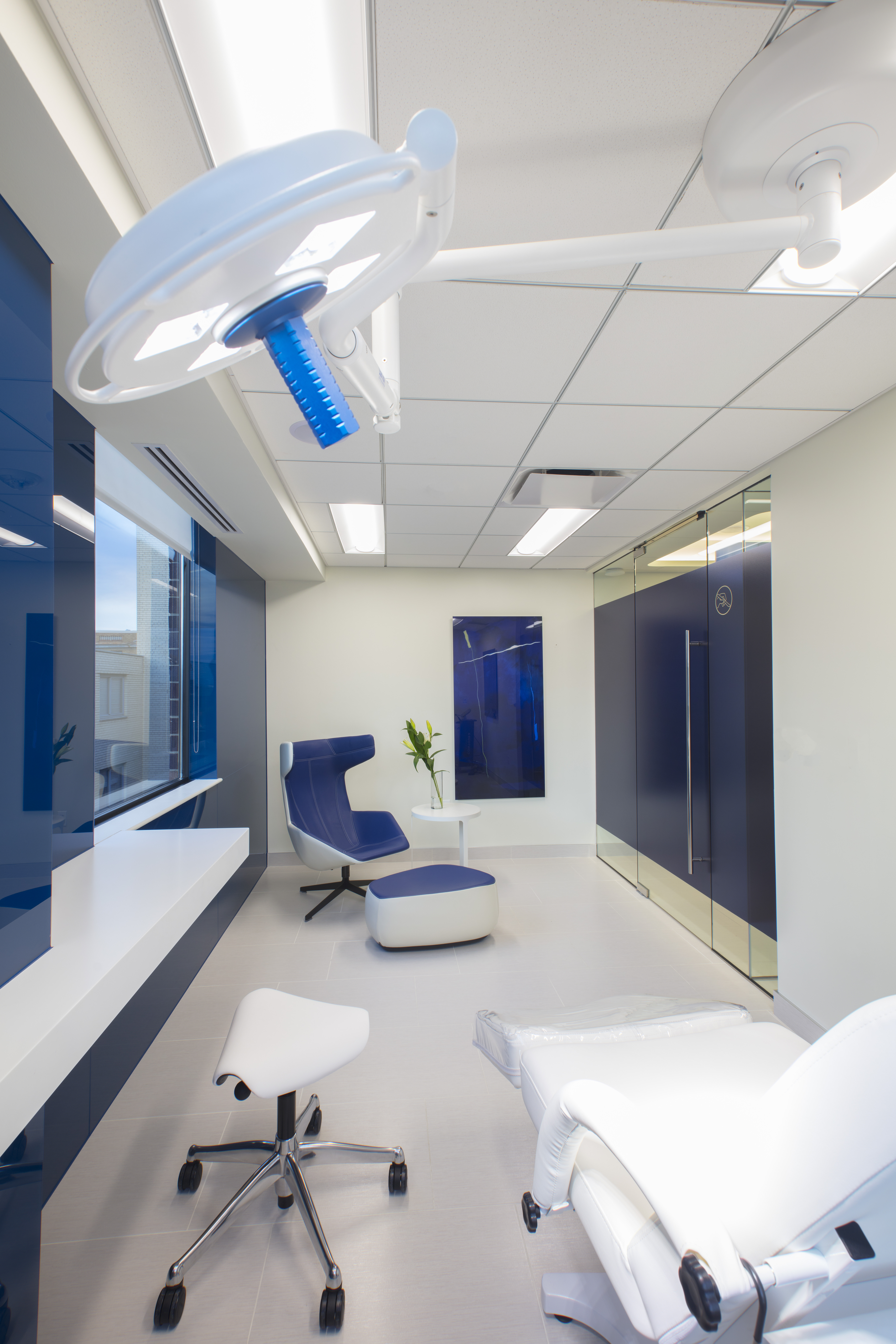 Geoffrey Hodgdon
A procedure room in the CA+LC suite features custom countertops and back-painted glass in the clinic's blue brand color.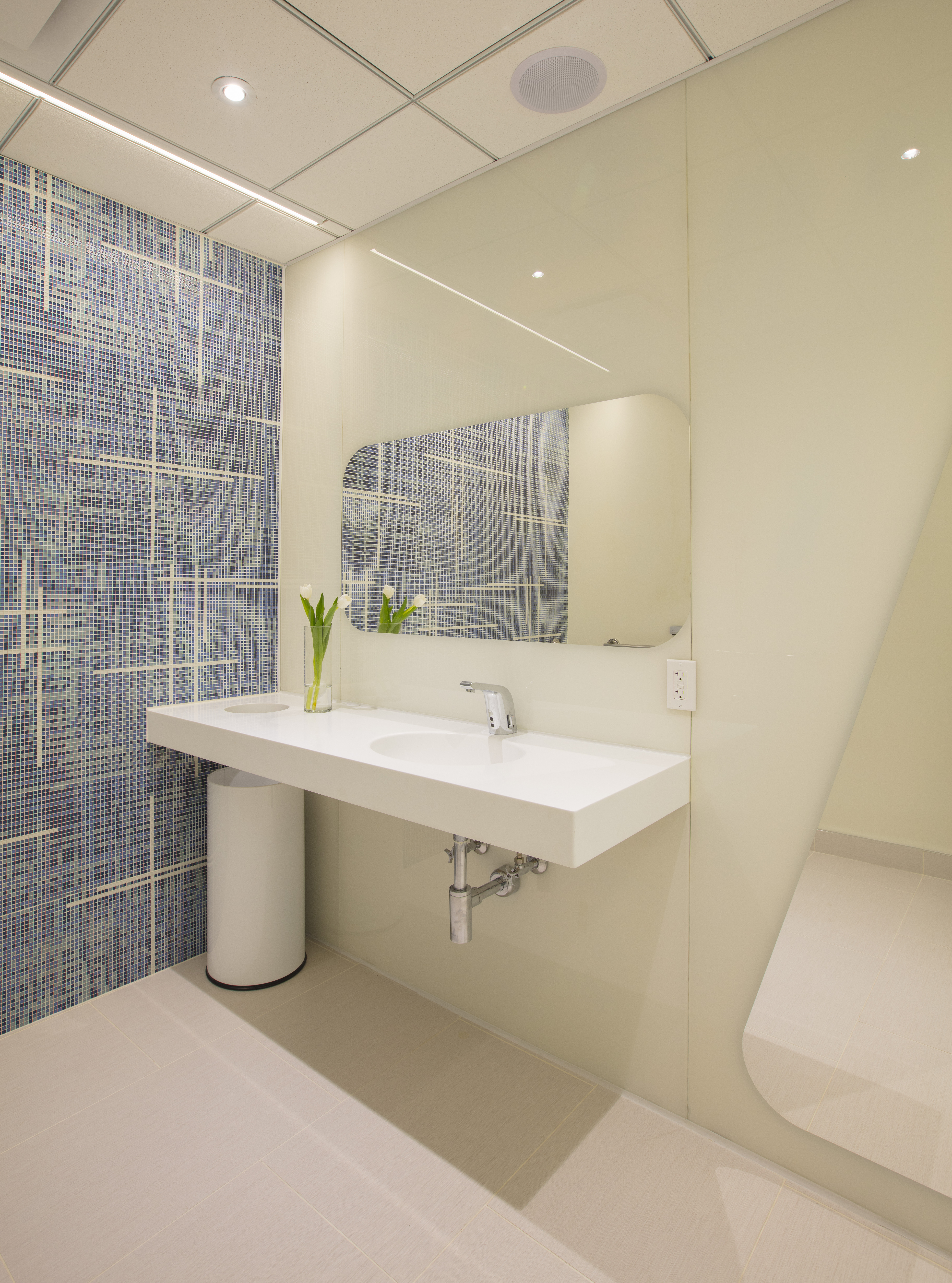 Geoffrey Hodgdon
The bathroom features the same soft curves that are used throughout the clinic and a white-and-blue-color scheme.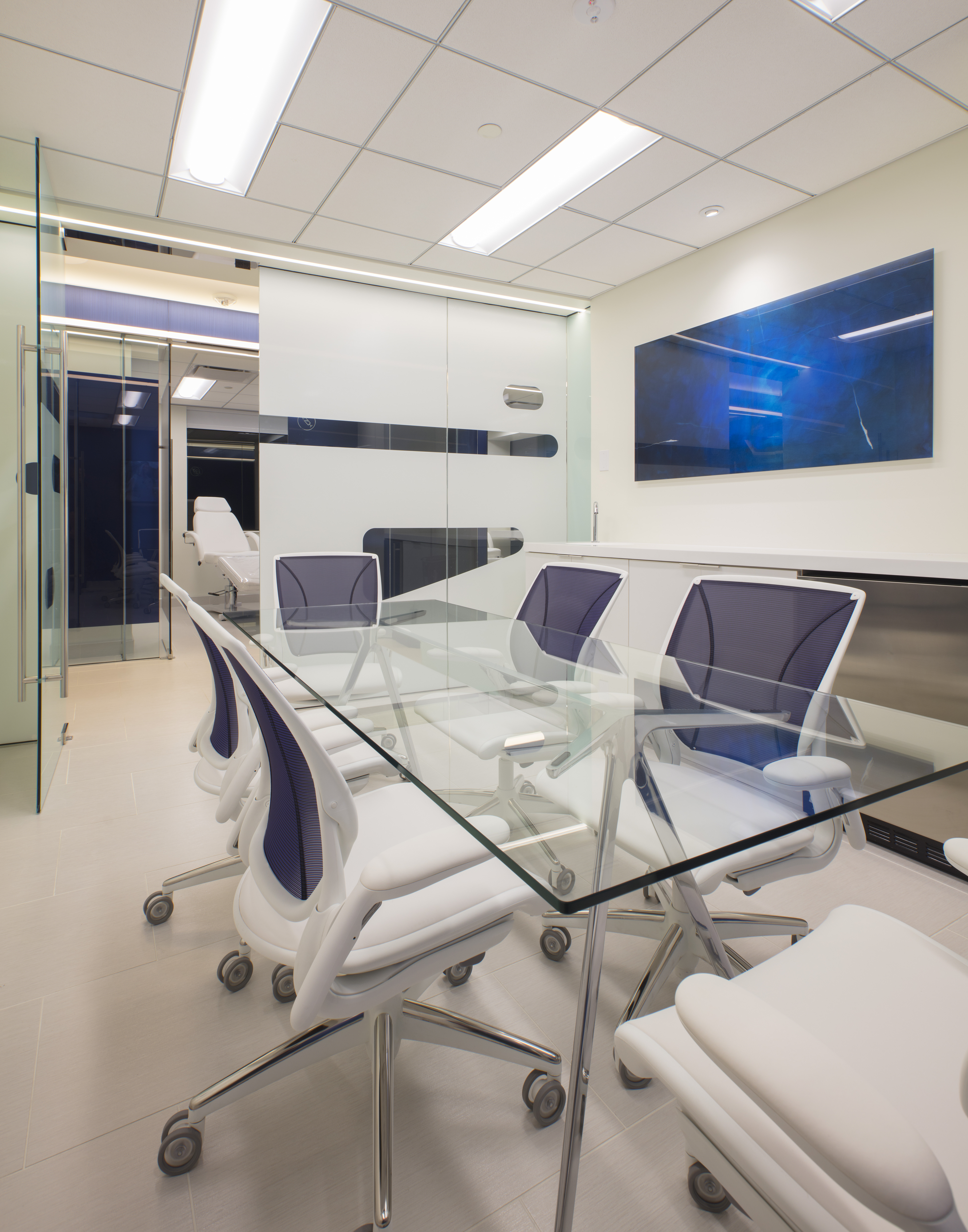 Geoffrey Hodgdon
The conference room accommodates small meetings with patients or other healthcare providers. Privacy film from the corridor allows for glimpses into the room.
Geoffrey Hodgdon
The same white and branded color palette is carried into the staff spaces, including the management office, which includes white upper cabinets and countertops, LED lighting, and a green accent wall.
---
When plastic surgeon Dr. Jonathan Johnson leased 2,000 square feet on the eighth floor of a medical office building near George Washington University campus, he intended to sub-divide the space into two independent clinics for plastic surgery and wound care that would have separate entries, reception areas, and distinct interior designs.
However, Forma Design Inc. (Washington, D.C.), which provided architecture and interior design services on the project, saw the opportunity to save space and maximize efficiencies by rethinking the concept and designing two sister clinics with a shared reception and waiting area. Architectural details in each clinic's brand colors (blue for Capital Aesthetic + Laser Center and green for Comprehensive Woundcare Services) would be used to differentiate each space.
From the entrance, which features furnishings in both brand colors, separate corridors lead to each clinic's exam and procedure rooms, which are defined by blue or green film on the doors and walls. Customized seating, artwork, lighting, and wall accents in the brand colors further denote each area. The $800,000 project was completed in October 2017.
Project details:
Facility name: Capital Aesthetic + Laser Center /Comprehensive Woundcare Services
Location: Washington, D.C.
Completion date: October 2017
Owner: Jonathan Johnson
Total building area: 2,000 sq. ft.
Total construction cost: $800,000
Cost/sq. ft.: $400
Architecture firm: Forma Design, Inc.
Interior design: Forma Design, Inc.
Contracting: HBW Construction
Engineering: KTA Group, Inc.