PHOTO TOUR: Legacy Community Health
---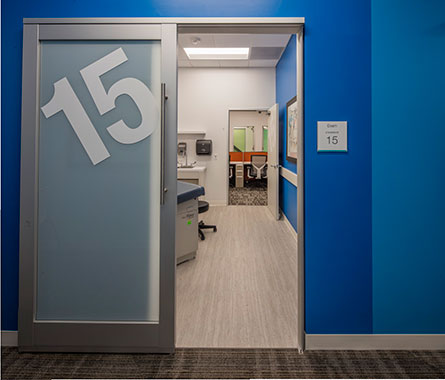 Aker Imaging for Legacy
By implementing the on-stage/off-stage workflow, the Legacy Community Health's 29th clinic is able to offer a better patient experience. Exam rooms are located around the perimeter of provider/medical assistant and support staff work spaces, offering more privacy to patients.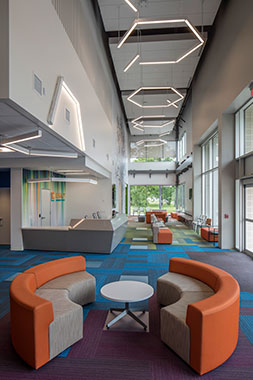 Aker Imaging for Legacy
The clinic's two-story lobby was designed to be a nurturing and welcoming space filled with natural light. The flooring, lighting and art within the lobby reflect symbolic design elements including community, life and family.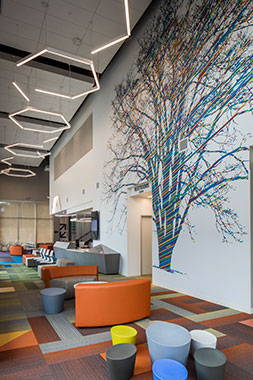 Aker Imaging for Legacy
Color, shape and movable furnishings allow for unexpected fun-filled spaces.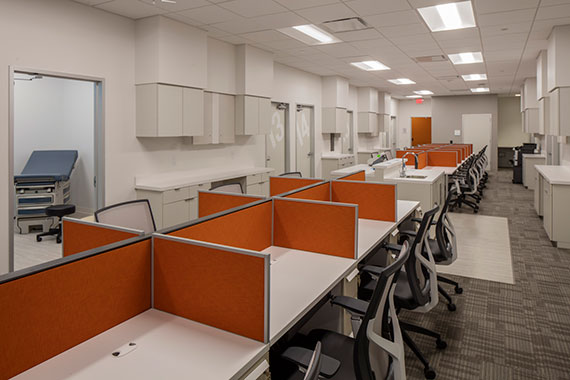 Aker Imaging for Legacy
Within the clinic, the off-stage area allows for open discussion between providers, medical assistants and others who support Legacy's Medical Home Model.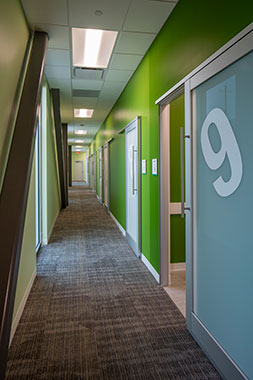 Aker Imaging for Legacy
Color plays an important role in patient and visitor wayfinding. This ombre green hallway identifies the pediatric wing of the facility. Throughout the clinic, color is used to identify the different service lines.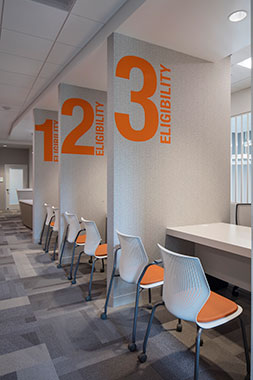 Aker Imaging for Legacy
Bold graphics help patients navigate the 16,900-square-foot campus.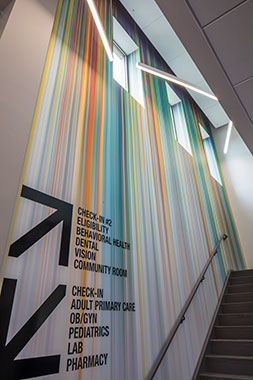 Aker Imaging for Legacy
The clinic's large staircase improves traffic flow within the facility and features natural light and bold, custom wall-coverings and graphics, inviting patients to the second floor.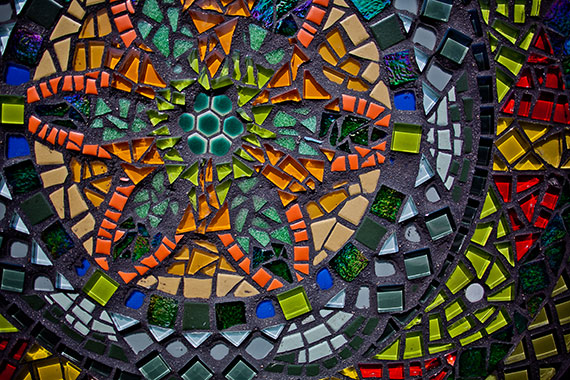 Morris Malakoff/CKP Group, courtesy of Weingarten Art Group
Depicting the concepts of life, family, love and togetherness, the final intricate mural designs reflect defining characteristics of the human experience.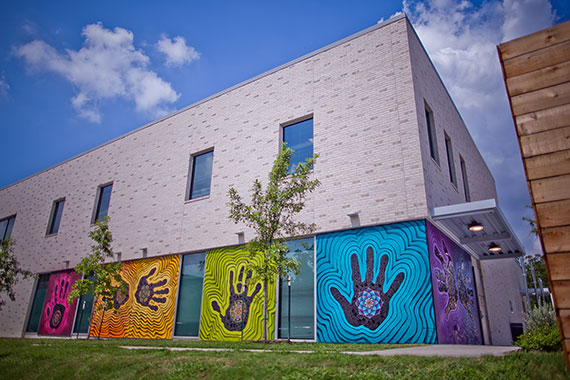 Morris Malakoff/CKP Group, courtesy of Weingarten Art Group
Colorful and vibrant murals flank the entrance to the clinic. Houston artist, Reginald Adams, incorporated handmade "hand" tiles created by staff and community members during "community art days."
---
Inspired by an underserved community with few options for medical care or general health services, a team of architects, designers and healthcare leaders set out to create something substantial within the Fifth Ward community in Houston. In May 2017, Legacy Community Health completed the construction of its 29th clinic in southeast Texas.
Designed as an extension of the neighborhood, the $5.5 million center offers affordable, high-quality healthcare to low-income patients, and is equipped to become a medical haven for a healthy, thriving community. The new facility provides comprehensive care to patients, regardless of their ability to pay, including adult primary care, OB/GYN, pediatrics, behavioral health, dental and vision, with a geriatric practice and pharmacy coming soon.
Team leaders envisioned a clinic that served its community in functionality and design. The result is a facility that integrates the personality, diversity, and beauty of the community into a 16,900-square-foot campus. Each step of the project focused on the thoughtful creation of spaces designed to have a positive impact within the community.
Joel Kalmin, Legacy Community Health's director of facility design, along with Kirksey Architecture (Houston) and D.E. Harvey Builders (Houston), spent three months planning the building's interior and exterior spaces, using products with a creative mindset to design an inviting and nurturing facility. The project broke ground in October 2016.
The building's exterior was designed to serve as a significant architectural footing for the community, aiding the neighborhood's renaissance with a vibrant street scene along Lyons Ave. Houston artist Reginald Adams was commissioned to design a mural on the building's exterior. Through "community art days," the mural includes components created by staff and community members, further tying together space and community. The plaza entrance, which faces Lyons Ave., was designed to be a welcoming, inviting area. The front exterior's clear glazing and large window façade provides passing pedestrians with a visual inside the clinic's two-story lobby.
Inside the facility, the flooring threads through the building as a part of the tapestry of the mission by representing diversity in simplistic but thoughtful applications. The lobby's flooring pattern was inspired by a quilt – families in the community, represented by fabrics, are woven together to build the clinic's foundation. In keeping with the community theme, additional works from local artists Jesse Lott and Tony Parana are displayed throughout the building.
Becoming an integral part of the Fifth Ward is a priority for Legacy Community Health, and this new facility has been designed to meet the needs of its growing community for years to come.
Building design team:
Owner: Legacy Community Health 
Architect: Kirksey Architecture
Contractor: D.E. Harvey Builders
Civil Engineer: PRD Land Development
Structural Engineer: Cardno Haynes Whaley
MEP Engineer: CFI Companies Consulting Engineers
Landscape Architect: Bruno Land Design
Project source list:
Art/pictures: framed artwork by Unique Arts; custom public art by Reginald Adams, Jesse Lott and Tony Parana
Public Art coordination: Weingarten Art Group
AV equipment/electronics/software: Epson
Carpet/flooring: Patcraft
Ceiling/wall systems: Armstrong
Doors/locks/hardware: DIRTT (slider doors), Schlage (door hardware)
Fabric/textiles: Knoll Inc.
Furniture—seating/casegoods: Knoll Inc./Debner, Staples/Business Advantage, Allsteel/HON
Handrails/wall guards:  Acrovyn, TexTrim
Lighting: Nulite
Signage/wayfinding: NEC Signage
Surfaces—solid/other: Formica, Wilsonart
Wallcoverings: MDC, TRI-KES
Paint: Sherwin Williams
Plumbing fixtures and accessories: Kohler, Sloan, Leonard, McGuire Manufacturing, Bemis, Zurn, Just Manufacturing