PHOTO TOUR: Mazzoni Center
---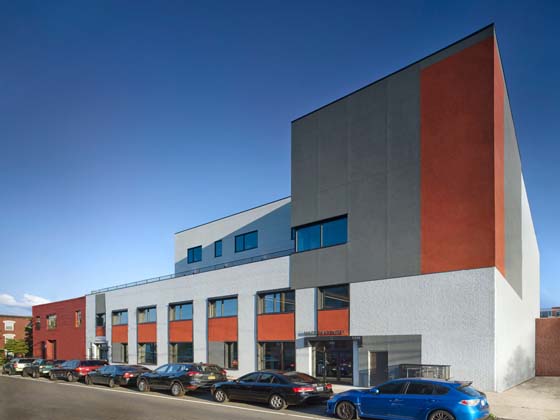 © Halkin | Mason Photography courtesy of Coscia Moos Architecture
Mazzoni Center in Philadelphia makes its home in a former two-story office building. Coscia Moos Architecture redesigned the building into a four-story, 45,000-square-foot healthcare facility. As the city's first and largest LGBTQ healthcare provider, Mazzoni Center offers a multitude of services under one roof, ranging from health and wellness to legal and social support to professional development and education.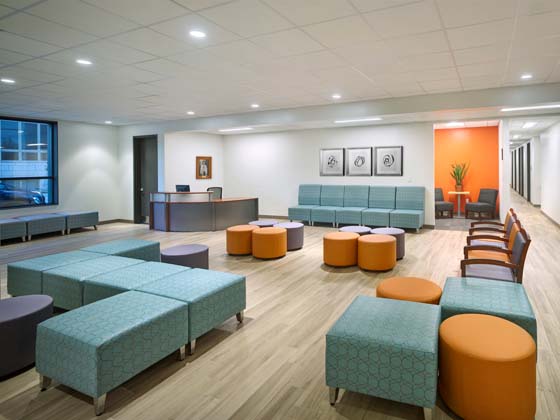 © Halkin | Mason Photography courtesy of Coscia Moos Architecture
In Mazzoni Center's main lobby, visitors get their first glimpse of the colorful, welcoming spaces throughout the building. Soft seating matches what appears in the health clinic upstairs. The stainless laminate reception desk is fully ADA compliant with a drop-down counter. Accessible from the lobby on the first floor are the in-house Walgreen's pharmacy, the Food Bank, and group and private counseling rooms. Gender-neutral individual restrooms are found on every floor.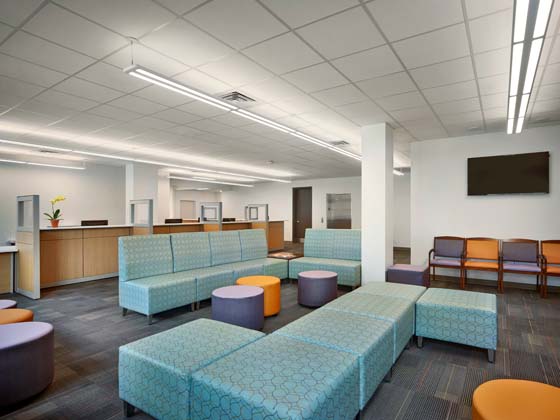 © Halkin | Mason Photography courtesy of Coscia Moos Architecture
Mazzoni Center's primary care facility occupies the second floor, where a bright and comfortable waiting room greets patients. The family practice sees patients of all ages. Glass partitions along the check-in counter address patient confidentiality while providing staff clear sight lines to the waiting area. Reconfigurable furniture features wipeable, bleachable vinyl fabric. The color scheme and wood-look vinyl floor carry through the building for consistency.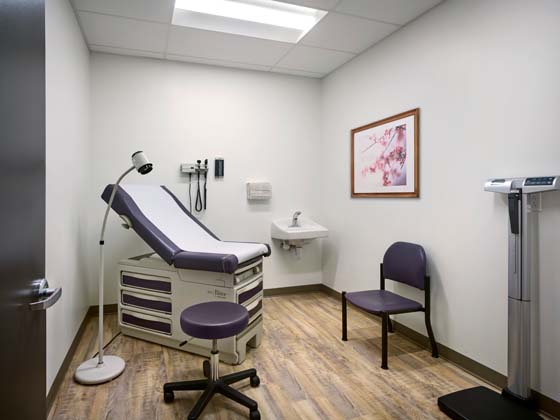 © Halkin | Mason Photography courtesy of Coscia Moos Architecture
The new Mazzoni Center includes 22 individual patient exam rooms, doubling the organization's capacity for primary healthcare. With additional support services—counseling, prevention, psychosocial services, and support groups—under one roof, Mazzoni patients enjoy a continuum of care and convenience. Rather than visit a separate location for additional healthcare services, patients need only walk down the hall, and staff are better able to coordinate and manage care.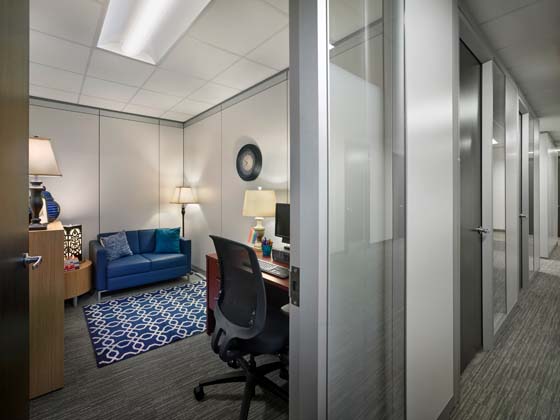 © Halkin | Mason Photography courtesy of Coscia Moos Architecture
Coscia Moos Architecture designed the first floor counseling suite with a demountable partition system. The 23-room suite can be easily and economically reconfigured if needs change in the future. Private counseling rooms use soft seating and wood-grain laminate finishes in combination with colorful rugs and decorations to provide a warm, homey feel. Although the rooms look quite different from the healthcare spaces on upper floors, a consistent color and materials palette ensures cohesiveness.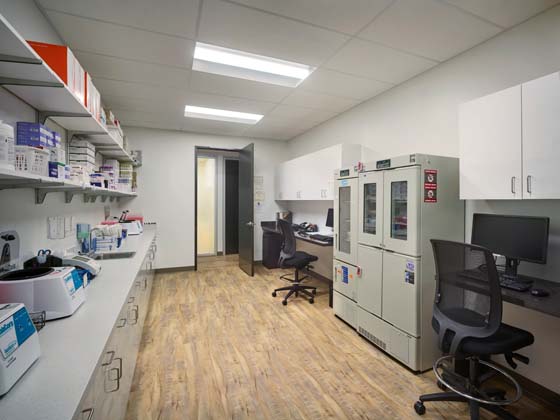 © Halkin | Mason Photography courtesy of Coscia Moos Architecture
Mazzoni Center's in-house amenities are dedicated to its LGBTQ clients, offering convenience, confidentiality, and specialized service. The in-house laboratory is located on the second floor, where it supports the primary care clinic. On the first floor, a full-service Walgreen's pharmacy caters to the specific pharmaceutical needs of LGBTQ patients with special expertise in HIV/AIDS treatment options.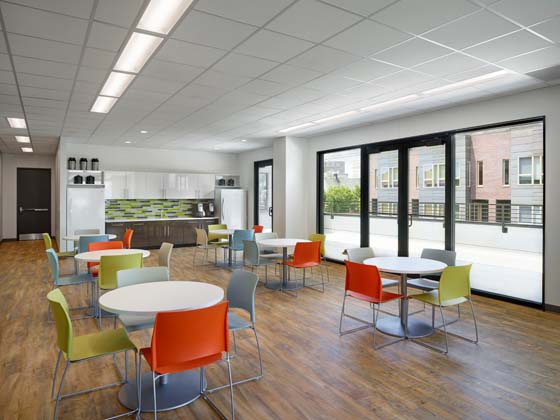 © Halkin | Mason Photography courtesy of Coscia Moos Architecture
The staff café is located adjacent to Town Hall on the building's third floor. Multiple doors provide access to a rooftop terrace that wraps two sides of the building and provides outdoor space for events. Colors were chosen during weekly team meetings in which building user groups participated. With Mazzoni Center teammates previously spread across multiple buildings, the café especially creates opportunities to build new relationships and socialize over lunch or coffee.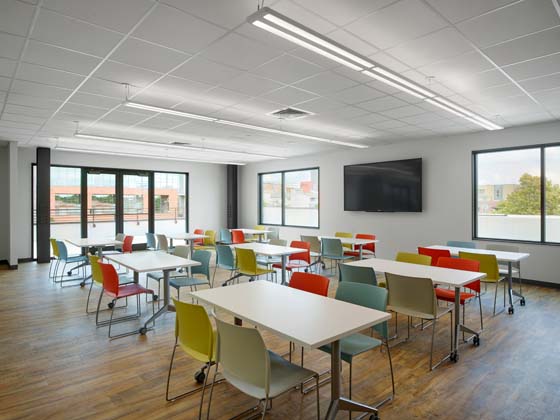 © Halkin | Mason Photography courtesy of Coscia Moos Architecture
Town Hall provides 1,800 square feet of space designed to foster engagement within and outside Philadelphia's LGBTQ community. It serves as a conference room; a classroom for internal or external educational programs; and a community center for public meetings, political events, and fundraisers.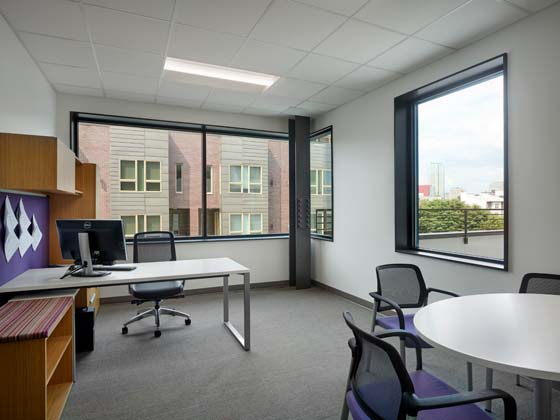 © Halkin | Mason Photography courtesy of Coscia Moos Architecture
Personalization was important to the design of private offices, where each employee chose the color scheme from a palette of purple, orange, blue, and green. Flexible furnishings in a mix of wood-grain laminate and metal can be rearranged to suit each occupant's preference. When the building was converted from two stories to four, new steel framing was inserted. In many of the private offices, Coscia Moos Architecture left these structural elements exposed for visual interest.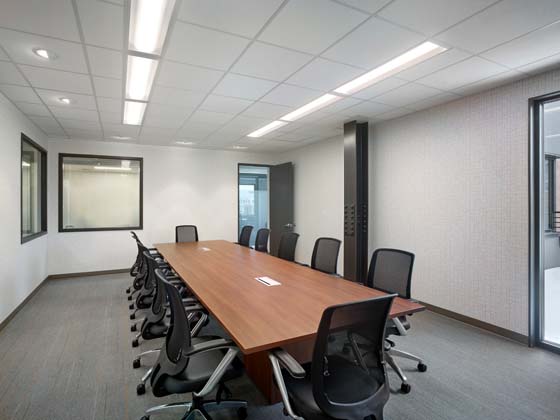 © Halkin | Mason Photography courtesy of Coscia Moos Architecture
Coscia Moos Architecture used interior glazing to filter natural light from the building's large windows into its central conference room. Another exposed structural steel column provides a conversation starter about the building's transformation.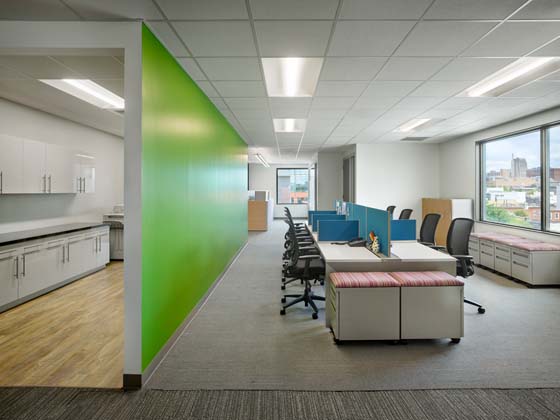 © Halkin | Mason Photography courtesy of Coscia Moos Architecture
Mazzoni Center offers eight flexible touchdown desks for part-time employees. Each employee has a personal rolling file pedestal with a bright striped cushion. The files can be rolled next to a desk for convenience or aligned beneath the window as a bench. Part-time and full-time employees enjoy regular interaction via the copy and office supply room located behind the green wall.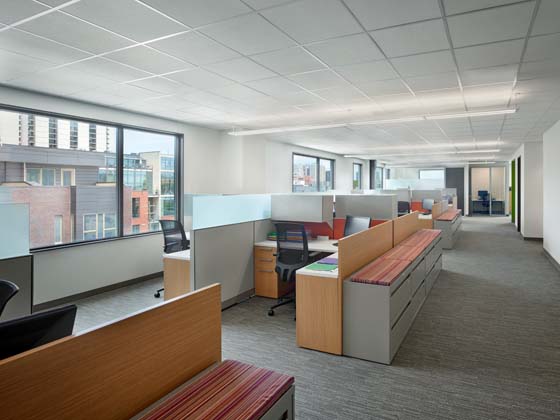 © Halkin | Mason Photography courtesy of Coscia Moos Architecture
On the third and fourth administrative floors of the Mazzoni Center, workstations incorporate two-color fabrics. When viewed from the west, as pictured, orange tack boards are visible; when viewed from the east, the tack boards are purple. Striped cushions that convert file storage into extra seating unite the color scheme and subtly reference the LGBTQ pride flag. Coscia Moos Architecture designed large windows to ensure natural light permeates the space.
---
Philadelphia's oldest and largest healthcare provider serving the LGBTQ community, Mazzoni Center began as an all-volunteer clinic in 1979. As the need for comprehensive health and social services grew, so did the organization. Today, Mazzoni Center supports over 35,000 individuals a year with services encompassing the full spectrum of health and wellness. Mazzoni Center patients and clients benefit from primary healthcare, counseling and recovery, HIV prevention and care, psychosocial services, legal support, education, and outreach.
For all of the comprehensive services provided, Mazzoni lacked a "center." Its services and administrative functions were spread across several city buildings, all filled to capacity. In order to grow, Mazzoni Center needed a new home. Coscia Moos Architecture (Philadelphia) was engaged by developer Alterra Property Group (Philadephia) to transform a former two-story office building into Mazzoni Center's new multipurpose headquarters.
The shared goal was to create an efficient, organized, and welcoming facility that would for the first time assemble all Mazzoni Center services under one roof as an LGBTQ community center. The complex mix of healthcare and social services—along with the administrative and executive staffs required to keep the mix running—made for a programmatic challenge. In order to expand vertically, the building also required removal of its existing column grid, insertion of a new structural steel framework, and helical piles driven deep into Philadelphia's notoriously unstable soil.
Once the building was structurally sound, Coscia Moos organized it according to privacy concerns, orienting more public-facing spaces—a food bank, outpatient therapy rooms, and the pharmacy—on the first floor. The healthcare practice is located on the second floor. Executive offices and meeting space appear on the third floor, while administrative functions take the top floor.
Privacy, safety, and comfort became touchstones of the design. Attempts to minimize sound transmission between counseling rooms, replacing traditional-stall restrooms with gender-neutral individual restrooms, placing like services nearby for staff collaboration and coordination, and selecting colorful and comfortable furnishings contribute to a welcoming environment. The architecture emphasizes flexibility; for example, demountable partitions frame a counseling suite that can be reconfigured economically in the future.
Demonstrating the collaboration that the new Mazzoni Center would foster, the client and design teams conducted weekly meetings to review progress and make decisions in real-time. Mazzoni Center user groups often participated in meetings, sharing their input about how their divisions operated and the concerns faced by their patients or clients. This regular, consistent dialogue armed the design team with a better understanding of their audiences, so that they could make decisions with a positive impact.
To fulfill Mazzoni Center's goal of becoming a community center, a Town Hall was incorporated into the design. The 1,800-square-foot all-purpose meeting room adjacent to a staff café and outdoor space can be used for internal or external programming, meetings, or events. It provides an opportunity to welcome the public and foster stronger relations within and outside the LGBTQ community.
Mazzoni Center opened and occupied its new facility in summer 2017.
Project team:
Owner and developer: Alterra Property Group
Owner's representation: Savills Studley
Architecture and interior design: Coscia Moos Architecture
Structural engineering: Cooke Brown
MEP engineering: Urban Technology
Construction: How Properties