PHOTO TOUR: NYDG Integral Health & Wellness
---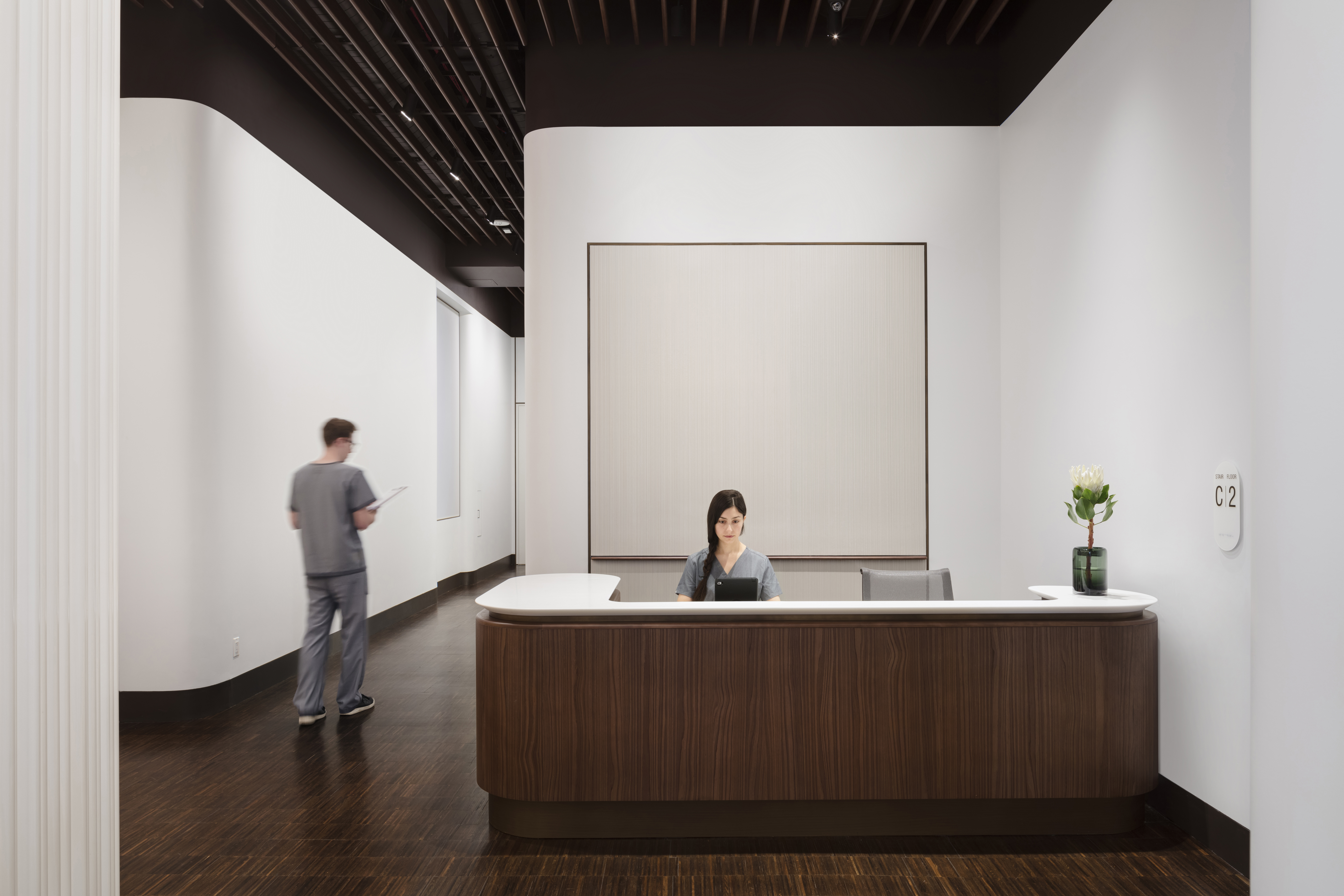 ÓAlbert Vecerka/ ESTO
A discreet private entrance at NYDG Integral Health and Wellness leads to the VIP reception desk and cryotherapy rooms. Recycled industrial oak floors from Germany and dark wood ceiling planks contrast with white polished-plaster walls and bronze details.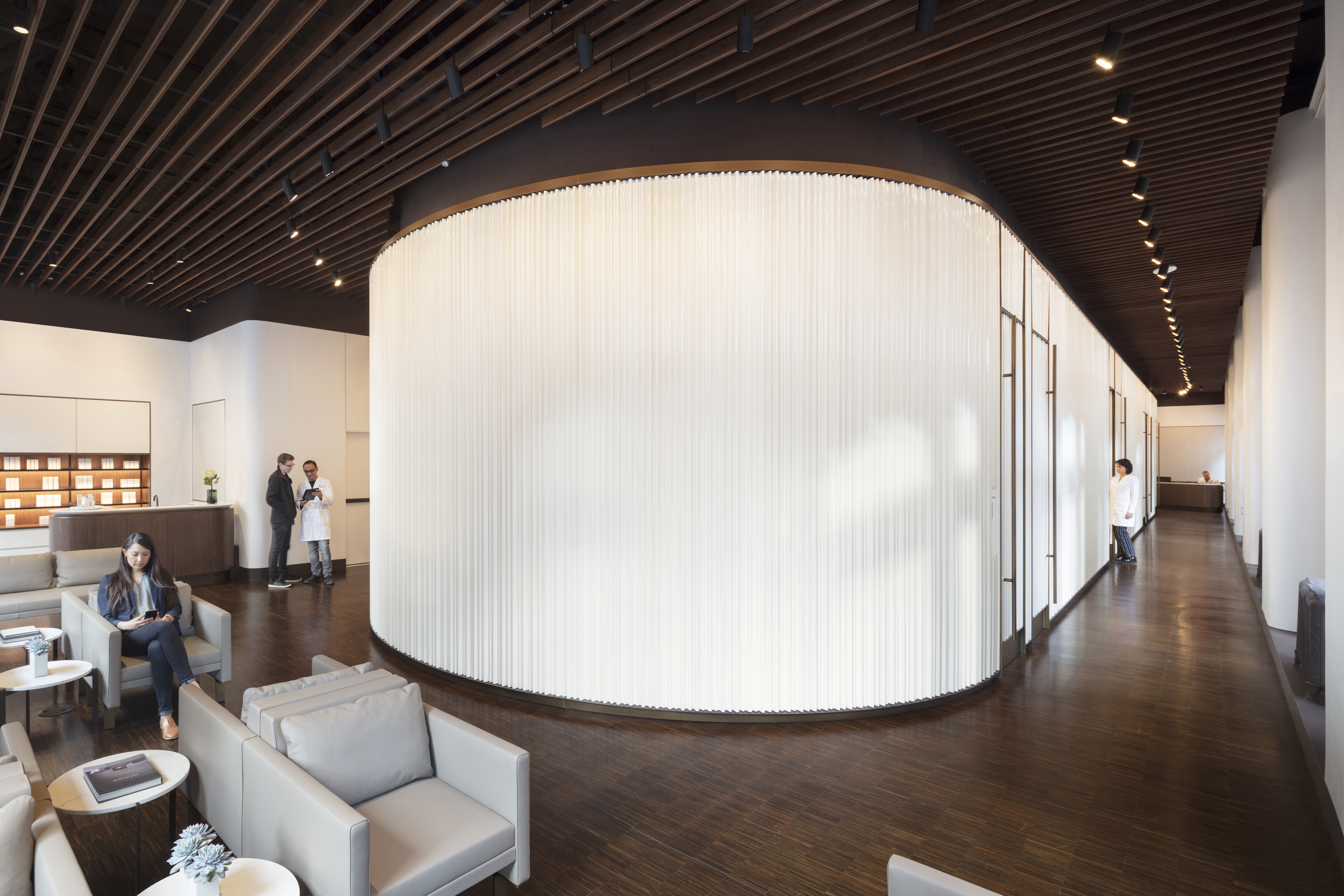 ÓAlbert Vecerka/ ESTO
Private treatment rooms are placed inside a curvilinear pod, which is clad in 11-foot-tall fiberglass panels, which were custom-designed and manufactured in Italy. The curves of panels were hand-drawn and replicated digitally.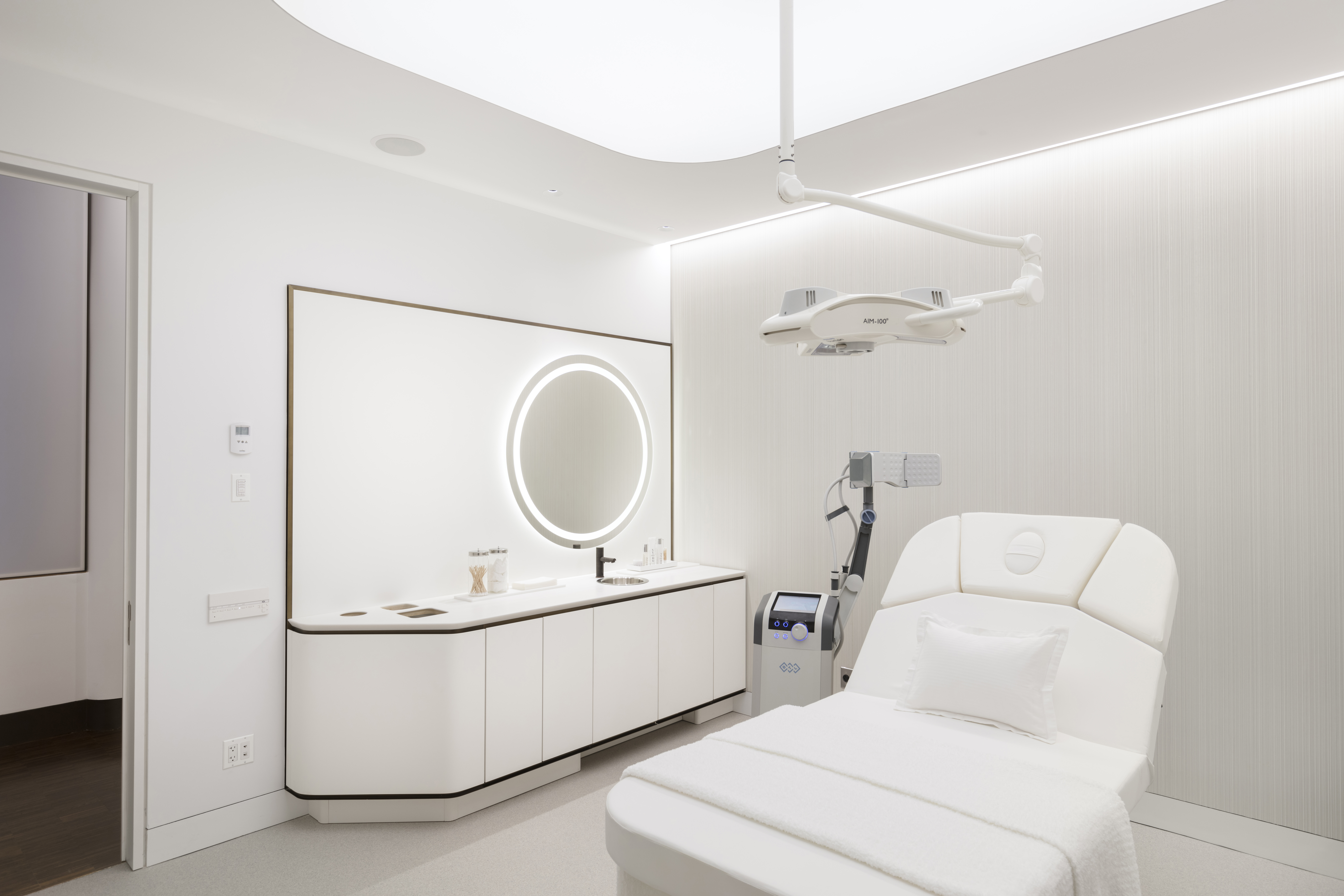 ÓAlbert Vecerka/ ESTO
Custom cabinetry in the treatment rooms has been fabricated to neatly fit medical supplies into the top of the storage unit.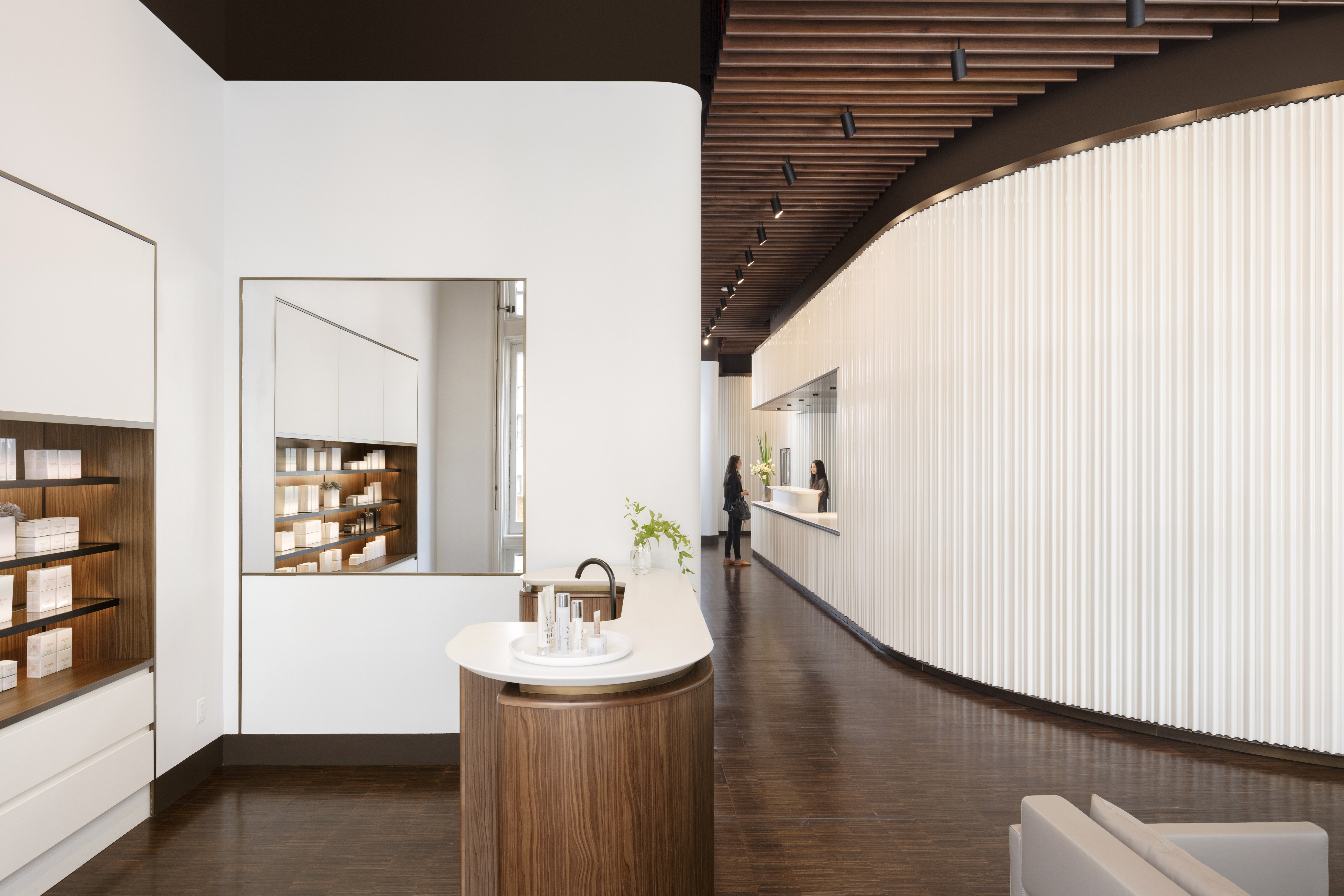 ÓAlbert Vecerka/ ESTO
Custom cabinets and shelving were developed for the retail area located outside the pod.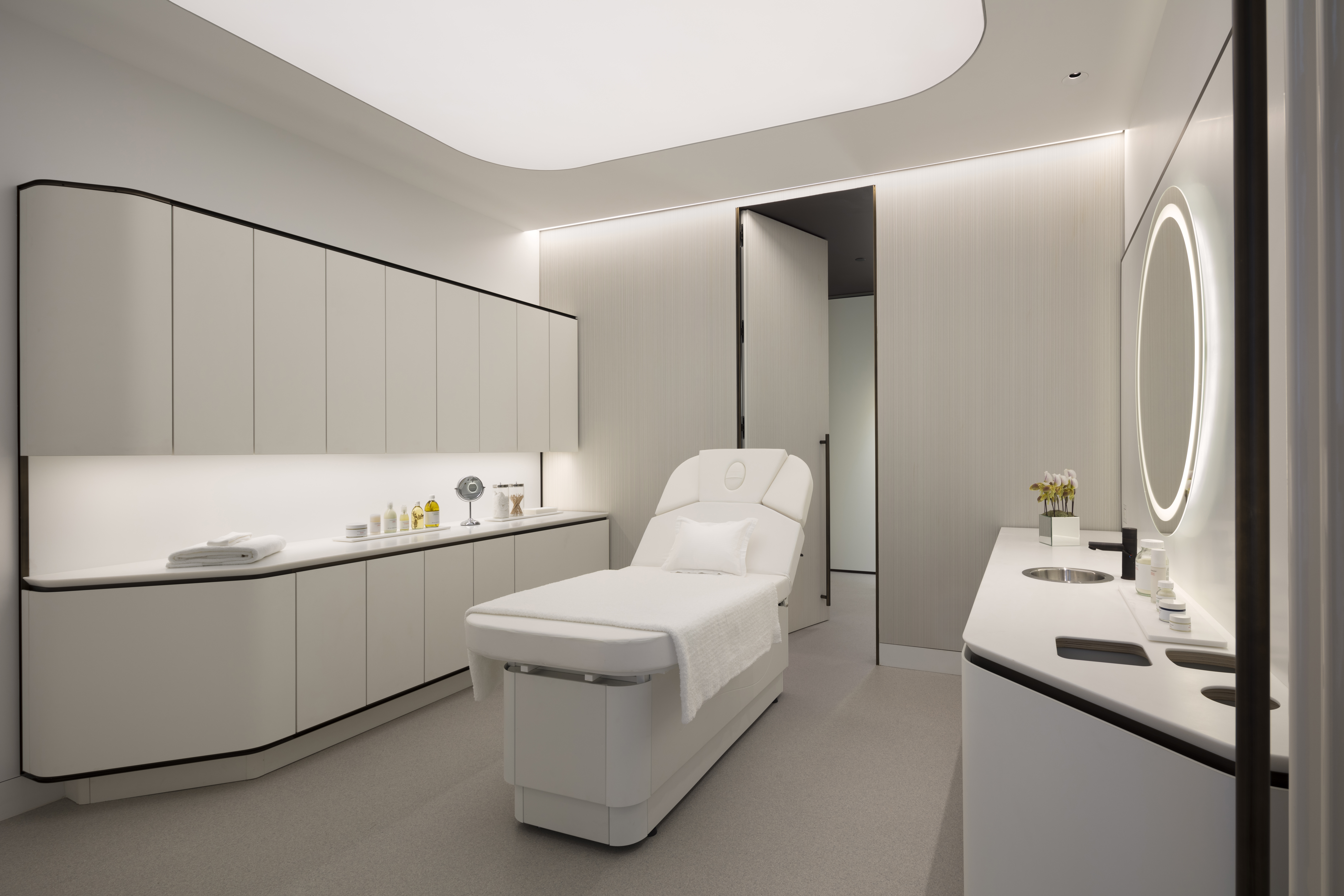 ÓAlbert Vecerka/ ESTO
The ceiling is defined by a simple, evenly lit panel, reminiscent of a skylight, that can be dimmed to a comfortable level upon entering or set to a brighter level during a procedure. Specific task lighting was integrated into the ceiling zone, as well.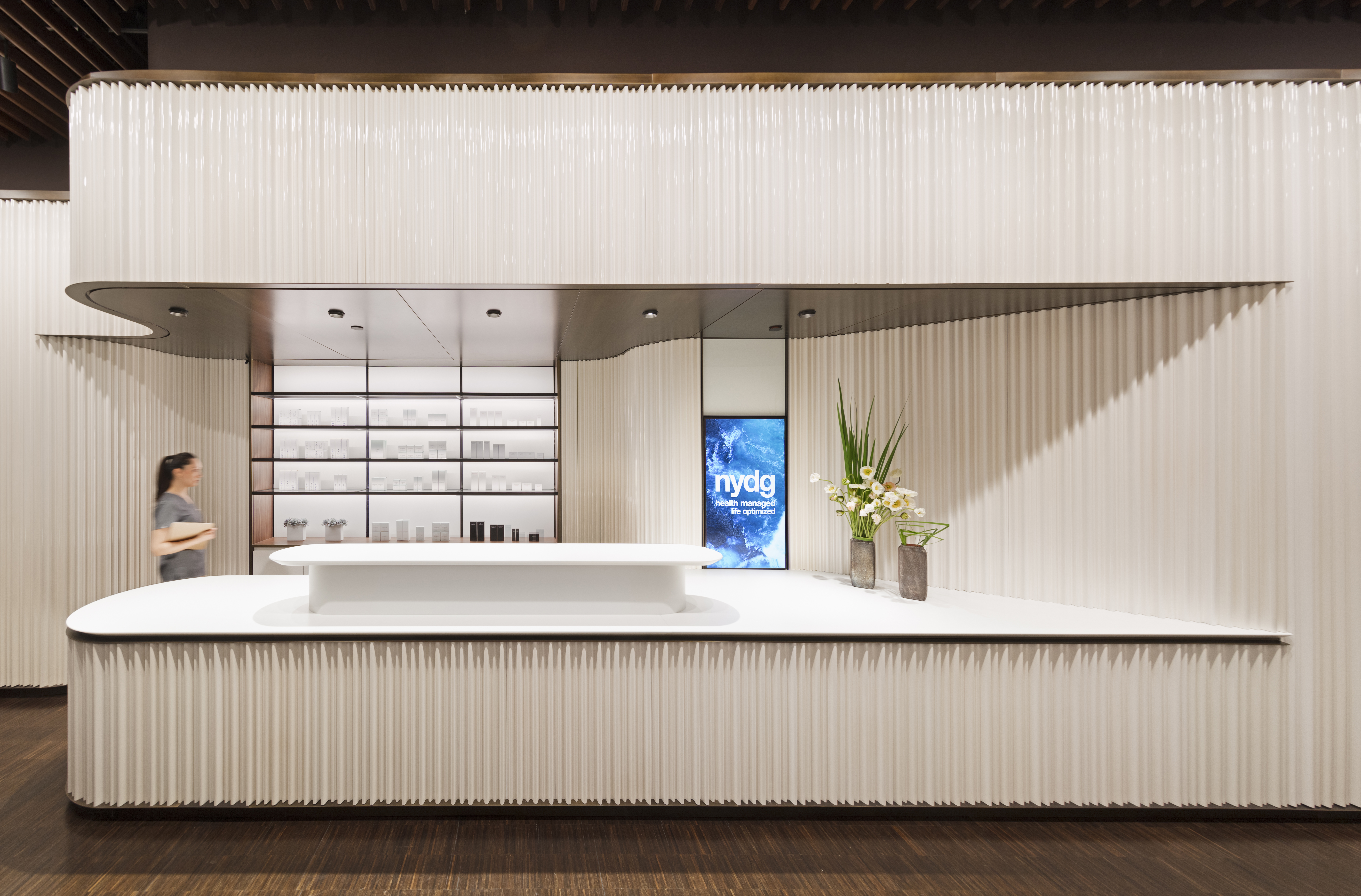 ÓAlbert Vecerka/ ESTO
The main reception area is carved into the treatment pod. Bronze details, repeated across the project, unify the space.
---
The new NYDG Integral Health & Wellness, a center for medical and holistic therapies that optimize physical aesthetics, performance, and well-being, opened in April In New York City. Brandon Haw Architecture (New York City) was tasked with retrofitting a second-floor loft of a classic Fifth Avenue landmark building to accommodate the center's program of state-of-the-art treatments and wellness services, including facials, body work, and orthopedics.
The 7,000-square-foot space comprises eight state-of-the-art treatment rooms, a blood infusion facility, nutrition center, and two new cryotherapy treatment facilities, each with associated support spaces, reception, and retail product area.
To preserve the integrity of a light-filled loft space with tall windows and extensive views of the city below, architects designed a freestanding, self-contained pod to hold treatment rooms that's set apart from surrounding walls and clad in a custom interlocking fiberglass panel system. A subtle yet classic materials palette, including reclaimed industrial stained-oak flooring from Germany, communicates a sense of timeless luxury, warmth, and professionalism.
White polished plastered walls with bronze base boards and door trims create the backdrop for the project's programmatic requirements. A dark-stained wooden ceiling system was developed to screen out the elements above and integrate the lighting. Inside the treatment rooms, the design team used solid-ground quartz flooring to create an elegant and easily maintained surface for procedural spaces. Custom cabinetry and countertops integrate supplies. Custom furniture developed by Brandon Haw Design further complements the space.
Project details:
Facility name: NYDG Integral Health and Wellness
Location: New York
Completion date: April 2018
Owner: New York Dermatology Group
Total building area: 7,000 sq. ft.
Total construction cost: N/A
Cost/sq. ft.: N/A
Architecture firm: Brandon Haw Architecture (interior architecture)
Interior design: Brandon Haw Architecture
Millwork & Custom Fabrications:  Paolo Cassina Custom Interiors, Sailing SRL
Contracting: Michilli Inc.
Engineering: Rosini Engineering, PC
Construction: N/A