FIRST LOOK: LAC+USC Restorative Care Village
---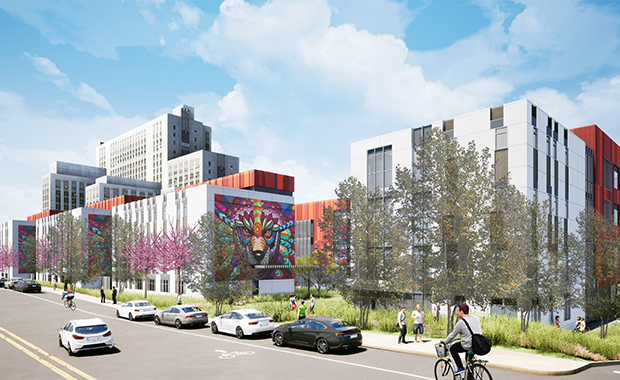 CannonDesign
The Restorative Care Village is integrated into the community as it sits on a prominent street corner and leverages courtyards accessible to the public and public art to provide a welcoming environment.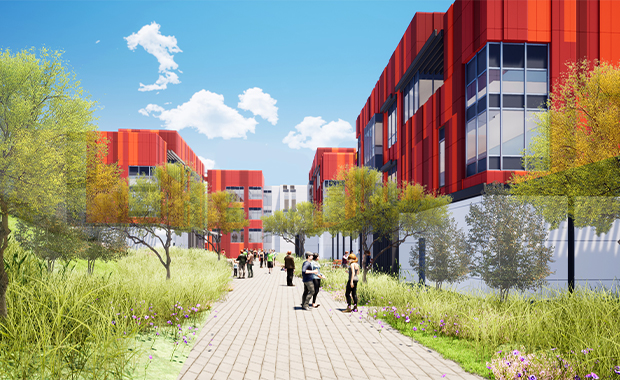 CannonDesign
The design of the courtyard area invites community members in and helps residents feel a sense of connectedness with the surrounding neighborhood.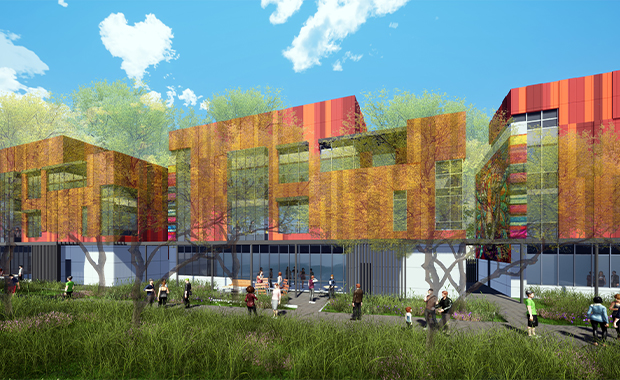 CannonDesign
Modular construction of the project will accelerate its overall timeline, ensuring it helps those dealing with homelessness and mental health issues sooner than traditional construction.
CannonDesign
All buildings include modular, prefabricated components and will be oriented around a landscaped courtyard and promenade. The building classing is inspired by the historic architecture of the landmark General Hospital, and multicolored paneling takes cues from colorful murals in the surrounding neighborhoods.
---
California's Los Angeles County sought to address homelessness and the public health crisis tied to it, including issues of mental illness, poverty, addiction, disability, and/or other unstable living conditions. One solution is the Restorative Care Village (RCV) located in the Boyle Heights neighborhood on the campus of Los Angeles County + University of Southern California (LAC+USC) Medical Center.
The LAC+USC Restorative Care Village is designed to help individuals struggling with serious medical, mental health, and addiction issues who may be homeless or incarcerated as a result. When the RCV is completed in March 2021, it will offer a comprehensive strategy for managing the whole person and the full continuum of interrelated challenges facing this vulnerable population.
Its two primary components are a recuperative care center with 96 beds to provide immediate placement options for individuals discharged from an inpatient hospital setting who lack a supportive place to live, and a residential treatment program consisting of four buildings that provide a short-term alternative to hospitalization to address mental health needs.
The village concept, created by CannonDesign (Los Angeles), is based on a neighborhood model, with all buildings oriented on a main street that harnesses extensive landscaping and placemaking strategies. The cladding on the buildings draws inspiration from the 19-story, historic art deco Los Angeles County General Hospital, which sits on the LAC+USC campus. Public art will be an essential element of the project, as well, with interior and exterior artwork playing a central role in creating a restorative living environment.
The RCV will largely be built through modular construction and leveraging prefabricated materials to reduce the project timeline while maintaining quality to immediately allow the county to make the RCV available to those in need including mental health patients and homeless individuals.
Project details:
Facility name: Los Angeles County + University of Southern California Restorative Care Village
Location: Los Angeles
Expected completion date: March 2021
Owner: Los Angeles County Department of Mental Health
Total building area: 67,500 sq. ft.
Total construction cost: $53.8 million
Cost/sq. ft.: $796/sq. ft.
Architecture firm: CannonDesign
Interior design: CannonDesign
Modular Construction: ModularDesign+
General contractor: CannonDesign Builders
Engineering: CannonDesign (structural), Southland (mechanical), Randall Lamb (electrical), Southland (plumbing), Cornerstone (civil), RELM (landscape)