Bryan Health Merrick Medical Center Refreshes Its Critical Access Hospital
---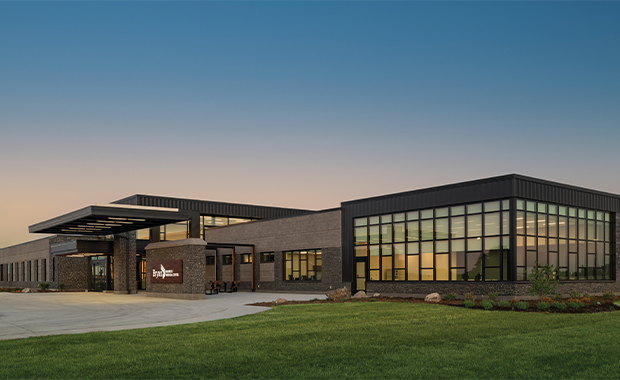 Bryan Health Merrick Medical Center: Bryan Health Merrick Medical Center's new $27 million facility spans 51,307 square feet, approximately 70 percent larger than the previous hospital built in 1959.
Bryan Health Merrick Medical Center: The lobby offers a flexible space that combines patient registration, waiting areas, dining room seating, and public meeting space.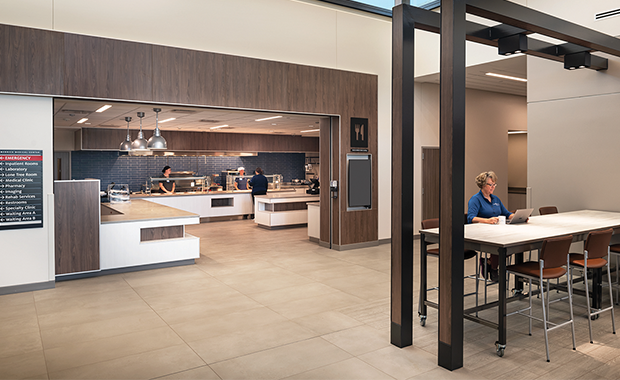 Bryan Health Merrick Medical Center: The new facility introduced a dining area to the hospital for the first time, adding a public amenity inside the main entrance that can be leveraged to host cooking demonstrations and other community classes.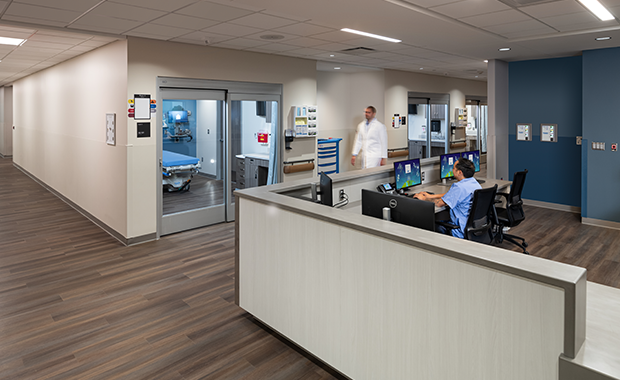 Bryan Health Merrick Medical Center: A centrally located nurses' station gives Merrick's cross-trained clinical staff easy access to inpatient beds, adaptable care rooms, the emergency department, surgical suite, and supply closet.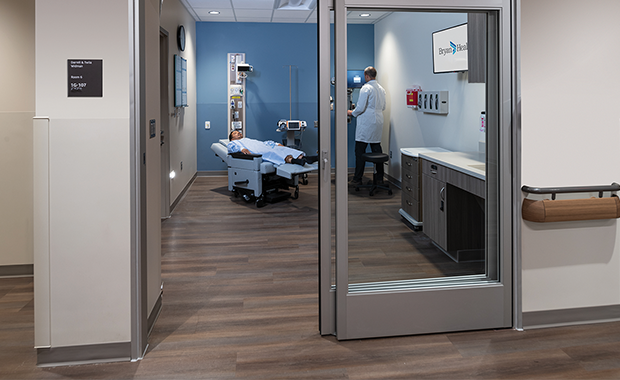 Bryan Health Merrick Medical Center: To maximize occupancy during off-peak times, Kahler Slater designed a row of adaptable care rooms that can be reconfigured depending on demand. With electrical outlets and ventilation systems for critical monitoring equipment, these rooms can accommodate prep and recovery, emergency care, sleep studies, infusion, observation, or specialty exams by swapping beds for stretchers, chairs, or tables.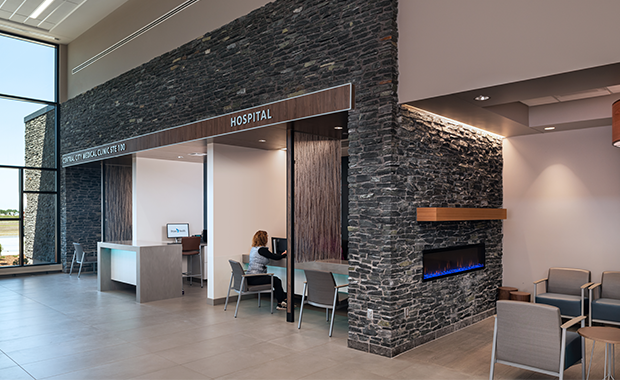 Bryan Health Merrick Medical Center: A dark, textured stone wall extends from the exterior into the interior of the main lobby, creating a harmonious element that emphasizes the registration desk while establishing a wow factor at the entrance.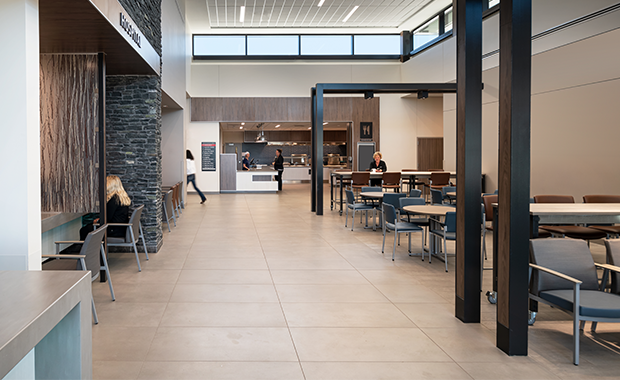 Bryan Health Merrick Medical Center: Steel beams demarcate seating areas inside the main entrance and house lighting fixtures to supplement the natural light from the clerestory above.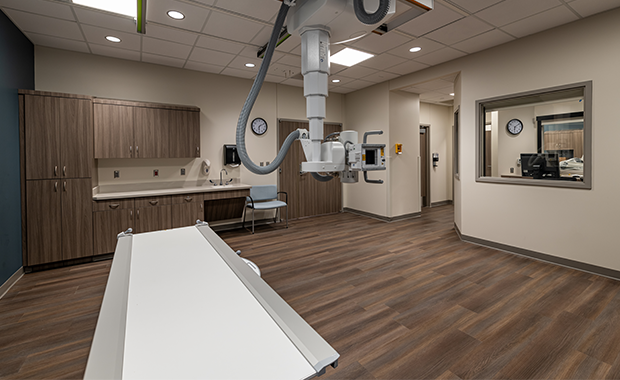 Bryan Health Merrick Medical Center: The radiology lab is located just a few steps from the emergency department and specialty exam rooms, across the hall from the Rural Health Clinic, so it can be conveniently shared for both inpatient and outpatient imaging.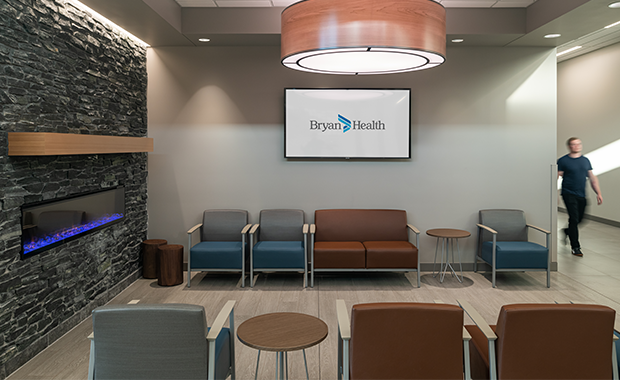 Bryan Health Merrick Medical Center: In addition to a small waiting space next to the registration desk, supplementary seating is available in the dining area, along the public concourse, and even outside of the building to maximize space without a dedicated waiting room.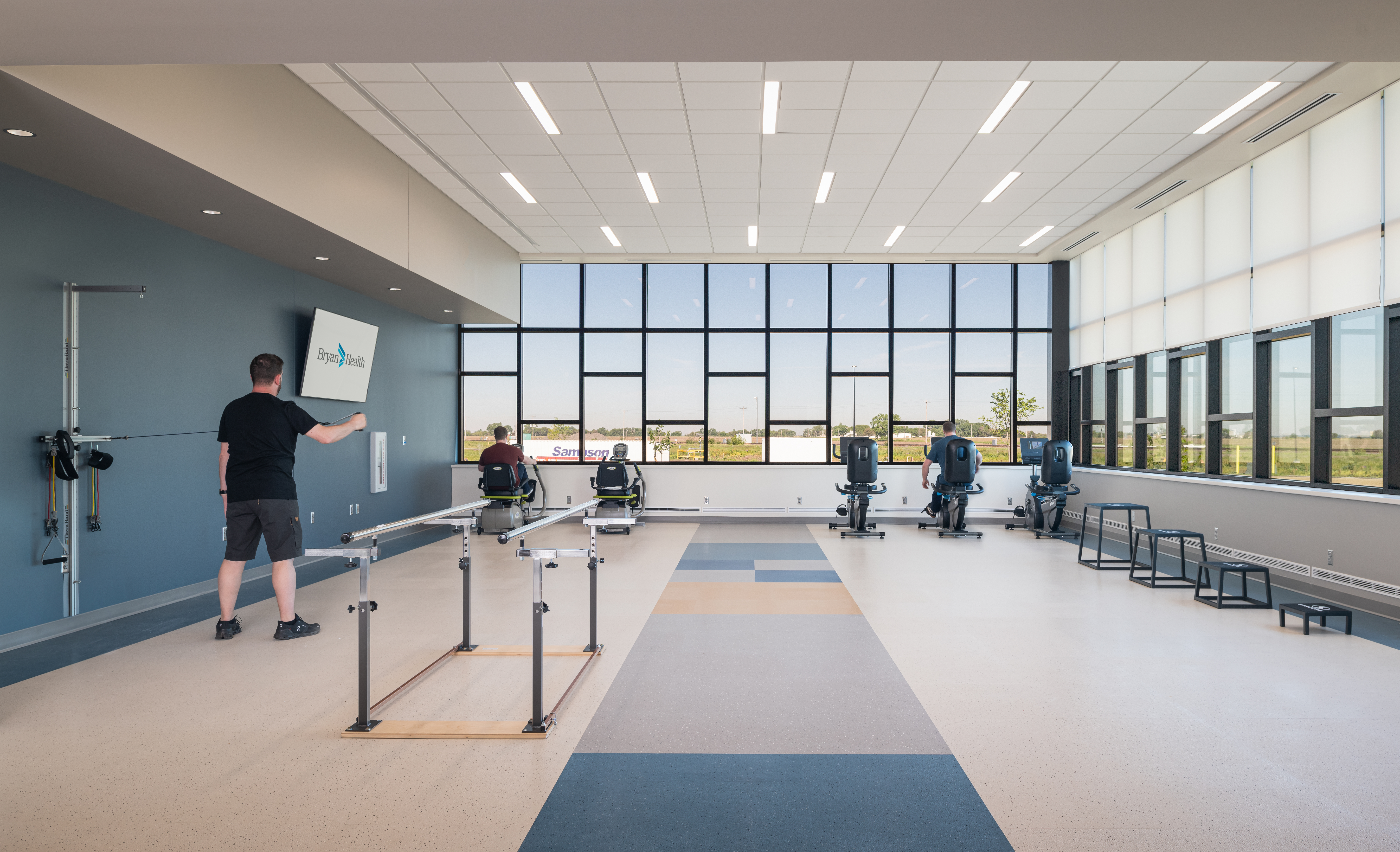 Bryan Health Merrick Medical Center: Situated in the corner of the building, the rehabilitation gym was designed for possible expansion as needs increase in the future.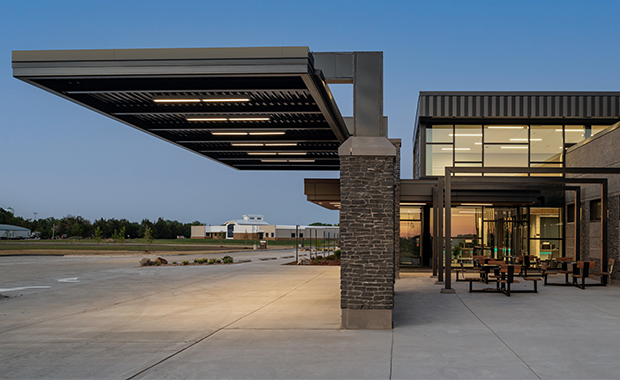 Bryan Health Merrick Medical Center: The combination of brown masonry blocks, dark stone, and black steel beams add contrast and texture to the exterior—creating visual appeal far beyond the plain brick façade of the former building.
---
Bryan Health Merrick Medical Center
Bryan Health Merrick Medical Center was originally designed to provide inpatient care for the small, rural community of Central City, Neb., about 90 minutes away from the state's capital city of Lincoln.
But as ambulatory demands increased over time, the Critical Access Hospital's small, semiprivate rooms; compact operating room; and detached outpatient Rural Health Clinic (RHC) limited the services and specialists that the aging structure could accommodate.
Additionally, the hospital—built in 1959, before The Americans with Disabilities Act—also presented challenges for an aging population with complex medical needs. For example, the facility's narrow doorframes restricted wheelchairs or walkers from accessing bathrooms and certain exam rooms.
With the goal of expanding its onsite service offerings while accommodating patients in a more modern, comfortable space, Merrick also set out to build a brand new facility that better reflected the organization's mission and services, as well.
"Patients told me that the previous facility didn't give them comfort or confidence that they'd receive high-quality care," says Patrick Avila, president and CEO of Merrick Medical Center, which is part of the Bryan Health network based in Lincoln. "We needed a modern, patient-centered facility that represented the level of care we could provide."
Understanding its rural market needs
The project officially kicked off in 2019 when the Dinsdale family, well-known philanthropists in Nebraska, donated 22.4 acres on the southwest side of town—an ideal location for the new hospital with direct access to the main highway.
The medical center partnered with architecture firm Kahler Slater (Milwaukee) on the project, beginning with an in-depth strategic market analysis to understand the hospital's service utilization at the time.
Among the findings was that Merrick experienced a 15 percent decline in annual inpatient discharges over the prior few years, with noticeable fluctuations in emergency visits, surgeries, and observation stays of less than a day. Armed with this insight, the designers envisioned the new facility with flexible rooms that could suit a multitude of uses instead of separate spaces to serve distinct clinical demands.
"You don't design rooms to be utilized to full capacity one day and sit empty the rest of the week," says Melinda Pogwizd, associate principal and architect at Kahler Slater. "We tried to smooth out those utilization ebbs and flows, while understanding that every Critical Access Hospital expects volume variability. We looked at the volumes for each service line and use type to determine which functions could be shared or flexed."
Designing a new Critical Access Hospital
The solution was six adaptable care rooms that can accommodate six different types of care including sleep studies, infusions, specialty exams, prep and recovery, observation, or emergency care overflow. These services, which tend to peak at different times throughout the week, were previously performed in inpatient rooms that didn't necessarily meet the mechanical requirements.
The new care rooms at Bryan Health Merrick Medical Center are designed to the most stringent post anesthesia care unit (PACU) Phase 1 Recovery specifications, incorporating all the necessary ventilation systems, medical gases, electrical outlets, and bed clearances for the highest acuity scenarios.
Furthermore, by switching out beds for stretchers, reclining chairs, or exam tables, these rooms can easily be converted for less critical patient needs.
Dave Sheedy, principal and healthcare team leader at Kahler Slater, says the goal was to design the rooms to meet the worst need, while giving them the ability to easily flex down to low-acuity uses, such as specialty exams or other types of visits.
Shortly after the new hospital opened in June 2022, Merrick's two emergency department (ED) trauma bays filled up after a major highway accident soon and the adaptable care rooms were able to handle the influx.
Convenient adjacencies for healthcare staff
With four physicians, four physician assistants, and a small cross-trained nursing staff moving between inpatient rooms, emergency care, and the previously detached RHC, the new facility required strategic adjacencies to optimize Merrick's limited clinical staff.
"Our staff have to flex in a lot of different areas," Avila explains. "A nurse here could treat an inpatient on swing bed status, help with pre- and post-surgical care as well as outpatient procedures, and then have to cover the emergency room, too. In a larger facility, that's several different departments; but here, that's one nurse on any given day."
These department-crossing demands drove the layout of the 51,307-square-foot facility, which is 70 percent larger than the previous building. In the past, providers had to bounce between the main inpatient hospital and the nonadjacent outpatient building across the street. Bringing the 18-room RHC inside the same facility streamlined the delivery of care.
The layout of the building maximizes these efficiencies with critical proximities. For example, the nurses' station is centrally located near the six adaptable care rooms, six inpatient beds, pharmacy, ED, and surgical suite, which comprises a spacious operating room and another procedural room.
This command center also serves as the facility management hub, hosting the fire alarm panel, medical gas panel, and security desk.
The imaging lab is conveniently located across from the RHC and next to the ED to reduce steps between departments. These key functions reside along a primary public concourse that connects the main entrance and the ED entrance, giving patients easy access to clinical rooms while staff, equipment, and supplies move through a separate back-of-house hallway to reduce congestion.
"From a patient perspective, there's a nice calmness to it," Avila says. "They don't see the hustle and bustle or feel like they're in the way."
Planning community space on healthcare campus
Located near the western entrance to town, the medical center serves as the cornerstone of Central City's newly formed Wellness Corridor that connects the hospital to other local resources including a high school, senior living facility, aquatic center, and scenic walking trail.
Named for the family that donated the land, the new Dinsdale Health Campus sits on a triangular site between the highway that leads downtown and a street that forms the southern border of Central City.
Rather than placing the hospital on the north side of the property near the street, the design team pushed the facility toward the south end of the site, maintaining visibility from the highway while leaving room for future additions like public restrooms or pavilions.
This position leaves a community event space along the street in front of the hospital, while allowing room for the building to expand horizontally by adding onto the RHC, surgical suite, inpatient beds, or rehab gym as patient volume fluctuates in the future.
The hospital lobby functions as an extension of this community space and isn't designed just for patient registration and waiting. Instead, the lobby also serves to welcome the public into the newly added dining room, which can be used to host community cooking demonstrations and other wellness classes.
"We couldn't justify a huge, opulent lobby that sits empty most of the time," Pogwizd says. "Every single inch of this building needed to serve a multitude of uses."
Promoting patient volume growth
Since opening, the new medical center has seen more patients and providers coming through its doors. ED volumes have increased by 60 percent, and other ancillary services are up approximately 20-30 percent, Avila says.
While the former facility was capped at about five days of surgery per month because of the limited OR space, the expansive new surgical suite has enabled Merrick to recruit a full-time operating team that performs surgeries about 20 days per month.
As the second largest employer in Merrick County, according to Avila, the medical center is attracting nurses and specialists through word-of-mouth and drive-by appeal, making recruitment easier.
The outpatient experience scores have exceeded the hospital's targets, while inpatient experience scores have reached 100 percent satisfaction. "The building design and internal flow have helped alleviate patient anxiety and improve the patient experience," Avila says. "Now the building matches the care we can provide, and there's a sense of community pride that comes with it."
Brooke Bilyj is a freelance writer and owner of Bantamedia in Cleveland. She can be reached at brooke@bantamedia.com.
Project details for Bryan Health Merrick Medical Center
Location: Central City, Neb.
Completion date: June 2022
Owner: Bryan Health Merrick Medical Center Dinsdale Health Campus
Total building area: 51,307 sq. ft.
Total construction cost: $19.9 million
Cost/sq. ft.: $388.90
Architecture: Kahler Slater
Interior design: Kahler Slater
General contractor: Sampson Construction Inc.
Engineering: SES, LLC
Builder: Sampson Construction Inc.
AV equipment/electronics/software: Ascom, Bogen, Lowell, Denon
Carpet/flooring: Mohawk Group, Tarkett Commercial, Teknoflor Commercial Flooring, Altro Floors, Ergon Engineered Stone, Florida Tile
Ceiling/wall systems: USG Corporation, Rockfon Ceilings
Doors/locks/hardware: VT Industries, ASSA ABLOY, KABA, ABH
Fabric/textiles: Designtex, Arc Com, Knoll, Momentum, Wolf-Gordon, Maharam, Stinson
Furniture—seating/casegoods: Source Furniture, Nemschoff, Herman Miller, National, OFS-Carolina, Weiland, Hi5
Handrails/wall guards: Inpro Corporation
Headwalls/booms: Modular, Skytron
Lighting: Lumetta, Lithonia, Lumenwerx, EOS, Acolyte, Gotham, Spectrum, Halo, Evenlite, Brownlee, Erco, Fail-safe
Signage/wayfinding:  Nebraska Neon Sign
Surfaces—solid/other: Formica, Formica-Hardstop, Corian, PPG, 3form, Koroseal
Wallcoverings: Symphony
Other: VuEase (glass markerboards), Buechel (stacked stone)
Project details are provided by the design team and not vetted by Healthcare Design.