PHOTO TOUR: Cleveland Clinic Taussig Cancer Center
---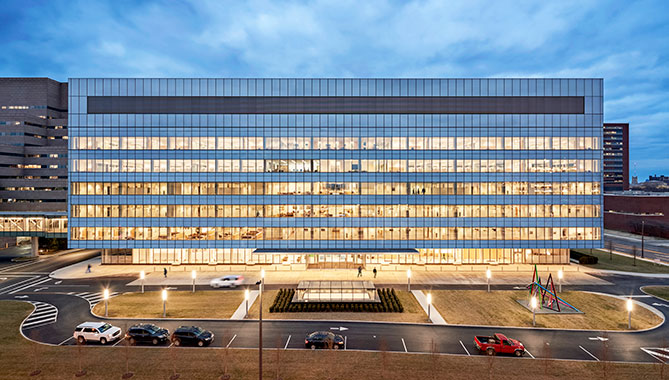 Robert Benson Photography
The new Taussig Cancer Center creates a strong eastern gateway to Cleveland Clinic's main campus. The building is designed to maximize patient access to daylight and views, by placing all patient circulation and treatment spaces along the perimeter.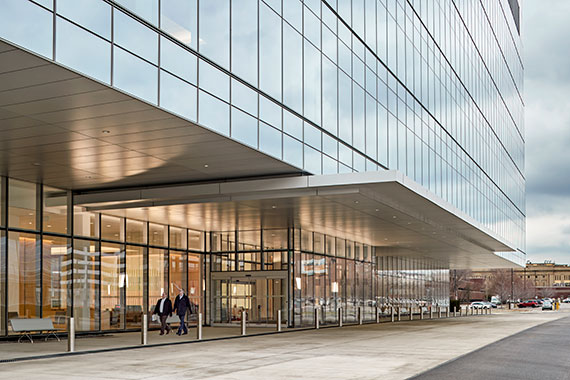 Robert Benson Photography
Providing welcoming and sufficient drop-off and pick-up space that ensures all patients and families have the time and space they need is critically important in a cancer building. The building's cantilevered form responds directly to this imperative, making a 350' by 32' deep patient arrival zone and simultaneously creating an urban-scaled gesture on the main façade.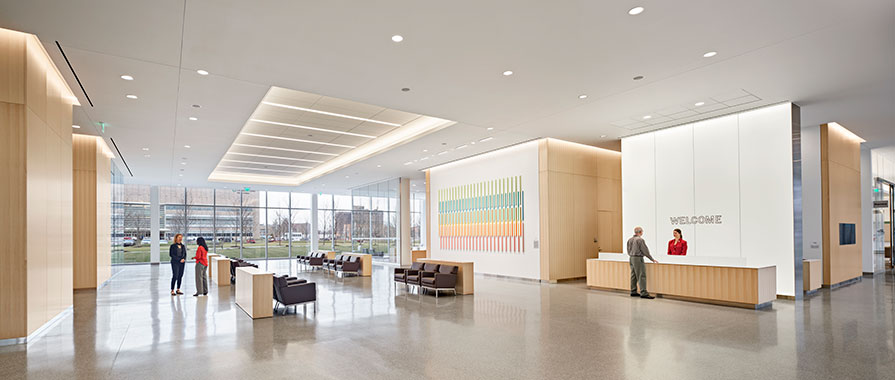 Robert Benson Photography
The Cleveland Clinic 'Redcoat' program ensures that every patient is welcomed upon arrival. The main lobby here and interiors throughout feature a calm, uncluttered palette of warm wood, glass, and white walls that showcase the Cleveland Clinic's renowned art program.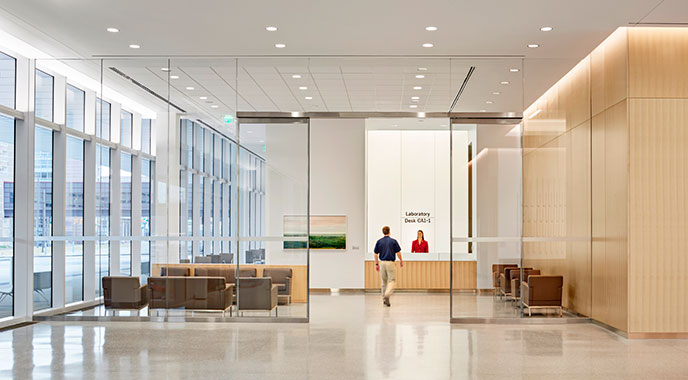 Robert Benson Photography
Recognizing that almost all patients' first stop is the blood draw laboratory, this lab is placed immediately adjacent to the front door with a greatly increased number of draw stations to ensure patients do not wait in line.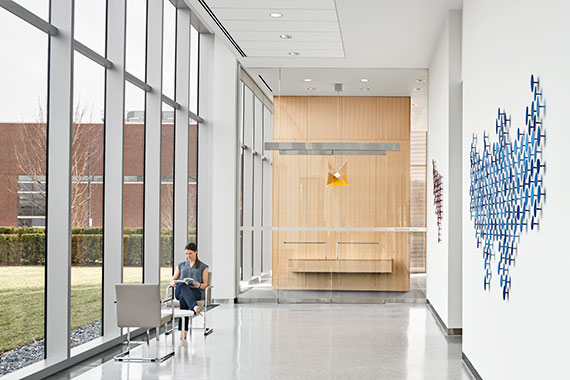 Robert Benson Photography
Patient services, such as a cafeteria, spa, wig boutique, art therapy room, Resource Room, and the meditation space (entrance seen here) line the north side of the building overlooking the Cleveland Clinic's central Green Spine.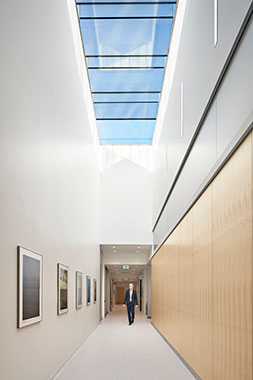 Robert Benson Photography
All-glass skylight infuses lower level radiation oncology suite with natural light.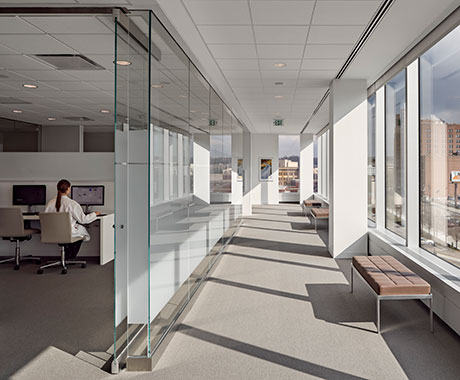 Robert Benson Photography
Along the entire southern edge, overlooking the entry, a glass-walled corridor ensures patients moving to exam rooms never lose their connection to the outdoors and daylight. Exam room modules, accessed from this corridor, are organized around multidisciplinary team rooms (shown to the left).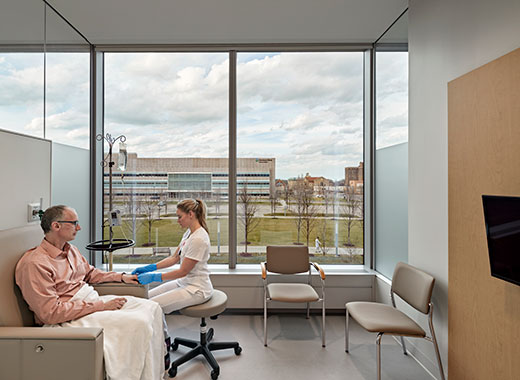 Robert Benson Photography
All 98 infusion rooms are private or semi-private and are located at the perimeter, overlooking the Cleveland Clinic's central green space. Infusion rooms are immediately adjacent to exam areas to minimize patient travel and make it easy for doctors to visit their patients in treatment. Two walls of glass, perpendicular to exterior, expand the field of view and amount of daylight in infusion rooms.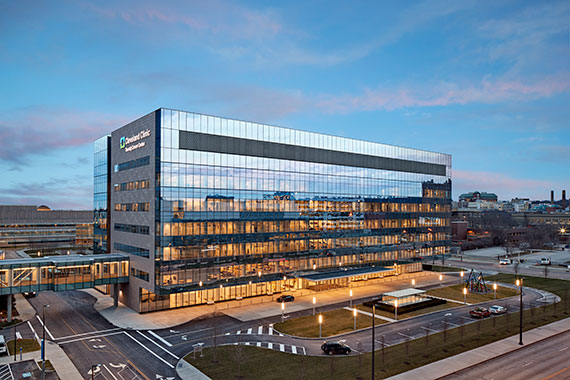 Robert Benson Photography
Skylight, which brings light to radiation oncology spaces, is visible in central island of the drive lane. New bridge connects the Cancer Building to the rest of the Cleveland Clinic's Campus.
---
This seven-story building is designed to improve patient outcomes through a collaborative, multidisciplinary approach to cancer care. Here, all of Cleveland Clinic's cancer services are combined under one roof, uniting all treatment disciplines—surgery, medical oncology, radiation oncology, genetics, nutrition, social work and imaging. Moreover, the building is organized by specific cancer types so that patients can receive most of their treatment in one area. This arrangement benefits patients, their families, and clinicians, providing more opportunities for collaboration and patient engagement.
Led by architects William Rawn Associates, Inc., and Stantec Architecture, the new cancer center embraces natural light as an omnipresent component of the healing environment. Natural light streams through the entire facility; most patient areas have abundant views to the outdoors. Reception areas are filled with light, infusion rooms feature floor-to-ceiling windows.  Even the lower level radiation and imaging services area—traditionally a dark and dreary destination—gets enlightened treatment via a 35 x 8-foot skylight.
The patient's experience begins, as so many do, from the moment they walk through the door. Inside this pivotal gateway, patients notice the building's expansive, welcoming spaces; abundant natural light; and a calm, uncluttered aesthetic, which prevails throughout the building. On the first floor, access to critical support services is intended to reduce cancer's psychological stress. Those services include art and music therapy spaces; a wig boutique and private prosthetics fitting area; a spiritual area for prayer or meditation; a wellness center; 4th Angel Mentoring program; and a resource center where patients and families can access cancer information.
Moreover, the cancer center's open first level features a large blood laboratory and an outpatient pharmacy. This minimizes wait time for the stops each patient makes at the beginning and end of each visit.
Another key building feature is the expansive, protected pick-up and drop-off area, dominated by 350' x 32' deep cantilevered form. A three-lane arrival zone provides ready access for patients and caregivers and minimizes the queuing of cars. Turner Construction served as builder.
The latest in Cleveland Clinic's advanced medical care is provided in the cancer center's 126 exam rooms with 98 treatment rooms in close proximity. Private chemotherapy infusion suites line the north side of the building overlooking the tree-lined lawn. Cancer research is augmented in a special area for phase 1, 2 and 3 clinical trials, with an emphasis on supporting phase 1 trials. The lower level radiation treatment area includes six linear accelerators and a Gamma Knife suite.
Every aspect of Cleveland Clinic's new cancer center was designed with the patient in mind to provide the best clinical and patient experience.  Achieving that, on time and on budget, only adds to a great outcome.