PHOTO TOUR: Jordan Valley Cancer Center
---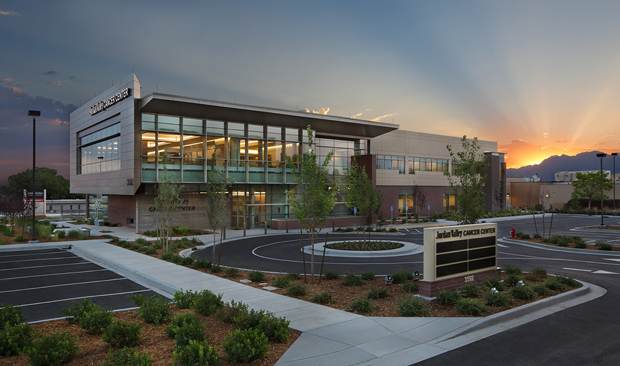 fairchild-creative.com
The clean, contemporary architecture includes materials that are complementary to the existing campus architecture. Board-formed concrete and local-sourced brick tie the building to the earth, while ultra-clear high-performance glass welcomes patients and visitors. fairchild-creative.com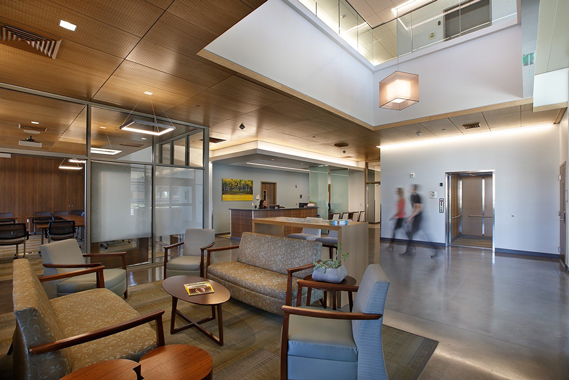 fairchild-creative.com
The welcoming main floor reception area includes seating, a conference/social room, and a concierge-like reception area.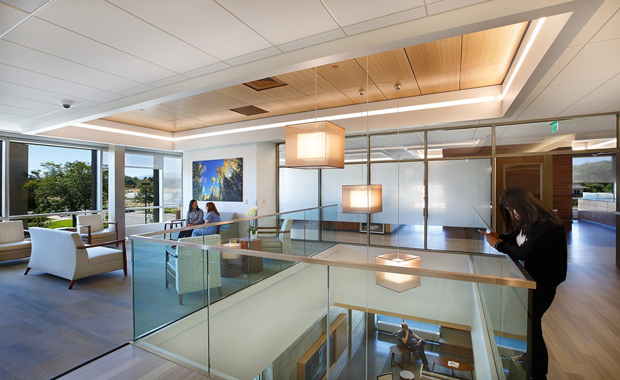 fairchild-creative.com
Floor-to-ceiling glass invites sunlight into the waiting areas and comforts guests as they enjoy beautiful mountain views and local foliage. Intentionally placed scenes of nature throughout contribute to the tranquil, calming theme.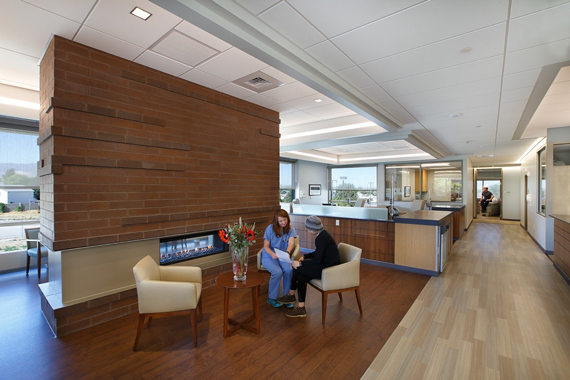 fairchild-creative.com
Serving as both a strong wayfinding marker as well as comfort on colder days, the dual-level, dual-sided brick fireplace concurrently offers both solitude and respite from other treatment areas, as well as opportunities to socialize.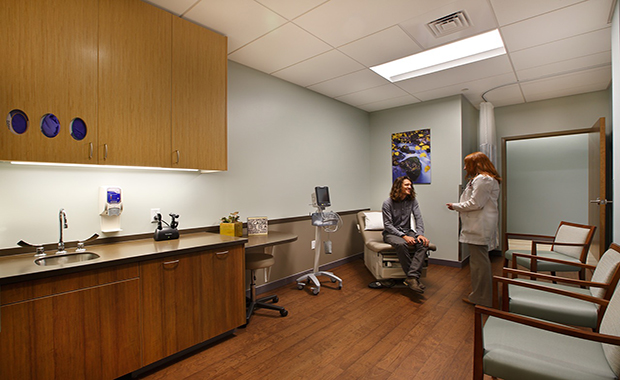 fairchild-creative.com
The center accommodates both inpatient and outpatient needs, which resulted in the need for flexible exam rooms. The rooms are designed to accommodate a group of family or friends as well as a variety of patient acuity levels.
fairchild-creative.com
The high-tech radiation treatment room is dressed in wood ceilings, paneling, and cabinetry, ensuring that the patient is only exposed to equipment that is absolutely necessary. During treatment, they are treated to views of the resin-and-glass sculpture, "Behind the Waterfall."
---
Jordan Valley Cancer Center (JVCC), part of the Iasis Healthcare network, is the first full-service cancer center in Utah's western Salt Lake Valley. The center provides medical, surgical, and radiation oncology services in diverse specialties including hematologic, gynecological, urological, head and neck, gastrointestinal, and breast care.
Designed by TSA Architects and built by Layton Construction, ground was broken for the two-story, 25,000-square-foot facility in June 2015 and the center opened for service in September 2016.
Challenged by the involvement of multiple owner stakeholders and entities coming together for the first time, coordination and collaboration were of key importance. Early visioning meetings of the stakeholders facilitated open channels of communication, allowing streamlined dialogue and fostering an environment where all concerns could be mitigated rapidly. An eye toward the center's future operational demands was critical, which resulted in a design that allowed for expansion overhead of the radiation vault, as well as an optional, adjacent vault should the need arise.
In support of the client's vision of a holistic center to "treat, prevent, and thrive," JVCC houses all disciplines under one roof and promotes ease of access as one specialty clinic flows to the next. With both an autonomous exterior entry as well as a direct connection to the main hospital, consideration of both inpatient and outpatient exams and procedures were met with flexible procedure rooms designed to function for both. Patients also have the choice to receive treatment in several flexible infusion zones, allowing them the option to socialize, be alone, or even sit fireside while controlling their individual lighting and entertainment. Great care was taken to keep medical equipment out of sight, ensuring that the patient is only exposed to equipment that is absolutely necessary.
Patient and staff needs were at the heart of the design, enabling staff to easily collaborate with shared conferences, breakrooms, and support spaces. To assuage patient fears and offer a more engaging, positive atmosphere, the sterile feel of a traditional medical office building was replaced with a much more hospitality-themed environment. This was accomplished by utilizing materials and design that evoked the healing elements of nature: earth, fire, wind, water, and wood. Upon entering, "earth" and "fire" are present in both the main lobby as well as 2nd floor waiting areas in the form of a dual-level, dual-sided brick fireplace, providing both comfort and a wayfinding landmark. Suspended resin panels encase floral features, softening concrete walls. Floor-to-ceiling glass reveal "wind" as patients view swaying native grasses and plants of the extensive gardens. "Water" is first introduced on a large, teak-framed digital screen projecting water scenes from across the West and culminates in a glass and resin architectural sculpture in the radiation treatment room titled, "Behind the Waterfall." Bamboo and teak wood paneling, ceilings, and cabinetry are present throughout the center.