Cedars-Sinai Guerin Children's, Los Angeles: Photo Tour
---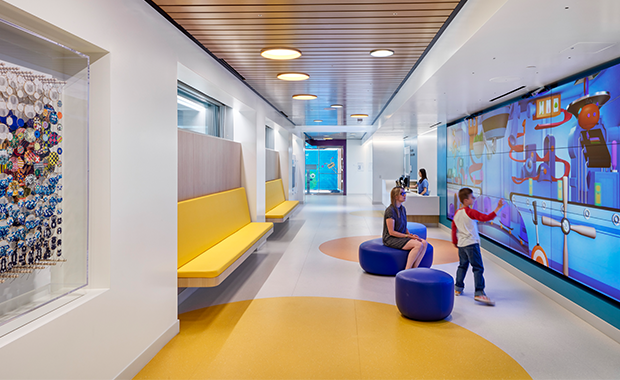 Kim Rodgers
Cedars-Sinai Guerin Children's: Patient choice is paramount throughout the Guerin Children's unit and supported by technology, such as a full-wall interactivity screen in the family reception and lobby waiting area that allows for multiplayer games that are animated by users with motion-sensing technology.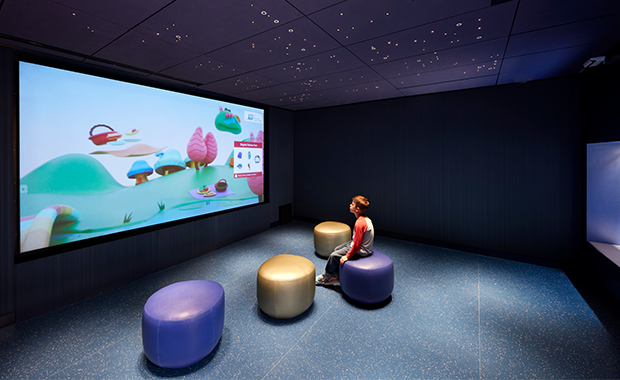 Kim Rodgers
Cedars-Sinai Guerin Children's: The theater-like game room provides customizable offerings including video games and movie screenings. Dark blue walls and floors, metallic fabric seating, and starlight LEDs create an entertainment destination for patients of all ages.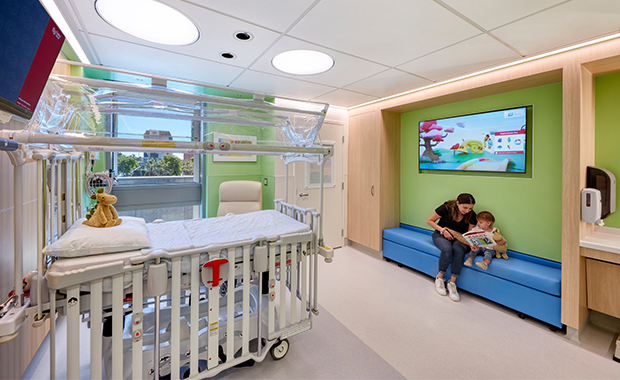 Kim Rodgers
Cedars-Sinai Guerin Children's: All patient rooms include a full pullout bed and reclining chair that lies flat so two caregivers can comfortably stay overnight with the patient. Rooms are also equipped with the latest technology to make the stay more comfortable and provide moments of connection such as a monitor for video calls, remote schooling, and watching TV, as well as tablets that allow patients to order food, customize their interior lighting, and send artwork for display at nurses' stations.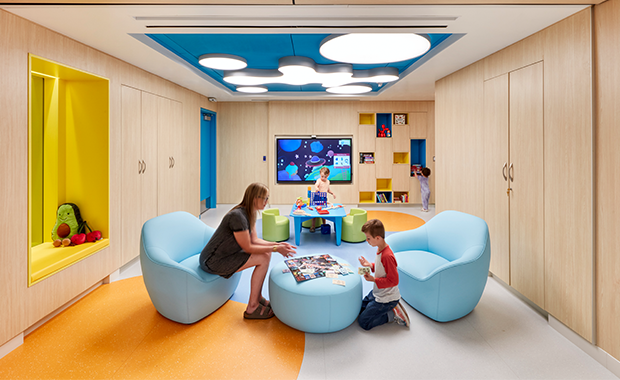 Kim Rodgers
Cedars-Sinai Guerin Children's: Interactive games can be found in the playroom in addition to a screen that caters to some of Guerin Children's youngest patients who can use it to play with digital stickers.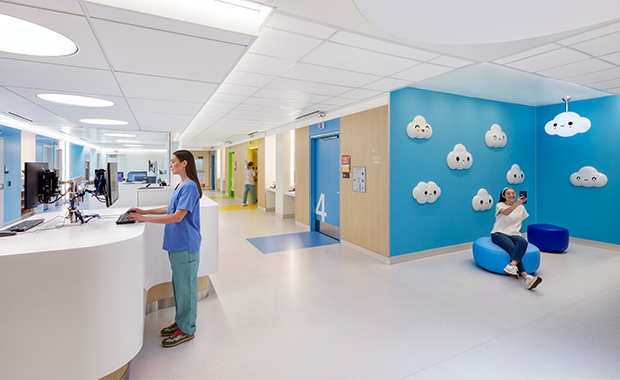 Kim Rodgers
Cedars-Sinai Guerin Children's: The design integrates commissioned artwork that both engages and soothes patients. For example, the halls display curated installations that are meant to connect with all ages as well as a wall of 3-D clouds that has become a focal point for the unit.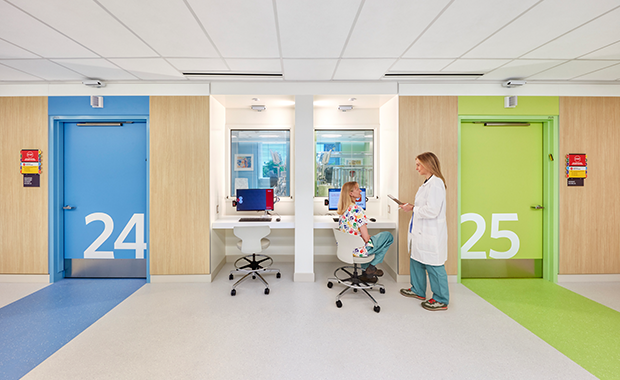 Kim Rodgers
Cedars-Sinai Guerin Children's: Bands of colorful "ribbons" start in the corridor and extend all the way to each patient room, which is painted in a corresponding color to assist with wayfinding and foster a much-needed sense of place by mimicking a front door.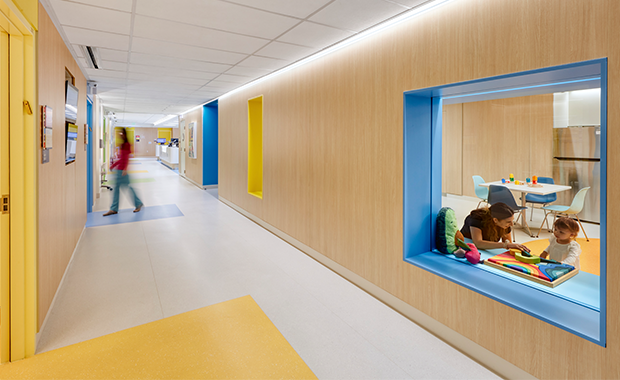 Kim Rodgers
Cedars-Sinai Guerin Children's: Shared spaces incorporate physical portals of color—different from the colors assigned to patient rooms—to add interest and present a physical, neighborhood-like distinction. Cobalt blue and teal mark the entry, and bright aqua, yellow, purple, and orange add vibrance to more active spaces.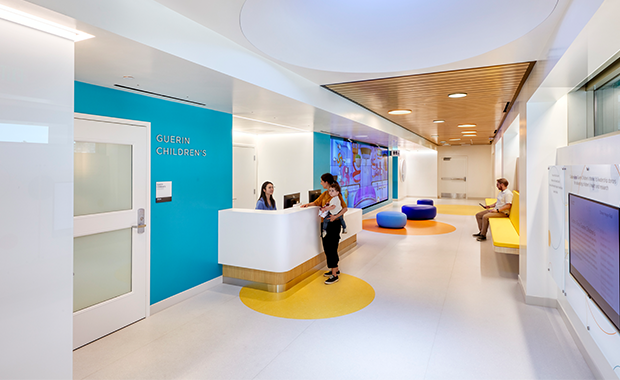 Kim Rodgers
Cedars-Sinai Guerin Children's: A sense of daylighting in the unit is achieved through three large ceiling lighting fixtures that mimic natural skylights and are timed to brighten and darken as the sun rises and sets.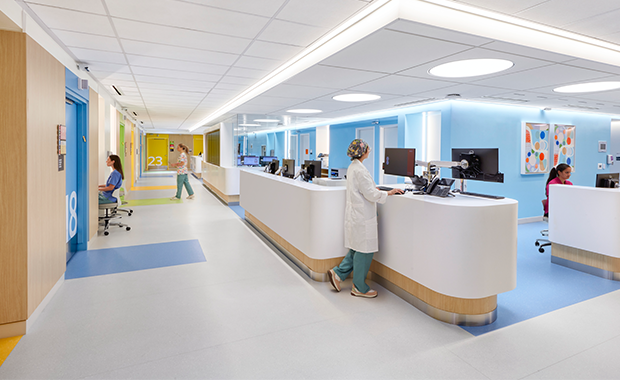 Kim Rodgers
Cedars-Sinai Guerin Children's: Strategically placed walls separate the arrival and waiting areas from the patient corridor, so that overwhelming hospital elements are not seen immediately upon entry. On the opposite side of the wall, workspaces include large nurse stations with collaborative areas for teaming, a conference room, a large staff lounge and respite rooms to provide a staff-focused work environment.
---
Cedars-Sinai Guerin Children's
Guerin Children's pediatric inpatient unit is located within Cedars-Sinai Medical Center in Los Angeles. The 26-bed unit advances a vision for children's healthcare where each patient's holistic experience is deemed a vital aspect of their care and healing outcomes.
The 23,000-square-foot unit—designed by HGA (Los Angeles) along with Cedars-Sinai's planning, design, and construction teams—delivers care across pediatric specialties. Those include neonatology, maternal-fetal medicine, gastroenterology, cardiac services, orthopedics, neurology, pediatric surgery, and kidney transplants.
Separate zones are created for adolescent and pediatric patient populations. The unit also comprises a variety of spaces that support clinical outcomes and the overall well-being of its patients and their loved ones.
For example, patient rooms are designated as "safe zones," meaning no treatment or procedures occur in the rooms themselves.
All patient rooms include a full pullout bed as well as a reclining easy chair that lies flat so two caregivers can comfortably stay overnight. Supportive common area amenities, such as a family lounge complete with a kitchenette and showers, bring a sense of home to the medical environment.
Pediatric design that appeals to all ages
Design decisions were guided by how children experience the world around them, leading to a "choose their own adventure" design schema. This allows patients to interact in the unit's spaces through technology, art, media, and both hands-on and virtual play.
Interactivity screens throughout the unit provide options from watching movies and playing video games to programs for creating artwork and playing with digital stickers.
Hallway walls integrate technology that can display the digital artwork created by patients and professional artists alike. Furthermore, these walls can host character animations. These animations sense movement and "walk" alongside patients down the hallway to put them at ease throughout their journey.
The design includes sophisticated design elements that appeal to a wide age range of pediatric patients. Wood paneling in lighter tones can be found along corridors as well as at headwalls and footwalls, providing an elevated finish that is reminiscent of a residential environment. The playroom and family reception area are also covered in this finish, but are juxtaposed with bright colors in the box window seats with matching fabrics.
Color and playfulness are balanced with a timeless elegance to ensure the unit does not feel childlike, yet still engages young patients.
 (For more Pediatric projects from Healthcare Design, go here.)
Project details for Cedars-Sinai Guerin Children's:
Location: Los Angeles
Completion date: August 2022
Owner: Cedars-Sinai Medical Center
Total building area: 23,000 sq. ft.
Total construction cost: Undisclosed
Cost/sq. Ft.: Undisclosed
Architecture firm: HGA
Interior design: HGA
General contractor: Layton Construction
Engineering: Affiliated Engineers Inc. (MEP); Degenkolb Engineers (structural)
Builder: Layton Construction