Climate Control: UP Health System–Marquette
---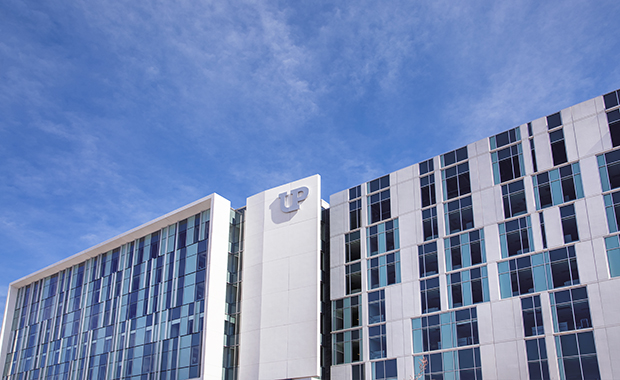 Chad Baumer
Precast panels on the exterior of UP Health System–Marquette were manufactured off-site during winter months so the building envelope could be assembled quickly during the brief construction window of optimal weather in the area.
Chad Baumer
Because Marquette, Mich., is one of the snowiest cities in the continental U.S., the main entrance is covered by a sweeping canopy to shield visitors.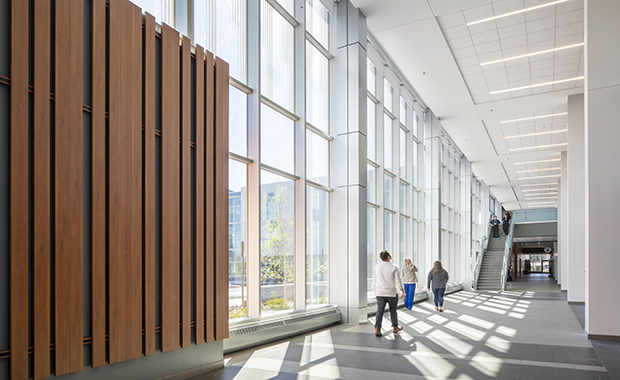 Chad Baumer
The concourse connects visitors to all major hospital functions along a visually cohesive space that's bookended by entrances.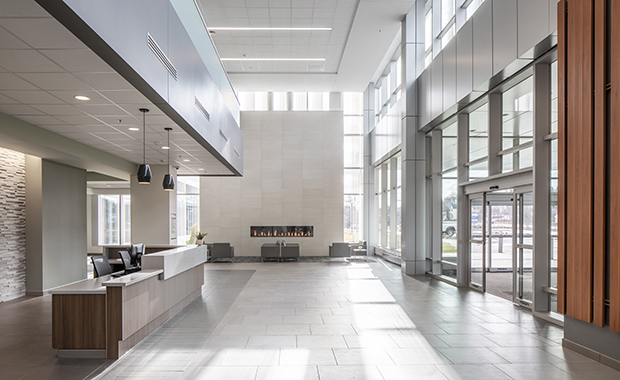 Chad Baumer
Daylight is a precious commodity during winters in Michigan's Upper Peninsula, so the concourse is oriented to allow in as much daylight as possible.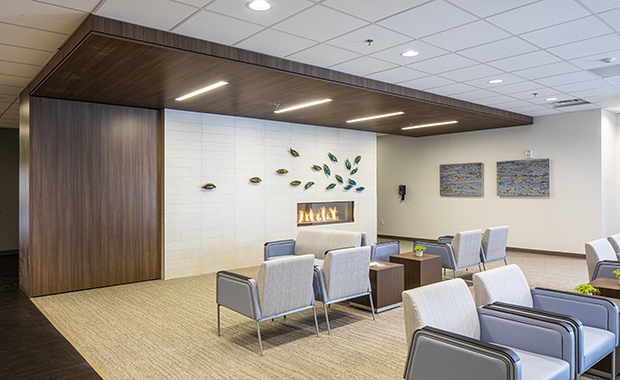 Chad Baumer
Waiting areas feature natural tones and fireplaces to warm up patients coming in from the cold.
---
Perched on the Lake Superior shore of Michigan's Upper Peninsula, Marquette, Mich., is one of the snowiest cities in the continental U.S., averaging more than 150 inches of snow a year. That white blanket had a major impact on the design of UP Health System–Marquette, a new medical campus for owner Duke LifePoint Healthcare.
"Snow factored into virtually every aspect of this project's design," says Greg Gore, project executive/senior architect at Gresham Smith (Nashville, Tenn.), which served as the architecture, interior design, and structural engineering firm on the project.
Another driver on the $330 million project, which comprises an interconnected 525,000-square-foot hospital, 90,000-square-foot medical office building, and three-story garage—was to replace Duke LifePoint's existing facility, which was burdened with a jumbled layout resulting from expansions taking place "in something of a piecemeal fashion over the years," says Brent Hughes, principal at Gresham Smith, who helmed the project team with Gore. "The hospital grew to be on two sides of a main street downtown, with a bridge building over the road that linked the two sides and housed some medical operations of its own."
Adds Jamie Carter, president of LifePoint Health's Eastern Division, "We recognized that the old facility was not easy for our patients to navigate, and that the layout also posed workflow challenges for our providers, clinical teams, and staff." With that in mind, major project goals included improving both operational efficiency and the patient experience. But before the team could begin solving those challenges, it first had to design a building that could withstand the region's daunting weather conditions.
Designing for climate
As part of that process, the project team had to consider everything from beefing up the building's infrastructure to accommodate the snow's weight to taking into account the primarily northwesterly winds at the site and situating the building along the same orientation. "That way, rather than snow piling up against the hospital's exterior walls, it blows down along them and doesn't clog up patient access points," Gore says.
Gresham Smith's in-house structural engineers worked closely with the project's engineering partners to seek ways to mitigate as many snow-related impacts on the building as possible. Due to the severity of the climate in Marquette, system redundancy was a significant consideration, says Richard Graham, principal engineer at Envision Advantage LLC (Nashville), which oversaw mechanical, electrical, and plumbing on the project. "Primary and secondary electric utility feeders, automatic utility changeover switchgear, and redundant emergency generators are some of the features designed into its system."
Another climate-driven decision was to devote most of the hospital's third floor to mechanical rooms to protect the equipment from harsh weather conditions as well as make it easier for staff to access and maintain it without having to traverse up and down the building and access multiple roof levels. "In Marquette, the first snow typically comes in October and lasts until May. Equipment exposed to the harsh winter conditions is extremely difficult to troubleshoot and maintain," he says. "Placing as much of that equipment as possible in the third-floor interstitial space allows for the maintenance staff to service equipment 24/7 no matter what's happening outside."
No more workarounds
Given Marquette's relative geographic isolation (the nearest interstate is a three-hour drive), the new campus is an important lifeline, serving as a regional medical center for the city of 21,000 as well as for much of the central Upper Peninsula. The 229-bed hospital alone houses a 24-hour ED; surgical, pediatric, and behavioral healthcare; women's services; cancer care; cardiac care; and laboratory and imaging services.
Recognizing that the greenbuild project represented the chance to correct some of the inefficiencies that had developed at the decades-old facility, as well as improve the patient experience, the project team attended local public hearings and interviewed staff to gather input on changes sought in the new facility. While the existing facility had inefficient adjacencies and confusing circulation paths, the staff, Gore notes, had made the best of the situation by creating a series of workarounds. "They explained what those strategies were, and how they would like to see the [new] hospital designed in such a way that they would be eliminated," he says.
For example, one problem that came up was the proximity of the labor and delivery department to surgery, with birthing housed on an upper floor in one building and surgery located across the street on the basement level. "One of the earliest decisions we made in the planning process was to locate the birthing center immediately adjacent to surgery," says Hughes. "To further enhance efficiencies, the C-section rooms are located in the surgical suite, eliminating the need for the anesthesiologist to leave the department."
Another concern was the independent prep and recovery areas for the surgery, endoscopy, and cath lab departments. "That was duplicative," says Gore. "To eliminate that, we created a patient care hub that consolidates prep and recovery areas, thus reducing the number of full-time employees and the square footage of space needed there."
Interior improvements
Turning to the patient experience, Gresham Smith started by addressing the interior entry by creating a high-ceilinged concourse that runs along the front façade of the building and is bookended by two entrances, with a canopied exterior drive-up at one end and an interior entrance from the parking garage at the other. "The concourse connects visitors to all major hospital functions along a visually cohesive space," Gore says. "That's especially helpful in reducing confusion and undue anxiety on the part of first-time visitors, who may drop off a family member at the front canopy and then park in the garage and use that entry into the concourse. And once inside, visitors are treated to an environment of natural tones and fireplaces to warm themselves during the colder times of the year."
The building's interior includes several other touches designed to connect it with its surroundings. For example, windows in the public elevator lobbies are configured to offer views of a nearby 1,200-foot-long rusted steel ore dock on the shore of Lake Superior. "That 75-foot-high structure is a source of considerable local pride, as it is a vestige of the city's history as an important mining town," says Hughes.
While addressing interior elements to make the facility patient and staff friendly, Duke LifePoint wanted the building's exterior to make a strong statement. "We felt it was important for the new hospital to have a sleek, modern design to reflect the high-quality care and technological advancements found within its walls," says Carter. "We also wanted to maximize opportunities for natural light, with plenty of windows that maximized the amount of sunlight coming into the building in the wintertime."
Additionally, the company wanted to incorporate design elements that were meaningful to the local community, including precast exterior panels at the base of the building that are engraved with markings that look like birch tree groves, which are native to the area.
Overall, Carter says, the new hospital is an important part of the company's mission. "We are committed to creating places where people choose to come for healthcare, physicians want to practice, and employees want to work," he says. "The UP Health System–Marquette campus hits all those goals."
For a look at how UP Health System—Marquette addressed the issue of bird strikes and the design solutions it implemented, read "Bird-Friendly Building Design" or check out Healthcare Design's May issue.
Project details:

Project name: UP Health System—Marquette
Project completion date: June 2019
Owner: Duke LifePoint Healthcare
Total building area: 525,000 (hospital), 90,000 (medical office building), and three-story parking structure
Total construction cost: $330 million
Cost/sq. ft.: $356
Architecture: Gresham Smith
Interior design: Gresham Smith
General contractor: Skanska Closner
Engineering: Gresham Smith (structural) Envision Advantage (MEP), Littlejohn Engineering (civil)
Builder: Skanska Closner
AV equipment/electronics/software: Convergent Technologies (designer), Van Ert Electrical (contractor)
Carpet/flooring: Music City Flooring
Ceiling/wall systems: HJ Martin and Sons
Doors/locks/hardware: La Force
Handrails/wall guards: HJ Martin and Sons
Lighting: Van Ert Electrical
Signage/wayfinding: Bennu Enterprises
Surfaces—solid/other: Techline America
Other: Landscape Architect: Littlejohn Engineering
Matthew Hall is a freelance writer/editor based in Cincinnati. He can be reached at matt.hall56@icloud.com.