Dignified Design: Omaha VA Ambulatory Care Center
---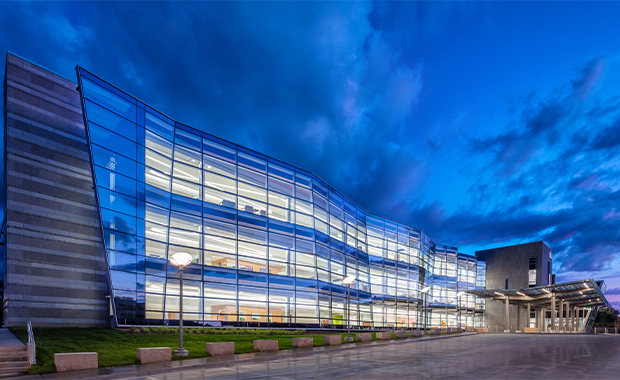 ©Leo A Daly, photo by AJ Brown lmaging
A main guiding principle for the design of the new Omaha VA Ambulatory Care Center was to be veteran-centric, resulting in design solutions such as an undulating glass curtain wall that represents an American flag rippling in the wind.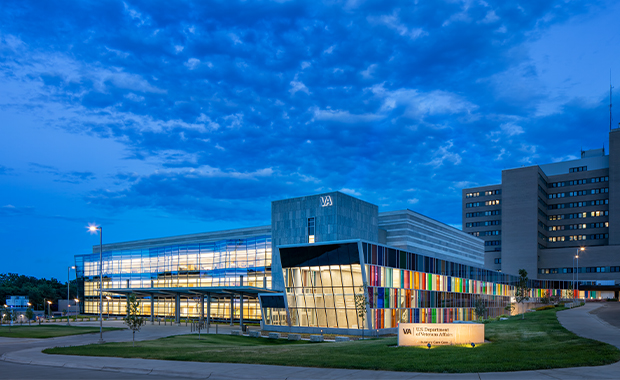 ©Leo A Daly, photo by AJ Brown lmaging
The new ambulatory center ties to the main campus of the Omaha VA Medical Center through a first-floor connector along the western side of the facility.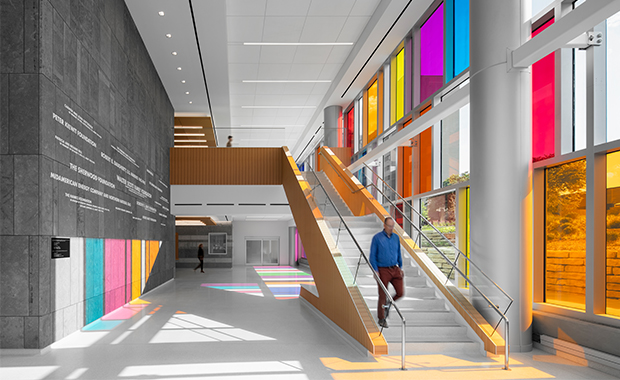 ©Leo A Daly, photo by AJ Brown lmaging
Natural stone and wood materials provide a neutral backdrop for the project's colorful "ribbon wall."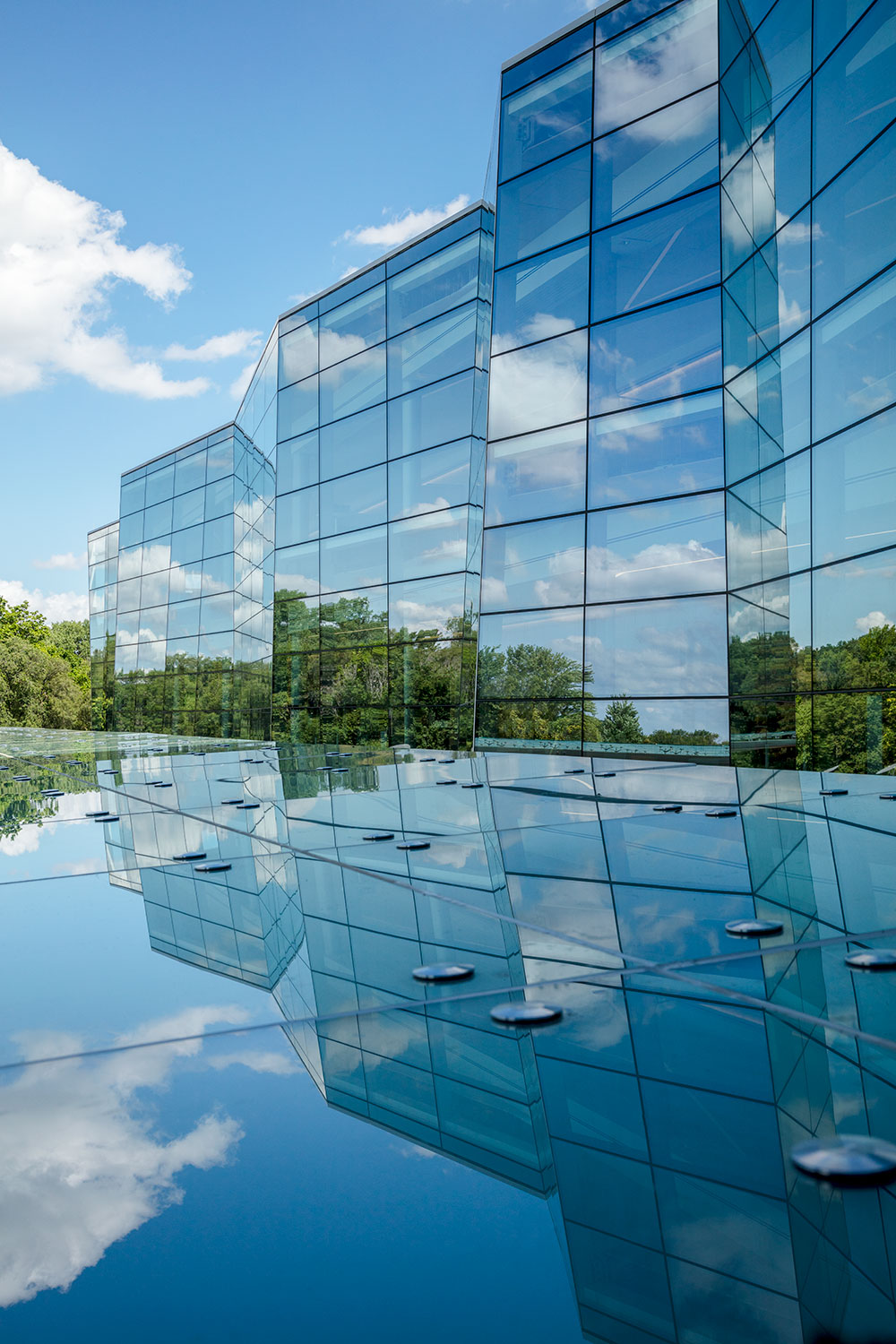 Transparent glazing on the "flag wall" allows abundant daylighting to stream into the interior spaces.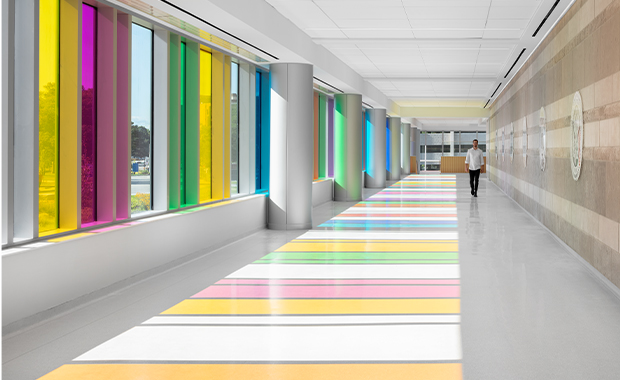 ©Leo A Daly, photo by AJ Brown lmaging
The "ribbon wall" along the western façade emulates the colored bars awarded to service members for acts of gallantry and valor.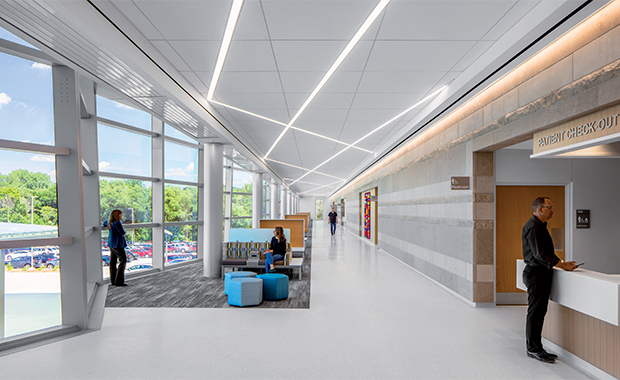 ©Leo A Daly, photo by AJ Brown lmaging
The intersecting linear slot lighting in the waiting area ceiling follows the same lines as the signature curtain wall, enhancing visual interest in the space.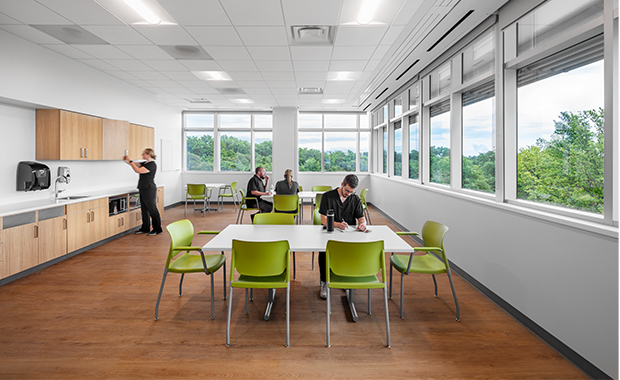 ©Leo A Daly, photo by AJ Brown lmaging
A dedicated staff break area features a private outdoor terrace and views overlooking adjacent gardens.
©Leo A Daly, photo by AJ Brown lmaging
The facility's minimalist interior aesthetic is reflected in the post-operative recovery rooms, which feature glass doors, wood-look flooring, and pops of color.
---
Inside the new Omaha VA Ambulatory Care Center (Omaha, Neb.), colored light streams down a long corridor connecting the new facility to the existing Omaha VA Medical Center. Running the length of the 157,000-square-foot addition's western façade, the corridor's long curtain wall of colored glass symbolizes the "honor bars" earned by veterans and placed on their lapels. "Everyone, whether you're a patient, a visitor, or even a provider, is reminded daily of the veteran and the honor and respect that they're due," says Jonathan Fliege, senior associate and director of design at Leo A Daly (Omaha), which provided architectural, engineering, and interior design services for the project. "You 'breathe' the color almost as you pass through this space."
The project not only represents a new outpatient facility for the VA but also marks the first public-private partnership-funded VA healthcare facility in the nation to be delivered since Congress passed the Communities Helping Invest through Property and Improvements Needed (CHIP IN) for Veterans Act of 2016. "The CHIP IN for Vets Act allowed for private funds to be grouped with VA dollars to get a project executed," says Jeffrey Monzu, vice president, senior project manager, at Leo A Daly (Omaha).
Built in the late 1940s, the original Omaha VA Medical Center was long overdue for replacement but kept getting put on hold due to other priorities. Recognizing the need to expand healthcare access for the area's 40,000 underserved veterans, a local donor group sought to utilize the CHIP IN program and formed the nonprofit Veterans Ambulatory Care Development Corp. (VACDC). The VACDC went on to raise $30 million to supplement $56 million already allocated by the VA for a replacement project (the group oversaw distribution of the funds as well as construction).
While the total funding—a combined $86 million—wasn't enough to construct a full hospital, it was used to build a new three-story outpatient center, which opened in August 2020. "Not unlike private healthcare, the VA has spent resources in the last several years improving outpatient services and their network of community-based outpatient clinics. This approach gives more opportunities for veterans to access primary, preventive, and mental healthcare, thus improving their general health and reducing the need for more critical and intensive inpatient care and procedures," Monzu says.
While the former set-up had the VA's dated outpatient clinics spread throughout the 12-story hospital, making them difficult to navigate, the new 156,000-square-foot facility offers seven primary care clinics on the ground and first floors as well as a women's clinic with dedicated waiting and service areas on the ground floor (a first of its kind for the VA). A specialty care clinic shared by orthopedics, cardiology, and other specialty medicine practices; radiology; and a new outpatient surgery center occupy the second floor. A new connector on the first floor provides direct indoor access to the existing hospital, which continues to be used for inpatient stays as well as administrative offices and medical services.
Symbolic design
The outpatient facility was designed to create a patient-centered experience for veterans that clearly reflects dignity and respect. "The main guiding principle, as a term, was 'veteran-centric,'" Fliege says. As a starting place, members of the design team asked themselves a big question: What does a veteran mean to you in this community? "We spent a few hours pasting everything up on a big board, coming up with ideas. They all seemed to filter into a few buckets, which were sacrifice, freedom, duty, and honor," Fliege says.
These themes led to the design of three signature elements for the facility. The first is an undulating glass curtain wall on the outpatient center's northern façade, rising 50 feet high and spanning 235 feet wide to represent the American flag rippling in the wind. "At the end of the day, a whole group of our society has volunteered their own time to protect our country," says Fliege. "It was a way for us to reflect our respect for that shared sacrifice and freedom that they provide us."
The curtain wall's multiple changing planes, along with federally mandated blast requirements for the structure, made for a complex fabrication and construction process that was eased by a combination of custom-build processes and getting specialty subcontractors on board early.
These challenges also came into play with the second signature element, the colored "ribbon wall" along the western façade that connects the two facilities. Team members learned that by using a colored laminate instead of glass on the windows they could greatly reduce costs and meet blast requirements that necessitate the use of laminates on windows to reduce shattering.
The third element, a limestone wall running along a continuous plane inside the facility, represents duty. As limestone is a sedimentary stone that layers over time, the wall represents the layers of dirt that veterans have tracked back on their boots following their service.
These three defining features informed the space, as well, specifically planning and organization, Monzu says. "It's easy for patients to come and intuitively understand where they need to go," he says. For example, the main lobby entrance features a grand staircase clad in a warm white oak wood that leads up to the 3,000-foot-long corridor connecting to the existing hospital. The layout of the primary care clinics on the ground and first floors is the same, with the exception of the separate women's clinic, which is located across from the main entrance. "The placement of the women's clinic on the ground floor was strategic to provide a visible, private, easily accessible wellness resource for women veterans who choose to use it," says Jennifer Ankerson, senior interior designer at Leo A Daly (Omaha).
On all three floors, the limestone wall element separates public space from the private clinic area. "So metaphorically, you pass through this portal of a stone protective wall and you're sort of safe on the inside when you're at your most vulnerable," says Fliege. "After your exam or procedure, you pass back through and you're back in the public realm."
Waiting areas, opposite the limestone wall, are arranged on the side of the "flag wall" to maximize access to daylight. From here, veterans make their way into the exam rooms through private corridors on the perimeter that lead to the VA's Patient Aligned Care Team (PACT) clinic spaces, which feature exam rooms surrounding team space in the middle. Clear and separate access points for staff and patients support flexibility of use and collaboration for staff, Monzu says.
"There's more opportunity for them to exchange ideas and information and have consults with other staff members without being in a corridor outside of another patient's room," Monzu adds. For veterans, the plan offers a more dignified patient experience. "They're not walking past nurses' stations or seeing caregivers talking about other patients, and so forth."
In the same way, there's clear separation of traffic in back-of-house areas. For example, from the outpatient surgery center, staff can transport patients in need of more acute care to the hospital through a separate service corridor on the second floor. Dedicated service and staff areas, including glass-walled conference rooms and team space, are also in the offstage areas and look out onto a new healing garden located between the new center and the existing hospital, providing views to nature and access to daylight for staff and patients at both facilities.
Finally, the facility's interior design was informed by those symbolic elements, as well, supporting them through a minimalist approach. "If you look at the interiors, the goal was to let those three elements always be the star," says Ankerson. This was achieved through the use of a soothing, nearly monochromatic color palette of grays with bits of warm woods and spots of color. For example, the check-in and check-out desks on each floor, which appear to be almost carved into the limestone wall, are framed with white oak wood trim to support the overall clean aesthetic. Furniture was mainly informed by the colors of the "ribbon wall," while artwork commissioned by local veterans is subtly placed on the walls to further create a calm, comforting environment that pays respect to the veterans.
Memorable moment
All parties involved agree that it was the level of collaboration, instilled early on and continued for the duration of the project, that proved to be most beneficial to the Omaha VA Ambulatory Care Center. "The collaboration of the team is probably the biggest thing that helped make this project successful," says Ryan Sawall, senior vice president at McCarthy Building Companies Inc. (Omaha), the contractor for the project.
"It's one of those projects that's going to be special to everybody involved for a very long time."
Proof can be found at the project's end, when representatives of the local VA presented the donor group with a gift of a bald eagle sculpture that was placed in the healing garden. "That, in a nutshell, captures the relationship of all the major players on this," Fliege says. "It sounds like we're gushing, but in my 27 years at Leo A Daly, this was a special project for sure."
Project details:
Project name: Omaha VA Ambulatory Care Center
Project completion date: Aug. 4, 2020
Owner: U.S. Department of Veterans Affairs
Total building area: 157,000 sq. ft.
Total construction cost:  $67.3 million
Cost/sq. ft.: $429
Architecture: Leo A Daly
Interior design: Leo A Daly
General contractor: McCarthy Building Companies Inc.
Engineering: Leo A Daly
Builder: McCarthy Building Companies Inc.
Carpet/flooring: Johnsonite, Teknoflor, Patcraft, Atlas, Mohawk
Ceiling/wall systems: USG, Rulon International Inc., Johnsonite, Koroseal Arbor Wood, Sherwin Williams, Tnemec
Doors/locks/hardware: AD Systems, VT Industries Best, Glynn-Johnson, LCN, Assa Abloy, phi Precision, Stanley, Trimco
Furniture—seating/casegoods: Steelcase, Herman Miller solutions
Handrails/wall guards: C/S Acrovyn
Lighting: Acuity Brands Lighting, Focal Point
Signage/wayfinding: ASI
Surfaces—solid/other: List Terrazzo, Stonhard, Laminart, Crossville, Atlas Concorde USA, Ceasar USA
Casework fabricator: Designer Woods
Exterior materials/finishes: US Stone, AWS, Metal Specialty Systems, Inc.
Other: Enterprise Precast Concrete (Precast MFG); M&M Steel Erection (Custom Glass and Steel Canopy, Steel Installation); AWS (Custom Glass and Steel Canopy, Glass Installation), Keystone Glass Company (Exterior Glass Railings)
Joann Plockova is a freelance writer based between Jupiter, Fla., and Prague, Czech Republic. She can be reached at joann.plockova@gmail.com.