PHOTO TOUR: Cleveland Clinic Akron General ED
---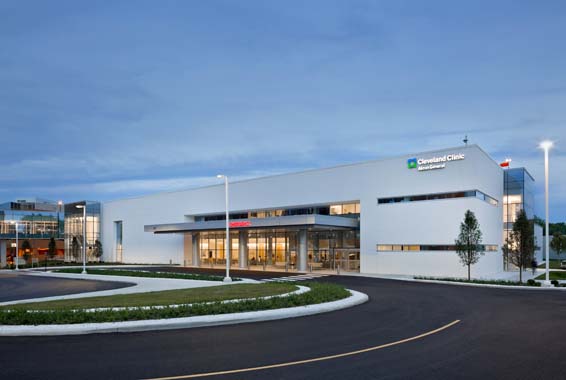 Scott Pease Photography
The new, 67,000-square-foot emergency department was built across the street from the original ED, with the goal of providing enhanced patient care to the surrounding community.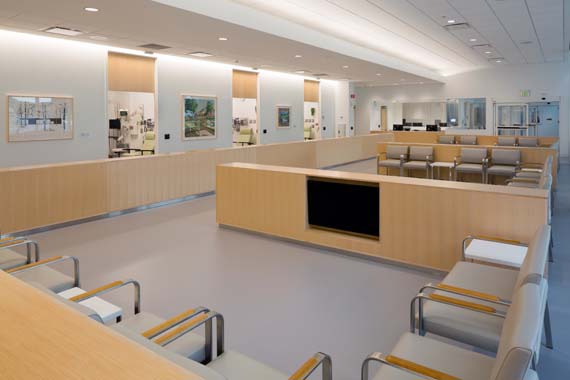 Scott Pease Photography
Ambulatory patients will present at the registration desk and then continue directly to one of seven Care Initiation Assessment (CIA) rooms, where vitals are checked. Once the patient has been assessed, they are then transferred to a treatment room, radiology, or the fast-track area, depending on their condition. By processing patients through CIA rooms, patient wait times and ED congestion are minimized.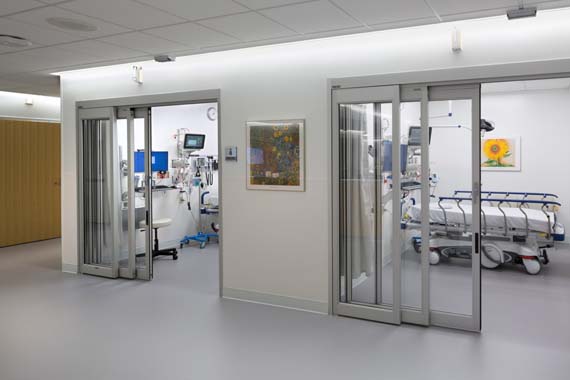 Scott Pease Photography
The new ED includes 60 private, universally designed exam, treatment, and patient care rooms. The universal design increases caregiver familiarity with layout, creating efficiencies during treatments and exams. The rooms' orientation and sizing is conducive to a variety of specialty procedures that might be performed. Corridors employ perimeter cove lighting for a more subdued and calming atmosphere.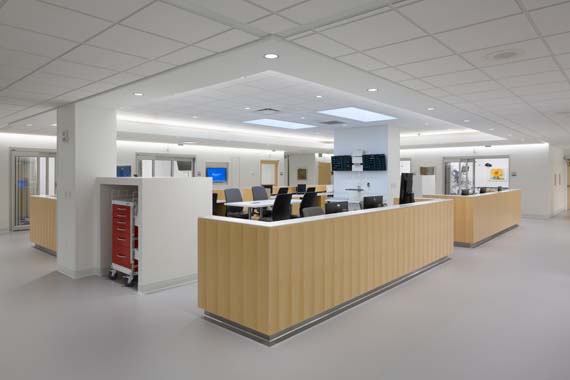 Scott Pease Photography
Patient rooms are arranged around central control work areas with open sight lines for enhanced visibility. Touchdown stations provide collaborative work spaces for caregivers. Skylights funnel natural light into the space from the outside.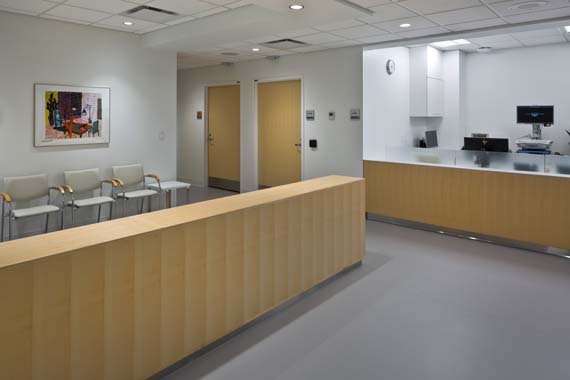 Scott Pease Photography
A fast-track care area with six exam rooms was incorporated into the ED to accommodate patients with non-life-threatening conditions. By providing a fast-track area, ED resources can be allocated to more acute cases in a more focused manner.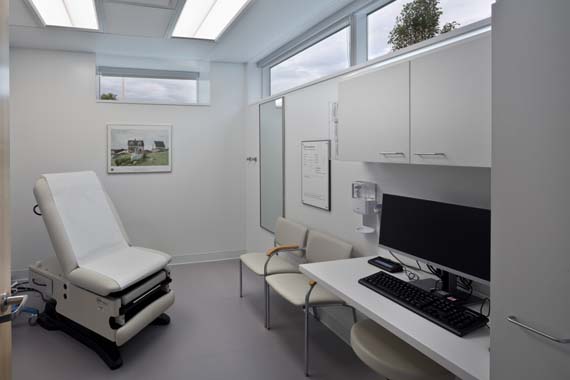 Scott Pease Photography
Flexibility was taken into consideration for the fast-track treatment rooms, with high-low exam tables for multiple modality exam scenarios.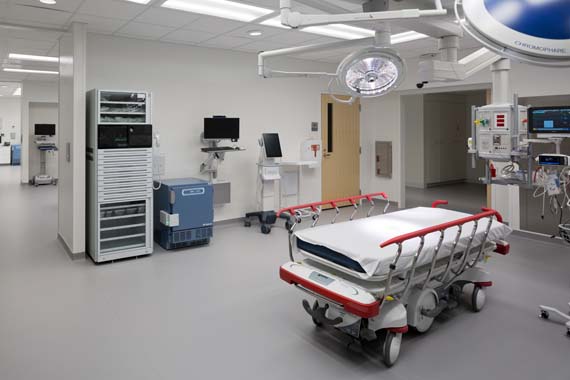 Scott Pease Photography
This Level 1 trauma facility includes four trauma/resuscitation rooms. The trauma rooms are accessible from the central control area, as well as a dedicated corridor with direct access to the ambulance entrance. The design enhances patient flow and reduces travel time for trauma patients. Two of the trauma/resuscitation rooms have the ability to flex into two standard treatment spaces each for additional capacity, if needed.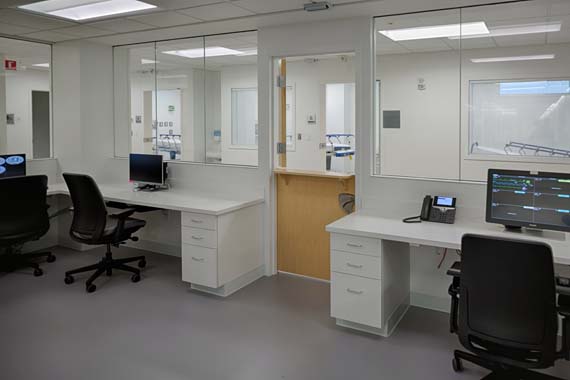 Scott Pease Photography
A five-bed behavioral health area provides a distinct and separate space for treatment. A central and dedicated observation area allows caregivers to safely monitor patients.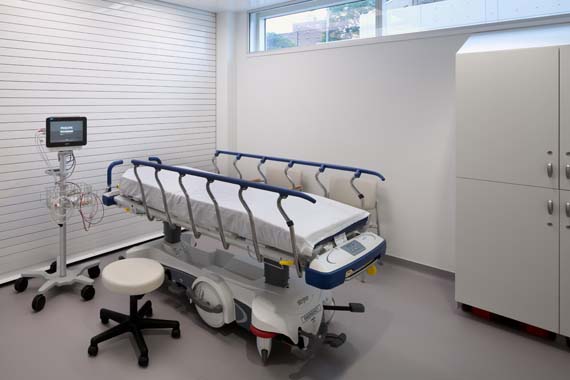 Scott Pease Photography
Behavioral health rooms have the same general layout as the other ED rooms; however, retractable tambour doors were included to secure utilities from patients who might try to harm themselves or others. Anti-ligature accessories and lockable cabinets also add to patient safety.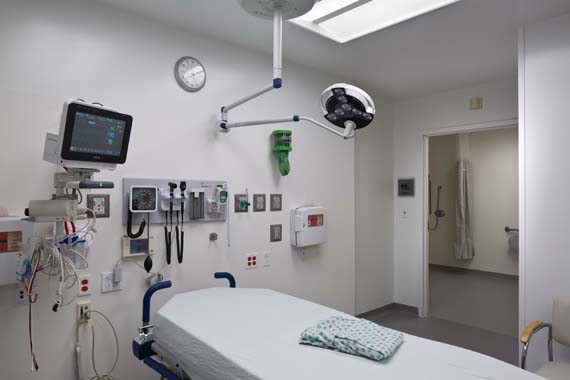 Scott Pease Photography
A SANE (sexual assault nurse examiner) room was designated for treating victims of sexual assault and domestic violence. The space provides more privacy for examination and treatment, as well as a secure area for evidence collection.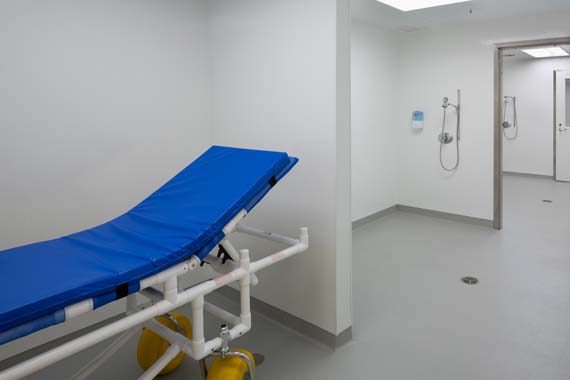 Scott Pease Photography
A decontamination area for chemical and biological disasters includes a series of shower, drying, and redress rooms. A separate entrance was provided for direct access to an outside space that can be used as a mass disaster staging area.
Scott Pease Photography
The new ED includes a dedicated radiology department with CT and X-ray capabilities located adjacent to the trauma area.
Scott Pease Photography
A pedestrian bridge connects the new ED facility with the existing hospital at the third floor surgery department.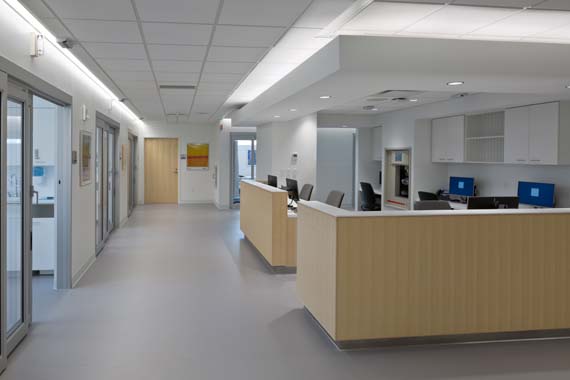 Scott Pease Photography
A 19-bed rapid observation unit on the second level of the ED provides space for patients who require extended observation but have not been admitted to the hospital.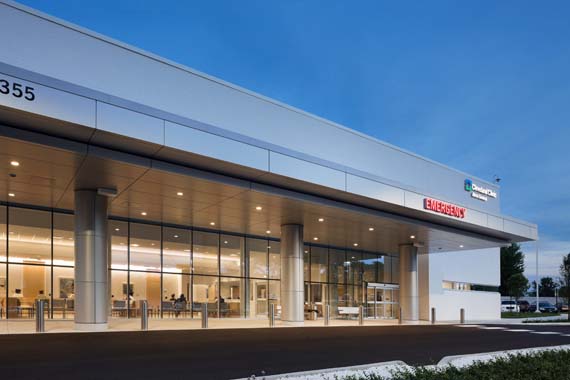 Scott Pease Photography
A protected ambulatory patient entrance can accommodate multiple patient drop-offs with valet parking services available. Direct visibility to the waiting area and patient drop-off from the security station is maximized through proximity and use of glass partitions.
---
The Cleveland Clinic Akron General Emergency Department, a 67,000-square-foot Level 1 trauma facility, opened in July. At more than three times the size of the original facility, the new, two-story ED is able to accommodate 65,000-75,000 patient visits per year. Designed by Hasenstab Architects, the ED includes 60 patient care spaces with single-occupancy triage, treatment, and exam rooms. With flexibility and efficiency in mind, all of the patient rooms were universally designed to accommodate multiple uses and treatment scenarios. Other features include four trauma/resuscitation rooms with dedicated ambulance entrance, a five-bed behavioral health area, secure decontamination area, and roof-top helipad with direct ED access.
Project details:
Facility name: Cleveland Clinic Akron General Emergency Department
Location: Akron, Ohio
Completion date: July 2018
Owner: Cleveland Clinic
Total building area: 67,000 square feet
Total construction cost: $49 million
Cost/sq. ft.: $731
Architecture firm: Hasenstab Architects Inc.
Planning: Huddy HealthCare Solutions
Interior design: Hasenstab Architects & Brockman Designs, LLC
Contracting: The Ruhlin Company
Engineering: M/E/P – PTA Engineering; IT – Karpinski Engineering; Structural – Thorson Baker & Associates; Civil / Landscape – Environmental Design Group
Construction: The Ruhlin Co.