Ernest E. Tschannen Eye Institute Serves Vision Impaired With Empathic Design
---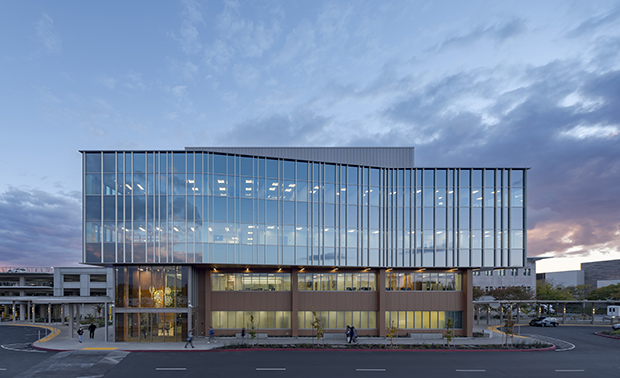 Kyle Jeffers
Ernest E. Tschannen Eye Institute Building: A balance of comfort and inspiration is achieved on the exterior, thanks to earth-toned materials at the base of the building and a dynamically folding clear glass curtain wall above.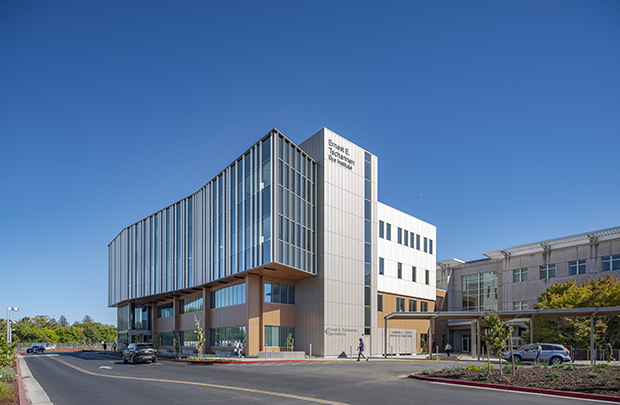 Kyle Jeffers
Ernest E. Tschannen Eye Institute Building: A balance of both comfort and inspiration is achieved throughout the facility, starting with a warm welcome for visitors via earthy-toned exterior materials at the base of the building. A dynamically folding clear glass curtainwall above creates an uplifting environment.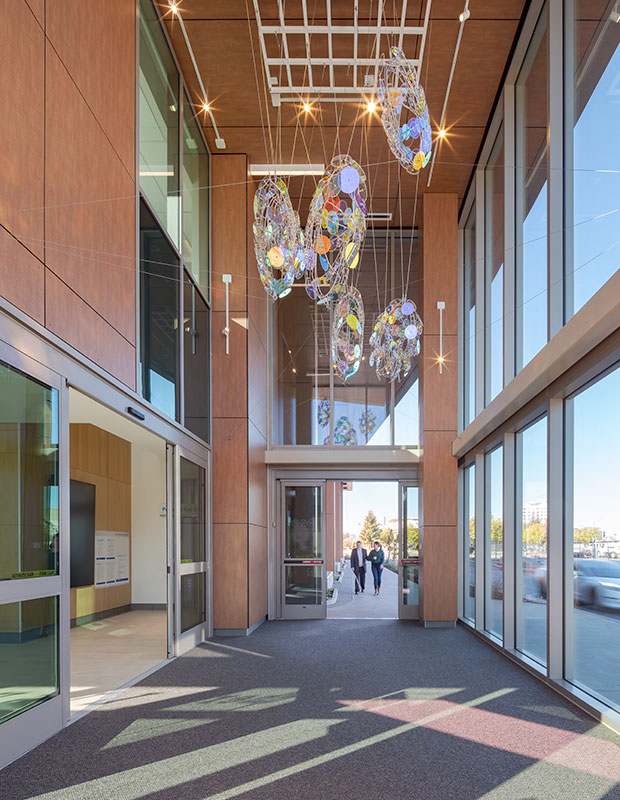 Kyle Jeffers
Ernest E. Tschannen Eye Institute Building: The multistory glass entry is located on a prominent building corner and incorporates art to create an inspiring arrival experience for visitors.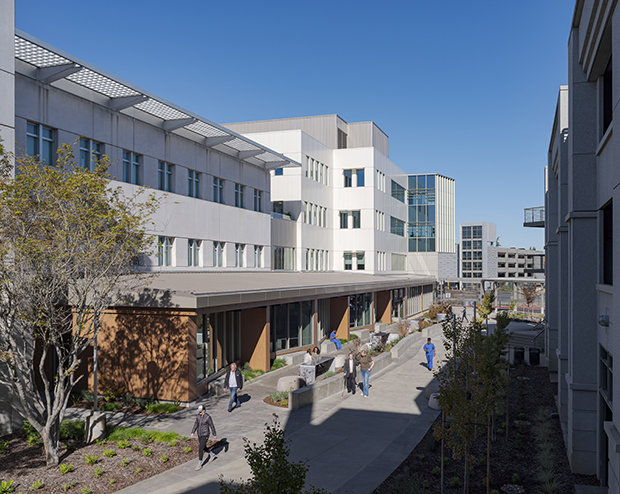 Kyle Jeffers
Ernest E. Tschannen Eye Institute Building: The circulation spine, which runs parallel to an exterior landscaped promenade, increases access to nature through daylight and views.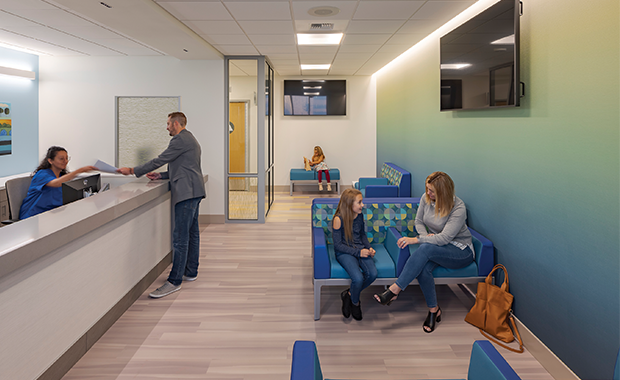 Kyle Jeffers
Ernest E. Tschannen Eye Institute Building: High-contrast colors, such as bright blues and greens, are juxtaposed with calming neutral tones as well as varied textures on walls and in furnishings throughout the building to support patients with low vision.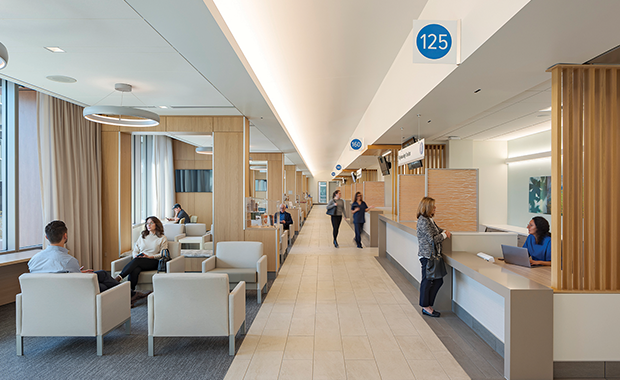 Kyle Jeffers
Ernest E. Tschannen Eye Institute Building: Natural materials, such as wood paneling throughout and diffused daylighting, serve as both functional wayfinding and biophilic design elements in the clinic.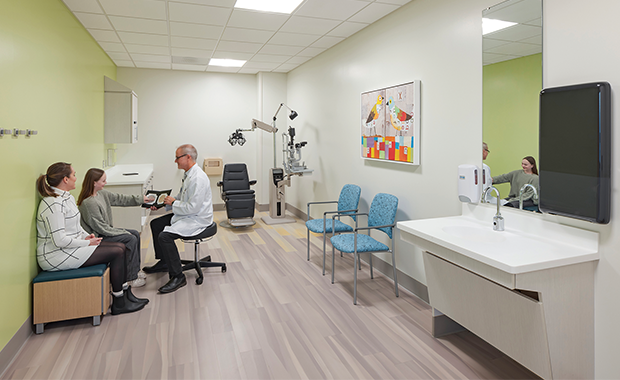 Kyle Jeffers
Ernest E. Tschannen Eye Institute Building: Standardized, multifunctional room sizes provide flexibility, allowing them to be reconfigured to the clinic's needs over time.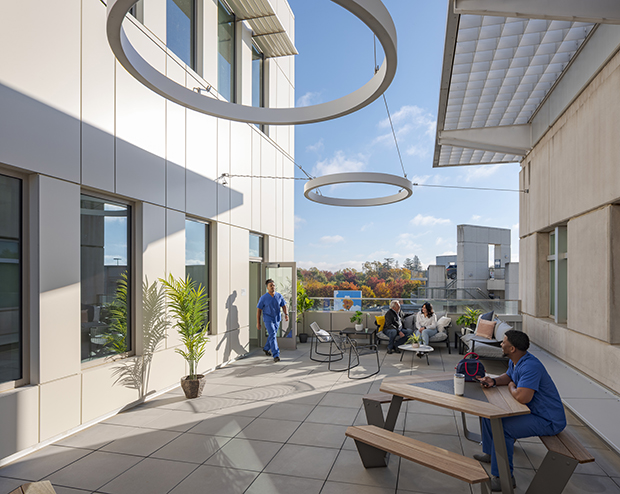 Kyle Jeffers
Ernest E. Tschannen Eye Institute Building: An outdoor terrace created between the new and existing buildings provides additional access to nature and a place of respite for staff.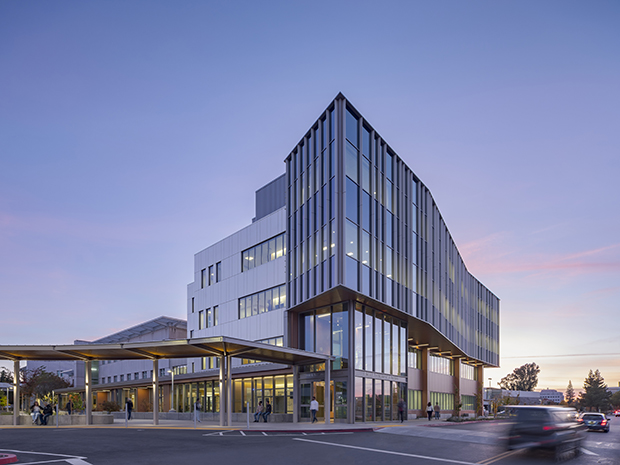 Kyle Jeffers
Ernest E. Tschannen Eye Institute Building: Balancing the need to provide both inspiration and comfort, the Eye Center design works within the medical campus context and enhances the pedestrian environment to welcome visitors and support the healing process.
---
The Ernest E. Tschannen Eye Institute Building in Sacramento, Calif., is the new home to all of UC Davis Health Eye Center's services. The center includes a range of offerings, from clinical research and training to optometry and ophthalmology patient care.
The facility, located on the UC Davis Medical Center campus, was designed by a team from HGA (Sacramento and San Francisco) in partnership with design firm TEF (San Francisco).
Previously, existing Eye Center services were primarily housed in the Ambulatory Care Center (ACC) building on the medical center's campus, where a variety of outpatient services are provided across multiple specialties.
(For more on specialty projects from Healthcare Design, go here.)
Expanding UC Davis Health Eye Center
The Eye Center desired to both consolidate and expand its offerings; due to space constraints, the ACC wasn't a viable option to colocate all dispersed ophthalmology services with capacity for growth.
The consolidation of these services in the new 60,000-square-foot building addition, connected to renovated portions of the ACC totaling 18,500 square feet, provided an opportunity to grow the Eye Center's clinical research programs adjacent to patient care, improving operational efficiencies and reducing costs.
Additionally, the project strengthens this precinct of the UC Davis Medical Center campus, allowing it to serve as the primary home for outpatient medical services near the hospital and school of nursing. Also, a future ambulatory surgery center is planned to be built across the street.
By attaching the new building to the existing ACC, the Eye Center received a new consolidated home, and the medical center gained a new floor of clinics to meet other needs within the ACC.
The 78,500-square-foot project includes 64,160 square feet of space for Eye Center operations. The remainder of the square footage is dedicated to one floor of clinics for general medical center use. As a result, the ACC building now hosts an "open chair" clinical space that will enable operational continuity during future renovation phases to support ambulatory growth.
How exterior design can establish identity
The exterior design of the facility establishes a strong identity for the Eye Center that sets it apart within the context of the medical campus and the contiguous, partially renovated ACC to support patient wayfinding and highlight its unique brand within the campus. The first impression of the facility was designed to provide both comfort and inspiration to support the healing process while also celebrating the medical services that happen within.
Situated on a prominent corner, the facility stands out with a multistory glass entry vestibule. Warm-colored, wood-toned panels wrap around the base of the building to ground the space. A dynamically folding clear-glass curtain wall on the upper floors creates a memorable expression, recognizable upon approach.
Compatible with the appearance of the adjoining ACC, the remaining upper portion of the Eye Center includes cream-colored metal panels. A distinct pattern of windows that shift between floors, dependent on the internal program needs for daylight and views.
Addressing wayfinding in eye center design
Within the center, the first-floor spaces include pediatric ophthalmology, glaucoma, neuro-ophthalmology, retina, comprehensive ophthalmology, and cornea services.
The pediatrics unit comprises a clearly identified portion of the clinic that is separate and secured for patient safety and comfort. The second-floor spaces feature refractive surgery, oculoplastic surgery, and clinical trials.
The interior of the Eye Center utilizes a unified circulation spine that begins at the entry lobby and runs the length of the building to aid with wayfinding. This route seamlessly connects the renovated space to the new building and provides access to an exterior landscaped promenade.
Additional wayfinding features include exterior windows in the main circulation spaces, logical vertical connection points with elevators and stairs, and the use of finishing materials in contrasting patterns and colors.
Utilizing empathic design strategies for the vision impaired
An integral part of the design criteria was that the team collaborate with clinicians and scientists to understand their unique needs and garner the input and buy-in that produce better design results. HGA held collaborative, workshop-like meetings where the team engaged clinicians in the design process. These meetings were not a one-way presentation of ideas but rather a free-flowing conversation.
Specific needs identified through the process included creating increased capacity for clinical trials and technologically advanced spaces to support research.
Additional spatial and design features that resulted from HGA's research include back-office circulations to support staffing and maximize operations.
The design team also included consulting architect Chris Downey (San Francisco), who's dedicated his career to creating enriching environments for the vision impaired after losing his own sight. He provided key insights into the implementation of empathic design principles for the facility.
The empathy-led design includes high-contrast colors and textures with vibrant blues and greens juxtaposed with neutral tones. Furthermore, diffused and filtered daylighting is critical for vision-sensitive patients.
High-contrast colors and textures are proven to aid the visually impaired. In this space, they also help provide clarity and information on where to walk and the direction in which patients are going, again helping to reduce stress and anxiety.
Careful lighting strategies—such as indirect light sources illuminating surrounding surfaces and translucent curtains and blinds to diffuse natural daylight—all help to reduce glare and create a comfortable environment for those with sensitive sight.
Homelike furnishings, including varying seating types and arrangements, acoustic dampening, and curated artwork by local artists and Eye Center patients round out the design.
"UC Davis is able to achieve breakthroughs in eye health because we are a unique academic medical center with an interdisciplinary approach to helping people live better, healthier, more fulfilling lives," says David Lubarsky, CEO of UC Davis Health and vice chancellor of human health sciences. "The Ernest E. Tschannen Eye Institute Building is a perfect embodiment of our mission at UC Davis Health."
Greg Osecheck, AIA, NCARB, is a principal and practice group leader at HGA (Sacramento, Calif.). He can be reached at gosecheck@hga.com. Kevin Day, AIA, LEED AP BD+C, is a design principal and the office director for HGA (San Francisco). He can be reached at kday@hga.com.
Project details for Ernest E. Tschannen Eye Institute Building
Project location: Sacramento, Calif.
Completion date: December 2022
Owner: UC Davis Health
Total building area: 78,500 sq. ft.
Total construction cost: N/A
Cost/sq. ft.: N/A
Architecture firm: HGA
Interior design: HGA/TEF
General contractor: McCarthy Building Companies Inc., supported by Vanir Construction Management
Engineering: Siegfried Engineering (civil), Buehler (structural), Guttman & Blaevoet (MEP)
Project details are provided by the design team and not vetted by Healthcare Design.