Finding The Right Note At Children's Hospital Of New Orleans
---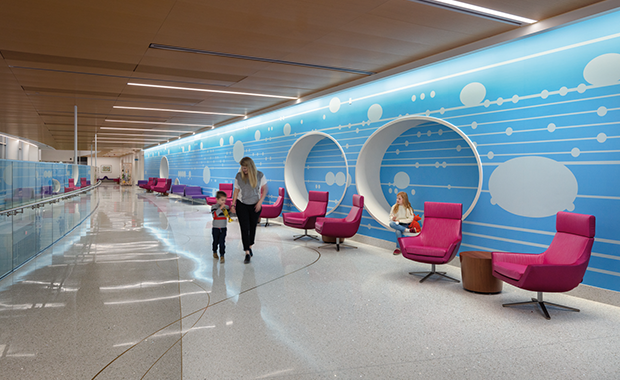 Jim Roof Creative Inc.
Children's Hospital New Orleans, Modernization and Addition: Subtle elements of music are infused throughout the hospital in design features and wayfinding, such as a musical motif on the walls of the main concourse.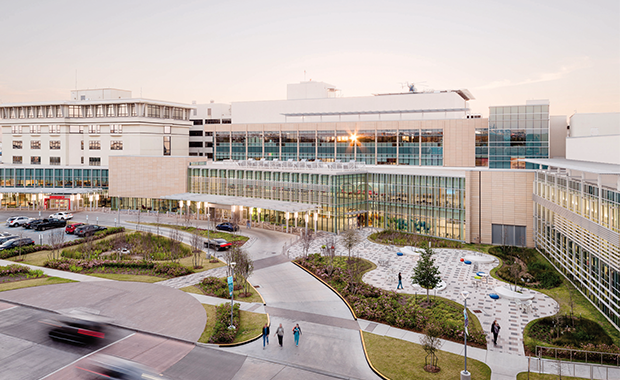 Jim Roof Creative Inc.
Children's Hospital New Orleans, Modernization and Addition: A renovated front entrance welcomes families on campus.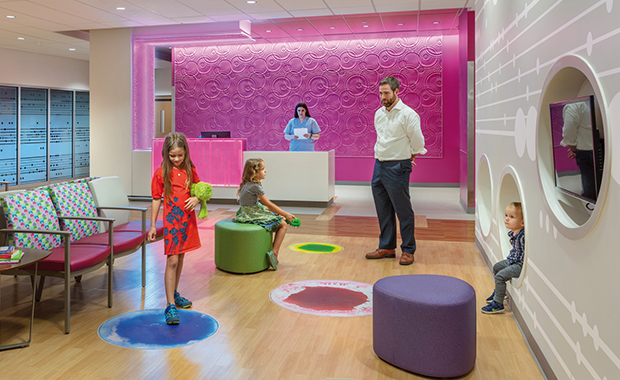 Jim Roof Creative Inc.
Children's Hospital New Orleans, Modernization and Addition: Interactive floor icons and reading cubbies enliven a waiting room.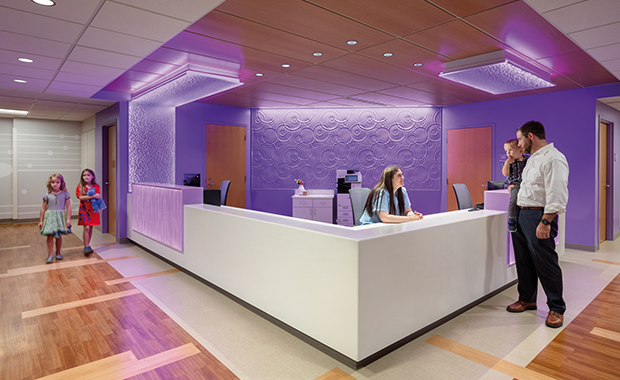 Jim Roof Creative Inc.
Children's Hospital New Orleans, Modernization and Addition: Specialty lighting is used to identify nurses' stations, as shown here in the hematology oncology department.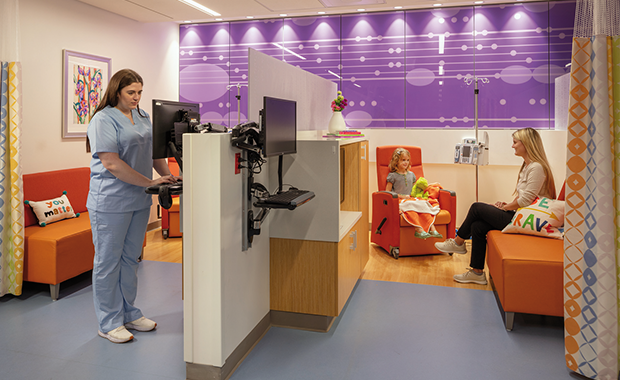 Jim Roof Creative Inc.
Children's Hospital New Orleans, Modernization and Addition: Infusion areas are separated to provide privacy for children and families, while warm colors and fun graphics help reduce stress during treatments.
Jim Roof Creative Inc.
Children's Hospital New Orleans, Modernization and Addition: Private patient rooms feature bright furnishings, warm materials, and large windows to maximize daylight.
---
Since opening in 1955, Children's Hospital of New Orleans has experienced a lot of growth, becoming one of the largest freestanding pediatric hospitals in Louisiana.
While departments and other support spaces within the facility have been renovated to keep up with that evolution, a master plan approach had not been undertaken in all those years.
Aging facility issues
By 2015, the hospital was beginning to show its age with outdated and inefficient layouts. For example, its loading dock was located next to the main entrance, creating an unwelcome sight at the front door.
Parking was a problem, too, with cars parked all around the hospital in single spaces or flooding out into neighboring residential streets.
Inside the hospital, a single "Main Street" corridor connected the campus' inpatient tower and medical office building (MOB) and served as a main thoroughfare for everything from patients and staff to materials and trash carts.
"The public and staff areas weren't really segregated very well, which created stress points," says Brandon Kristol, director, operations and project management at Children's Hospital of New Orleans.
As the organization began to look ahead, it considered a variety of options. Those included building a replacement hospital on another site and adding a new inpatient bed and surgical tower adjacent to the existing hospital. Eventually, EYP, a Page company (Page/EYP) was brought in to complete a master plan.
Master planning at Children's Hospital of New Orleans
After looking at the campus and the organization's goals, senior project director David Deis, managing principal at Page/EYP (Atlanta), says the firm proposed leveraging the existing facility instead.
Specifically, it suggested pursuing a staggered renovation and addition that would allow for new construction above the existing structure. This solution that would increase the hospital's footprint by more than 235,000 square feet and save $250 million in construction costs.
Next, Page/EYP, which went on to serve as architect of record on the project, began working with the owner and contractor, The Lemoine Co. (New Orleans), to develop a document they called "the roadmap."
That document guided the project from day one to completion—a process that was further challenged by the owner's requirement that the hospital remain fully operational during construction.
In the end, a multiphase construction process was outlined that would entail 34 distinct phases of construction and take over 40 months by the time it wrapped up.
This plan was presented to leadership, the neighborhood, city leaders, and contractors to "prove this process could work logistically," Deis says.
"There's a certain amount of resilience needed and a lot of strong collaborative partnership between the design, contracting, and owner teams to solve the day-to-day problems, but also to keep the big picture in mind," he says.
Constructing a new facility in New Orleans
After two years of design, construction kicked off in 2017. A few early phases that offered up a "teaser" of what was to come over the next several years as the facility transformation progressed, Deis says.
Among those first steps was erecting a new 600-car parking garage, which helped get cars off the site, and a connecting glass skybridge to the outpatient building.
The existing laboratory was also relocated to begin making room for a new two-story entry pavilion. This space would serve as the hospital's "living room," with colorful lights, digital signage, artwork, and activities to energize staff, patients, families, and community members as they enter the facility.
"That lobby was a hint of what to expect and got everybody excited about the project," Deis says.
Project phasing
From there, the phasing progressed according to how everything was going to be built, Kristol says, with departments moving to make room for demolition and construction of the infill tower, followed by renovations once other departments were moved out of existing spaces and into the new building.
Several phases of the project were dedicated to creating a unified emergency department (ED), which cares for more than 50,000 patients a year.
Previously, the department was divided between two floors. One of ownership's main project goals was to expand the ED's size in one location on the first floor for better patient flow and overall experience for patients and families.
Jennifer Wilkinson, senior project architect at Page/EYP, says the ED entrance moved three times during construction.. This was mostly due to contractor mobilization and access point changes on site.
The final ED went from 14,000 square feet to over 32,000 square feet and houses 46 patient rooms (up from 29) and two dedicated trauma bays.
Dedicated behavioral health ED
Another big win, Kristol says, was building out a true behavioral health ED with six exam rooms designed with appropriate equipment and security features as well as a separate outside entrance.
Erecting a new infill tower on campus also provided space for Children's Hospital of New Orleans to co-locate high-priority services, such as surgical care, as well as expand its cardiac intensive care unit (C-ICU).
For example, located on the second floor, a new surgery center supports growth of specialized pediatric perioperative services thanks to new technology support.
The department includes a spacious lobby and waiting area for families and a 42-bed same-day surgery unit with all private patient rooms and an adjoining 24-bay post anesthesia care unit to provide family members easy access before and after a child's surgery.
"[The project] allowed us to re-prioritize some of the pieces of the puzzle so that programs would be closer to each other, especially in emergency situations," Kristol says.
Modern interior design approaches
Opening to patients in April, the hospital's 17-acre campus has more than 230,000 square feet of new clinical space. This includes the 57,000-square-foot surgery center and 35,000-square-foot C-ICU.
To maximize its first significant renovation project, Children's Hospital of New Orleans wanted a "timeless design that would last another 50 years," Deis says.
That approach begins outside with a fresh front door experience that signals a new identity to the community. Specifically, the loading dock was moved to the back of the building with a separate access road. A glass-walled concourse was added along the front of the building to serve as a unifying element and a welcoming entrance.
"It connects all the main public spaces and helped us introduce a large amount of natural light into the building," Wilkinson says.
To further improve circulation, the project team replaced the existing one-corridor layout with a new on-stage/off-stage approach that created separate pathways for public and staff traffic.
Tapping into New Orleans' music history
Taking cues from the hospital's location in New Orleans and the area's rich music history, a "healing power of music" concept was developed to guide some of the interior elements.
"Music is used throughout in subtle ways so it's something that stands the test of time," Wilkinson says. For example, abstract nods to piano keys and musical notes in natural materials and textures are used throughout the facility, including in the wall graphics and flooring details.
Another aim of the project was to deliver a more energy-efficient building. This was achieved through several strategies, including replacing all the T12 and T8 fluorescent lamps with LED lighting. Additionally, chilled beam cooling technology was introduced in the new grand concourse and the old tube-style boilers were replaced with new modular condensing-type natural gas boilers.
As a result, the building's total energy consumption decreased from an energy usage intensity (EUI) of 325 kBtu/square foot to 188, which equates to a 42 percent reduction, says Vince M. Rea, operations manager, TLC Engineering Solutions, the mechanical, electrical, plumbing, fire protection, and technology firm on the project.
Pivot points during hospital construction
Despite its detailed planning efforts, the project team encountered several unexpected challenges along the way, too—adding more phases to the already complex schedule. For example, the COVID-19 pandemic and Hurricane Ida hit during construction, leading to delays and schedule complications.
With its location near the banks of the Mississippi River, the project was also impacted by record rainfall seasons, which delayed digging on the site on several occasions.
Other challenges were linked to the intricacy of renovating and expanding a facility that was still operational. For example, the main utility spine connecting the hospital buildings ran directly through space designated for the infill tower.
To keep the existing hospital and adjacent MOB fully operational during construction, and before a new four-level central utility plant (CUP) was built, a plan had to be developed to reroute utilities using temporary chillers and generators by relocating the spine temporarily in order for construction to continue. Then, as floors were added in the new tower, permanent lines were run through the building and to the other parts of the campus via the new CUP.
Workflow issues at the hospital also impacted the phasing. For example, there were times when the project team was going to start renovation on a particular floor when flu season hit and the hospital asked them to focus on another area until cases subsided.
"So we would shift things around," Deis says. "It was like a puzzle to keep it on track and make sure all the pieces still fit."
A key to handling all these changes were weekly phasing meetings where project team members addressed specific conflicts and mapped out new options.
"Those were powerful meetings," Deis says. "It was everyone coming to the table to discuss what was coming up and how we were going to deal with it and problem-solve."
Lessons learned
Kristol says the team also made a habit of looking back at lessons learned from previous phases where things didn't go as expected and considering how to do it better next time.
"Any time you spend five-plus years doing something, you have a lot of opportunity to reflect," he says. "We had a lot of meetings, but I think every project has a lot of meetings. It was taking the time to think about things that aren't checking the boxes that was the most beneficial to us."
Anne DiNardo is executive editor of Healthcare Design. She can be reached at anne.dinardo@emeraldx.com.
Project details For Children's Hospital New Orleans, Modernization and Addition:
Project location: New Orleans
Project completion date: November 2021
Owner: Louisiana Children's Medical Center Health (LCMC Health)
Total building area: 400,000 sq. ft.
Total construction cost: $225 million
Cost/sq. ft.: $562.50
Architecture: Page/EYP
Interior design: Page/EYP
General contractor: The Lemoine Co.
Engineering: TLC Engineering
Builder: The Lemoine Co.
Art consultant: Plaid Inc.