Fresh Take: Henry Ford Medical Center
---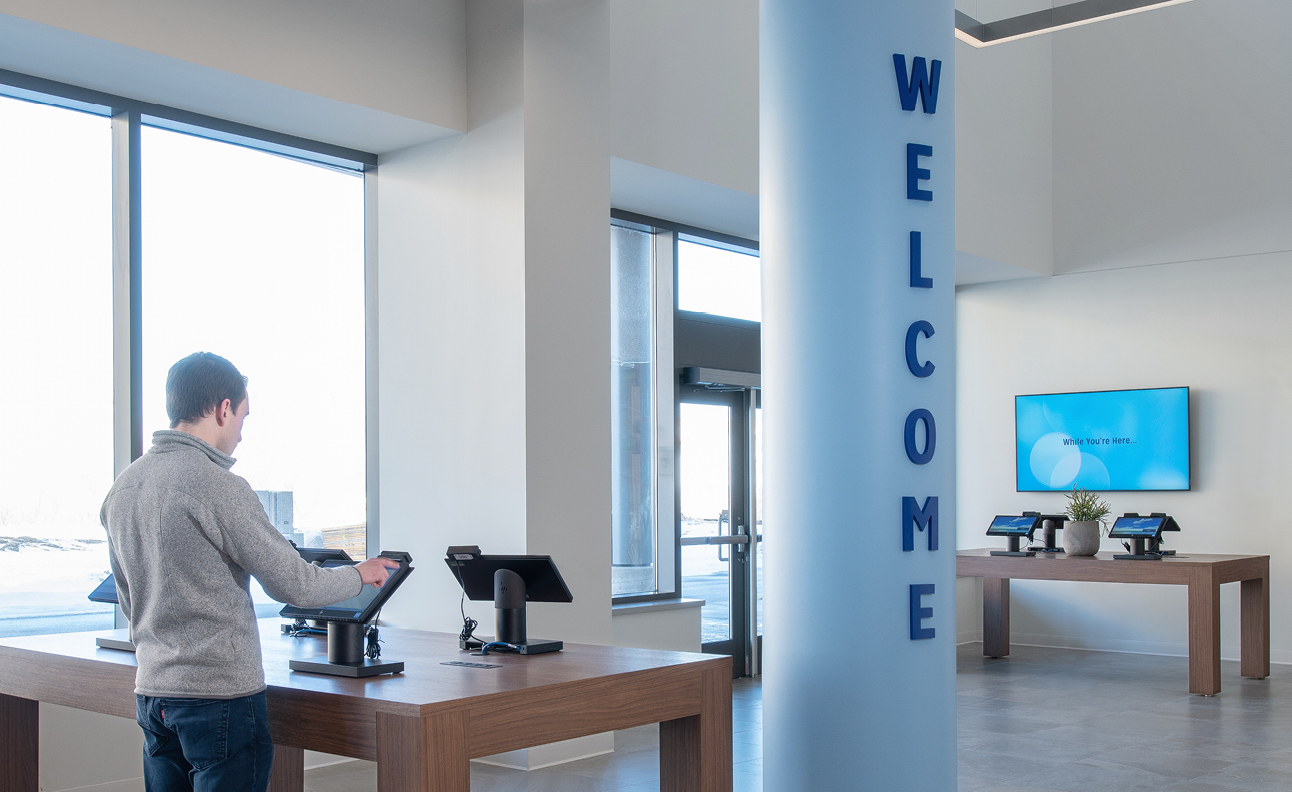 © Ryan Southen
As part of the new arrival experience, patients are greeted by a concierge and directed to open tables with tablets for check-in, while those who need additional assistance can visit a staffed desk.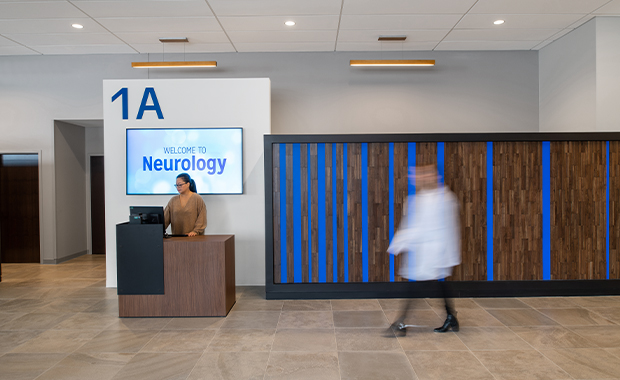 © Ryan Southen
Digital signage and mobile concierge podiums support flexible, modular clinics that can grow and shrink based on short- and long-term needs.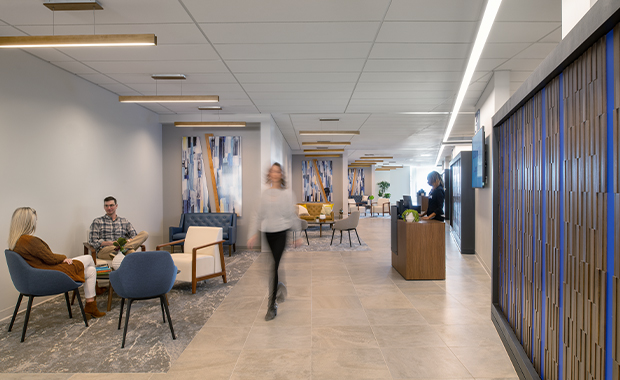 © Ryan Southen
Crowded waiting rooms are replaced with intimately scaled lounges outside of each clinic.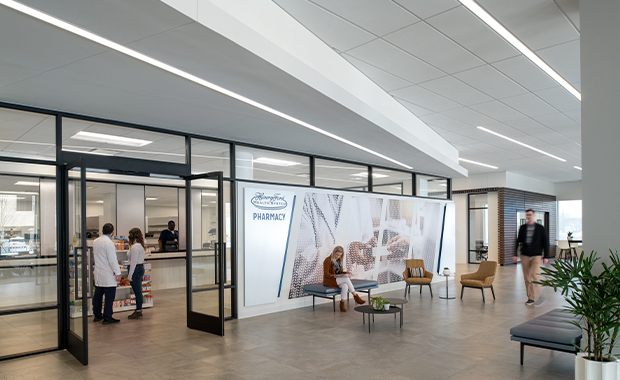 © Ryan Southen
Public spaces are designed to encourage guests to roam and utilize retail services during their visit, which include a retail pharmacy, eyeglass store, glass-walled community room, and a self-service café.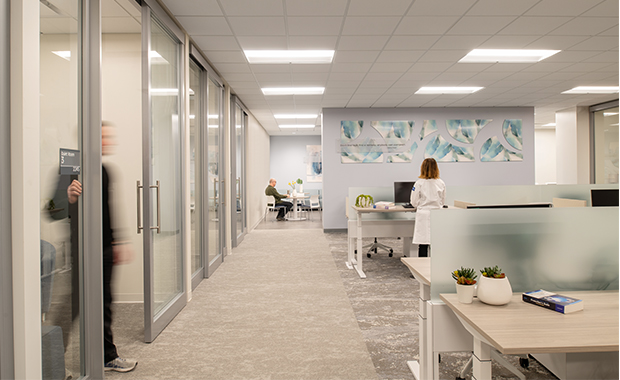 © Ryan Southen
A co-working hub serves as a place for clinical and administrative staff to meet and conduct focused work. Full-time providers are given a dedicated desk in a shared office, while part-time providers have access to shared desks.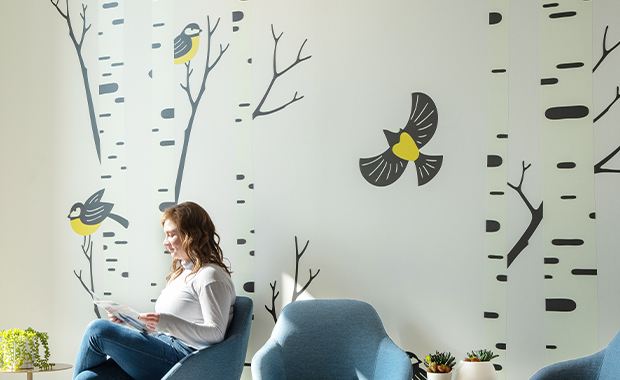 © Ryan Southen
Modern art enhances the lounge-like waiting areas at the Henry Ford Medical Center, Bloomfield Township.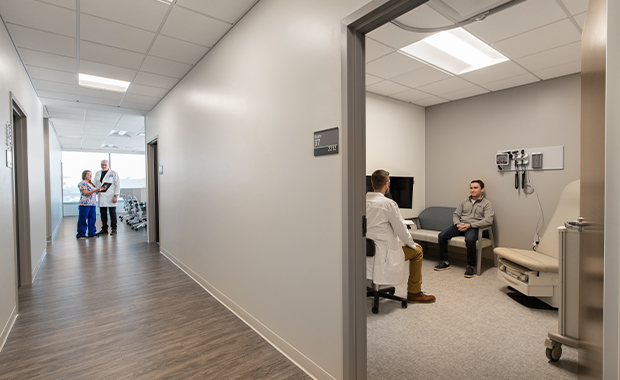 © Ryan Southen
An operational change for the organization, a new universal clinic model utilizes exam rooms and office spaces that are shared by care providers.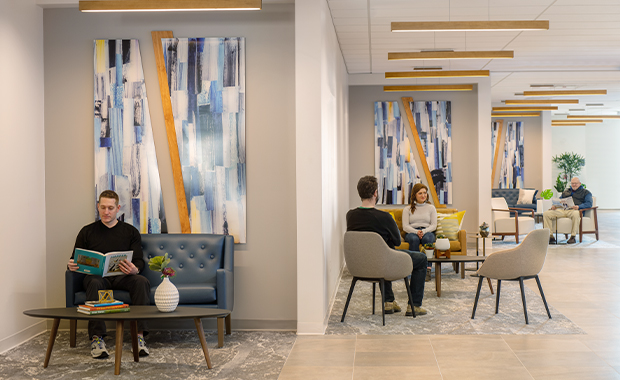 © Ryan Southen
Eclectic, lounge-like waiting spaces were designed to create a less clinical feel, while an overall urban industrial aesthetic, including metal and wood pendants, concrete-like flooring, and textured wood walls, pays homage to Detroit's recent renewal.
---
Founded in 1915 by automaker Henry Ford, Henry Ford Health System (HFHS; Detroit) today includes six hospitals, more than 50 medical centers, and an integrated medical group practicing more than 40 specialties.
Despite its comprehensive care offering, HFHS desired a greater presence—particularly in terms of specialty care—in certain areas of  southeast Michigan. "We do just about everything," says Douglas Ditri, COO, system ambulatory operations at HFHS. "But we're not everywhere." With the decision to embark on an expansion plan to offer care that's closer to patients' homes, HFHS made plans to start with the first of three new outpatient centers in an area close to two of its existing hospitals. "It's become more and more important to us that we're able to meet the healthcare needs of our patients in their local communities when it's possible," Ditri says.
The bones of a vacant building, originally designed to house a big-box store, offered HFHS a rare blank slate to create not only a striking, modern facility but also a fresh, patient-centered approach to its ambulatory care offering with a new operational model. "It was unlike anything they had done in a long time," says Bonny Slater, senior associate at Gensler (Washington, D.C.), which, in addition to an upfront visioning process, was tasked with the programming, planning, and design and architecture for the building interior.
However, a major challenge for the project team was working with the shell of an existing building that wasn't designed to accommodate a healthcare facility. While the existing structure offered a number of advantages including high visibility (it's attached to an above-ground parking garage that's the tallest structure in the development) and a shortened construction schedule, there were hurdles to clear, specifically in how patients and visitors arrive and navigate the building. Ultimately, the new 83,000-square-foot Henry Ford Medical Center—Bloomfield Township opened in January.
Establishing a clear vision
Before devising plans for the project, which is spread across two floors and includes 85 exam rooms and primary and specialty care services, the team began with an extensive visioning process, followed by site tours of HFHS' existing ambulatory care centers, and culminating in a presentation of current trends and relevant case studies. "The process, including SWOT analysis and patient experience journeys, helped HFHS to define who they were and where they wanted to go," Slater says.
The process also helped Gensler understand how the organization saw itself. "Easy" was the main term that HFHS leadership came up with, "easy to deal with, easy to find, easy to pay your bills, a no hassle healthcare organization," Slater says. Second was flexible, collaborative, and innovative.
Grounded in a desire to create a facility and operations that emulated those attributes, the ultimate outcome of the visioning process were six main goals, including, first and foremost, patient-centered ambulatory care; moving from an independent clinic model to a universal one where everything is shared; supporting top talent; improving technology for a simplified experience; utilizing a Lean approach; and respecting the brand heritage.
Model sea change
Among the project goals that were defined was moving from an independent clinic model to a universal one, marking a major cultural shift for the organization. Instead of dedicated departments with their own exam rooms, office space, staff, and supplies, the new facility's clinic model shares everything. This approach was determined to deliver the most efficient use of space, with specialists and providers flexing in and out of clinic areas as needed. For example, if cardiology is on-site only two days a week, another practice could use the clinic space the other three days. Or if it's found that a particular clinic space is not being fully utilized, a new practice can be moved in, even on the fly.  "You have a lot more flexibility, the lines between one clinic and another are blurred, " says Slater.
Additionally, private offices were eliminated to allow more room for exam spaces, which are clustered into universal pods. To give staff the space they need for phone calls and more focused work, a co-working space and smaller, shared offices are located at the back side of the exam rooms, designed to foster a more collaborative environment. "By eliminating private offices, it's much easier for specialists and providers to rotate in and out of the building, " Ditri says.
The flexible clinic model was paired with a new arrival process, as well—another major change for HFHS. The organization's existing arrival spaces are something akin to bank teller desks, with the check-in process itself requiring lots of paperwork. Gensler asked HFHS to look at different types of check-in spaces through the lens of various members of its diverse patient population, arriving at a mix of options delivered that include Apple store-inspired open desks with a concierge, tables with tablets for self-check-in, and mobile podiums at clinic entrances.
"We knew coming in, we were proposing wholesale changes to the organization," says Slater. "And, we didn't know if it's going to one hundred percent work, so we built in flexibility and some redundancy to allow for that experimentation."
After checking in, guests are instructed to go to the clinic areas. There, digital signage can be changed to communicate the current specialty using that space, while fixed number signage on walls (a bit like an airport gate) also helps with wayfinding.
Long, lounge-like waiting spaces, a distinctive design detail of the new facility, have been pushed out of the clinics and into nearby public corridors to create comfortable areas for waiting family members as well as active public spaces. On one side, intimate grouped seating is eclectic—from low armchairs to couches to café chairs—and framed with a backdrop of modern art on the walls. On the other, partial-height walls in textured walnut wood are woven with blue accents meant to reflect DNA. "We didn't want to create anything that looked or felt like a traditional clinic waiting area," Slater says. "By pulling waiting areas into the public zone, guests can choose whether to wait in the lounge, grab a refreshment at the café, or peruse the optical shop."
Sound setting
One of the challenges the team had to resolve on the Henry Ford Medical Center—Bloomfield Township project was where best to locate the main arrivals thanks to the wayfinding challenges of the existing building. Their solution was placing them upon entry through the parking garage elevators on both the first and second floors, as they knew most guests would be parking their cars there instead of utilizing surface parking, which was limited and made for a long, winding trip to clinics and elevators.
As some square footage of the building was underneath one of the above-ground parking garage ramps, an acoustics consultant team was brought in to help prevent structure-born sound coming into the walls and ceilings from cars driving on the deck, along with airborne sound radiating from the bottom of the deck. "This noise, if left unabated, would have been likely to cause distraction and annoyance, leading to patient dissatisfaction and increased staff stress," says Mandy Kachur, principal consultant and partner at Soundscape Engineering (Ann Arbor, Mich.).
For the structure-borne sound, the team created a self-supporting structure for ceilings, walls, and mechanical and electrical systems that served as a structural break to prevent structure-born sound. For noise radiating from the deck, multiple steps were taken from thermal insulation at the bottom of the deck to sound-attenuating ceiling construction made from acoustical panels. "The combination of the ceiling and the self-supporting structure worked to protect the occupants from noise while not deviating from standard construction materials and methods," Kachur says.
Lessons learned
As HFHS moves forward, lessons learned on the Bloomfield Township project (e.g., the need for fewer podium check-ins, as not all of them are being utilized) are being tracked, added to a master list, and considered for two new ambulatory centers: Royal Oak, which is slated to open in the second quarter of 2021, and Plymouth Township, which is due to break ground soon.
Opening in the COVID-19 environment has proven the value of the facility's flexibility, as well. For example, as a result of fewer in-person visits during the pandemic, underutilized exam rooms have been used to support growing telemedicine services. Others exam rooms have accommodated specialists and providers that were brought into Bloomfield Township from HFHS facilities that were temporarily shut down during the pandemic. "All we have to do is change the name on the sign electronically," says Ditri. "That really allowed us to flex other practices into this space.
"So that's an incredible boon not just to us from an efficiency point of view, but now we've got [more] services out in the community where they are closer to the people who need them," says Ditri. "That's a big win for us and our patients."
Project details
Project name: Henry Ford Medical Center—Bloomfield Township
Project completion date: January 2020
Owner: Henry Ford Health System
Total building area: 83,000 sq. ft.
Total construction cost: $38 million
Cost/sq. ft.: N/A
Architecture: Gensler (interior architecture); Hobbs+Black (core & shell)
Interior design: Gensler
General contractor: AUCH
Engineering: IMEG
Carpet/flooring: Shaw (carpet); Shaw, Patcraft (PVC-free resilient tile)
Ceiling/wall systems: Armstrong
Furniture—seating/casegoods: David Edward, OFS, Kielhauer
Surfaces—solid/other:  Formica
Project details are provided by the design team and not vetted by Healthcare Design.
Joann Plockova is a freelance writer based between Jupiter, Fla., and Prague, Czech Republic. She can be reached at joann.plockova@gmail.com.