Growing Community: RMHC Of The Philadelphia Region
---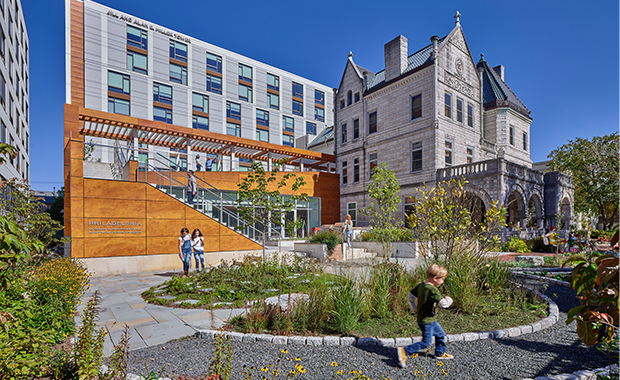 Halkin Mason Photography LLC
A playful geometry and wood-look materials on the exterior create a façade that breaks down the scale of the building and references elements of home. The two-level patio and garden provide spaces for gathering as well as play.
Halkin Mason Photography LLC
A new entry point houses reception, guest services, and seating areas as well as a connection to the mansion, dining, and play areas in the renovated building.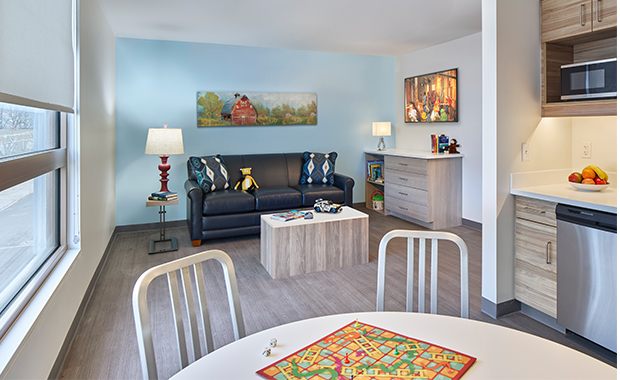 Halkin Mason Photography LLC
Comfortable, apartment-style rooms are designed to provide a temporary residence to families with the comforts of home.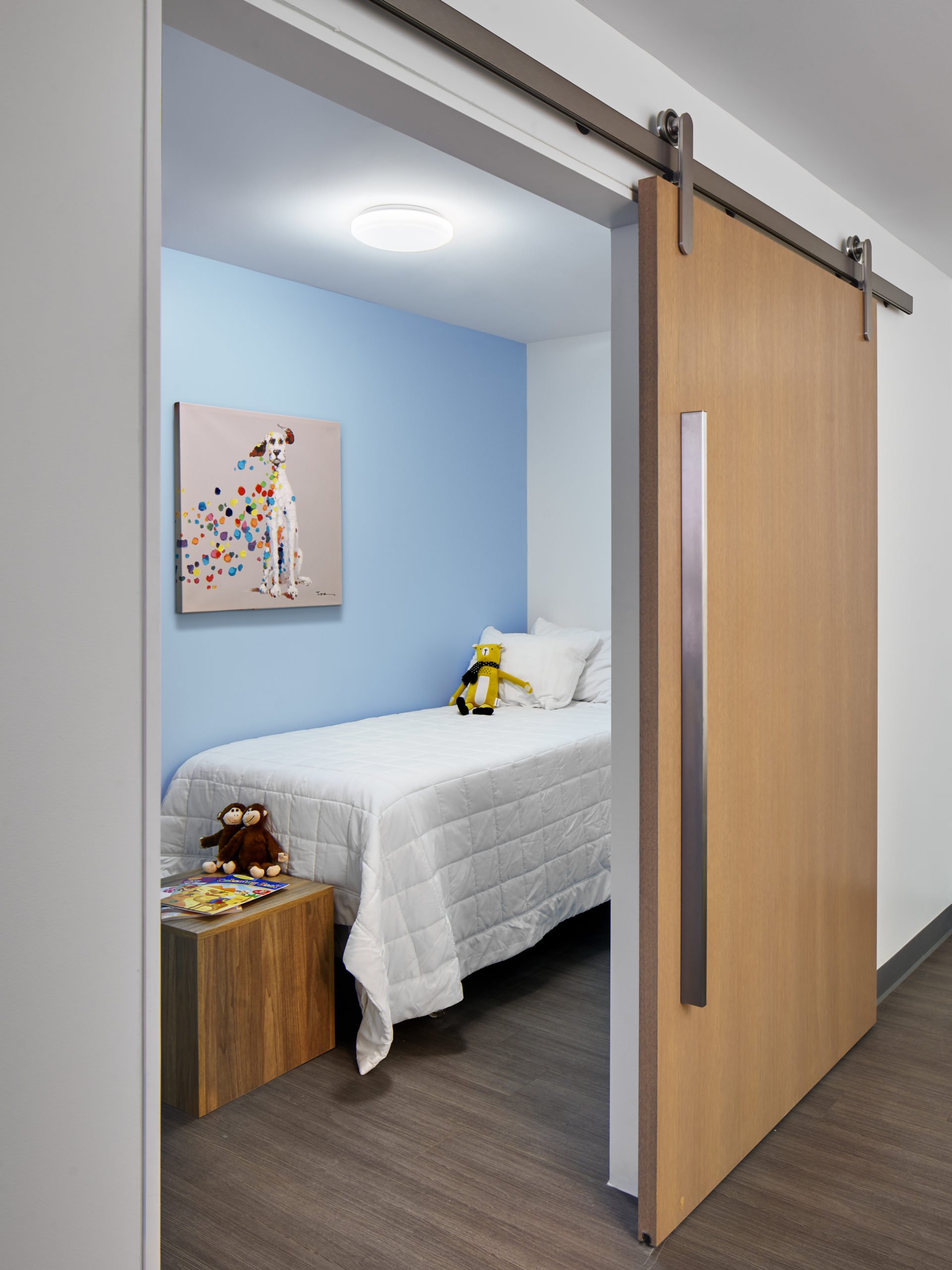 Halkin Mason Photography LLC
This colorful child's bedroom features a large, sliding barn door.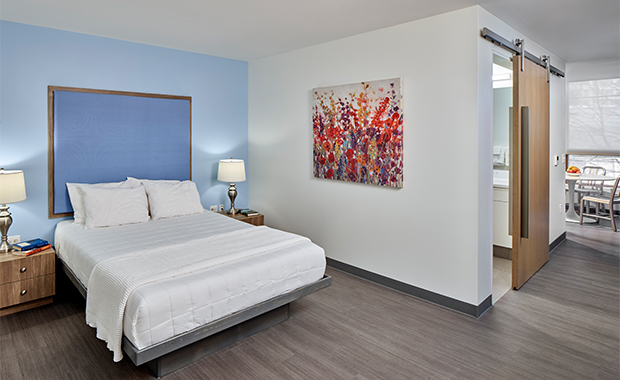 Halkin Mason Photography LLC
The family caregiver bedroom offers access to a full bathroom.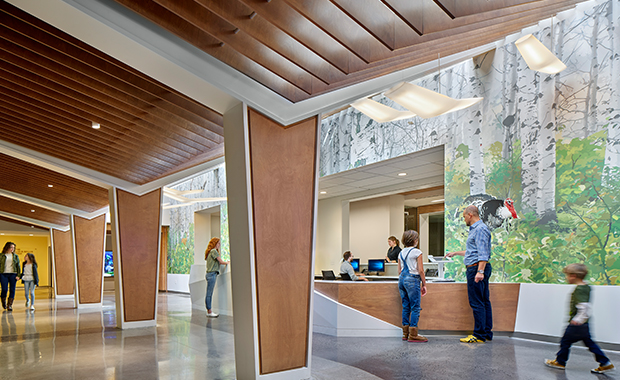 Halkin Mason Photography LLC
The building's entry point invokes a welcoming environment through the use of natural lighting, natural materials, and depictions of nature.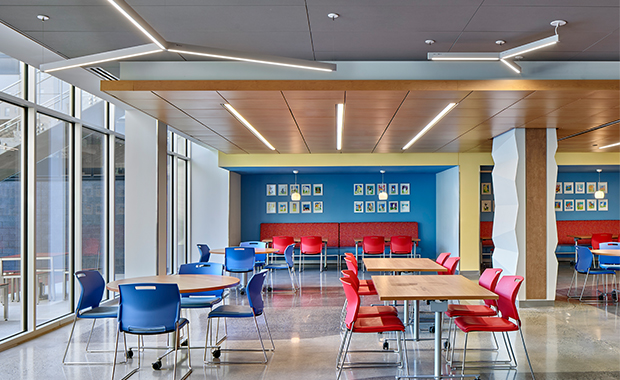 Halkin Mason Photography LLC
The dining room provides opportunities for both private and communal dining and offers direct access to the ground-level patio and gardens.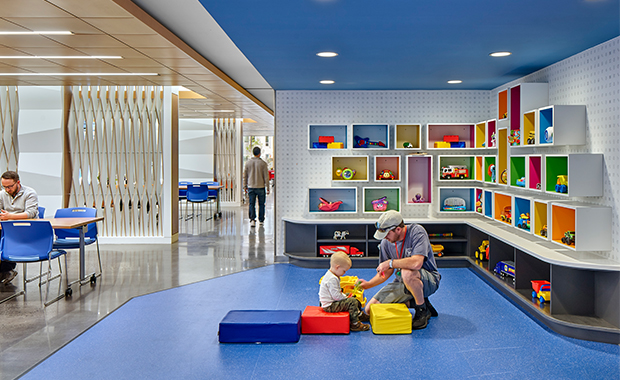 Halkin Mason Photography LLC
Reading nooks/play areas throughout the facility provide entertainment for families and space for education programs.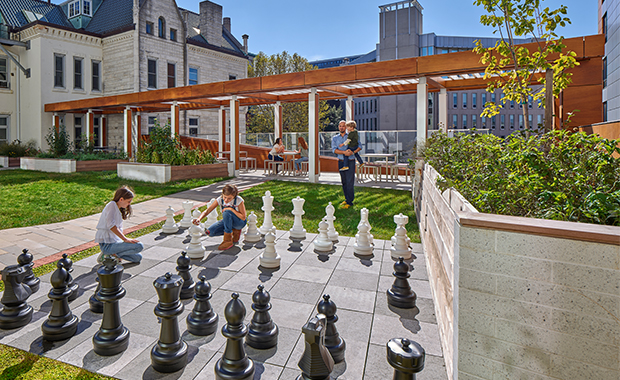 Halkin Mason Photography LLC
The rooftop garden features shaded seating and play areas.
---
Like the 300-plus Ronald McDonald House Charities (RMHC) worldwide, RMHC of the Philadelphia Region provides temporary housing to families with children receiving medical care at nearby healthcare facilities. The organization's West Philadelphia location opened in 1974 in a historic mansion, with additions made over the years. In 2018, RMHC teamed up with EwingCole (Philadelphia) to further expand the house's footprint to enable the organization to grow from servicing 800 families to 1,900 families a year.
The 93,000-square-foot project, which was completed in January 2020, includes a new reception area, 96 family bedrooms including 12 with wheelchair-accessible bathrooms, and eight protected patient suites on an isolation floor for immunocompromised individuals. Additionally, the existing buildings were renovated and a two-tiered garden and patio were added between the tower expansion and existing mansion, providing a buffer from the city as well as a gathering place for families. "The project program expands the existing facility from a house to a community," says Saul Jabbawy, principal and director of design at EwingCole.
The design incorporates positive distractions as well as daylight and views via skylights and windows. Furthermore, the existing building's first floor was renovated with family and play areas spread throughout, and a new kitchen was added for use by a guest chef or families.
The design also incorporates environments with varying levels of privacy to support different residents' needs and provide places for respite and engagement. "Some of the locations involve more active architectural interventions, colors, and design elements, while others are quieter, allowing individuals to engage quietly with a family member," Jabbawy says.