Humansa, Hong Kong: Photo Tour
---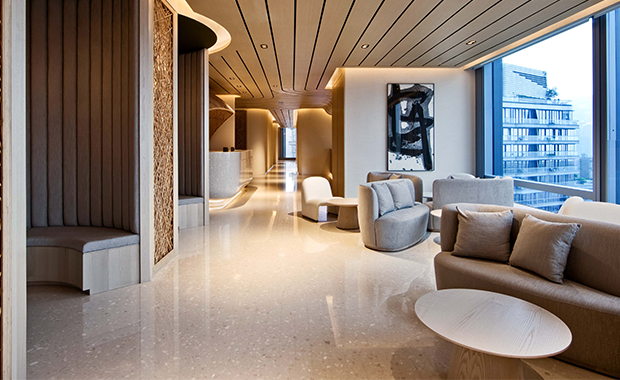 Ng Siu Fung
Humansa: A multifunctional waiting area filled with natural light comprises flexible sofa seatings and full-height consultation booths complemented by an organic dispensary hut.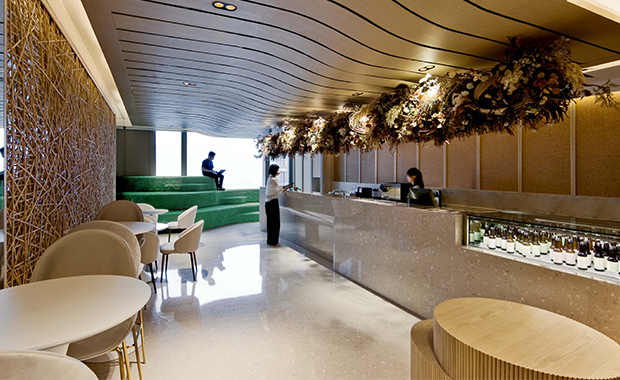 Ng Siu Fung
Humansa: Natural light, dry plants, green lawn seating, and bamboo screens provide a calming environment for the retail and nutrition consultation activities in the dietetic zone.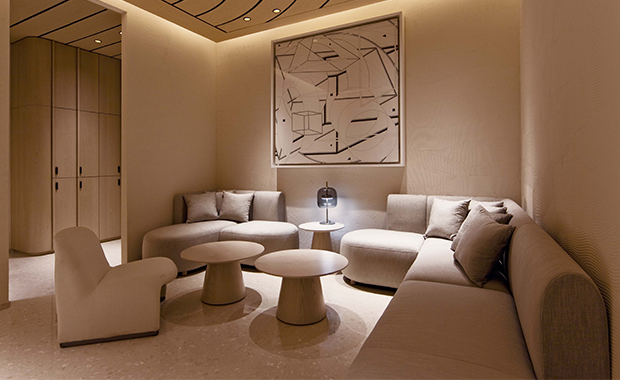 Ng Siu Fung
Humansa: Private exam room and physiotherapy area walls include a curved organic shape and are comprised of diatom-mud or semi-frosted glass.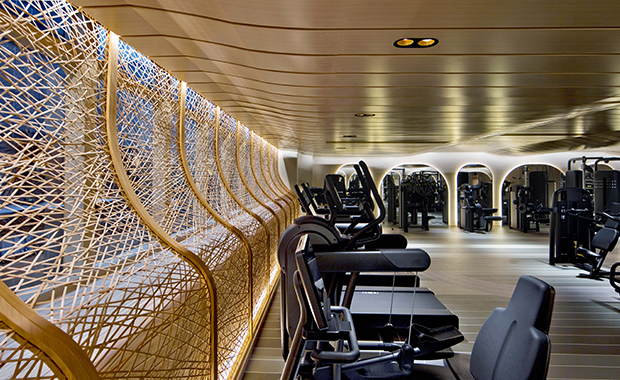 Ng Siu Fung
Humansa: The fitness area includes lawn-like vinyl flooring and terrazzo-cladded individual dressing rooms. The bamboo screen adds further privacy to different training areas and let users connect to nature while exercising.
---
Humansa, Hong Kong
Humansa, a healthcare brand under New World Group (Hong Kong), aims to deliver health and wellness services at its first flagship clinic in the busy city center of Kowloon, Hong Kong. Those services include medical imaging, dentistry, endoscopy, dietetics, physiotherapy, and high-performance training.
Serving adults and children, with a specific focus on targeting business executives and athletes, the project shifts away from a typical clinical setting. It includes a biophilic approach to create a sustainable hub for health, wellness, and performance.
Sustainable, durable, and recycled materials, including terrazzo flooring, diatom mud walls, and bamboo features, help provide a natural, calming space to improve health.
Zoned clinic floor plan
The 18,400-square-foot floor plan was sectioned into zones, and the journey begins at the main entrance and consultation zone. There, visitors find a waiting area filled with natural light, flexible sofa settings, consultation booths, and an organic dispensary hut along with a staff room and kitchen.
The dietetic zone includes green lawn seating and bamboos screens. The exam and imaging zone is next and features private organic-shaped rooms with natural finishes, including diatom mud walls, and semi-frosted glass to provide privacy and a place of serenity.
A consultation area is situated includes ultrasound, mammogram, X-ray, and eye screening rooms.
The project earned the BEAM Plus Interiors Platinum rating, a holistic certification system on Green Interior Environment in Hong Kong. Evaluations are based on criteria including innovation, indoor environmental quality, material application, energy and water use, green building attributes, and property management.
Project details for Humansa
Location: Kowloon, Hong Kong
Completion date: October 2022
Owner: New World Development Co. Ltd.
Total building area: 18,400 sq. ft.
Total construction cost: $2 million
Cost/sq. ft.: $109
Architecture firm: KPF
Interior designer: Panorama Design Group
General contractor: Wing Shing Construction Co. Ltd.
Engineering: Wing Shing Construction Co. Ltd.
Builder: N/A