Mass General Brigham Adopts Templated Clinic Design
---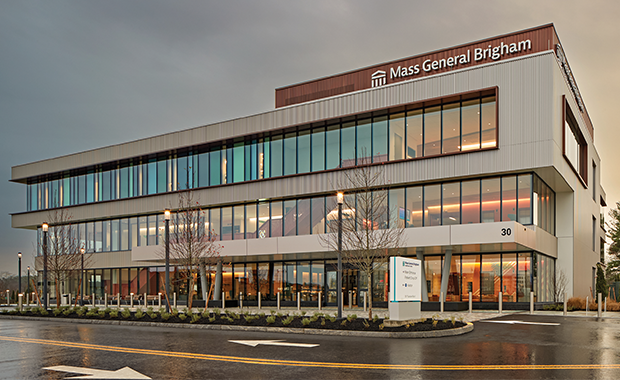 © Robert Benson, Courtesy Gensler
Mass General Brigham Integrated Care: The north façade of the building features a high-performance envelope of tripe-glazed windows to let in natural light while reducing energy usage—offering visitors a glimpse inside the building's vibrant interior as they arrive.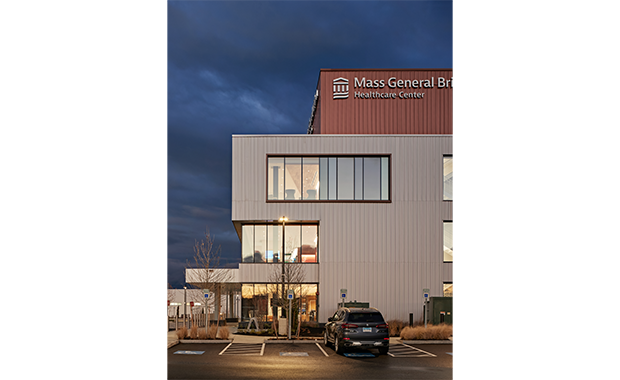 © Robert Benson, Courtesy Gensler
Mass General Brigham Integrated Care: The west façade of the building illustrates the interior progression from public to private spaces, with greater transparency on the first and second levels and more privacy on the third floor, which houses the operating suite.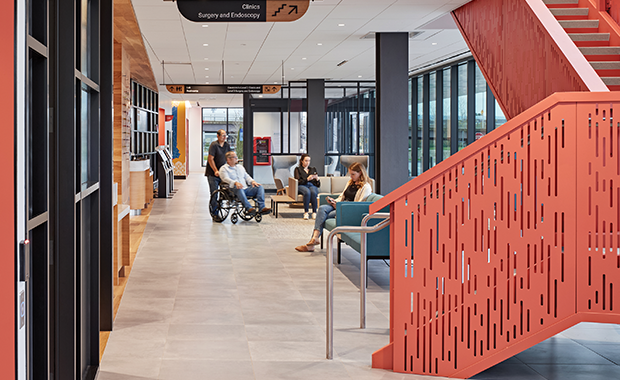 © Robert Benson, Courtesy Gensler
Mass General Brigham Integrated Care: A bright coral-colored staircase serves as a prominent design element that visually connects all three levels of the facility while promoting physical movement.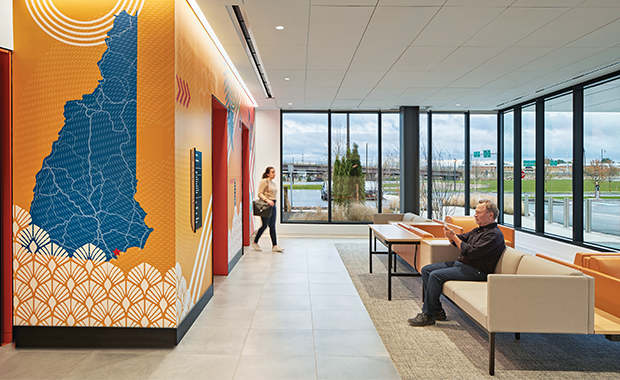 © Robert Benson, Courtesy Gensler
Mass General Brigham Integrated Care: A custom mural, featuring images representative of New Hampshire, wraps the elevator core across all levels of the facility to create a continuous vertical visual.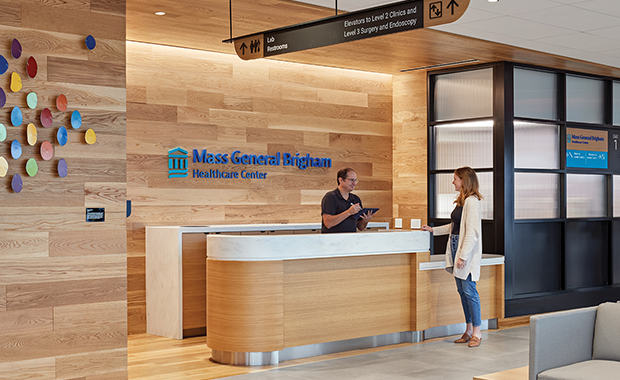 © Robert Benson, Courtesy Gensler
Mass General Brigham Integrated Care: Reception desks throughout the facility feature natural, sustainably sourced wood and warm lighting to create an inviting first impression.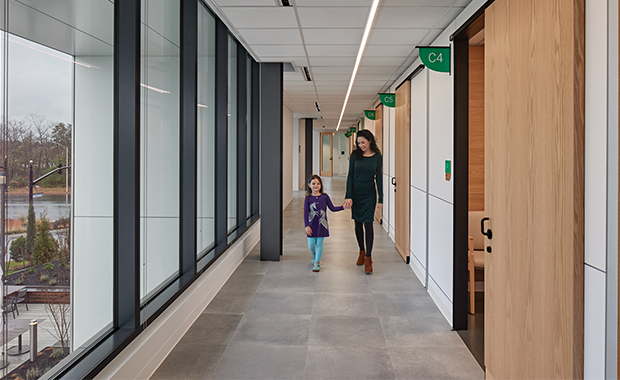 © Robert Benson, Courtesy Gensler
Mass General Brigham Integrated Care: Modular, demountable wall systems enable exam rooms to be reconfigured into various sizes, while sliding doors help save space. Colorful door tags and natural light in the hallway help patients navigate through corridors.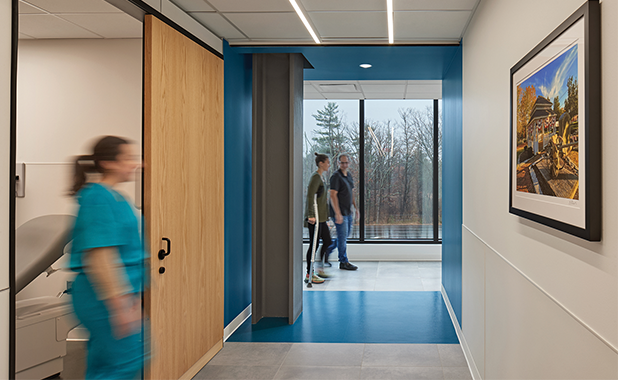 © Robert Benson, Courtesy Gensler
Mass General Brigham Integrated Care: Brightly colored thresholds visibly signify transitions through the building as patients move from public into private spaces, while outside views from the corridors aid in orientation and wayfinding.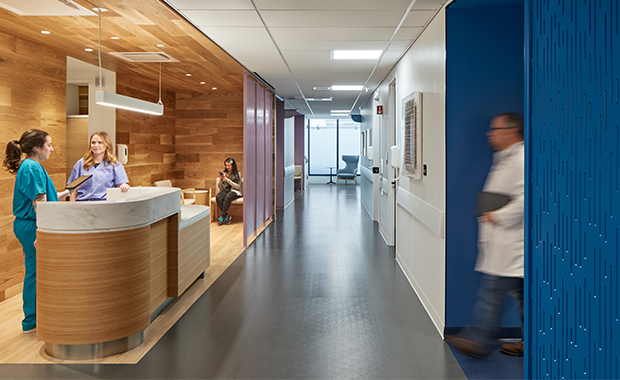 © Robert Benson, Courtesy Gensler
Mass General Brigham Integrated Care: A bright blue threshold indicates the transition into the imaging corridor, where natural wood finishes offset the reception desk to welcome patients while offering private waiting space.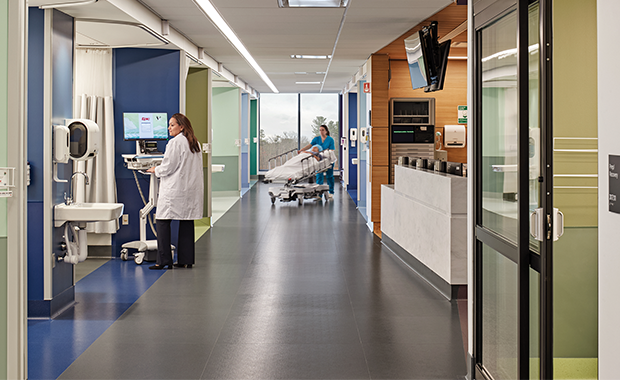 © Robert Benson, Courtesy Gensler
Mass General Brigham Integrated Care: Embracing a gradient color story, designers chose hues that move from warm to cool as patients move up into the building, such as blues and greens in the surgical prep and recovery suites on the third floor.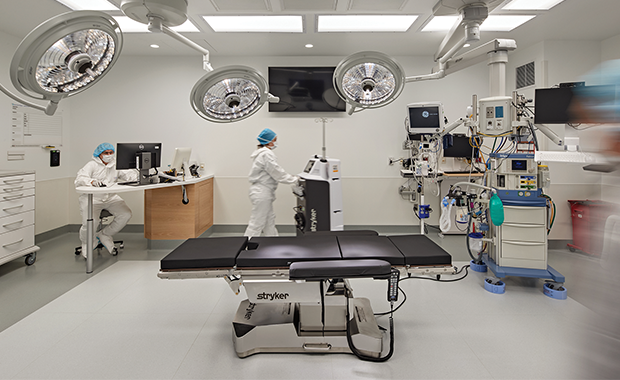 © Robert Benson, Courtesy Gensler
Mass General Brigham Integrated Care: Located adjacent to the central sterile supply room, spacious operating rooms are equipped and configured for multiple specialties, offering the flexibility to add new procedures in the future.
---
Over the last 30 years since Mass General Brigham (MGB) was established, many of the health system's ambulatory facilities have been operated as outpatient departments of academic medical centers. Over time, however, surveys revealed that patients were looking for more convenient, comprehensive, community-based healthcare options beyond the hospital setting.
"To deliver on the promise of lower cost care closer to home for our patients, we decided to launch a new entity to operate freestanding clinics and ambulatory surgery centers throughout the community," says Lindsay Gainer, enterprise vice president of community operations at MGB (Boston).
This new concept, called Integrated Care (iCare), reimagines the patient and provider experience by creating a more streamlined model of relationship-based care than the standard hospital model. A traditional clinic design separates medical services into distinct departments and reserves exam rooms for certain specialties; the iCare model holistically integrates multiple disciplines and specialties into one cohesive, flexible facility designed to promote connection and collaboration.
To bring this model to market, MGB engaged Gensler (Chicago and Boston) in 2019 to provide architectural, interior, and digital experience design. The health system took a templated approach to iCare to help meet the goal of opening multiple ambulatory centers in rapid succession.
"We didn't want to have to redo the design and architectural planning every single time," Gainer says. "The template was meant to be cost effective so we could scale quickly."
The original plan was to build at least 15 iCare facilities throughout Massachusetts and New Hampshire within five years, and although factors like COVID-19, capital availability, and regulatory hurdles delayed that plan, the first iCare facility opened in Salem, N.H., in September 2022.
Clinical space template
The design process started with "a template that was location agnostic," Gainer explains, allowing the core components (like clinical exam rooms, imaging capabilities, and shared staff workspaces) to be modified to meet the available space and programmatic needs at each site.
This resulted in three size options reflecting different program mixes—ranging from a small 20,000-square-foot primary care clinic with some specialties and simple imaging capabilities to a 40,000-square-foot clinic with multimodal imaging capabilities to a 60,000-square-foot option that includes an ambulatory surgery center.
With the goal to "simultaneously maximize patient care space while improving the experience for patients and providers," Gainer says the project team used Lean thinking and visual signaling to make the clinics easy to navigate and efficient to use.
For example, all of the iCare facilities will feature shared staff workspaces instead of individual offices and flexible, modular exams rooms that can swing to suit any specialty. These elements eliminate extra steps and wasted space, Gainer explains, allowing the facilities to pack in more services and providers than a traditional clinic with dedicated departments.
However, each facility can also be customized with local artwork and place-based graphics—like the mural that spans all three levels of the Salem building. Material selection may also differ from one site to the next, although sustainability will be a priority in every decision.
"We intentionally selected materials with a low carbon impact by specifying materials with recycled content, working with manufacturers that take back and recycle materials, and avoiding materials that contain harmful chemicals," Scot Latimer, principal and health sector leader at Gensler.
First iCare clinic opens in Salem, N.H.
Gensler and MGB began planning the first few iCare locations simultaneously, and Salem became the first to market—serving as the pilot site.
Spanning 60,000 square feet over three floors, the Salem facility contains the full spectrum of programmatic components in the iCare template—featuring advanced imaging on the first floor, four outpatient operating rooms on the third floor, and 31 flexible exam rooms across several floors that support primary care, behavioral health, medical and surgical specialty care, and other services like cardiac testing, physical therapy, audiology, and optometry.
"This is the most clinically dense project I have ever worked on," Latimer says. "The building packs a lot of services into a tight envelope while maintaining a calm, restorative environment for patients and providers."
Exam room efficiencies
Instead of segregating departments into customized suites designed for each specialty, the exam rooms on the second floor feature standardized designs that allow practically any specialty to occupy a room on any given day, thanks to a flexible, modular design.
With each exam room designed to be identical, different supply carts are wheeled in with instruments and supplies specific to the specialist using the room, whether a primary care physician, orthopedic doctor, or cardiologist. These rooms typically "swing" for half-day sessions, so an orthopedics cart in the morning might be replaced by a cardiologist cart for the afternoon.
The only exceptions are three exam rooms dedicated to ophthalmology and one to optometry, which require heavier, more specialized equipment.
Reducing wait times with dynamic room allocation
The strategic, standardized design of the facility—particularly the flexibility of the second-floor exam rooms—enables what Gainer calls "next room up" efficiency or dynamic room allocation.
This model assigns patients to the next available room instead of making them wait for a certain type of room that's been assigned to a specific doctor or specialty, while other rooms sit empty. Colored flags outside each exam room indicate whether a patient is waiting to be seen, providing visual signaling to help providers.
"That's why we're able to work with a much more efficient provider-to-room ratio than you'd normally have in a clinic by removing waste from our processes to make sure that we don't have underutilized exam rooms or long wait times," she says.
The goal, she adds, is to achieve an exam room-to-provider ratio of 1.5:1—compared to more traditional clinic ratios that can range from about 2:1 to as high as 4:1 for certain specialties.
Using real-time location technology to aid clinic navigation
To take these rooming efficiencies to the next level, MGB designed a digital experience that will make it even easier for patients to navigate to exam rooms by leveraging real-time location technologies.
"Most of this design process occurred during the pandemic, when care was radically shifting to virtual modes," Latimer says. "From a design perspective, this encouraged the team to envision and plan for flexibility for a progressively virtual engagement."
The first phase of this technology is currently underway, with the installation of real-time locating systems (RTLS) in the building in July, which will go live this fall. When it's implemented, rather than waiting for a medical assistant (MA) to guide them to an exam room, patients will receive an RTLS badge at the reception desk and self-navigate to their room, where the MA will be waiting.
Wayfinding clues such as color-coded corridors and tonal transitions throughout the facility will be key markers to help guide patients to their rooms.
Future exam room technology
In the future, this technology will give patients the opportunity to entirely "self-room" themselves, allowing contactless check-in using their own mobile devices. The technology will detect their arrival on-site and transmit a room assignment, allowing them to navigate directly to the next available exam room.
"It's not a patient expectation; it's a basic consumer expectation to be able to do things quickly and easily from your phone. You can do so much with your bank or a restaurant from your phone," Gainer says. "Healthcare is so far behind every other industry when it comes to self-service and digital innovation, so we've really tried to lean into that."
Other digital experience design elements currently in place include large monitors on the wall of every exam room where providers can share imaging results with patients, or video conference with family members or other medical providers during an appointment.
While these technological capabilities might be dialed down in smaller future ambulatory facilities, Gainer says, "It was really critical for a clinic this large to incorporate virtual care as much as possible, given that these are community-based ambulatory centers and our whole mission is to bring care closer to home. Being able to integrate an e-consult with a subspecialist downtown is really powerful, so we've got a lot of virtual capabilities built into these rooms," Gainer says, which helps future-proof the business as healthcare evolves with advancing technology.
Modular clinic design
The exam rooms also utilize modular, demountable walls to allow adaptability in the future. These pre-assembled wall panels can easily be reconfigured to combine two 110-square-foot exam rooms into one large 220-square-foot procedure room or broken into three 70-square-foot pods for consults or telehealth visits.
"As the business grows, this modular system will enable them to modify the building without having to do a complete demolition-renovation cycle," Latimer says. The building was also designed with the structural capacity to add a partial level, allowing future expansion beyond the shell, as well, he adds.
Patients enter a two-sided exam room through one door, and providers enter from a separate "backstage" staff entrance. "We wanted this to be a peaceful environment, so we very purposely separated the public and private traffic," Gainer says. "Even now when we're full-tilt busy, it doesn't look or feel busy because everything is behind the scenes, so the whole building feels serene and calm."
From the back of the exam rooms, the staff doors slide open into several large, shared workspaces designed to promote collaboration. This area is similarly constructed from modular pieces that allow the space to be easily reconfigured from a "bullpen" of workstations into one long table.
Several enclosed phone rooms off to the side of this open workspace offer privacy where physicians can conduct telehealth consultations or private phone calls.
"Everything is shared workspace, so there are no individual offices," Gainer says. "That was to promote teamwork and collaboration, but also to level the hierarchy of the care team."
A model for growth
The success of the iCare model starts with the streamlined workflow design, and the facility design supports that model, Gainer says—not the other way around. Instead of working around highly specialized departments and individual offices, the iCare template is designed around the way iCare providers work together to efficiently serve patients.
"We've tested this clinic flow for years at Mass General Brigham, in brand new buildings and in old buildings, and it's just harder in an outdated building," Gainer says. "Form really follows function, so it was a gift to design a building that's really meant for this kind of clinic flow."
Tech-enabled rooms and shared workspaces allow seamless collaboration that makes providers more productive and engaged, resulting in a better experience for the patient. "It's amazing what you can do with really thoughtful, purposeful design of both the building and the workflows," Gainer says.
And because the design is so standardized and modular, the same iCare template can continue to flex as patient needs evolve—both in Salem and in the other communities where future ambulatory facilities are planned.
"We don't know quite yet how many facilities we'll build or where they'll be," Gainer says, "but what's nice about this templated approach is that we're ready to go. Because the clinic is not specific in terms of specialty, the same template will work even as the patient care needs and market dynamics shift."
Brooke Bilyj is a freelance writer and owner of Bantamedia in Cleveland. She can be reached at brooke@bantamedia.com.
Mass General Brigham Integrated Care Project details
Project location: Salem, N.H.
Project completion date: October 2022
Owner: Mass General Brigham
Total building area: 60,000 sq. ft.
Total construction cost: Confidential
Cost/sq. ft.: Confidential
Architecture: Gensler, Boston
Interior design: Gensler, Boston
General contractor: Consigli
Engineering: ARUP USA
Builder: Consigli
Art consultant: LFA Art
Art/pictures: LFA Art
AV equipment/electronics/software: Apple, Crestron, Chief, LG, NEC, Panasonic
Carpet/flooring: NORA, Interface, Stone Source, Terrami
Ceiling/wall systems: Armstrong, SVA, NanaWall
Doors/locks/hardware: AD Systems, VT Industries, Curries
Fabric/textiles: LUUM
Furniture—seating/casegoods: MillerKnoll, NaughtOne, Stylex, Nemschoff
Handrails/wall guards: Inpro
Headwalls/booms: Stryker
Lighting: Sentient, FLOS, Axis, Viscor, Hubbell
Signage/wayfinding: Metro Sign
Surfaces—solid/other: Wilsonart, Corian, Porcelanosa
Wallcoverings: LUUM
Project details are provided by the design team and not vetted by Healthcare Design.