MidMichigan Medical Center – Midland – Cardiovascular Center
---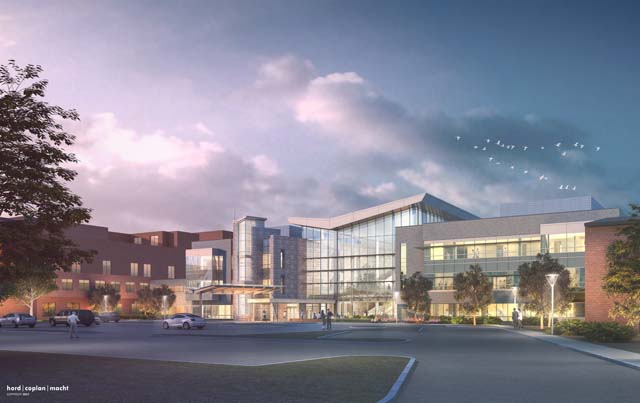 Rendering by Hord Coplan Macht
The building stands out with a three-story glass atrium that beckons to incoming patients.
Rendering by Hord Coplan Macht
A lushly landscaped interior courtyard with soaring windows provides abundant natural light.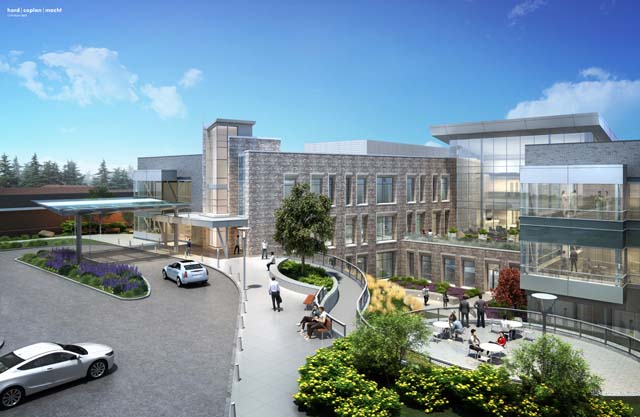 Rendering by Hord Coplan Macht
The design features twin garden areas connected by a public pedestrian 'street'.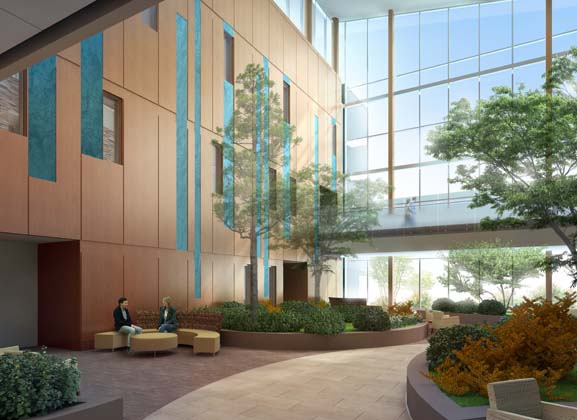 Rendering by Hord Coplan Macht
Outward facing views from the interior courtyard create connectivity with the outdoors.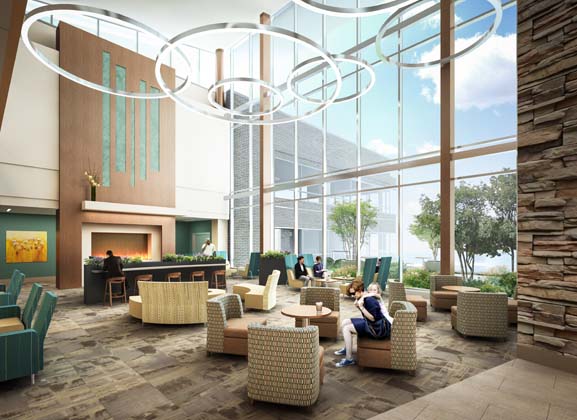 Rendering by Hord Coplan Macht
This space provides an area of respite for patients and families awaiting testing services.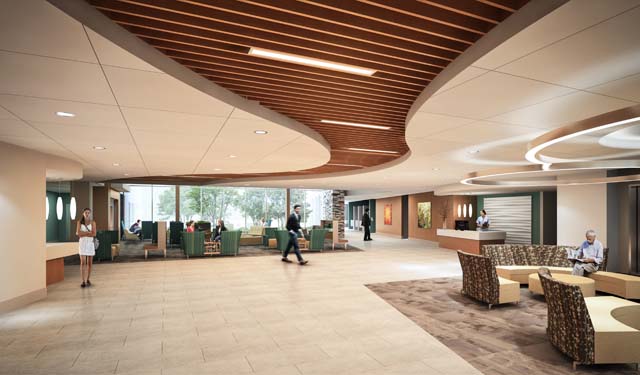 Rendering by Hord Coplan Macht
Patient wayfinding is assisted by contrasting flooring to provide dimensional, yet subtle guidance.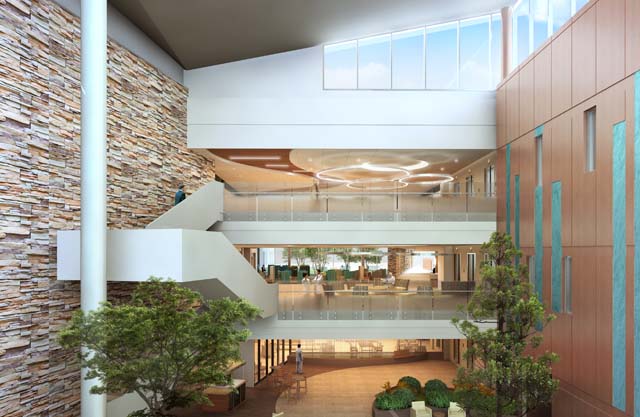 Rendering by Hord Coplan Macht
A striking grand stairway creates stunning visual interest across all floors of the Center.
---
HONORABLE MENTION
Submitted by: Hord Coplan Macht (Baltimore)
The design team was charged with providing detailed analysis, architectural design, and medical planning services for a proposed three-story, 170,000 sq. ft. infill renovation of MidMichigan Medical Center's Midland campus (Midland, Mich.). The goal of the project is to create a new Cardiovascular Center of Excellence while replacing the existing 1940s hospital that has reached the end of its useful life.
In addition, the project includes a phased redevelopment of the center of the ambulatory portion of the campus, and consolidates clinical departments, including a cardiac diagnostic suite, multiple cardiac clinics, patient outreach laboratory, radiology, and vascular clinic; while also providing future space for the expansion of the emergency department as well as the pathology laboratory and medical offices.
The design solution creates a landmark building to serve as the new home for this integrated service line that serves the 23-county service area of MidMichigan Health. It is focused on improving the operations of a disjointed practice today, to support a holistic approach to patient care.
Project category: Project in progress
Chief Administrator: Mike Erickson, vice president design, construction and facilities
Firm: Hord Coplan Macht, www.hcm2.com
Design Team: Hord Coplan Macht (design architect, interior designer, and landscape architect); Three Rivers Design (architect of record and construction manager); E2W Engineering (MEP engineer); Fishbeck, Thompson, Carr & Hubber (structural engineer); Wade Trim (civil engineer)
Total Building Area (Sq. Ft.): 170,000
Construction Cost/Sq. Ft.: $265
Total Construction Cost (Excluding Land): $45 million
Completion: 2020