Nancy Friend Pritzker Psychiatry Building's New Approach To Outpatient Mental Health Care
---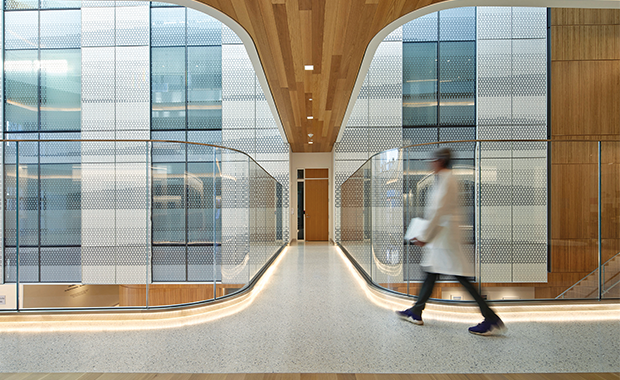 Bruce Damonte Photography
Nancy Friend Pritzker Psychiatry Building: Inside the soaring atrium, the east wall features an integration of frit patterns on the glazing elements coupled with perforation patterns on metal acoustical panels, resulting in a series of abstracted "flowing waves."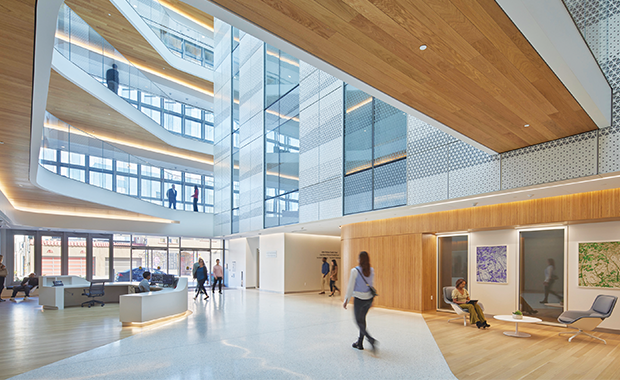 Bruce Damonte Photography
Nancy Friend Pritzker Psychiatry Building: Soft material backings on the perforated metal elements help reduce echoes and other ambient noise within the space.
Bruce Damonte Photography
Nancy Friend Pritzker Psychiatry Building: Patient waiting areas are situated adjacent to the atrium on floors 2-4 and open to the building to reinforce the facility's message of connection and belonging.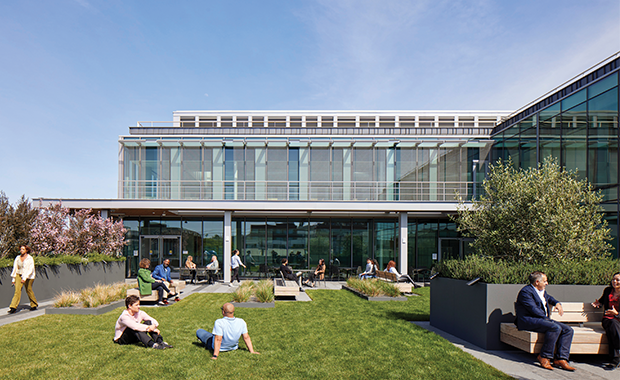 Bruce Damonte Photography
Nancy Friend Pritzker Psychiatry Building: The rooftop garden on the fourth floor incorporates a variety of seating options and is accessible for patient and staff meetings.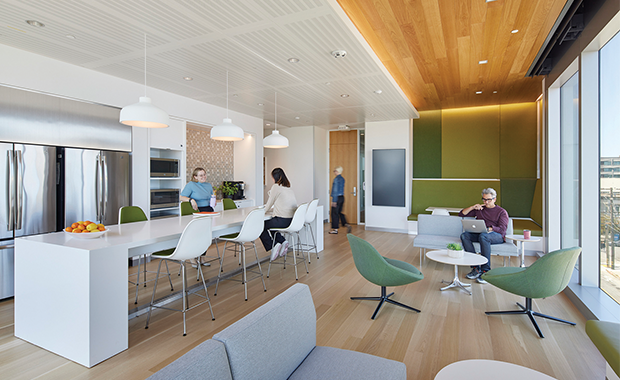 Bruce Damonte Photography
Nancy Friend Pritzker Psychiatry Building: Staff spaces, including lounges (shown) are designed to : draw researchers and practitioners outside of traditional workspaces and foster interdisciplinary engagement.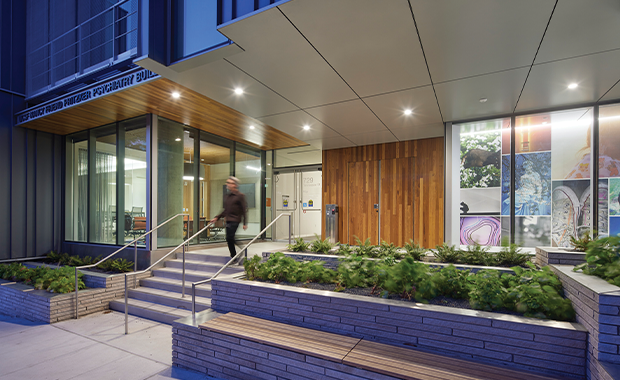 Bruce Damonte Photography
Nancy Friend Pritzker Psychiatry Building: Maximizing a 10-foot change in elevation on the building site, the project team created two separate entrances, with a first-floor adult entrance off 18th Street and a second-story, smaller-scale entrance (shown) for children and families on Tennessee Street that leads to the care areas for younger patients.
---
The University of California, San Francisco (UCSF), Department of Psychiatry and Behavioral Sciences provides psychiatric clinical services as well as research and training programs in the San Franciso and Bay Area.
For decades, the department operated on UCSF's Parnassus campus inside a 1940s-era building that wasn't designed for the modern practice of psychiatry. Additionally, the building didn't meet the state's current seismic requirements and was being eyed for a different use entirely as part of a campus revitalization program.
"For a variety of practical reasons, we needed to have a new home," says Dr. Matthew State, the Oberndorf Family Distinguished Professor and chair of psychiatry at UCSF and director of the Langley Porter Psychiatric Institute and Hospital, a psychiatric teaching hospital at UCSF.
Philanthropy gift funds state-of-the-art mental health building
That effort to relocate went from simply finding a replacement facility to building a state-of-the-art building when the department received a $60 million gift from philanthropists John Pritzker and Lisa Stone Pritzker in 2021.
The gift was to fund a new outpatient home for researchers, interdisciplinary academics, and outpatient mental health services for patients of all ages.
"We felt like we received 'a blank sheet of paper' and that it would be an extraordinarily missed opportunity for us if we didn't do everything we could to bring these disparate disciplines together and provide a space that allowed for truly integrated care," State says.
Space was found adjacent to UCSF's Mission Bay campus in San Francisco's Dogpatch neighborhood, and planning began for the 173,000-square-foot UCSF Nancy Friend Pritzker Psychiatry Building (named in honor of John's sister Nancy who died by suicide in 1972).
(The project also won a 2023 Design Showcase Award Of Merit. Read the article here.)
Designing a comprehensive mental health outpatient facility
The outpatient project provided the opportunity to bring the department's physical and mental health programs and researchers together for the first time in UCSF's history, including psychiatry, psychology, neurology, neurosurgery, radiology, pediatrics, anesthesiology, and obstetrics/gynecology.
"From the start, we thought about this as the hub of activity for psychiatry and behavioral sciences," State says.
Bringing everything together under one roof could help accelerate scientific discovery of improved treatments and prevention. Additionally, the project team, which included design architect ZGF (Portland, Ore.) in collaboration with Perkins&Will (San Francisco) and behavioral health consultant Architecture + (Troy, N.Y.), sought to advance design for mental health care environments and help break down barriers to care.
"There were multiple discussions and a lot of design charettes thinking about the way in which the aspirations for the building might help, at least on the UCSF campus and, we hope, more broadly, flip the narrative about what it means to seek out psychiatric care," State says.
Soaring atrium delivers sense of openness, connection
State says a big part of that goal was creating an environment where patients felt a sense of hope and optimism and "valued in the same way that you do if you walk into a new children's hospital or comprehensive cancer center."
To begin delivering that message, the first floor features a light-filled atrium at the heart of the building that soars five stories high. A variety of design features including skylights, ambient warm light that lines the floors, curved wall edges, and wood wallcoverings and ceiling soffits, further grab attention, contributing to the overall experience.
"It's a space that actually asks you to look up, which, in doing so, your body takes a posture that impacts how you feel as well," says Justin Brooks, principal at ZGF.
The atrium also creates a sense of openness and connection by providing visibility into the operations of the building, including the waiting areas, consult rooms, dry labs, open-plan workspaces, and staff lounges that are arranged on different levels around the atrium.
Design features to support patient safety, comfort
For patients or family members who might still prefer a more enclosed or private setting for waiting, the design team incorporated a variety of seating arrangements and furniture options that allow for different levels of engagement.
Furthermore, State notes, the co-location of different physical and mental health services within the new building, from sleep studies to MRI services to obstetrical/gynecological care and developmental pediatrics, is designed to help put people at ease while reinforcing the message: "There's not a distinction in seeking healthcare for your brain or for a broken leg."
Recognizing that the facility would be welcoming patients seeking treatment for a variety of mental health needs, the project team addressed the need for enhanced safety throughout the space.
For example, in the atrium, 6-foot tall glass guardrails were installed along the atrium to create a barrier without obscuring views and deterring potential suicide attempts.
Other security elements are disguised throughout the UCSF Nancy Friend Pritzker Psychiatry Building to help deinstitutionalize the setting, as well. For example, the front desk on the first floor doubles as a security station, while patient areas on the clinical floors are placed behind controlled access.
Inviting aesthetics, biophilic design in mental health environments
Another focus of UCSF's approach at the UCSF Nancy Friend Pritzker Psychiatry Building, which opened in April 2022, was to forego traditional palettes for mental health spaces that can carry a more institutional look. Instead, the project team introduced a bright, uplifting aesthetic using natural materials, colors, and textures that evoke the Bay Area region.
"The goal was to do something inviting, inclusive, and that feels good to be in," Brooks says. "That translates into a place with a sense of timelessness and high level of fit and finishes, and that feels like it's part of the community," he says.
Those details include terrazzo and white oak flooring and more than 100 photographs by artist Richard Misrach depicting the natural environment, such as oceans, clouds, landscapes, and vegetation.
Biophilic principles also play an important role in redefining this care environment. "Natural forms and connectedness to natural light is essential to human experience, wellness, and healing," says Jan Willemse, partner at ZGF.
Within the building, access to daylighting and views to the outdoors is provided via skylights and windows in the staff and clinical spaces as well as a garden on the fourth floor, which can be used for patient and staff meetings.
Custom architectural features also help bring in biophilic elements, such as frit patterns on glazing elements coupled with perforation patterns in metal acoustical panels in the atrium, which together create a stylized wave pattern that complements the play of light with the skylight baffles.
Parametric modeling was used to optimize the performance of the skylight baffles, which allow natural light to penetrate down to the ground floor while reducing glare, to retain occupant comfort.
"One of the things about the Bay Area is the sky there changes nonstop … there are clouds, fog, the sun breaks through and the wind whips," Willemse says. "We knew that that stuff would translate into how the baffles mutated light and enliven the walls in the space. That whole experience of the diurnal change of sky during a day is this very natural biophilic response that human beings take into themselves."
Supporting integrated care needs
To help guide the building form and programming pieces, a series of design charettes was held with more than 100 UCSF faculty and staff to gather program needs and identify synergies across the various practices. The result is a building that fosters a multidisciplinary approach with different programs and researchers working across connected floors.
For example, with physical and mental health providers located on the same floor, a patient coming in with an eating disorder could be seen by a psychiatrist as well as a nutritionist to support a more comprehensive care approach.
"Part of the model is that patients who are primarily here for behavioral health, there's the ability for the consulting physicians to be able to have the tools that they need and the kind of space that they need to be able to treat them, as well," State says.
To address the age range of patients seeking care within the building, care experiences are dedicated to specific ages on floors 2-4, with care for the youngest patients at the bottom of the building stack and the more adult patient services on the upper floors.
"The decision was to keep the floors age related so that you could separate patient typologies where it was appropriate and keep programs for certain ages together," says Kim Bandy, medical planner at ZGF.
Each floor has its own color palette inspired by the city's colorful "Painted Ladies" houses, including red, blue, and green, that helps with orientation and wayfinding. Interior design features such as furnishings and artwork address the unique needs of the patients the facility serves. For example, groupings of smaller furniture and child-friendly textures were used on the floors for children and teenagers.
Moving through the building, the floor plan was designed to maximize flexibility, with consult offices located on either side of the atrium, flanked by open workspaces for staff, Bandy adds. A universal design approach in the consult and exam rooms allows spaces to flex to different needs depending on the time of day or patient base.
New outpatient model for mental health design
State says while it's hard to quantify the impact of the building on patients and staff, indirect evidence points to it making a difference, including improved net promoter score and patient quality metrics for the organization.
Additionally, he says the building is drawing more than just patients and staff through the doors. These include requests from across the university to use the auditorium or garden for meetings or presentations, healthcare organizations touring the building, or locals using the first-floor coffee shop as a gathering spot.
That exposure, he notes, can further help break down the walls of mental health care and provide an aspirational model for other buildings. "We're very proud of this building, and love that people are interested in it," State says.
Anne DiNardo is executive editor of Healthcare Design and can be reached at anne.dinardo@emeraldx.com.
Nancy Friend Pritzker Psychiatry Building project details
Project name: The University of California, San Francisco (UCSF), Nancy Friend Pritzker Psychiatry Building
Project location: San Francisco
Project completion date: April 2022
Owner: SKS Partners and Prado Group
Total building area: 173,000 sq. ft.
Total construction cost: Confidential
Cost/sq. ft.: Confidential
Architect: ZGF
Exterior architect of record: Perkins&Will
Interior design: ZGF
General contractor: Hathaway Dinwiddie Construction Co.
Acoustics consultant: Salter
Behavioral health consultant: Architecture +
Engineering: Tipping Structural Engineers (structural), Interface Engineering (MEP), Luk and Associates (civil), Teecom (telecom and security), International Parking Design (parking), Luma Lighting Design/PAE Engineers (lighting)
Carpet/flooring: Terroxy, Heath Ceramics, Mosa, Upofloor, Tarkett, Mondo, Milliken
Ceiling/wall systems: USG, Armstrong, FSorb, Arktura, Levolux
Doors/locks/hardware: AGA, Wausau,  Boyett, Northwestern Design, Muraflex, McKeon, Smoke Guard, Schlage, Allegion, VonDuprin, Honeywell, Livers Bronze
Furniture—seating/casegoods: Herman Miller, NaughtOne, Davis, Fermob, Figueras, Arper, Nevins, Hay, Viccarbe, Nofred, Geiger
Upholstery: Camira, Knoll, HBF, Brentano, Maharam, HermanMiller
Lighting: Finelite, Fluxwerx, Lumentruss, Aion, Philips, Focal Point, ETC, Lumenwerx, Vode, Luceplan, Nort, Bega, BK Lighting, Luminii, nLight
Surfaces—solid/other: Muraflex, Northwestern Design
Wallcoverings: Nufelt, Carnegie, Northwestern Design
Interior glass partitions: Muraflex
Skylights: AGA
Project details are provided by the design team and not vetted by Healthcare Design.