PHOTO TOUR: Stanford Children's Health Specialty Services—Sunnyvale
---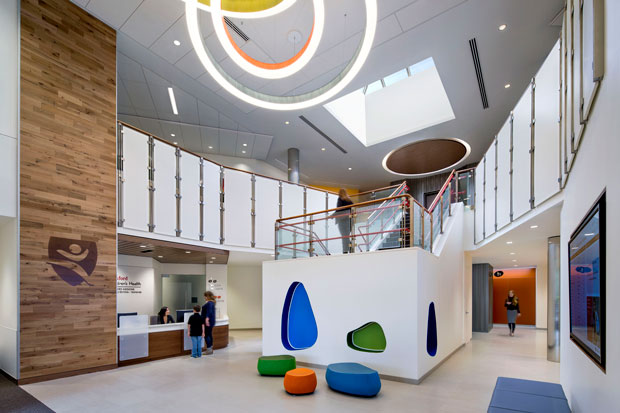 David Wakely
The main entry lobby of the Stanford Children's Health Services building welcomes visitors with a colorful palette and visual connections to the clinical floor through an exposed staircase.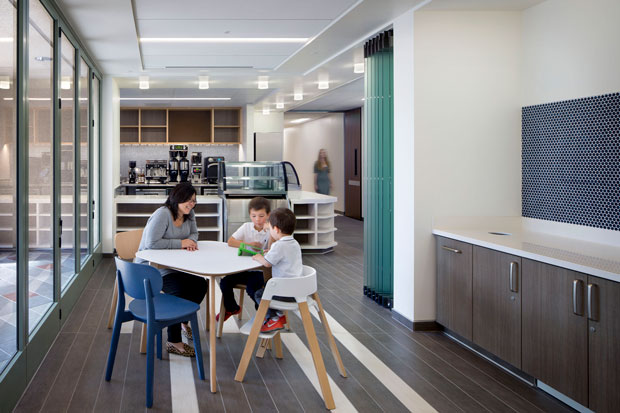 David Wakely
The full-service café serves adults and children with kid-friendly furniture and a dark blue and gray color palette, which contrasts with the brighter colors throughout the pediatric spaces.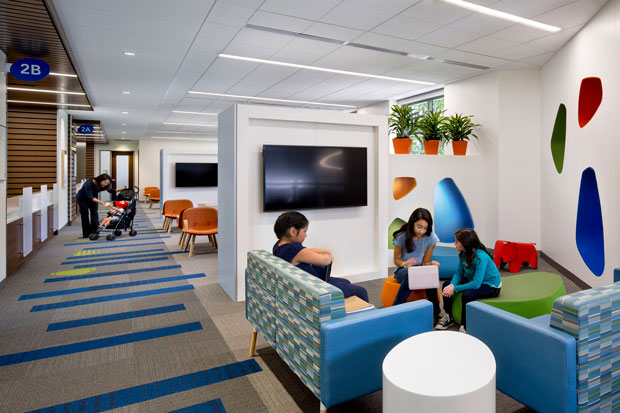 David Wakely
Each colorful waiting area is divided into discreet alcoves with activities geared toward different age groups and patient types.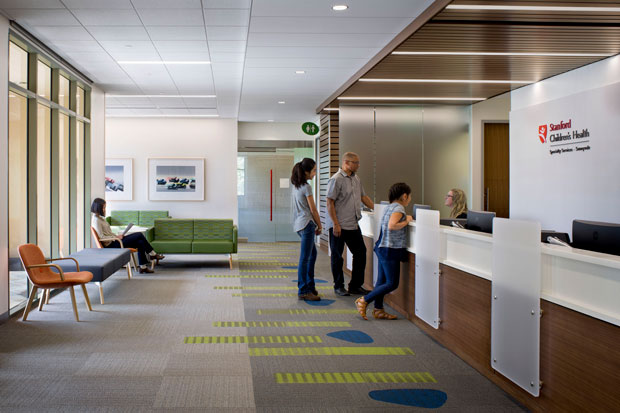 David Wakely
Wood slats throughout the space thematically link the Stanford Children's Health Specialty Services building to the current adult spaces at Stanford Hospital.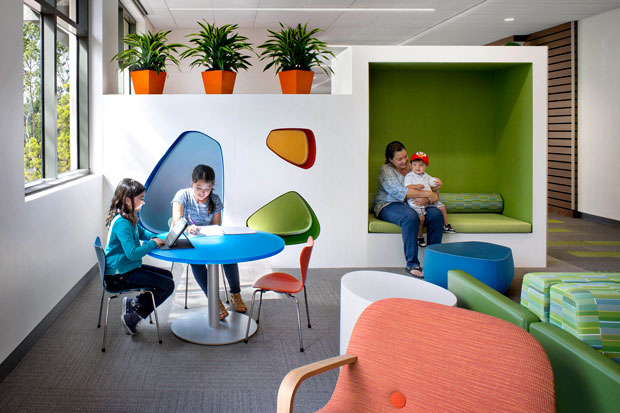 David Wakely
A built-in seating alcove and children's activity table creates an informal space for families to gather.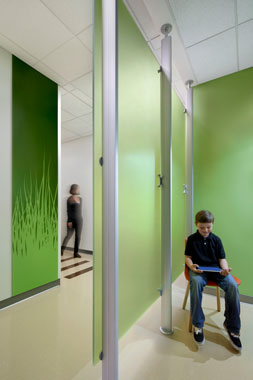 David Wakely
Translucent materials draw daylight into waiting rooms while a nature-inspired color and image-based wayfinding system make navigation easy for all ages.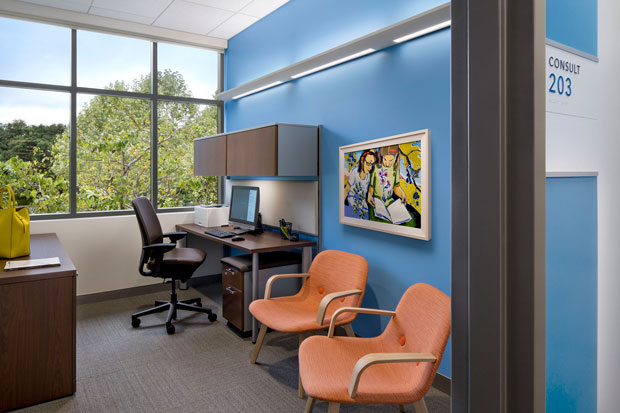 David Wakely
A light-filled psychiatric consult room caters to a broad range of patients, from toddlers to young adults.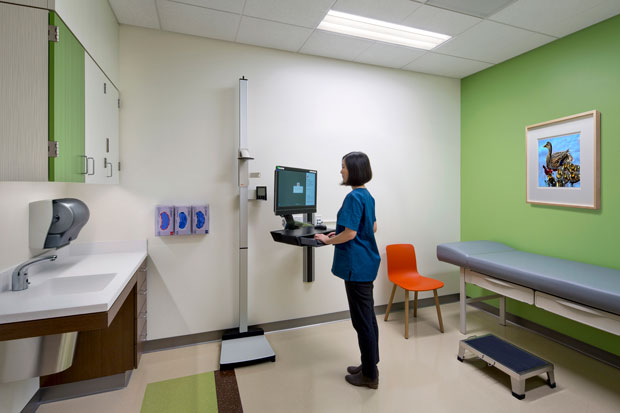 David Wakely
Exam rooms feature a simple color palette with accent colors in the millwork and flooring.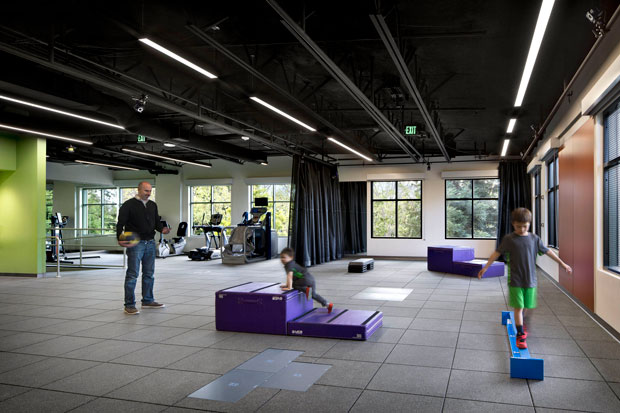 David Wakely
A physical therapy and motion analysis gym accommodates a broad range of activities and treatments, including sports medicine.
---
The Stanford Children's Health Specialty Services outpatient facility in Sunnyvale, Calif., opened its doors in May 2016, expanding access to outpatient care for children and adolescents as well as couples dealing with fertility issues.
The 80,000-square-foot-building, designed by HOK (San Francisco), promotes collaboration between specialties and integrated care delivery, including pediatrics, adolescent health, behavioral medicine, urology, dermatology, pulmonary, orthopedics, imaging, and physical therapy.
Additionally, the facility houses a 6,000-square-foot pediatric motion and sports performance lab with state-of-the-art equipment for the study and treatment of concussions and the Stanford Medicine Fertility and Reproductive Health, which consolidates reproductive endocrinology and fertility services into one location on the first floor with 10 exam rooms, 5 consultation rooms, 2 treatment suites and a telemedicine suite.
The medical planning is based on an open platform with standardized clinic modules and exam rooms to accommodate the various pediatric subspecialties co-located in one building. This flexible space plan has contributed to reduced wait times for appointments, as patients can be examined and treated in a single location. The integrated care experience also improves access to ancillary services such as social workers, nutritionists, and on-site interpreters.
A vibrant color and material palette is designed to engage visitors, alleviate the anxieties of pediatric patients, and create a unique branded environment. The design aesthetic reflects the natural context of the surrounding bay, including local plants, animals, materials, and forms. These elements are interpreted using a color palette of beiges, blues, and greens on boardwalk flooring and pebble-shaped alcoves.
A combination of scale, form, pattern, and texture are used to inspire curiosity and provide playful moments within the physical environment, such as the red elephant-shaped bean bags in the waiting areas, etched pebble pattern on glass entry doors, and colorful exam room cabinets.
A real-time location system, utilizing infrared and radio-frequency identification technologies, and other leading-edge designs are used to improve the patient experience, including a more efficient check-in process and less waiting time.