PHOTO TOUR: Children's Pavilion At Children's Hospital Of The King's Daughters
---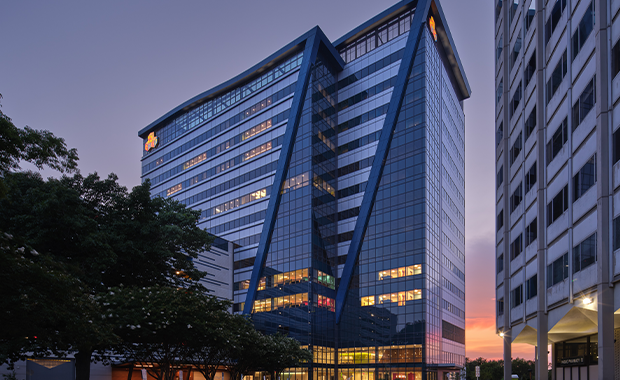 Halkin | Mason Photography
Children's Pavilion: The striking exterior of the pavilion is designed to stand out in the city skyline and celebrates the naval history of Norfolk, Va., by evoking a sailboat's jib.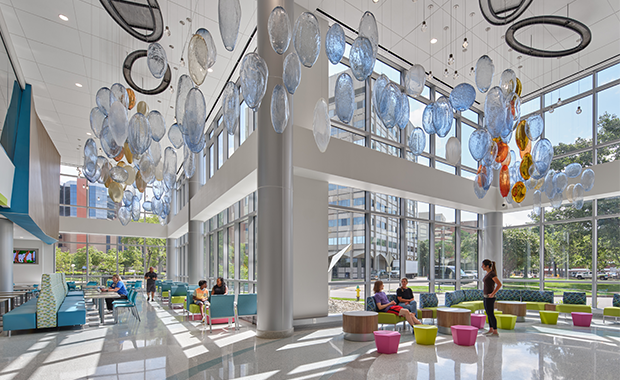 Halkin | Mason Photography
Children's Pavilion: Abundant natural light, colorful furnishings, and an eye-catching installation art welcome and engage guests in the atrium. Hanging from the ceiling is Ann Gardner's "A New Day." The artwork comprises a series of multicolored glass shapes hanging from varying lengths of seven oval rings representing the days of the week.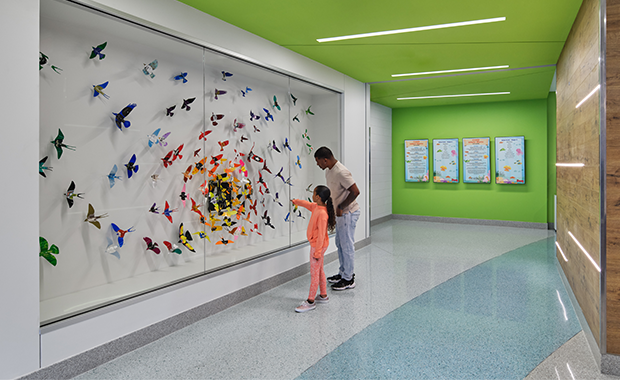 Halkin | Mason Photography
Children's Pavilion: Playful colors, natural materials, and notable works of art mark visitors' journey from the lobby to the dining area. Artwork by artist Paul Villinski features old vinyl records shaped into birds, evoking a joyous migration.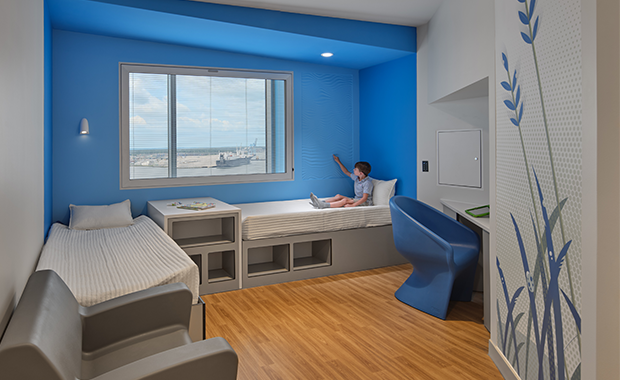 Halkin | Mason Photography
Children's Pavilion: The 11th, 12th and 13th floors of the Children's Pavilion house 60 inpatient rooms, designed with vibrant wall colors and full-height wall graphics. At night, patients can enjoy dimmable lighting, color-changing lights, and a tactile wall panel for self-soothing. A parent sleep area, desk, and open storage cubbies provide versatility and comfort the private
Halkin | Mason Photography
Children's Pavilion: Inpatient floors were planned to allow caregivers optimal vantage points for observation into high-risk areas such as bathrooms. Communal spaces feature safe and durable furnishings, placemaking cues on the flooring, and TVs.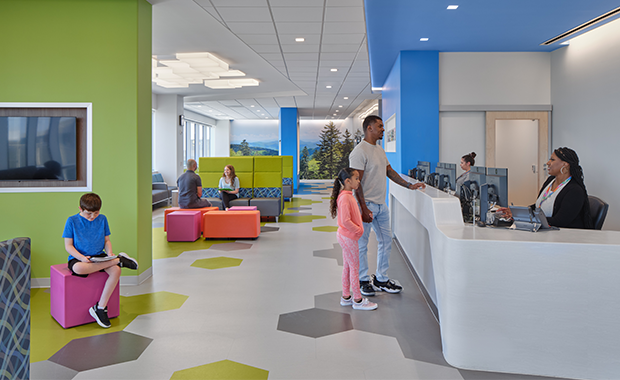 Halkin | Mason Photography
Children's Pavilion: The waiting area offers choice and empowerment to patients and their family members with a variety of seating options, a child play zone for activity, and a farm table where parents can use a laptop.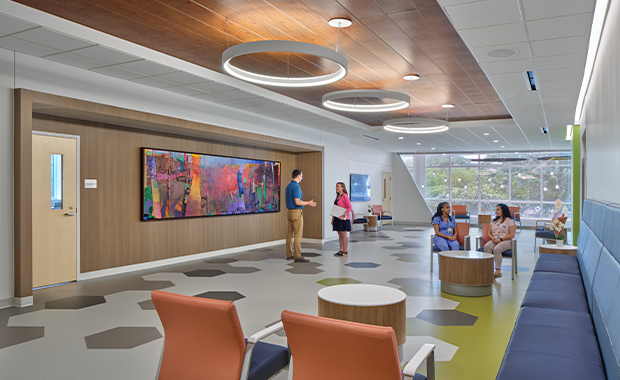 Halkin | Mason Photography
Children's Pavilion: One floor of CHKD's pavilion is reserved for advancing research and clinical education for caregivers. The space provides an opportunity for caregivers to connect with peers, learn, and share knowledge.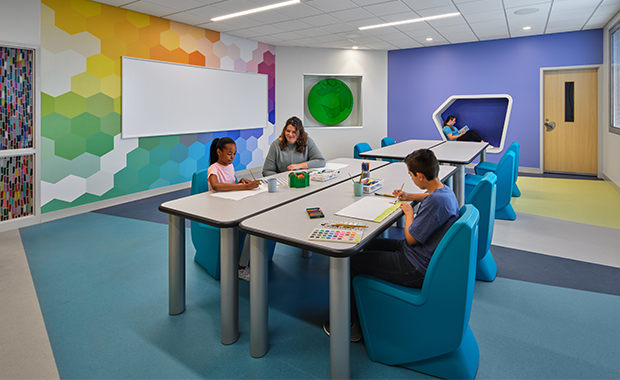 Halkin | Mason Photography
Children's Pavilion: In the pavilion's art therapy room, patients enjoy drawing, painting, and working with clay. Integrated art, a multicolored honeycomb wall graphic, and color-blocked floor stripes encourage creativity. A gallery located in the adjacent corridor displays patient artwork.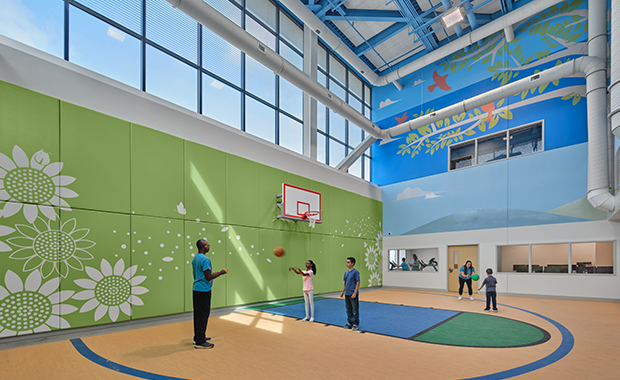 Halkin | Mason Photography
Children's Pavilion: An indoor gym's design features larger-than-life, nature-themed wall graphics, abundant natural light, and an adjoining exercise room. The halfcourt basketball area presents space to participate in many types of indoor activities that promote wellbeing. A therapist work zone allows for team care-planning and supervision of the space.
---
Children's Pavilion At Children's Hospital Of The King's Daughters
Children's Hospital of the King's Daughters (CHKD) Children's Pavilion in Norfolk, Va., is a new, 14-story psychiatric hospital and outpatient tower created to fill a pressing need for pediatric mental health care services.
Opened in July 2022, the $224 million tower integrates comprehensive inpatient, outpatient, and partial hospitalization mental health services with primary and specialty physician practices, lab and imaging services, and an innovative conference and training center. The core principle that shaped the program and manifests physically in the design is that access to mental health services should be convenient and visible to all in need.
Designing for safety was a core tenet: for the patients, for staff, and for family members. An early commitment was made to integrate families into the care model. All patient sleep rooms are designed for single patients, but an additional sleep surface is incorporated to allow for one parent, after clearance, to stay overnight with their child. The unit geometry and adjacencies will also allow for parents to participate in select activities and meals. Off-stage, parents have access to an amenity-rich family lounge where they can relax and recharge alone, catch up on work, or connect with other parents on a similar journey.
Recognizing the particular challenges of recruitment and retention in this underserved market, CHKD prioritized colorful imagery, abundant natural light, comfortable furnishings, and respite zones for patients and staff.
The tower includes 60 pediatric inpatient behavioral health beds as well as shell space to accommodate another 24 beds. In addition to multipurpose dining, activity and classroom spaces, the inpatient zones include a large art studio, music therapy (inclusive of a recording studio), attached indoor gymnasium and exercise therapy room, and a rooftop recreation space with zones for basketball, soccer, horticultural, and casual play.
Woven into the fabric of the program are design elements primed to break the stigma associated with mental health care, including an exterior design that celebrates the rich naval history of the area. The exterior features two opposing, gentle barrel vaults evoking movement and the water. The angled metal structure at the building fenestration evokes a sailboat's jib or boat moving across the horizon, connecting with the notion of the patient's journey to mental health. The siting of the building provides either a port or river view from most windows.
The design team worked closely with both the steering committee and patient and family focus groups to select regional imagery that resonated with children and teens of all ages. The images are used as wayfinding cues on each floor.
A commitment to music, movement, and creative expression in treatment zones evolved to an investment in art, which touches every area of the building. For example, two prominent exterior sculptures are adjacent to the tower entry and flank the healing garden while kinetic mixed media and art glass are featured in the lobby, dining area, and conference center.
Project details for Children's Pavilion:
Location: Norfolk, Va.
Completion date: July 2022
Owner: Children's Hospital of the King's Daughters
Total building area: Medical tower: 366,700 sq. ft.; structured parking: 224,480 sq. ft.
Total construction cost: $224 million
Cost/sq. ft.: $469.88/sq. ft. (facility and shell space only, not including parking garage)
Architecture firm: Array Architects
Interior design: Array Architects
General contractor: WM Jordan
Engineering: O'Donnell & Naccarato (structural), TLC Engineering (electrical/plumbing), PACE (mechanical), and VHB (civil)
Builder: WM Jordan
Local Associate Architect: PF&A