PHOTO TOUR: Samuel Oschin Cancer Center At Cedars-Sinai
---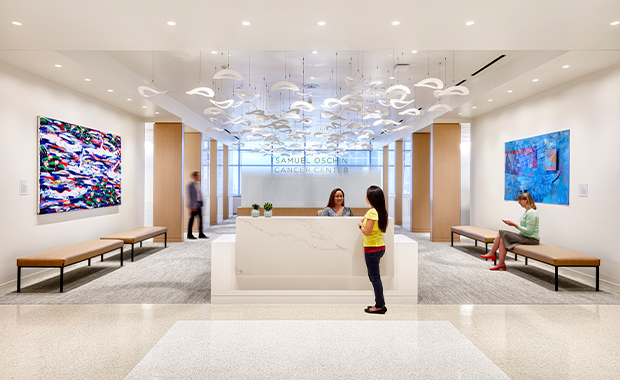 Kim Rodgers
Ease of wayfinding was a guiding principle for the project, and this is apparent upon entering Samuel Oschin Cancer Center. Patients are welcomed and can immediately see the entire public concourse, including the patient neighborhood lounges. From this point, they are directed to their designated waiting areas. Throughout the center, HGA incorporated a calming, neutral palette of ash wood as well as white and sand terrazzo floor tiles and carpet to mimic the local landscape. Upholstery in shades of camel, creams, aqua, and teal reflects both the warm tones of the hills and the cool tones of the ocean.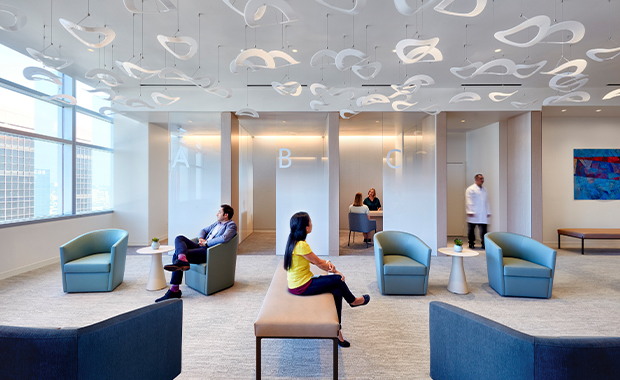 Kim Rodgers
The registration cubicles off the main lobby offer an abundance of natural light and a sense of openness while maintaining patient privacy. Custom millwork and fritted glass provide a high-end, hospitality-driven experience. The fritting on the glass is reminiscent of the fog of an early June morning at the beach, the carpet mimics the striations the waves leave as they roll back from the sand, and the neutral backdrop of floors and walls provide a gallery-like space to feature Cedars-Sinai's art collection.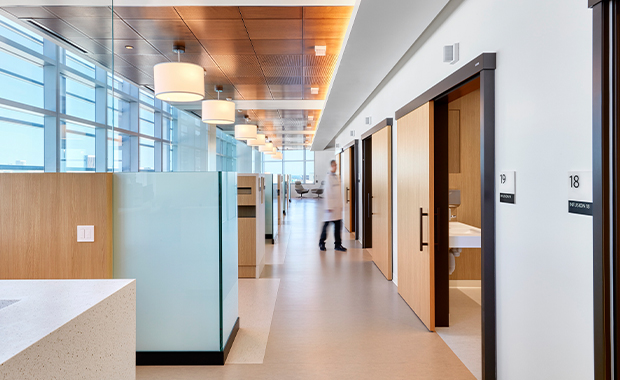 Kim Rodgers
The abundance of light and incredible views are possible with 360 degrees of windows surrounding the space, which are visible from most patient and staff areas.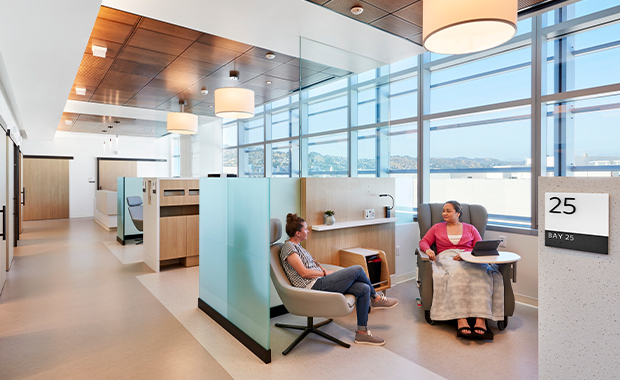 Kim Rodgers
In interviews, patients asked for a "cozy, comfortable, and clean" space with soothing colors, natural light, and more privacy. As a result, each private infusion bay is surrounded by partial height walls and includes comfortable seating, individual light fixtures, thermostat control, storage for incidentals, shelving, and shoji screens for privacy.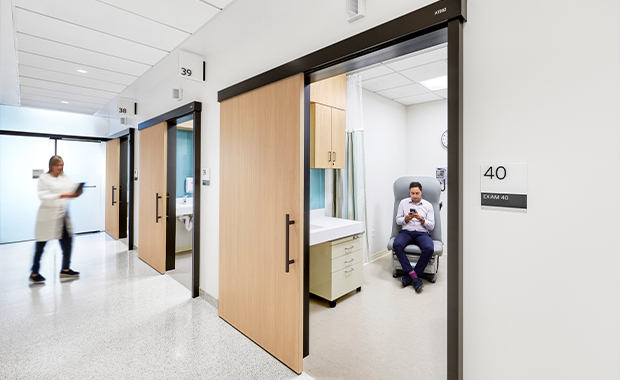 Kim Rodgers
For efficiency, clinical exam areas, scheduling and registration, transportation, social work consults, and counseling and nutrition services are all a few steps from patient treatment areas.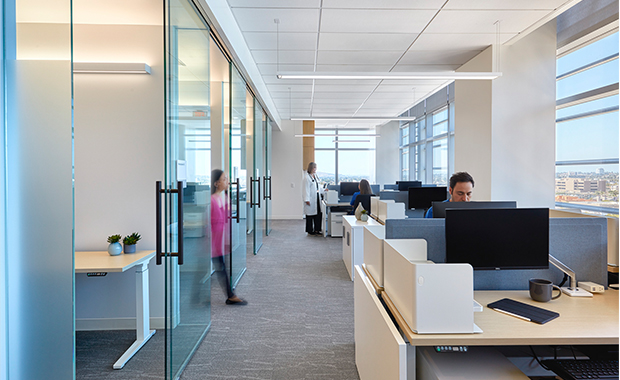 Kim Rodgers
Neighborhoods are supported by collaborative teaming areas for staff. The open, light-filled spaces offer a variety of work settings with hoteling stations for visiting staff and assigned stations for permanent staff. This includes quick touch-down stations for physicians adjacent to the exam room corridors as well as private, glassed-in stations for focused work. A support core connects two teaming areas and work areas are connected to enhance flexibility and collaboration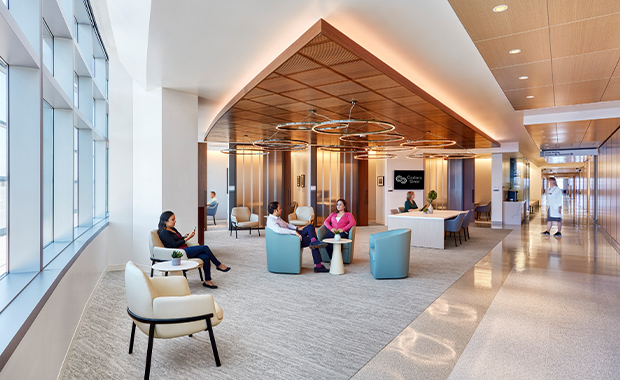 Kim Rodgers
Both neighborhood waiting rooms are finished with colors and textures reflecting the Los Angeles environment. Located at the north and south windows off the main concourse, they provide a daylit environment with expansive views of the hills, the downtown and the ocean. The spaces are furnished with multiple seating options—small intimate seating groups, larger living room settings and a long table with charging ports perfect for relaxing or getting some work done. Channel glass consult rooms provide privacy while maintaining light permeation and a hospitable environment.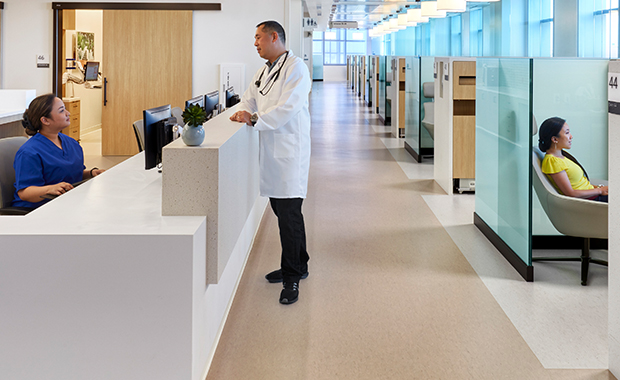 Kim Rodgers
The flagship cancer center was relocated from the basement of the main hospital to promote holistic healing and optimize collaboration spaces. New operational efficiencies achieved through design along with the move from a basement environment to a light-filled floor help to reduce staff burnout.
---
Cedars-Sinai wanted to relocate its flagship Samuel Oschin Cancer Center (Los Angeles) from the basement of its main hospital and create a more soothing space with a sense of community for its cancer patients. That goal was realized when the center was moved to a spacious, light-filled setting on the seventh floor of its Advanced Health Sciences Pavilion near Beverly Hills, California. The new 45,000-square-foot cancer center opened in June.
Cedars-Sinai partnered with HGA (Los Angeles) for the relocation and expansion of the center. In approaching the project, HGA interviewed oncology patients, family, and staff to understand their unique experiences. Cedars-Sinai's patient experience team also provided insight into the patient journey, helping the team clarify and improve interactions within distinct areas studied including reception, waiting, exam, consultation, and treatment.
The result is a modern space full of natural materials, daylight, and eye-catching art that reflects the surrounding southern California landscape. The design also creates a sense of community via a "neighborhood" concept in which like-cancer diagnosis and services are consolidated. Similar patients can occupy the same waiting rooms and clinical exam rooms without traveling throughout the facility for specialized care. The self-contained neighborhoods include registration, transportation, scheduling, pharmacy, social work, counseling, and nutrition consultation within steps of clinical and infusion treatments. As a result of the connectivity the neighborhoods facilitate, patients, medical teams, and staff are able to naturally develop communities of care. Patients see the same care team at every visit as well as many of the same fellow patients at repeat visits. Bonds are quickly formed among patients, and many even request treatment times together so they can socialize.
Programmatically, the space co-locates clinics and infusion services, comprising 53 infusion bays with an efficient organizational layout, upgraded mechanical systems, comforting interior finishes, and improved patient amenities.
Project details:
Facility name: Samuel Oschin Cancer Center at Cedars-Sinai
Location: Los Angeles
Completion date: June 2020
Owner: Cedars-Sinai
Total building area: 45,000 sq. ft.
Total construction cost: Confidential
Cost/sq. ft.: Confidential
Architecture firm: HGA
Interior design: HGA
General contractor: Hathaway Dinwiddie Construction Co.
Engineering: ARUP (MEP), Degenkolb Engineers (structural)
Builder: Hathaway Dinwiddie Construction Co.