PHOTO TOUR: Solinsky Center for Cancer Care
---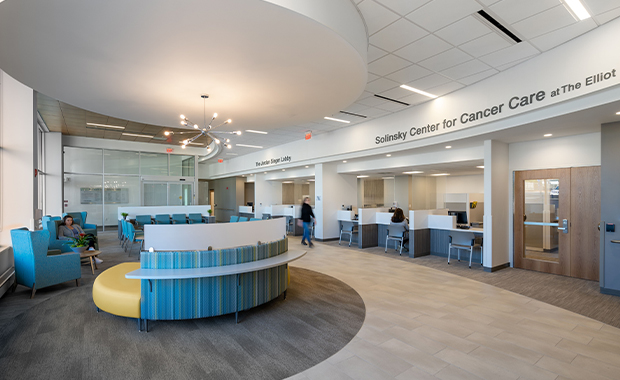 E4H Environments for Health Architecture
A 1.5-story lobby creates a dramatic daylit arrival space that links the medical oncology and radiation oncology areas together.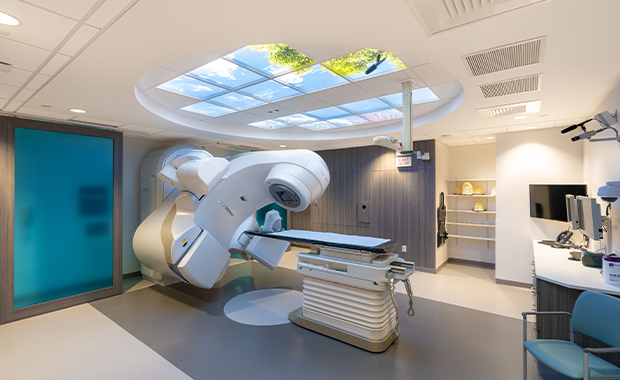 E4H Environments for Health Architecture
Neutral colors, wood tones, and calming blue accents contribute to a feeling of calm for patients undergoing treatment in the new linear accelerator vault.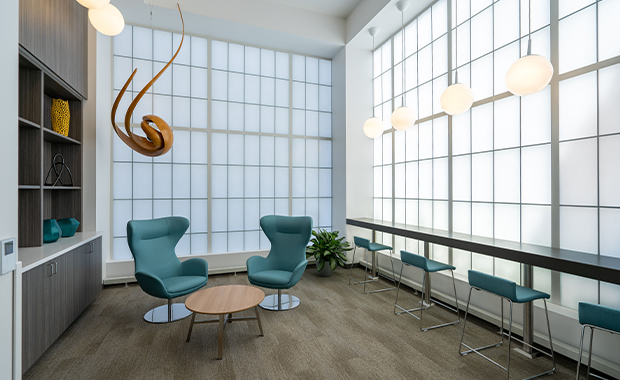 E4H Environments for Health Architecture
The meditation room is glazed with translucent panels that admit diffused light and create a serene atmosphere for contemplation.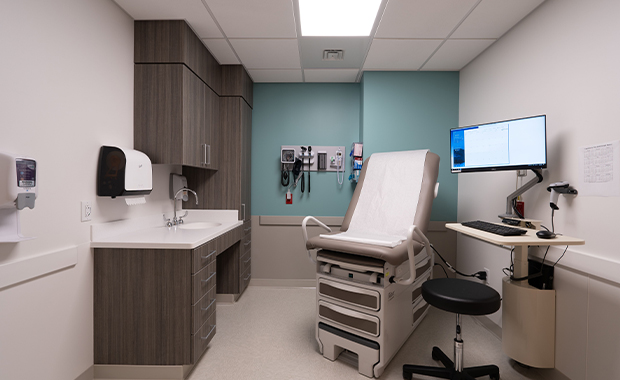 E4H Environments for Health Architecture
A neutral palette of finishes and materials with strategic soothing color accents is used throughout clinical exam areas.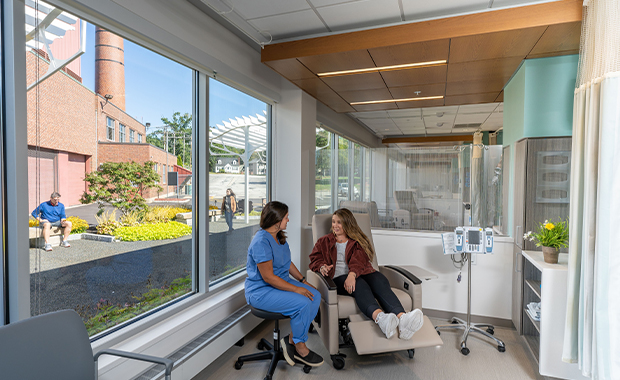 E4H Environments for Health Architecture
Infusion bays feature large amounts of natural light and views to a healing garden that can be accessed by patients throughout the day.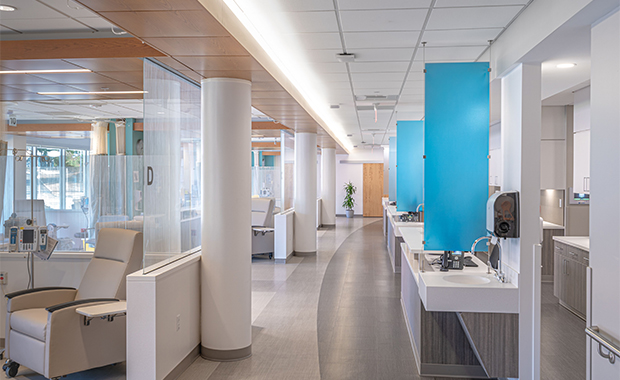 E4H Environments for Health Architecture
Indirect lighting and playful color accents compliment a neutral palette of materials upon entering the infusion suite.
---
Elliot Health System (Manchester, N.H.) was looking to create a comprehensive cancer center that incorporates the existing radiation oncology services housed at Elliot Hospital in Manchester, in an environment inspired by the healing effects of nature.
The 22,000-square-foot Solinsky Center for Cancer opened in August 2020 on the Elliot Hospital campus and consolidates chemotherapy, radiation oncology, medical oncology, and other holistic services into one space. This adjacency between disciplines improves communication between physicians and support staff, and now provides patients with everything they might need from diagnosis through recovery all within the Elliot campus.
The Solinsky Center's modern, calm design by architect and interior design firm E4H (Burlington, Vt.) is reflected in the floor-to-ceiling windows that allow for an abundance of natural light and are paired with modern light fixtures and natural finishes. Curated paintings and ceiling sculptures add color and interest, playing upon the themes of nature by introducing images of growth and regeneration. Large windows and natural finishes are incorporated throughout other areas of the building, as well, including in the semi-private infusion treatment areas overlooking the center's healing garden for patients.
The healing garden, an integral part of the center, is landscaped with a variety of plants, granite seating, bronze sculptures, and an artistic abstract canopy. Additionally, patients and their families can access an on-site meditation room that has soothing features such as diffused light through translucent panels, inviting warm wood tones and an organic-shaped sculpture.
Project details
Facility name: Solinsky Center for Cancer Care
Location: Manchester, N.H.
Completion date: August 2020
Owner: Elliot Hospital
Total building area: 22,000 sq. ft.
Total construction cost: $13 million
Cost/sq. ft.: $591/sq. ft.
Architecture: E4H Environments for Health
Interior design: E4H Environments for Health
Contracting: Bond Brothers
Engineering: BR+A (MEP), Simon Design (structural)