PHOTO TOUR: South Jordan VA Clinic
---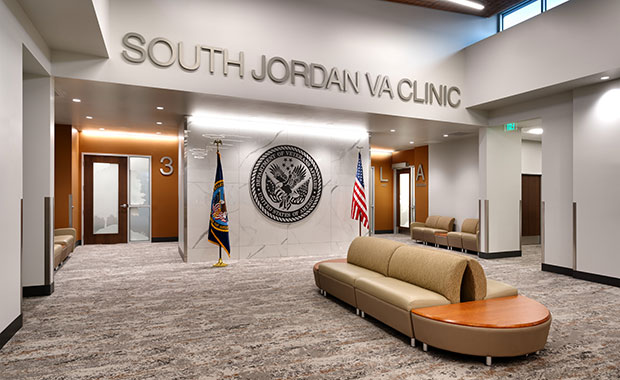 Martin van Hemert Photography
The waiting area in the South Jordan VA Clinic is outfitted with several comfortable, spaced-out seating options located near the exam rooms and labs.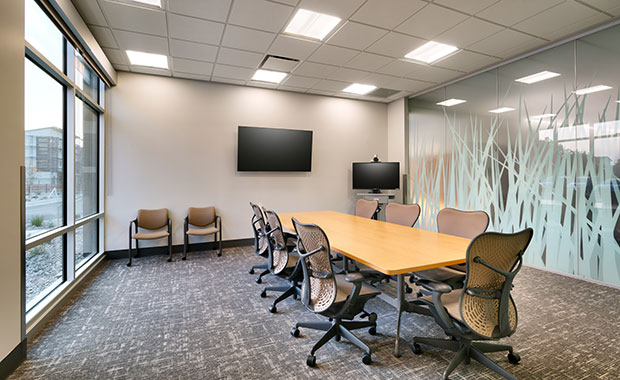 Martin van Hemert Photography
The open office layout provides doctors and nurses with a space to collaborate. Supportive office chairs and a large banquet table support various kinds of staff meetings and functions. To help inspire easy collaboration and transparency, doctors and nurses can also project notes and graphics onto the monitors in the room.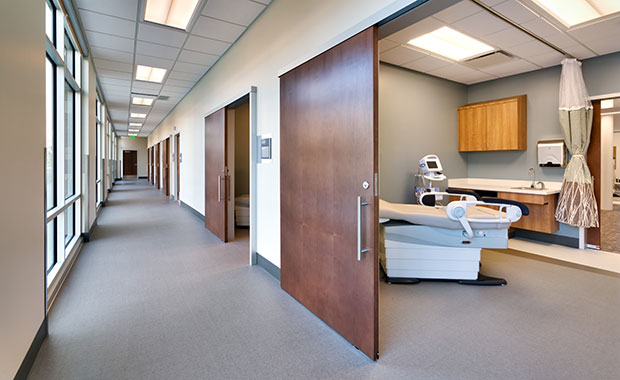 Martin van Hemert Photography
Private, sliding doors allow each exam room to be closed off, while warm wood tones keep the space light and airy. Large floor-to-ceiling windows lining the long hallway allow veterans to enjoy natural light as they walk throughout the facility.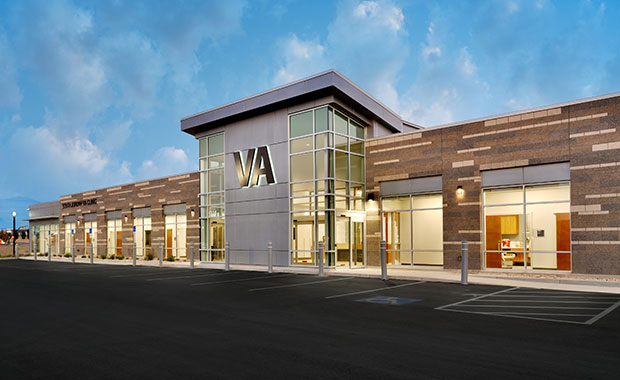 Martin van Hemert Photography
The exterior of the project features a warm color palette and clean lines for a polished look. Veterans can easily park right outside the main entrance. Thanks to wall-mounted lights and large windows, the walkways and parking lots remain well-lit throughout the night.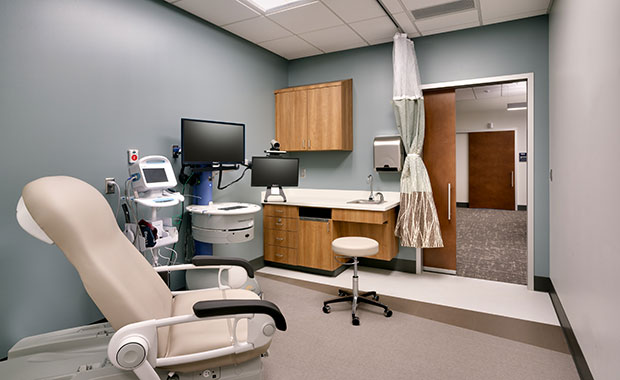 Martin van Hemert Photography
The exam rooms at the clinic include blood-pressure monitors, large computer screens for diagnoses, and telehealth capabilities. The privacy screens allow veterans a single place for care instead of jumping from room to room.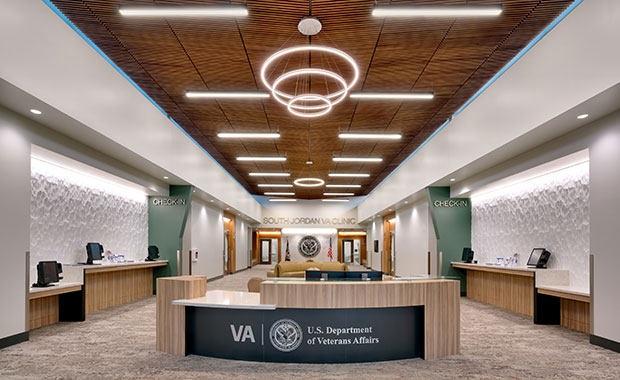 Martin van Hemert Photography
The lobby at the South Jordan VA Clinic offers two check-in stations with multiple monitors to streamline patients' experiences. Several plush couches positioned throughout the room provide ample comfortable spaces to sit in the waiting area.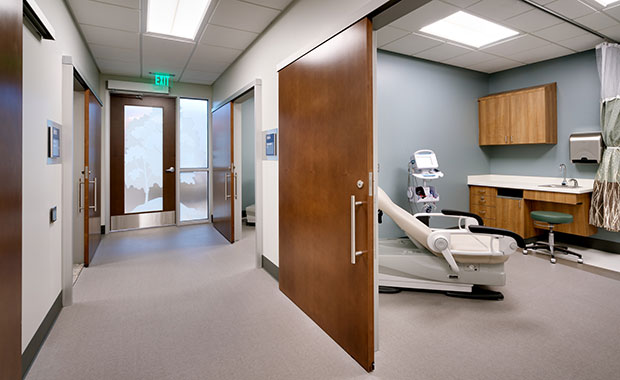 Martin van Hemert Photography
Bright green exit signs are located by each door to alert patients where to go. The frosted panels with white tree decals keep the space open and provide a light accent to the exam space. (188/500)
---
In 2020, MHTN Architects (Salt Lake City), an architecture and design firm, partnered with The University of Utah Health (Salt Lake City) to complete the South Jordan VA Clinic in South Jordan, Utah, for the United States Department of Veteran Affairs (VA). The 30,000-square-foot facility expands the services currently offered in West Valley City, Utah, to South Jordan, allowing the new clinic to serve an additional 4,000 veterans.
To increase access to care, the clinic features dozens of exam rooms and spaces specifically designed for family practice, women's health, telehealth, audiology, mental health, and more. These services have been optimized around the VA's Patient Aligned Care Team (PACT) model, an initiative encouraging a more collaborative and transparent healthcare experience. Supporting this model, the layout and design address the patient care experience by focusing on efficient access, intuitive wayfinding, privacy features, and ample workspace for staff.
The facility provides an open and modern aesthetic featuring daylit spaces, clean lines, and durable finishes. Healthcare providers enjoy the benefits of easy circulation to exam rooms, open office space for team collaboration, and break areas filled with natural daylight and floor-to-ceiling views.
Project details for South Jordan VA Clinic
Location: South Jordan, Utah
Completion date: October 2020
Owner: Gardner Development
Total building area: 30,000 sq. ft.
Total construction cost: $6.2 million
Cost/sq. ft.: $208.10/sq. ft.
Architecture firm: MHTN Architects
Interior design: MHTN Architects
General contractor: L&T Construction
Engineering: BHB (structural), PVE Inc. (mechanical), Spectrum Engineers (electrical)
Builder: L&T Construction