Real, New York: Photo Tour
---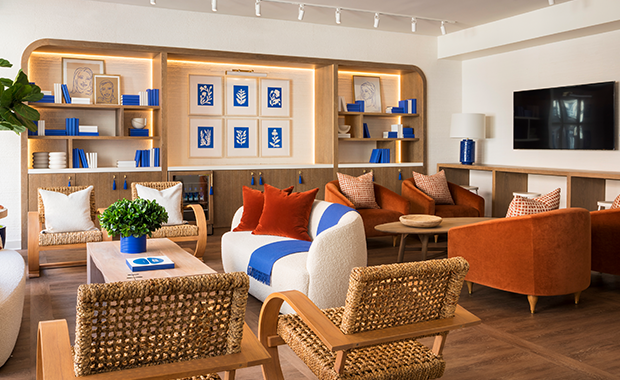 Adam Kane Macchia
Real: The open-layout waiting room was designed with comfortable furniture and soft lighting to help put patients at ease. Open group seating arrangements sets the stage for community building in an effort to destigmatize the conversation around therapy.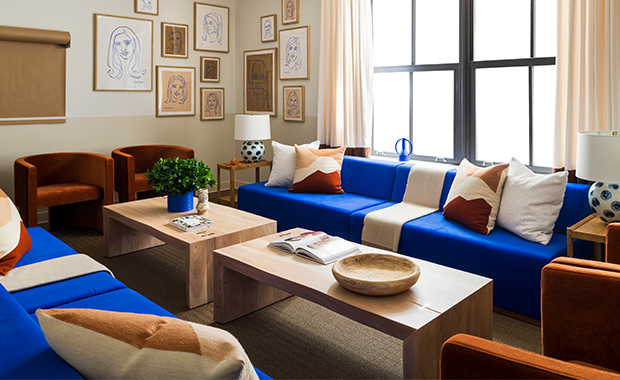 Adam Kane Macchia
Real: Furnishings in Real's signature blue color and portraits by artist Marilu Nordenflycht help set the tone and add to the inviting therapy environment for members.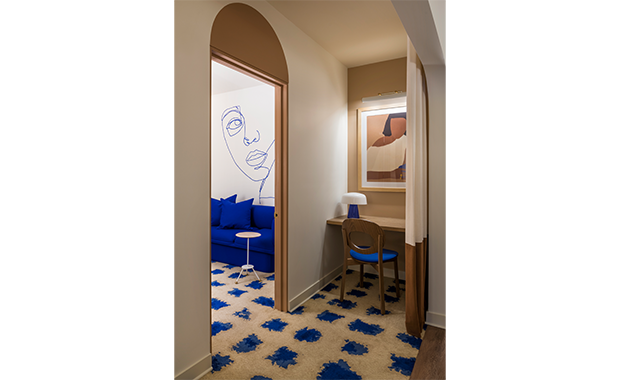 Adam Kane Macchia
Real: Prior to entering individual therapy appointments, guests are encouraged to stop at the "front porch" of each suite—a counter and cozy chair, with custom artwork and soft lighting—to interact with thought-provoking analog questionnaires as a means to spark productive conversations during sessions.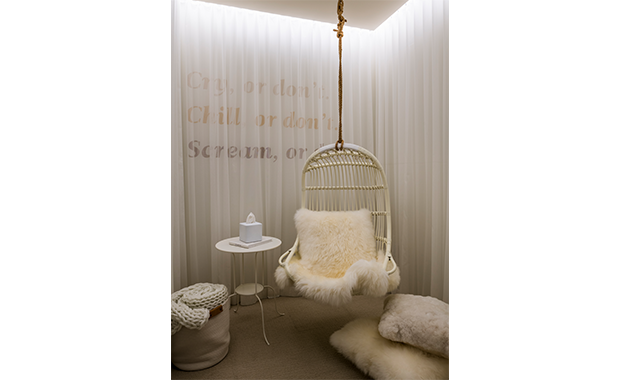 Adam Kane Macchia
Real: Post-session, patients will have different needs before re-entry into their daily schedule. BHDM developed a "tissue box" room that's intended for use after an emotional session. The space is outfitted in all "tissue white" elements.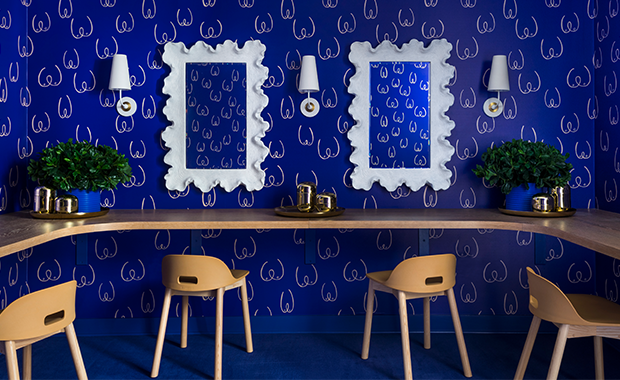 Adam Kane Macchia
Real: The primp room, lined with hand-drawn wallpaper, is meant for refreshing and connecting with others before heading back out into the city.
---
Real, New York
Aiming to create a community-based therapy environment and celebrate mental health as a pillar of wellness, Real, an on-demand, monthly membership mental wellness startup, opened its New York flagship in June 2022.
Designed by BHDM (New York), the clinic experience starts with patients being welcomed by a concierge and led to a lounge-style waiting area with stylish furnishings and artwork by American visual artist Neicy Frey.
Therapy rooms feature soft lighting, wallpaper, residential-style furnishings, and artwork, including custom graphics by illustrator Clara Schicketanz and portrait artwork by Marilu Nordenflycht.
The clinic also offers a post-session experience, which includes a "tissue box" room with a cozy chair, and a primp room, where patients can refresh before leaving the building.