Sacré-Coeur-de-Montréal Hospital: Photo Tour
---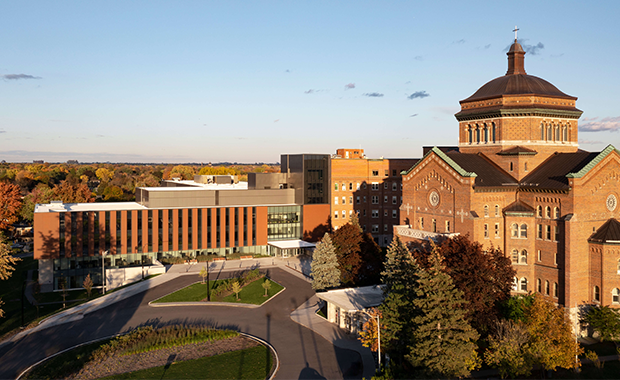 Olivier Blouin
Sacré-Coeur-de-Montréal Hospital: The expansion uses a campus-style design, echoing the original heritage architecture both in materiality and color. The approach includes a contemporary expression of the original clay brick masonry and terracotta-colored porcelain stoneware on the extension's exterior envelope. The four-story addition is designed to seamlessly accommodate future expansions on floors above, as well.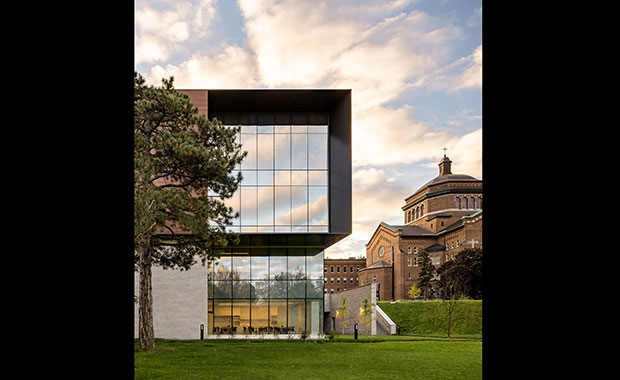 Olivier Blouin
Sacré-Coeur-de-Montréal Hospital: The addition leverages one of the site's distinctive advantages—its bucolic setting and access to natural light. Planted areas are woven through built areas to incorporate landscape as central to the patient experience. New gardens allow patients, doctors, visitors, and staff to enjoy spaces for quiet contemplation and rest and boost exposure to natural light.
Stéphane Brügger
Sacré-Coeur-de-Montréal Hospital: The waiting room in the new wing offers beautiful views of the heritage building. The area creates a dramatic sense of arrival and offers a spacious, light-filled space.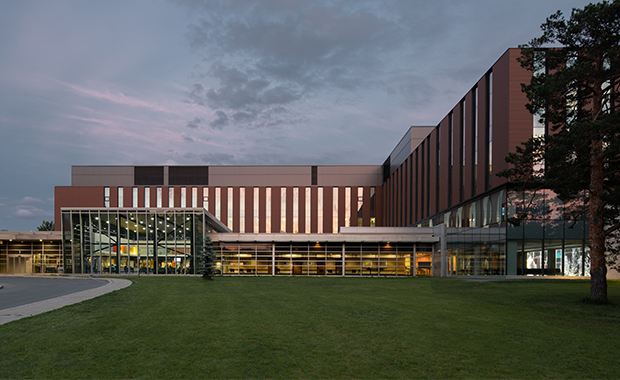 Olivier Blouin
Sacré-Coeur-de-Montréal Hospital: Using evidence-based strategies to guide planning, it was paramount to program the new trauma center adjacent to the ground-floor emergency department (ED). The L-shaped addition sits on top of the existing ED, which was built in 2008, incorporating access to natural light.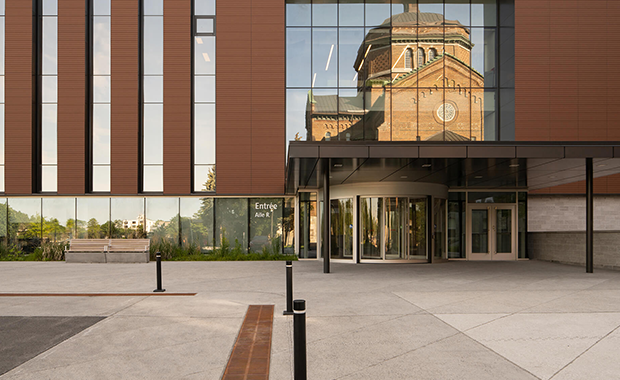 Olivier Blouin
Sacré-Coeur-de-Montréal Hospital: The addition is clad with a curtain wall punctuated by vertical bands of a masonry block that relate to the historic hospital building and provide a sense of rhythm across the facade. These areas appear to float above the glass-enclosed lower levels, where administrative offices, lounges, cafés, and other semi-public areas enjoy views over the grounds and the original building.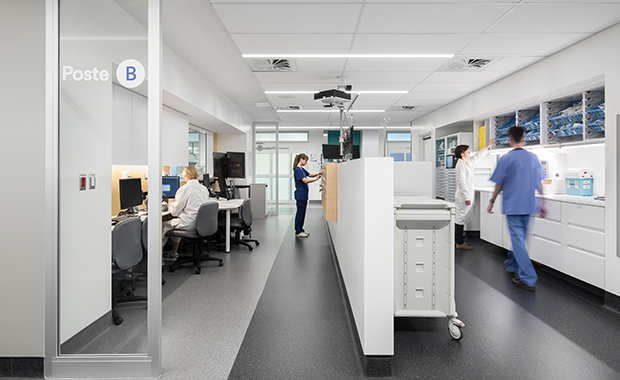 Stéphane Brügger
Sacré-Coeur-de-Montréal Hospital: Shown is one of five multidisciplinary workstations evenly distributed on the Integrated Trauma Centre floor. A functional workspace where emergency physicians, trauma specialists, surgeons, nurses, and researchers come together, they each serve six to eight beds and can accommodate 10 caregivers. A pharmacy and a medication preparation area complete these nodes and encourage exchanges between professionals.
---
Sacré-Coeur-de-Montréal Hospital
Sacré-Coeur-de-Montréal Hospital is one of Montréal's largest teaching hospitals, affiliated with the Université de Montréal.
Built in 1927 as a sanitorium treating tuberculosis patients, the hospital includes general, emergency, and specialized medicine to support more than 300,00 patients annually.
Thanks to major government investments, the hospital commissioned an expansion to modernize the nearly 100-year-old building. The goal is to better reflect the hospital's vision to become a leading research center in traumatology for patients and researchers.
The new four-story addition comprises a 26-bed maternity ward, a new endoscopy day clinic, a medical device reprocessing unit, and new research and teaching labs. The specialized intensive care unit, known as the Integrated Trauma Centre, was relocated to the new wing and now includes 32 beds.
Updating a century-old hospital
In a joint venture, architectural firms Provencher Roy (Montréal) and Yelle Maillé (Montréal) delivered the 174,935-square-foot expansion, an L-shaped wing that reinterprets the century-old hospital.
The new volume's shape echoes the hospital's original rectangular pavilions, typical of a tuberculosis hospital. Materials including glass, aluminum, and terracotta-colored masonry were used in the new wing's envelope to discretely pay homage to the original clay brick building.
In a contemporary twist, the architects used a glass curtain wall to reflect the chapel in the new wing's main entrance. Landscaping and outdoor furniture enhance the site and the chapel's unique architecture.
The energy-efficient envelope was specially designed for Montréal's extreme winters with a mix of alternating vertical bands of terracotta-colored porcelain stoneware and glass curtain wall. This mix also manages to preserve natural light and views from interior spaces to promote the well-being of patients, caregivers, and visitors.
Facility details for Sacré-Coeur-de-Montréal Hospital
Location: Montréal, Canada
Completion date: June 2022
Owner: Government of Québec
Total building area: 174,935 sq. ft.
Total construction cost: $65 million
Cost/sq. ft.: N/A
Architecture firm: Provencher_Roy and Yelle Maillé Architectes, joint venture
Interior design: Provencher_Roy and Yelle Maillé Architectes, joint venture
General contractor and builder: Construction T.E.Q. Inc.
Landscape Architecture: Vlan paysages
Engineering: SDK (structural), BPA/Stantec (electromechanical)