Sanford Imagenetics
---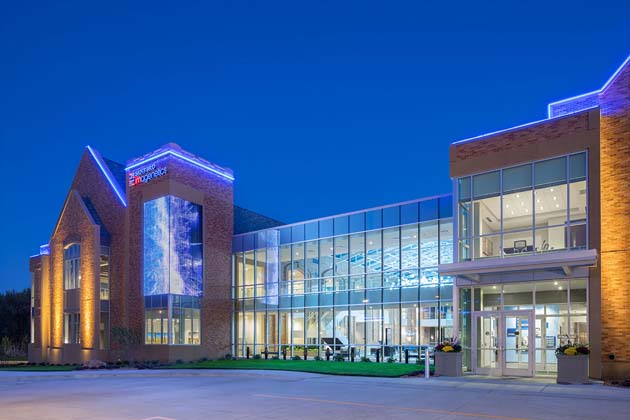 ©2017 Dan Schwalm
The covered main entry features a conference tower with media mesh display.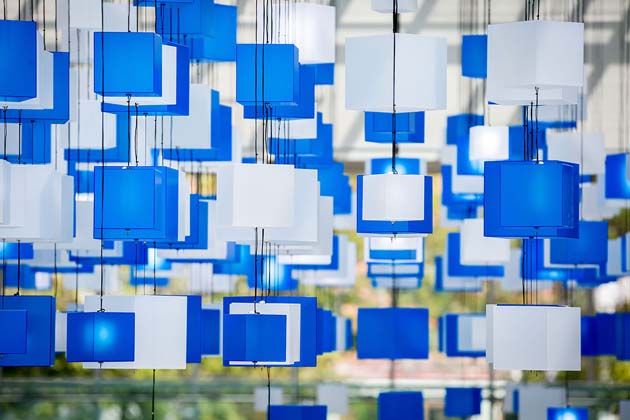 ©2017 Dan Schwalm
The interactive light sculpture reacts to the inputs from users at the interactive kiosks.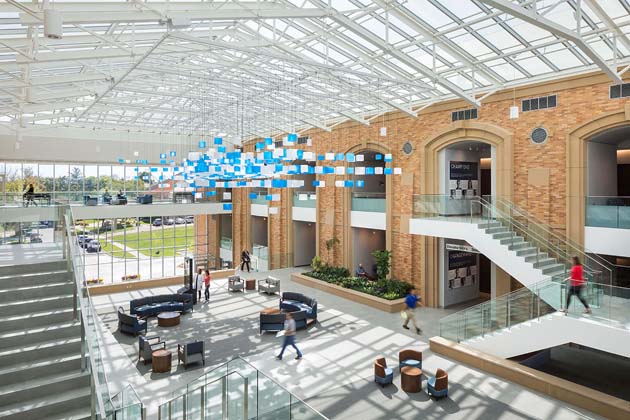 ©2017 Dan Schwalm
The central atrium features a skylight to provide a pleasant space for patients and caregivers.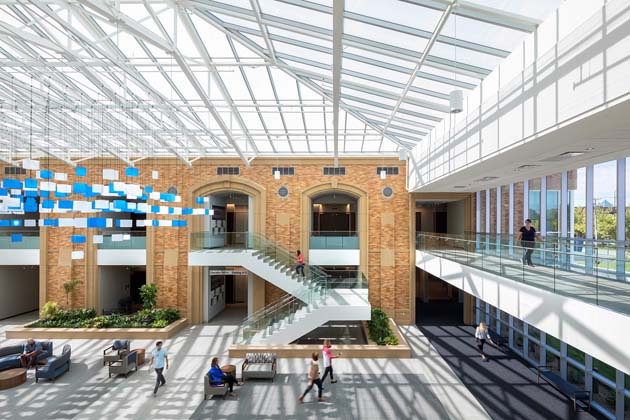 ©2017 Dan Schwalm
Open Atrium.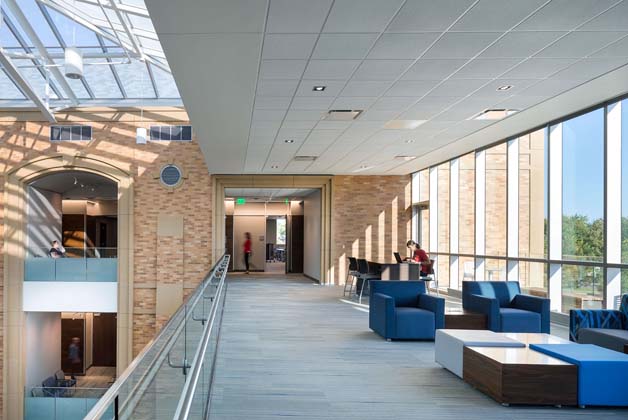 ©2017 Dan Schwalm
Natural light is abundant throughout the open atrium space.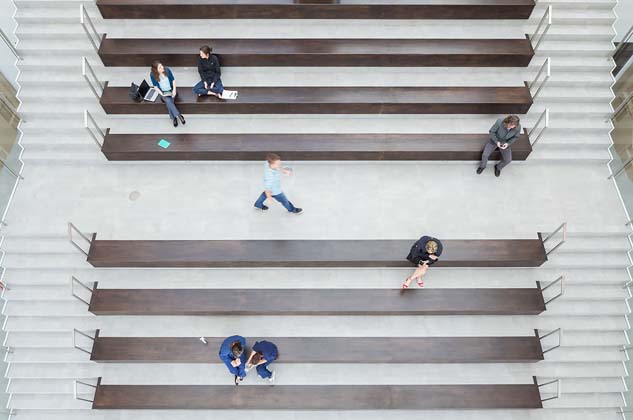 ©2017 Dan Schwalm
The social stair offers space for Sanford's genetics lecture series, student presentations, and informal gatherings.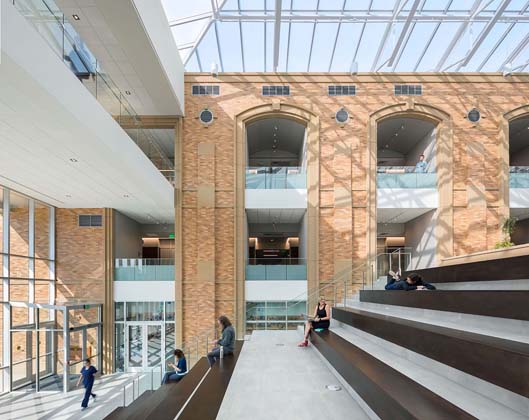 ©2017 Dan Schwalm
The social stair seats 200 guests and is offered to community groups in the evenings.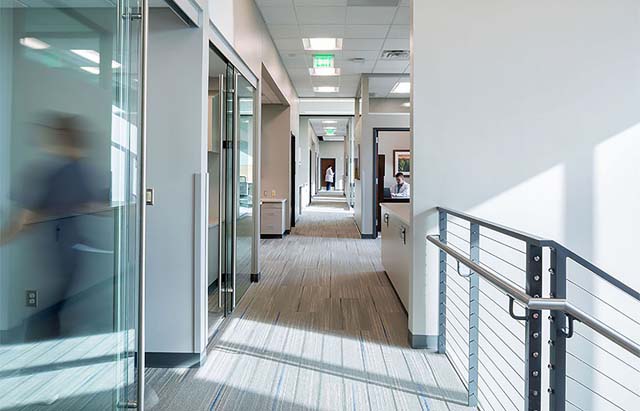 ©2017 Dan Schwalm
Physician Offices.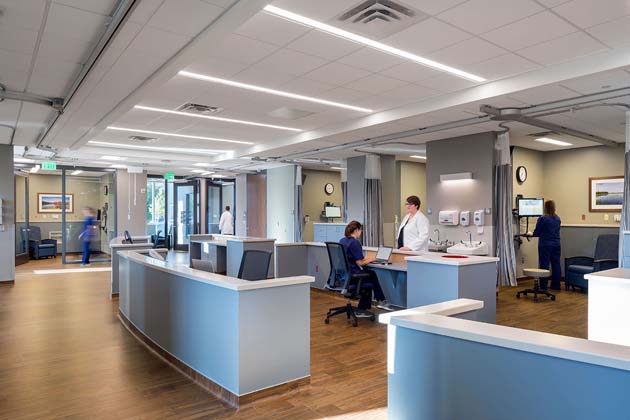 ©2017 Dan Schwalm
The dialysis suite is the largest in the region and arranged for maximum unobstructed sightlines.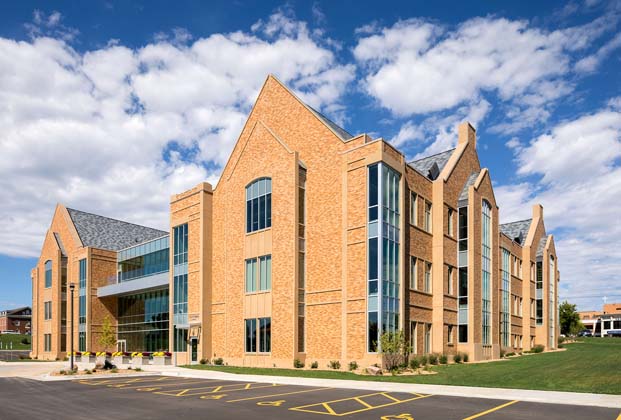 ©2017 Dan Schwalm
Southeast View.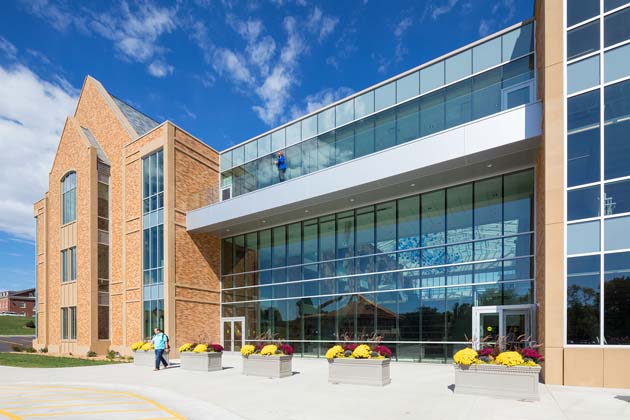 ©2017 Dan Schwalm
Secondary Entrance.
---
Submitted By: Koch Hazard Architects (Sioux Falls, S.D.) and HDR (Omaha, Neb.)
Sanford Health (Sioux Falls, S.D.) engaged Koch Hazard Architects and HDR to help them create a new model for a translational design solution that embodies Sanford's groundbreaking integration of genomic and traditional medicine, and facilitates Sanford's excellence in patient care, collaboration and research.
To achieve Sanford's vision, the design focuses on spaces that foster collaboration and connections among clinical and research teams, while also providing a sense of transparency and intuitive wayfinding for patients. An onstage/offstage circulation system enables very efficient staff traffic, limits disruptions to the patient experience and maintains the security of patient medical information. The design team knew that the integration of genomics into the traditional clinical model would hinge on collaboration and flexibility to accommodate an evolving practice. The strategy of smaller pods of exam rooms achieved the physician-to-exam room ratio established by the owner while supporting teams small enough to run trial implementations of genetic counseling and related services before expanding to the full clinic and beyond. Multiple flexible touchdown offices allow the new specialists to float throughout the clinic on a daily or even hourly basis to determine the best strategy to integrate their services. Staff are able to move from team to team without disrupting any normal operations. The offstage staff spaces are generously daylit and allow quick visual connections between teams on the same floor and between floors to encourage spur-of-the-moment consultations. The design offers frequent opportunities to accelerate the feedback loop of this ground-breaking practice, for the ultimate goal of the best possible patient care.
A spacious daylit atrium offers a coffee shop and relaxing waiting space for patients and families, and doubles as education and community event space in the evenings and on weekends.  The interactive sculpture becomes a beacon at night and offers several digital vignette kiosks to educate visitors on the possibilities of genomic medicine.
Sanford Imagenetics was completed on-time and on-budget. The design team is local/regional, based in Sioux Falls, S.D., and Omaha, Neb., and the project was built using over 80 percent local labor. The facility is located on the Sanford USD Medical Center campus in Sioux Falls, S.D., and houses general internal medicine, dialysis, genetic counseling, medical genetics laboratories (cytogenetics and molecular genetics), and radiology. The facility will also provide teaching space for internal medicine residents and medical genetics residents. It is the first facility of its kind in the nation, fully integrating genetics with traditional clinical practice.
Project Category: New construction
Chief Administrator: Jan Haugen-Rogers, vice president, Imagenetics, Sanford Health
Firms: Koch Hazard Architects, www.kochhazard.com; HDR, www.hdrinc.com
Design Team: Keith Thompson, principal-in-charge; Jeff Hazard, planning principal, (Koch Hazard Architects); Tom Trenolone, design principal; Lisa Miller, design architect (HDR); Chad Nelson, senior project manager (Henry Carlson Co. LLC); Jeff Renken, lead consultant/project manager (Associated Consulting Engineering Inc.)
Total Building Area (Sq. Ft.): 106,000
Construction Cost/Sq. Ft.: $255
Total Construction Cost (Excluding Land): $27 million
Completed: August 2017