Symphony Orthodontics, Virginia: Photo Tour
---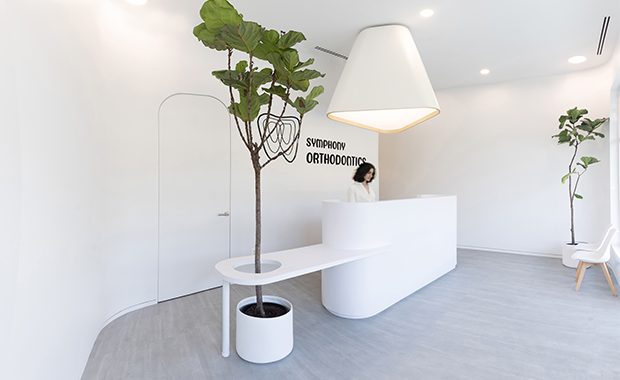 Susan Stripling
Symphony Orthodontics: The reception and waiting area includes curved pathways and a circulation pattern that guides patients and visitors smoothly through the space. Curving lines create a sense of movement and visual interest, leading people naturally toward the reception desk.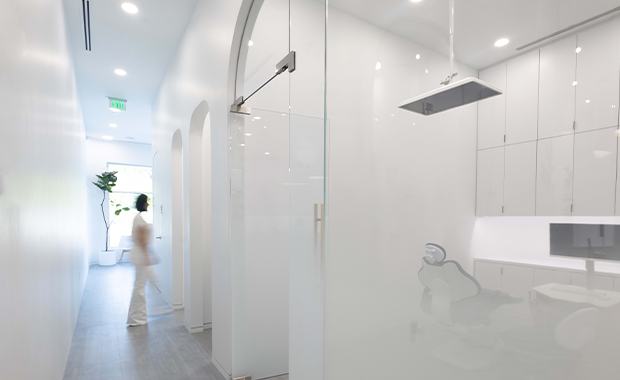 Susan Stripling
Symphony Orthodontics: A balance between public and private spaces is achieved by incorporating elements such as gradient frosted glass, which maintains privacy, while creating visual and cognitive transparency between staff and patients.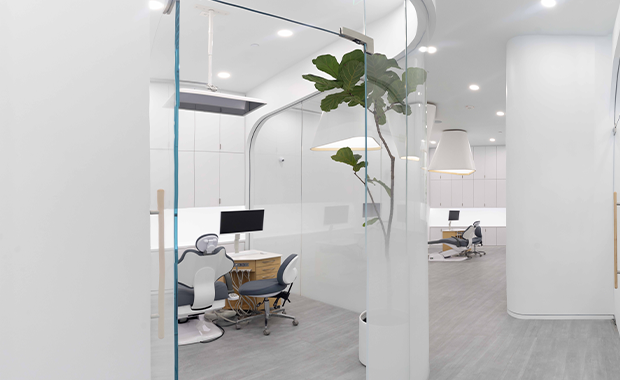 Susan Stripling
Symphony Orthodontics: A private ortho room is sized to be used for either special treatments or consultation.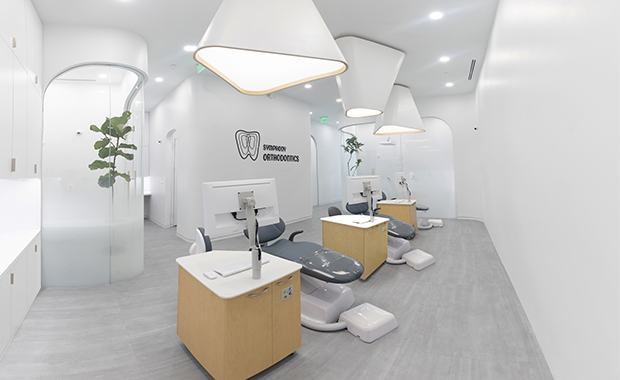 Susan Stripling
Symphony Orthodontics: The ortho bay is used as a shared treatment area with an open floor plan, allowing for multiple treatment chairs or stations arranged in a cohesive layout. This promotes a sense of community and encourages interaction among patients.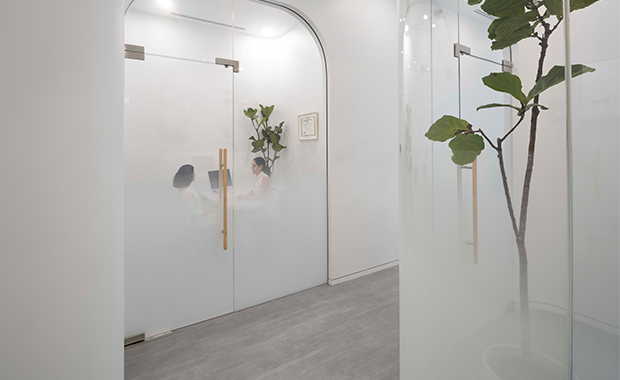 Cameron Davidson
Symphony Orthodontics: Glass is strategically used in the physician's office, private ortho, and the consultation room to keep them at minimum while providing visual expansion to other rooms.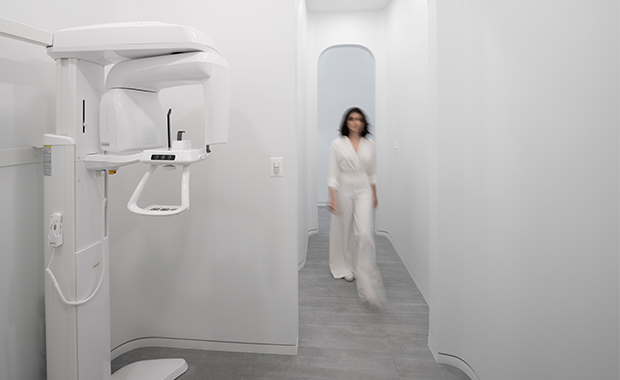 Cameron Davidson
Symphony Orthodontics: Patients find the curved walls more comforting and less intimidating, helping to reduce anxiety associated with X-ray procedures.
---
Symphony Orthodontics, Virginia
Symphony Orthodontics is a 1,500-square-foot clinic in in Bristow, Va.
The minimal and modern design of the office leverages clean and sleek aesthetics, with a neutral white color palette and accent of wood elements.
One challenge of the design was creating distinct public and private spaces within the narrow, linear footprint of the site in an existing strip mall. The design team, including architect Oli Architecture PLLC (New York), developed a series of sinuous open and enclosed spaces. This is aided by the inclusion of features such as gradient frosted glass, which creates both transparency and privacy.
Sustainability was also a project priority. To reduce the project's carbon footprint, all materials were locally sourced and the lights utilize LED bulbs and motion sensors. Selected for durability, luxury vinyl tile flooring meets WELL and LEED certification standards and is free of phthalates.
Light and air flow is maximized through programming and high ceilings, and air quality is improved by live plants. Motorized outdoor air dampers and exterior door seals decrease HVAC loads. Insulated partitions and ceiling cavities boost R values to create energy efficiency.
Project details for Symphony Orthodontics, Bristow, Va.
Location: Bristow, Va.
Completion date: August 2022
Owner: Dr. Zahra Heidari
Total building area: 1,500 sq. ft.
Total construction cost: $330,650
Cost/sq. ft.: $220
Architecture firm: OLI Architecture PLLC
Interior design: OLI Architecture PLLC
General contractor: Liberty Group LLC
Engineering: Aurora Architects LLC
Builder: Liberty Group LLC