Tallahassee Memorial HealthCare, M.T. Mustian Center
---
The main entrance is defined by a blue metal panel ribbon and a blue mosaic glass pattern, wayfinding features that have been integrated around the Tallahassee Memorial campus at all major entry points.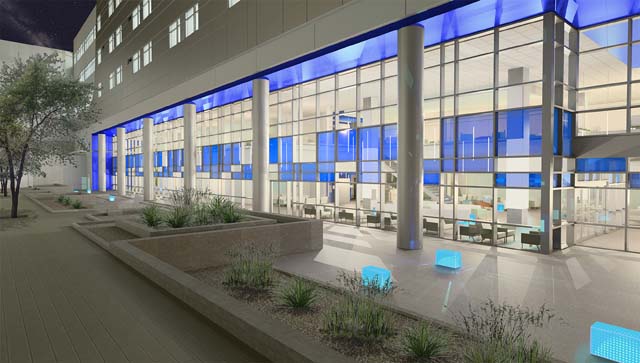 The lobby garden provides patients and visitors an outdoor retreat near the two-story lobby and surgery waiting.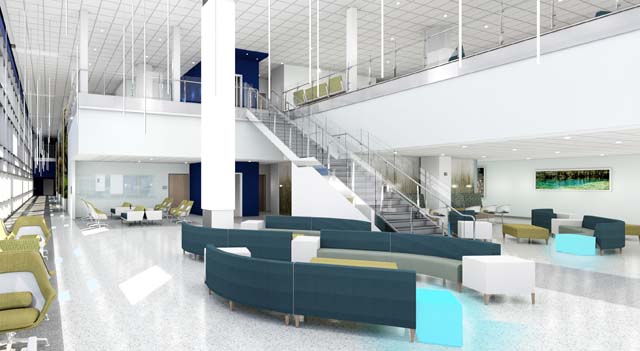 The two-story main lobby, filled with natural daylight, is highlighted by terrazzo flooring and a monumental stair.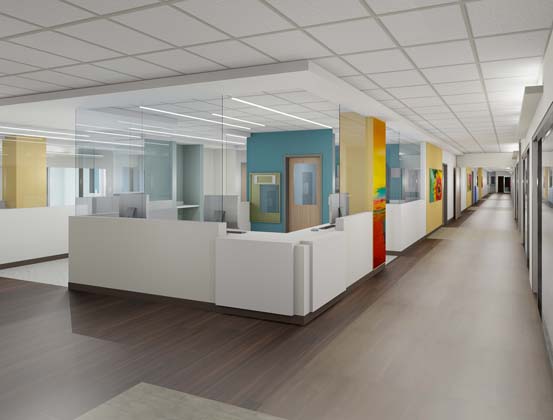 ICU team spaces are enclosed with glass panels, allowing for good visibility while reducing noise to patient rooms.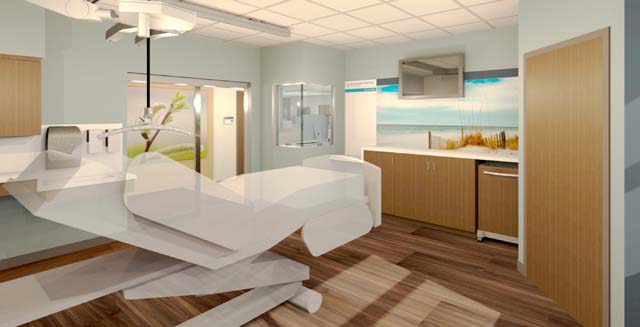 All ICU rooms include a dedicated family stay zone, patient lift, and clearly marked staff safe zone.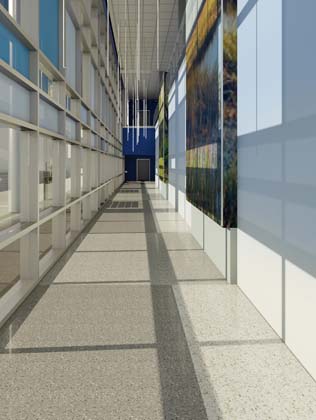 Randomly spaced "sparkle" lights lead visitors down the lobby concourse toward the public ICU elevators which are set off with blue porcelain enamel coated panels.
---
Submitted by: Gresham Smith and Partners (Jacksonville, Fla.)
The 346,270-square-foot, six-story project in Tallahassee, Fla., includes a new hospital entrance for surgery and critical care services with convenient access from parking and clear wayfinding. The patient- and family-centered design will accommodate future growth and expansion without disrupting ongoing operations to provide a supportive, safe, efficient, and positive work environment for Tallahassee Memorial HealthCare (TMH) colleagues. The project anticipates meeting the healthcare needs of the community for the next 50 years.
The surgery includes 27 operating rooms, one hybrid operating room, and four interventional radiology rooms, supported by 72 pre-operative/post-secondary recovery rooms, 52 PACU beds, and associated support services. The design emphasizes flexibility to accommodate changes in technology and treatment protocols over the life of the facility and it anticipates incremental growth within the departments, as well as horizontal expansion in the future.
Three floors of critical care rooms provide 72-beds for neurology, cardiology, and surgery patients. Each floor of 24-beds is organized into three zones of eight beds each with team workstations having direct visibility into each room. The floors are organized with a perimeter patient and family corridor, and a central (offstage) staff and support corridor to eliminate noise from the patient rooms. All ICU rooms include a dedicated family stay zone, patient lift, and clearly marked staff safe zone.  Other family amenities, including a shower and a laundry room were also provided on each floor Dedicated elevators are provided for public, staff/support, and patients. The ICU tower was designed to accommodate vertical growth for two future floors of 24-beds.
Lean Six Sigma principles and tools were employed in the planning to improve staff efficiency and effectiveness, while seeking ways to lower the cost of operations. Planning metrics included minimizing travel distances and turns, separating patient and family traffic from staff and support circulation, and decentralizing clean, soiled, equipment, medication, and supply spaces.
The project features evidence-based design concepts to improve patient outcomes and patient satisfaction, and to decrease anxiety among staff, patients, and family members.  A patient and family advisory committee was consulted throughout the design process. Connectivity to nature is achieved by views and access to two new garden courtyards that are strategically located to assist with wayfinding. Window-sized artwork is used as positive distractions to relieve stress.
A wayfinding design solution linking the new front door to the existing campus circulation system, parking, and other campus destinations has been created that utilizes not only signage, but also includes floor finishes, art, and lighting. Finally, the design incorporates sustainable features including 100 percent LED lighting, high-efficiency mechanical equipment, access to daylight, continuous insulation, and low-e glass coatings, among other features.
Project category: Project in progress
Chief administrator: Mark O'Bryant, president and CEO, Tallahassee Memorial HealthCare
Firm: Gresham Smith and Partners, www.greshamsmith.com
Design team: Gresham Smith and Partners (architect, interior designer, MEP engineer, environmental graphics and wayfinding consultant, furniture and artwork consultant; Moore Bass Consulting Inc. (civil engineer, landscape architect); McVeigh & Mangum (structural engineer); TLC Engineering for Architecture (communications and technology consultant); CRA Architects (associate architect – enabling projects, central energy plant); Tomahawk Engineering & Consulting (MEP engineer – enabling projects, central energy plant)
Total building area (sq. ft.): 346,270
Construction cost/sq. ft.: $452
Total construction cost (excluding civil and landscaping): $157 million
Completion: April 2019