Trauma-informed Design Guides SCO Family Of Services Clinic
---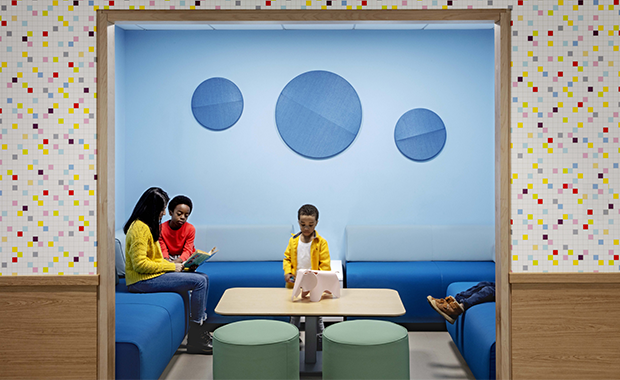 Eric Laignel
SCO Family of Services: Once a large, open space equipped with plastic furniture, the family visiting rooms at Genovese Family Life Center in Jamaica, Queens, N.Y., now provide privacy and personal agency. Families can pick a room based on size, color, and location, and once inside they have control over lighting levels.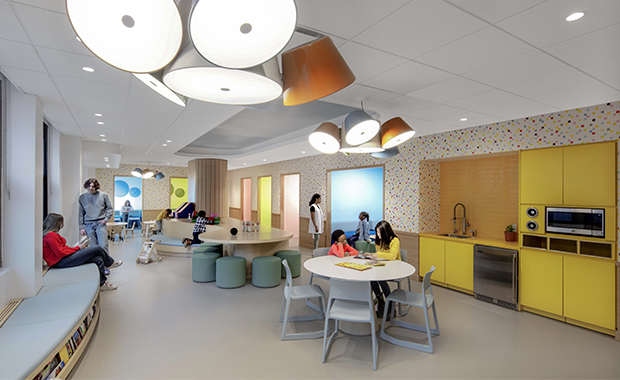 Eric Laignel
SCO Family of Services: In the foster care family room, geometric wallcoverings, playful furniture, and the bold use of color create a space that encourages relaxed interactions.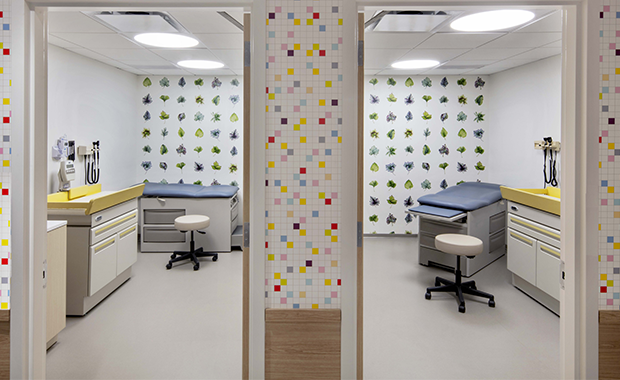 Eric Laignel
SCO Family of Services: The medical suite's exam rooms, which serve people of all ages, feature biophilic-themed wallpaper to provide a positive distraction for clients.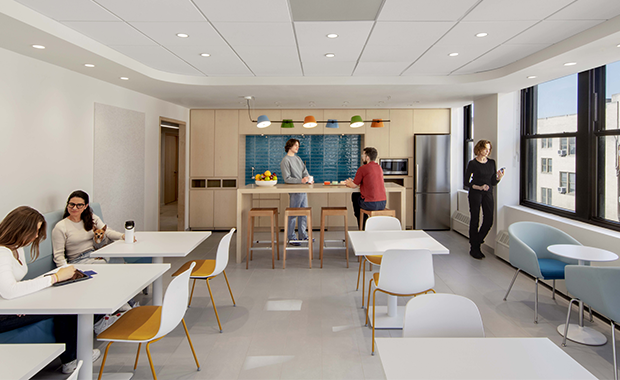 Eric Laignel
SCO Family of Services: The dedicated staff cafe on the fourth floor of the Genovese Family Life Center gets plenty of natural light and encourages staff to enjoy meals together.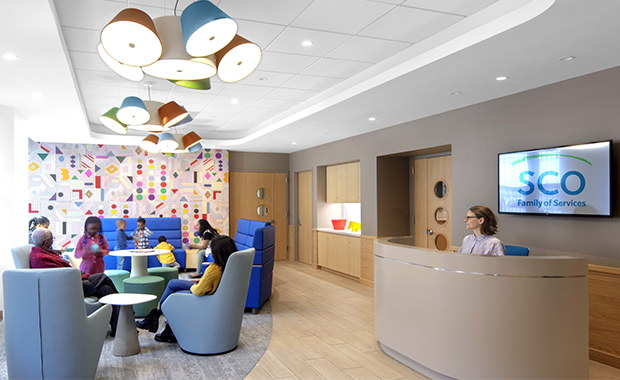 Eric Laignel
SCO Family of Services: In the reception area, upholstered, high-back furnishings with a living room feel offer a sense of privacy and protection.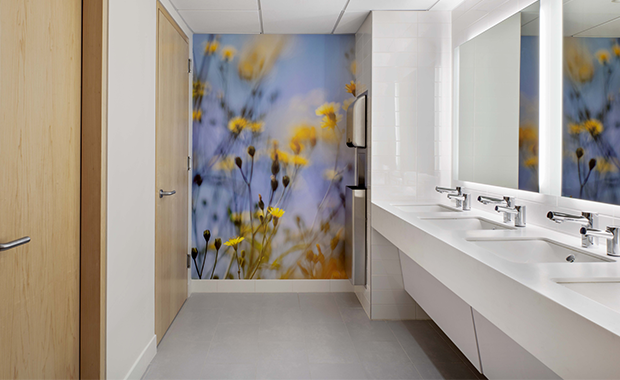 Eric Laignel
SCO Family of Services: Using trauma-informed design principles, the project team incorporated landscape-inspired wallpaper and woodgrain doors and frames in the gender-neutral restrooms to provide a material connection to nature.
---
SCO Family of Services provides children and families throughout New York City and Long Island access to a continuum of care that includes physical and mental health, wellness, education, housing, family youth justice services, and family support.
While the organization operates several locations around Jamaica, Queens, its Genovese Family Life Center serves as the hub of the organization's programming in the neighborhood.
However, after years in operation, the center was feeling the constraints of its aging building. "It was an old maze of offices and corridors and dead ends," says Hayden Blades, vice president of facilities and property management for SCO Family of Services. "We wanted to bring a fresh look to the space and make it more efficient."
Making a renovation plan
The goal was to renovate the existing four-story building, which the organization owned, with modern, flexible client areas and workspaces. SCO Family of Services aimed to consolidate staff working in other leased spaces into the renovated location to improve staff efficiencies as well as reduce real estate costs.
Additionally, the renovation would provide the opportunity to employ design strategies that support its clients, many of whom have gone through traumatic experiences and receive counseling and support services at the center. "We wanted them to have a space where they felt safe and comfortable," Blades says.
Fresh healthcare facility
Opened in October 2022, the building's first floor houses most of the public-facing services such as the foster care program's medical clinic, which includes a waiting area, two exam rooms, clinician offices, and phlebotomy lab.
On the same floor, the foster care family visiting room offers a large, inviting area for birth parents to hold supervised visits with their children.
The upper levels each have public-facing rooms for mental health counseling as well as redesigned staff workspaces. In the latter, enclosed offices were replaced with open-floor layouts and varied settings that support different needs, including shared cubicles arranged along the perimeter to maximize natural light on the floors and conference and counseling rooms housed in the core.
Utilizing trauma-informed design
Working with Spacesmith (New York), the project team utilized principles of trauma-informed design to deliver a setting that promotes healing throughout the building. For example, utilizing studies that show curvilinear forms in interior settings can make people feel more serene than rectilinear shapes, the project team designed all 90-degree corners and corridor soffits in soft curves.
Biophilic elements are also employed throughout, such as nature-themed wallcoverings in the exam rooms and gender-neutral bathrooms and woodgrain doors and carpeting with a stone-like pattern.
"The idea is to get away from an institutional feel to something that's going to make people feel welcome, relaxed, and calm," says Ambar Margarida, principal at Spacesmith.
Addressing safety in healthcare environments
In the former environment, the center utilized institutional furnishings that were bolted to the floor to address security needs.
During the renovation, Margarida says the project team focused on addressing safety without impacting the overall aesthetic. For example, in the reception area, hard, plastic chairs were replaced with weighted, high-backed soft furnishings in curvilinear configurations.
Blade says the bright and airy space has been well received by staff and clients. "Everyone who comes in the space is awed by the transformation," he says.
Anne DiNardo is executive editor of Healthcare Design. She can be reached at anne.dinardo@emeraldx.com.