2021 HCD Expo: Spotlight On Exhibitors
---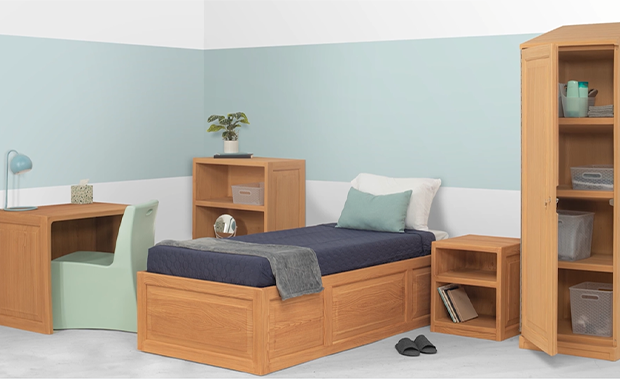 Norix
Prodigy bedroom collection from Norix features the manufacturer's TruGrain technology that mimics the texture and color striations of real wood with the performance of a polymer. The line features built-in safety features, including a concealed mounting system designed to secure furniture to the floor and a one-piece design to eliminate ligature points. Prodigy's seamless, nonporous design can withstand cleaners, including bleach and hospital-grade disinfectants, and eliminates hidden areas for fluids to collect.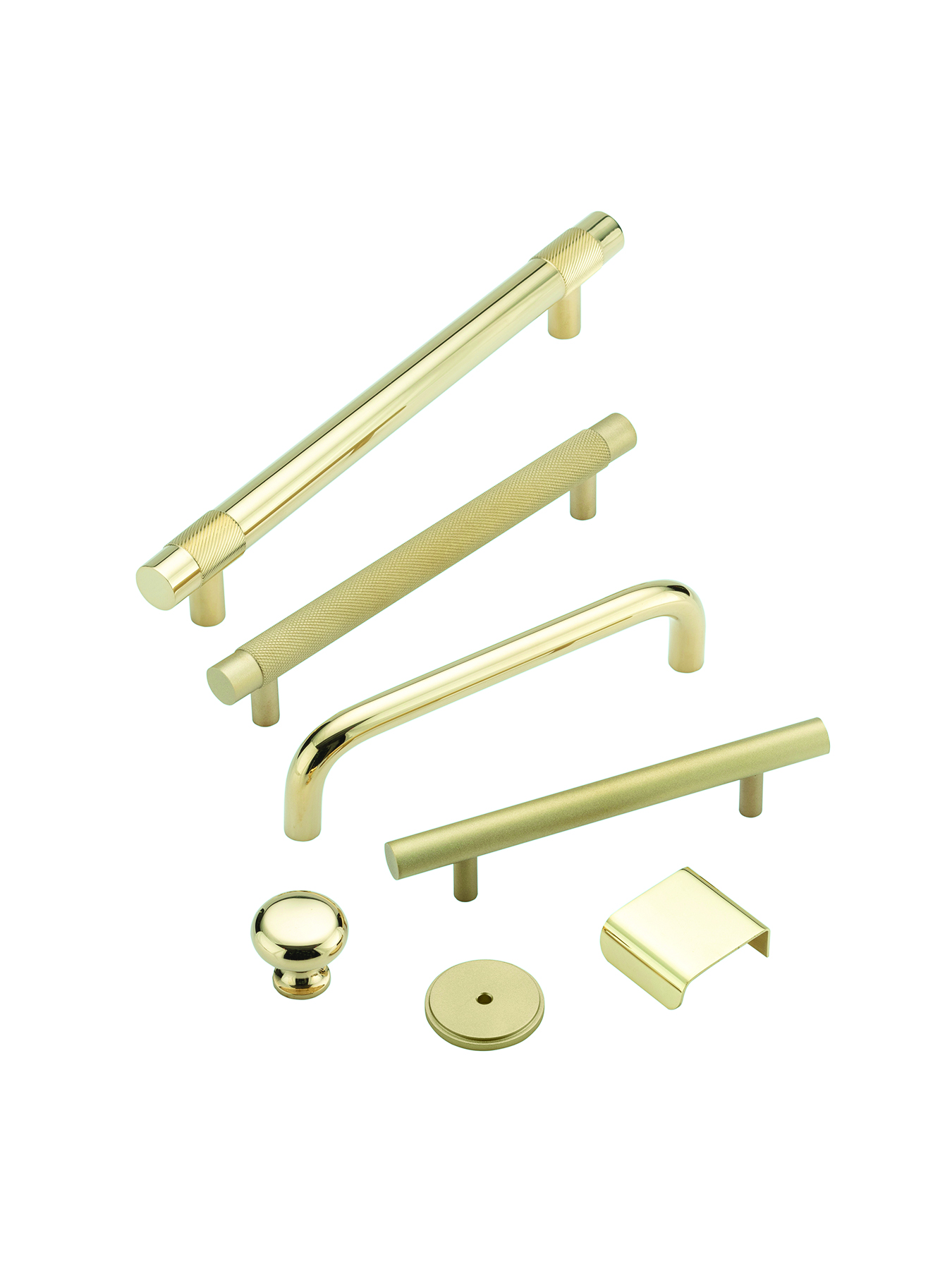 Colonial Bronze Co.
The CuSalus E Series from Colonial Bronze Co. has added an EPA-approved antimicrobial yellow brass color alloy and more than 60 new hand-finished designs. The collection comes in polished and velour finishes and complements a variety of brass hardware.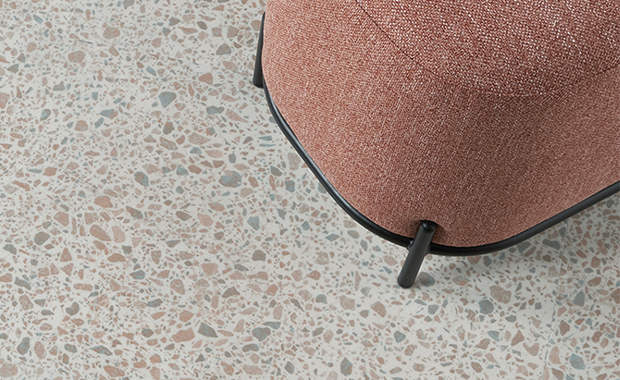 Armstrong Flooring
Armstrong Flooring's Terra is a luxury vinyl tile (LVT) collection that includes three designs inspired by the raw beauty of natural stone. Two designs, Palazzo and Craton, are available in 18-by-36-inch tiles with terrazzo-inspired looks. The third option, Astana, conveys the character of natural stone in reimagined neutral colorways and is available in 18-by-18-inch tiles. The company's Diamond 10 Technology provides scratch, stain, and scuff resistance.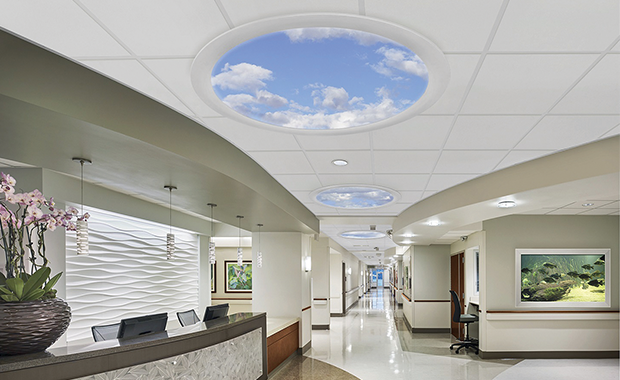 Sky Factory Inc.
Aperture SkyCeiling by Sky Factory Inc. is a circular virtual skylight that's recessed into the ceiling and backlit by daylight-quality LED luminaires. The unit is available in 3- to 5-foot diameters and two elliptical sizes including 4 by 6 feet and 5 by 8 feet.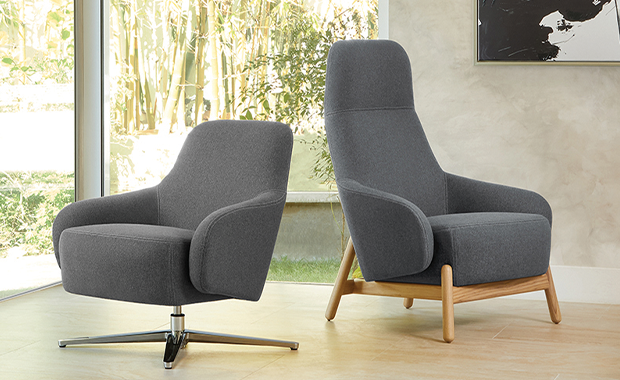 Arcadia
Arcadia's Dava lounge seating collection features a soft and rounded design with mid- and high-level back height styles and four-leg wood or metal swivel base options. An accompanying ottoman with metal swivel base is also available.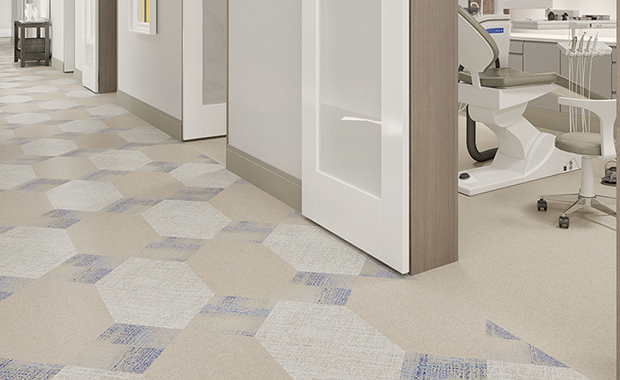 Mannington Commercial
Active Lines joins Mannington Commercial's Amtico Collection of LVT. Inspired by dynamic paths of travel, Active Lines includes 112 possible combinations of styles, base colors, and accent colors. The flooring has a 40-mil wear layer and features the manufacturer's scratch protection.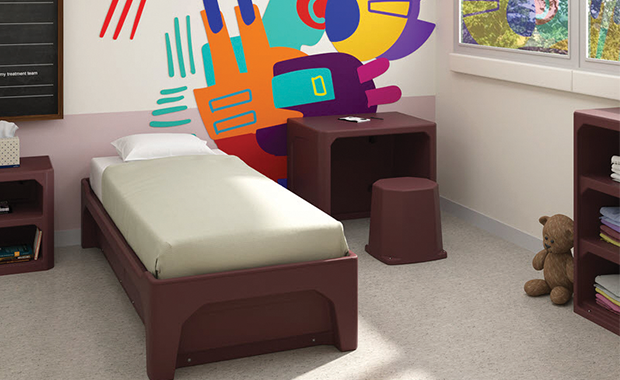 ModuForm Inc.
ModuForm Inc. introduces the Moxie collection of molded bedroom furniture, including a platform bed, nightstand, stool, wall storage, dresser, writing desk, and storage shelf. Fabricated using the manufacturer's in-house rotational molding process, Moxie is made from impact-resilient polyethylene that's easy to clean and durable.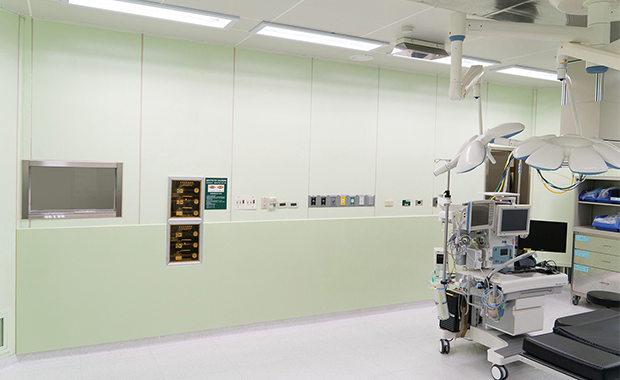 Meganite Acrylic Solid Surface
AcryMed—Antimicrobial Solid Surface from Meganite Acrylic Solid Surface features built-in antimicrobial properties that protect the product against stain and odor-causing bacteria. AcryMed is certified in accordance with the IOS 22196 antimicrobial surface test and Japanese Industrial Standard.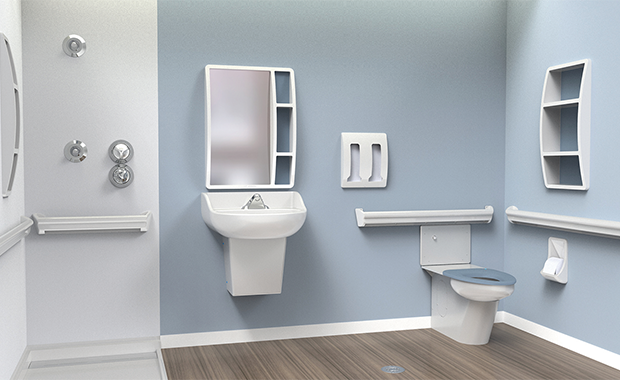 Whitehall Mfg.
Whitehall Mfg. introduces BestCare Dignity Suite, a curated collection of ligature-resistant bathroom fixtures and accessories in solid surface or stainless-steel options. The collection is ADA compliant and easy to install and maintain.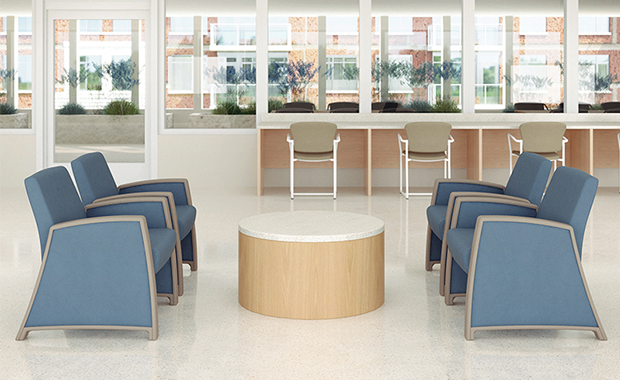 Spec Furniture
Spec Furniture's Behavioral Health soft seating collection now includes Apricus, which features a residential look and a slimmer, non-heavy-duty looking build, while still maintaining the needs of hard-use environments. The line features a wall-saving frame with angled arm panels that can be laminated or upholstered on both sides and finished with durable, polyurethane perimeter arms.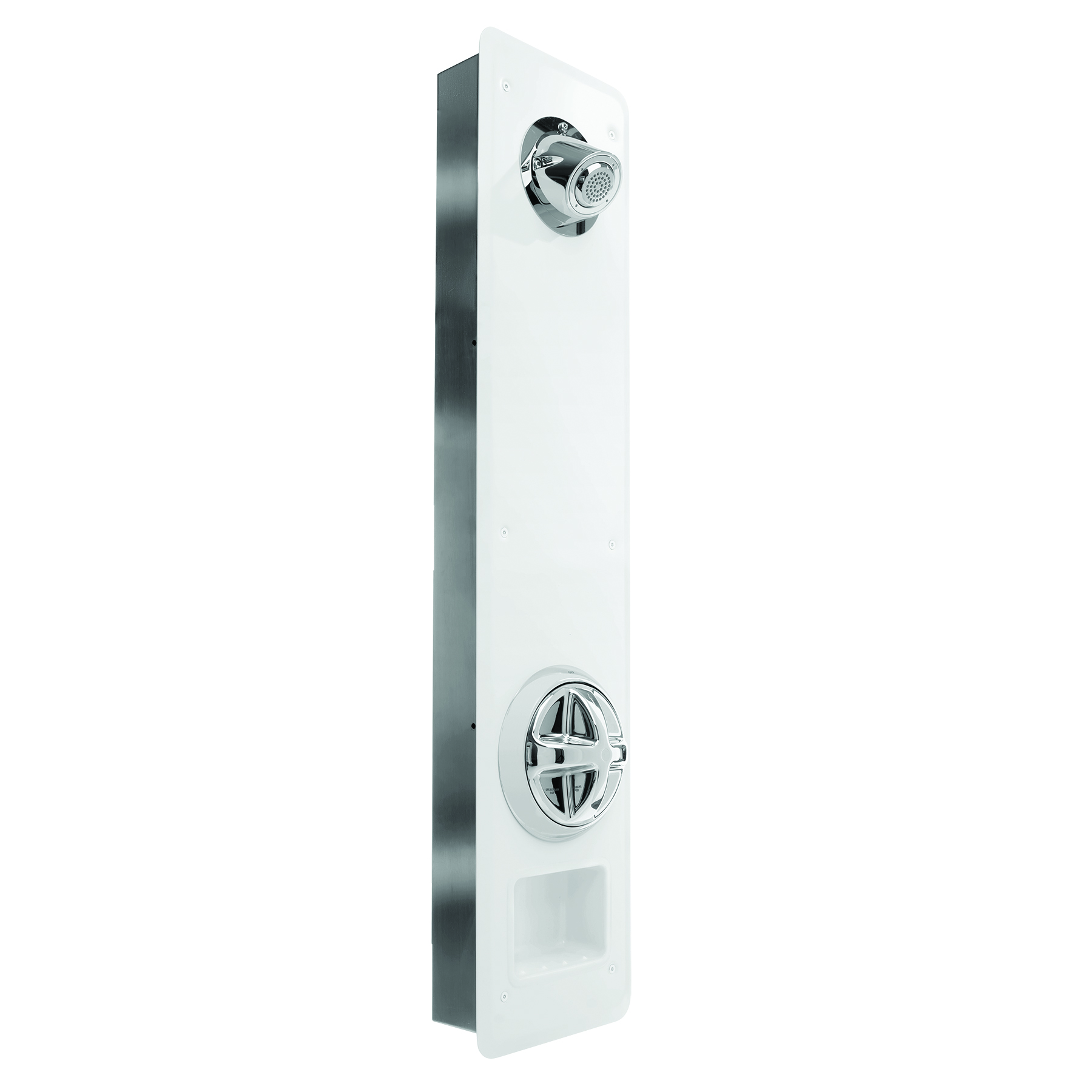 Behavioral Safety Products
SV715 Ligature Resistant Shower Panel from Behavioral Safety Products comes with a ligature-resistant pivoting shower head, shower valve, and integral soap dish, which are pre-mounted into the front of the panel to reduce installation time and connection issues. The shower panel comes in powder-coated matte white with a chrome-plated shower head and valve.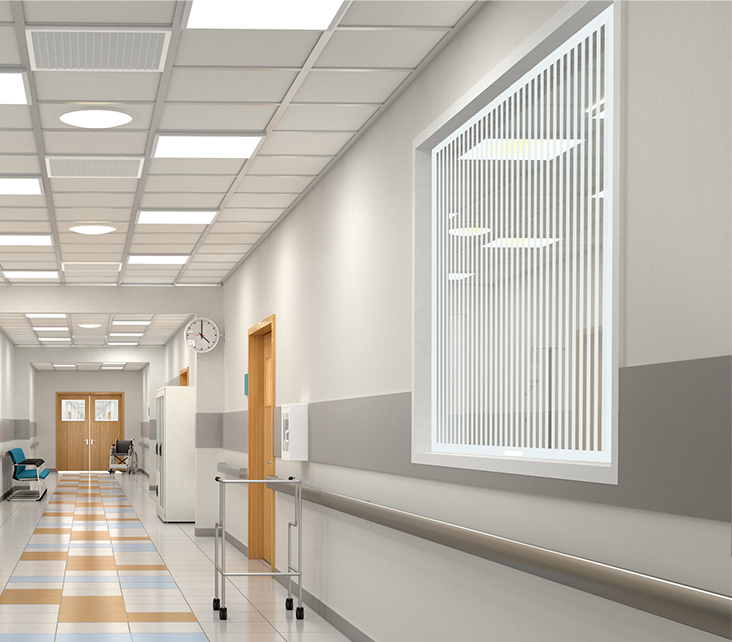 Privacy Glass Solutions
Privacy Glass Solutions' Vista-Vision is a triple-glazed privacy glass panel system. Each panel comprises three sheets of glass with evenly spaced, alternating vertical lines, which are operated using a sliding magnet mechanism to control visibility.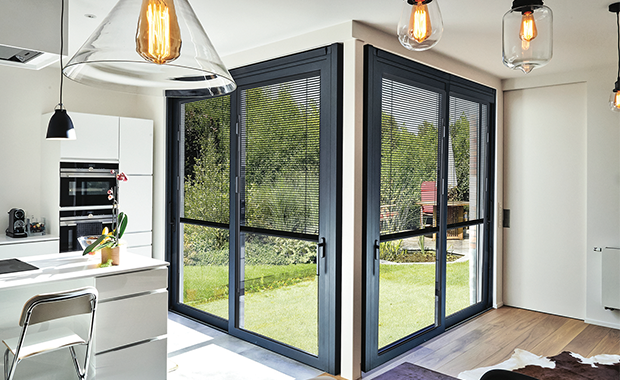 ODL Inc.
Blink Blinds + Glass from ODL Inc. encases blinds in glass with no exposed cords and is available in fixed windows, active windows, and hinged and sliding patio door styles. The line comes in six colors and 10 coating options.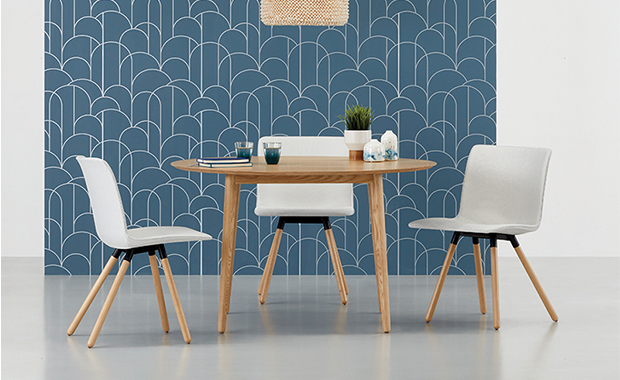 Encore Seating
Encore Seating's Kitsy guest chair collection is lightweight and allows for convenient stacking capabilities when space is at a premium. The chair features clean, simple lines and a gently curved back for a modern look while base styles include A-frame and four-leg metal and wood options. The line is offered in a wide array of upholstery options and poly-shell colors that include warm neutrals, muted blues and greens, and soft yellow.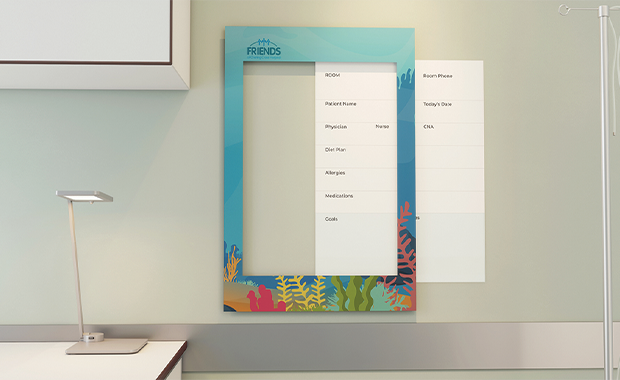 Skyline Design
Skyline Design's frameless ChangeIt Glassboards feature interchangeable graphics for patient and operating rooms, emergency departments, and nurses' stations. Made with tempered safety glass for color clarity, the glassboards are easily cleanable and the nonporous surface is compatible with any type of marker. A magnetic glass border can be customized with permanent information and graphics.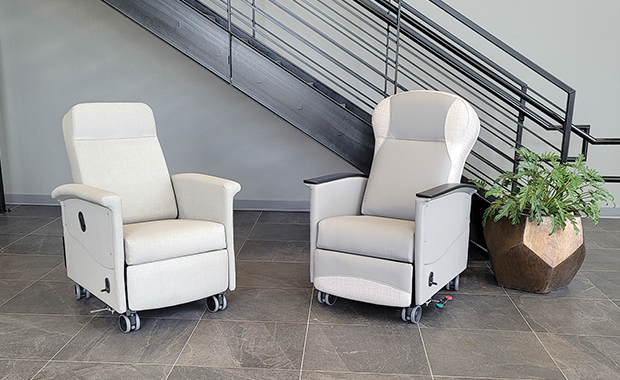 Champion Manufacturing Inc.
Al Recovery Height recliner by Champion Manufacturing Inc. has a lower seat height of 19.9 inches. Available options include a heat/massage feature, USB charging port, central locking caster system, and manual or powered recline.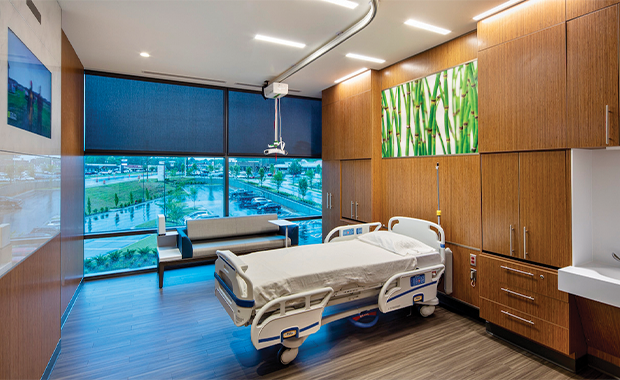 Paladin Healthcare LLC
Paladin Healthcare LLC's Surround Style Headwall System is a custom-designed, full wall headwall that can be integrated with the Paladin Evolution Equipment Management Rail System to optimize workflow. Surround is easily cleaned and disinfected allowing for a faster room turnaround between patients. The headwall is completely assembled at the factory and shipped pre-wired and pre-plumbed with an integral leveling system to further simplify installation.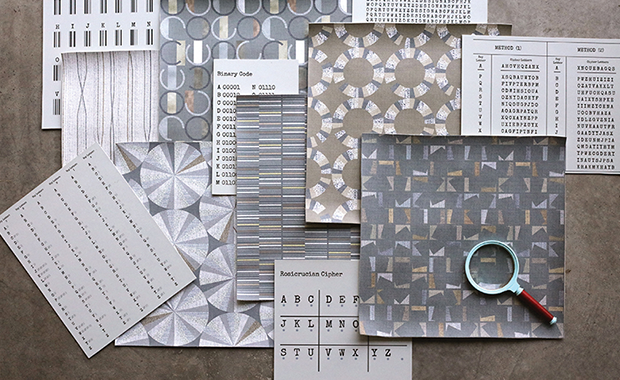 Design Pool LLC
R&R, an Upholstery Collection from Design Pool LLC, is inspired by code messaging and the women codebreakers of World War II. The collection includes six modern, geometric patterns in multiple colorways, with each pattern featuring a hidden, coded message about health and wellness. The designs are digitally printed on a leather-like, wipeable, coated fabric that withstands repeated cleanings and is stain resistant.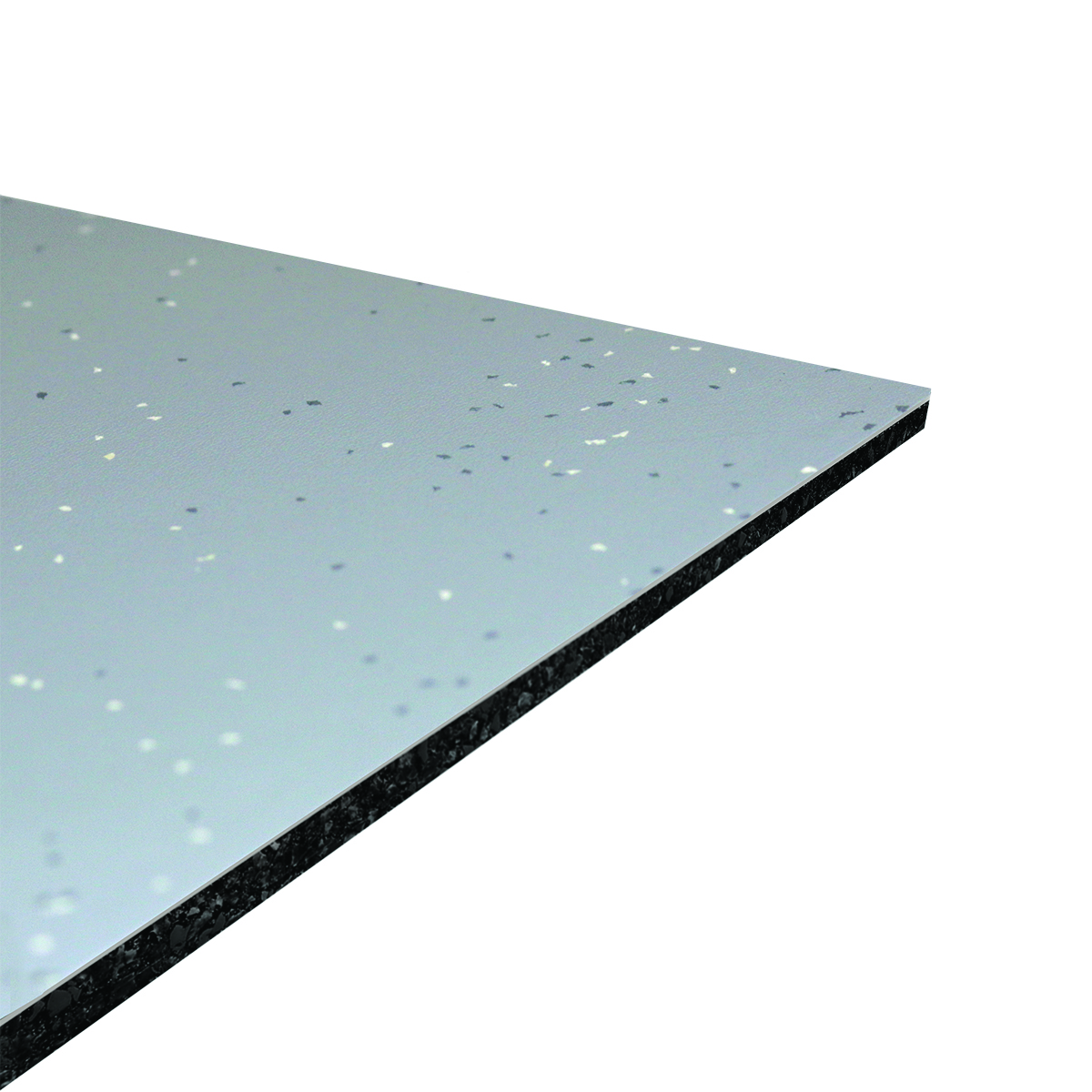 Ecore
Aurora resilient rubber sheet flooring by Ecore features a polyurethane-coated, calendared-rubber wear layer that's fusion-bonded to a 5mm vulcanized composition rubber backing. The two-layered surface is manufactured to reduce the severity of fall-related injuries.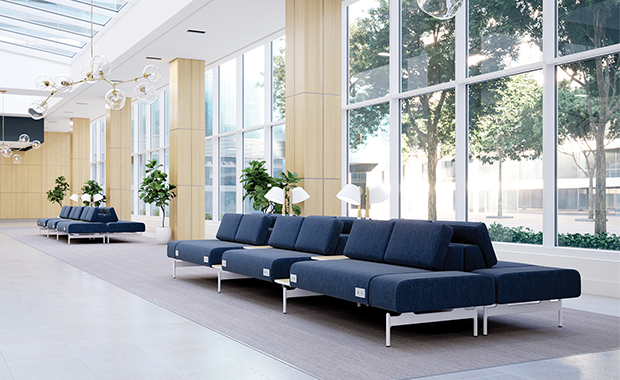 Interwoven
Embra modular lounge and sleep sofa collection from Interwoven features clean, modern lines. Included in the collection are various end cap options that can be connected to the left, right, or both sides of any of the Embra seating units, including sleep sofas. End cap options include a single-tier table, tiered table, tiered table with lamp, storage table, storage table with coat rack, and upholstered bench. Corner end caps are also offered for use with L-, T-, or X-shaped modular configurations.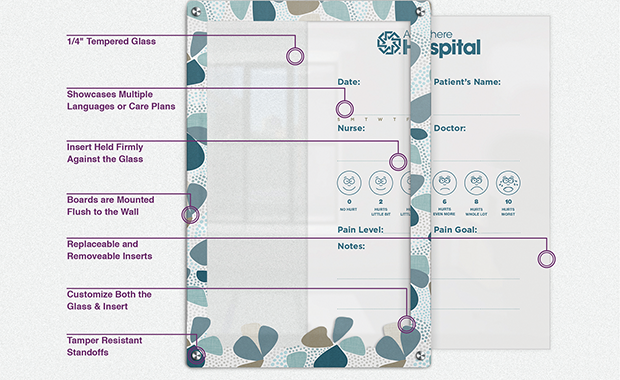 VividBoard
Close Mount InHarmony Changeable Glassboards by VividBoard feature removable inserts that can be replaced easily if branding or initiatives change. The custom-designed swing hinge allows the board to swing out from the wall to change the insert and the close-mount board sits 1/4 inch from the wall to eliminate the collection of dust and debris.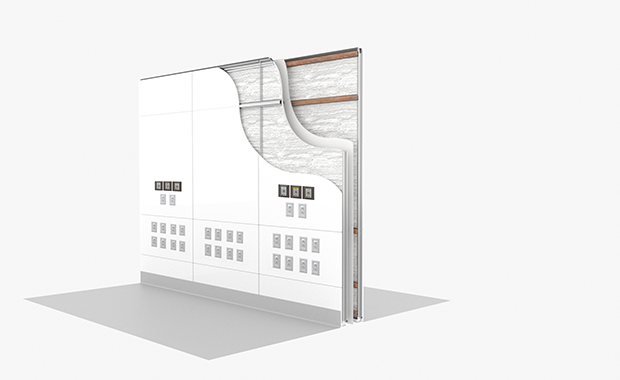 Dirtt Environmental Solutions
Back-to-Back Headwall Assembly—STC Range 54-63 by Dirtt Environmental Solutions features a small footprint with a total thickness range of 8 3/8 inches up to 9 1/2 inches. The headwall assembly is completely accessible for post-occupancy maintenance and acuity adaptability and achieves a Sound Transmission Class (STC) rating of 54 to 63.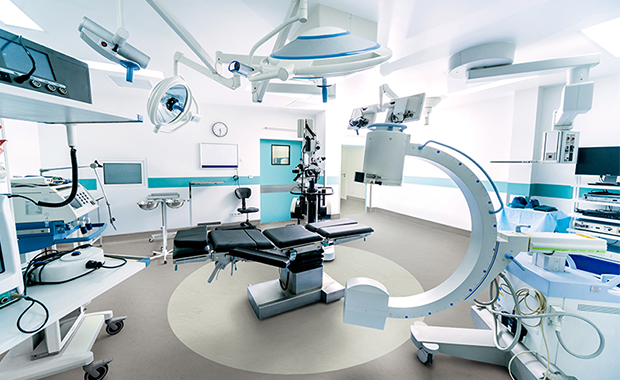 Forbo Flooring Systems
Forbo Flooring Systems' Forbo EZvations line includes flash coving, adhesives, and cold-weld flooring products for use with Marmoleum sheet and tile. The system provides hygienic and watertight floors, eliminates cracked and punctured coving problems, and assists in infection control measures.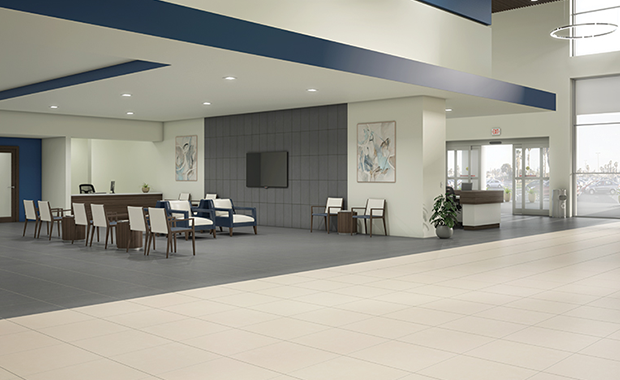 Florida Tile Inc.
Serendipity HDP by Florida Tile Inc. is a color body porcelain floor and wall tile available in multiple rectified formats, including 12 by 24 inches and 24 by 24 inches, and a waterjet-cut, diamond shape measuring 18 by 31 inches. Each format is available in six solid colors, including a rich vanilla, warm beige, deep tobacco, light gray, charcoal, and ebony black.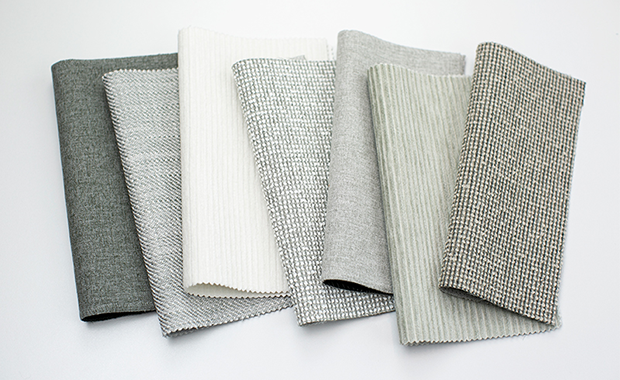 Mayer Fabrics
Mayer Fabrics launches Crypton Structures Collection, which features a moisture barrier, antimicrobial silver ion technology to offer continuous protection against bacterial growth, and a polyester and polyester blend that can withstand 100,000 double rubs. The GreenGuard Gold-certified line comes in four classic, bleach-cleanable patterns and an array of color choices.
SitOnIt Seating
SitOnIt Seating's Cora chair collection, designed with input from Certified Healthcare Interior Designers, includes guest, midsize, and bariatric styles. The collection features clean-out space and field-replaceable components, including seat and back
Patcraft
Within from Patcraft is a coordinating plank and sheet resilient flooring collection that's available in wood and abstract visuals. The wood visual is offered in a sheet format and 7.09-by-47.24-inch planks and nine warm colorways. The abstract pattern comes in a sheet format and 9-by-36-inch planks with eight colorways, including neutrals and nature-inspired hues. The collection features a durable 20-mil wear layer and an ExoGuard finish for scratch and stain resistance.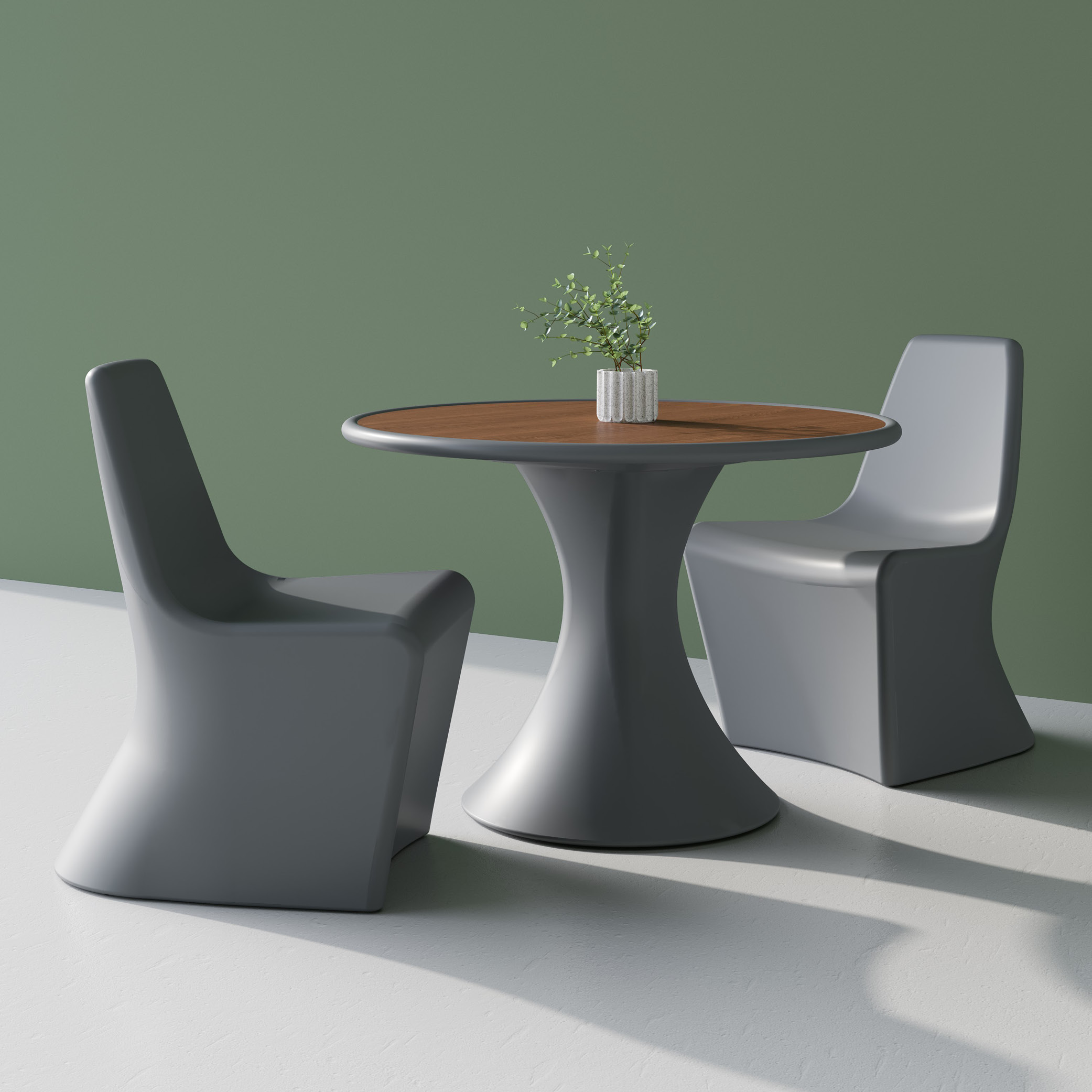 Stance Healthcare
Flo Chair and Table Series for Behavioral Health from Stance Healthcare features organic lines and a soothing color palette of tans, blues, and greens. The dining chair is ergonomically designed to enhance user comfort and safety with high back support and rounded edges. Table tops in the series include a seamless laminated surface with a molded polyurethane edge to resist picking.
---
Here's a highlight of some of the exhibitors and their new products that were on display at the 2021 Healthcare Design Conference + Expo, held Oct. 23-26 in Cleveland. Offerings ranged from furniture, flooring, and textile collections to behavioral health fixtures and finishes to antimicrobial surfaces. Click on the gallery above for images and details.
For more information on products for healthcare environments, visit the Products page on HCDmagazine.com.