A Bigger Picture
---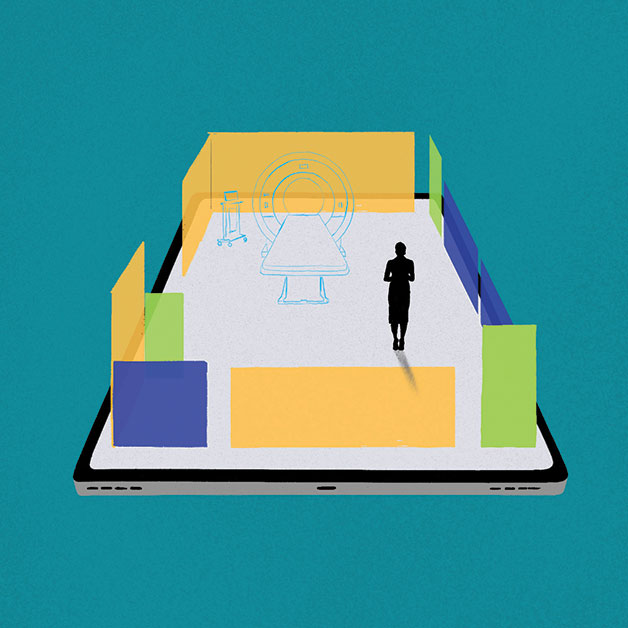 ---
Mock-ups have become invaluable tools in healthcare design to test and confirm functionality for clinical teams. When new models of care are developed for a "facility of the future," architects find themselves in a position where they need to be equipped to lead clinicians through their desire to create the unprecedented. For such leading-edge medical environments, physical mock-ups are often limited in what they can convey. For example, affordable and easy-to-construct materials, such as cardboard, don't fully communicate the dynamic nature of advanced imaging and procedure rooms. Time and space to build physical mock-ups are also often at a premium. However, visualization exercises using virtual reality (VR) aren't necessarily a solution either, as VR covers a person's entire field of view, removing them from the constructed space. The key to closing the gap lies within a mixture of both methods.
Payette recently completed a process that converged and evolved both physical and virtual mock-up mediums to create an interactive design laboratory. While the tools created for this process were intended to be used in an in-person setting, their development has led to a new generation of interfaces that can successfully engage users at a distance, as well.
Evolving the mock-up
Traditional cardboard is still quite effective for quickly communicating the simple scale and clearances of a room with fixed elements. To enhance these spaces, architects often stage areas with 2-D printouts and cardboard boxes that are intended to represent basic medical equipment and fittings. This is usually sufficient for exam rooms and patient rooms, but procedure rooms with large imaging devices and articulating overhead service booms are a challenge to represent adequately. To enhance simulation of such spaces, Payette began researching the ability of the 3-D virtual realm to integrate a digital environment into the physical mock-up experience and demonstrate how complex equipment, specialty lighting, and final finishes will exist within a space. The rendered image, coupled with the cardboard volume of space, leaves little room for ambiguity or uncertainty in understanding the final product.
In fact, over the last few years, the firm's in-house 3-D visualization team has been developing several digital tools to supplement the physical mock-up experience. The simplest digital tool is a panoramic rendering, which allows a user to stand in a single point inside the room to digitally "look" around a space using a handheld device like a smart phone or tablet with orientation sensors. The 360-degree rendering of the room can be aligned to the real-world space, allowing the user to simultaneously experience the spatial quality of the area and understand the intended material qualities. This tool can also assist design teams in presenting finish options by toggling between views.
This first generation 360-degree panoramic tool was designed to be used with a VR headset with a phone inserted into it to view the panorama as a virtual environment. Using Payette's Building Information Modeling (BIM) software's rendering feature, the panoramic image can be easily exported directly from BIM to present a view of the entire space as seen from a single position. By simply scanning a QR code posted on a wall in the mock-up, anyone can access the panorama on their own smart device.
The 3-D panoramic views are helpful, but they don't allow a person to move around and better understand operational flow. That desire for movement inspired the addition of an augmented reality (AR) component to track a person's movement and display multiple vantage points within the mock-up space. Using a handheld tablet, a user can walk through a highly detailed 3-D model representation of the space in real time without having to click on QR codes.
Real-world experience
Over the last 10 years, Payette has designed multiple imaging projects of various modalities for Massachusetts General Hospital (MGH)/Mass General Brigham in the Boston area. Many of these projects have been complex surgical renovations within existing urban campuses. With the help of a collaborative client manager and contractors, past in situ mock-ups were able to resolve final detail elements of the design.
However, two years ago, Payette was approached by MGH to design a space to support a new clinical model for outpatient imaging. The location was a site within an outdoor retail shopping complex where MGH was already operating a primary care clinic, and leaders made the decision to secure the lease of the space at the beginning of design for the sole purpose of building mock-ups there. This shelled retail storefront provided the rare opportunity to not only have a wide-open space for scaled mock-ups but to test key elements of the final design within the space where the project would ultimately be constructed.
The project proposed an MRI site with three rooms to offer the ability to scan as many patients as possible within a single day. To confirm the efficiency of the patient experience from arrival to departure as well as the proposed MRI suite design, it was clear that the traditional, static mock-up solution wasn't going to be sufficient. Overlaying virtual tools would allow the end user to experience the future space from the front door to the farthest staff office.
Three key areas—a patient prep bay, a full MRI room, and a portion of the corridor that separated them—were constructed using partial-height metal studs and polycarbonate sheeting. This physical space in the mock-up was used to simulate the patient care process in a more intensive manner to determine adequate clearances, sufficient footprint, and viewing angles. Then the virtual tools were brought in to round out the remaining un-mocked-up spaces in the suite, the placement of the MRIs, and the proposed lighting and finishes.
The AR feature helped finalize the design by presenting a fully textured 3-D digital model of the space via a tablet app and allowed users to see high-resolution renderings from key points.
This reinvented mock-up experience was beneficial in shortening the project schedule by reducing the time needed for design sign-off. For example, key clearances, storage configuration, and mobile equipment maneuverability could all be confirmed within a single one-hour meeting. The mock-up space also became a venue to engage a larger cross-section of stakeholders—including administrative staff, facilities personnel, and prospective financial donors—who could quickly understand the space. It has proved to be a helpful point of reference for contractors, as well. The MRI suite is expected to open in late fall 2021.
Continued evolution
During the past year, Payette has started new projects that would benefit from a physical mock-up. However, like many in our industry, COVID-19 has required remote client engagement and rethinking how design ideas are presented. The virtual tool initially developed to be used in person has now evolved into a web-based app that can be shared with a URL web link and viewed on any device. This app combines high-quality 360-degree panoramic images generated from a real-time rendering and VR plugin with a full 3-D model of the space.
A digital feedback tool was added that allows site visitors to leave virtual sticky note comments and feedback on specific areas of the model, which can be filtered based on department and room element as well as whether feedback was positive, neutral, or negative.
Architecture firms across the country are looking to technology to supplement teamwork, both internally and externally—and from a distance. The need to innovate alongside healthcare providers also persists despite the pandemic. Now is the time to explore the wide array of technological tools available to be used in new and exciting ways to support collaboration between all.
Susan C. Blomquist, AIA, LEED AP, is associate principal at Payette (Boston). She can be reached at sblomquist@payette.com. Luke Gehron is lead computational designer at Payette (Boston). He can be reached at lgehron@payette.com.