Answering The Call For Behavioral Healthcare In Pediatric Facilities
---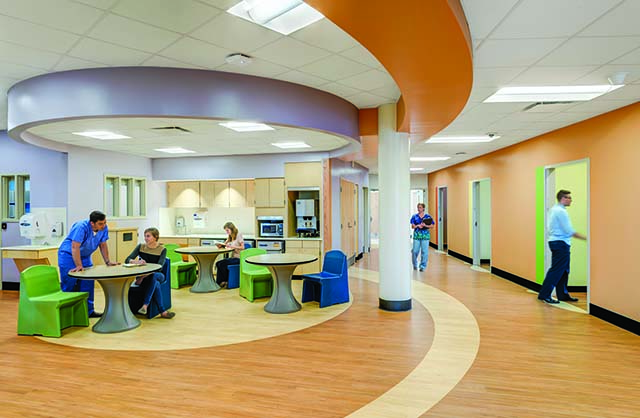 Joe Harrison, JH Photography Inc.
Cincinnati Children's off-campus residential program features different socialization spaces, from group therapy and day rooms to more private alcoves, giving patients a variety of settings based on their comfort level.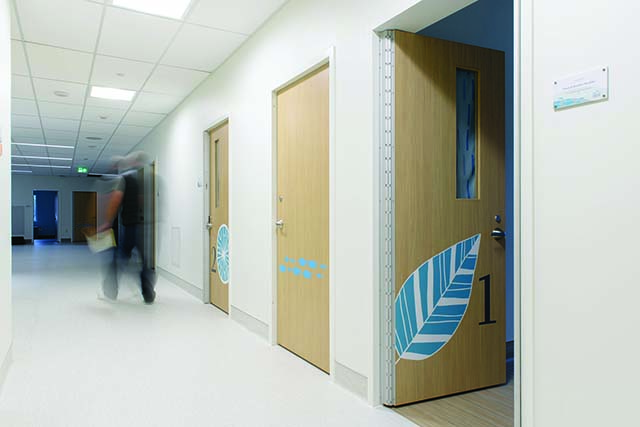 Signals Design Group
Different nature-inspired graphics, designed by Signals Design Group, contribute to the non-institutional setting at Carlile Youth Concurrent Disorders Centre.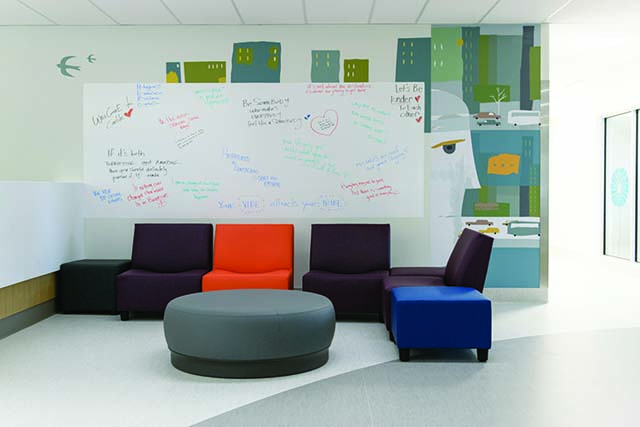 Signals Design Group
A quiet lounge at Carlile Youth Concurrent Disorders Centre features a whiteboard where patients can write encouraging messages or staff can update patients on the week's activities.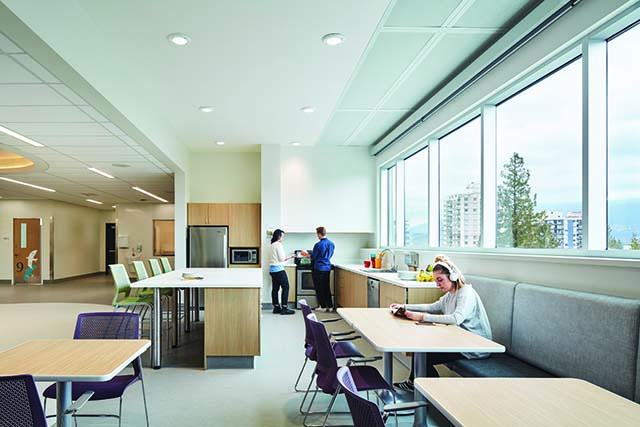 Andrew Latreille
The open kitchen at Carlile Youth Concurrent Disorders Centre provides space for group cooking and socialization. The staff reports that the patients are watching less TV and are eager to participate in group activities instead.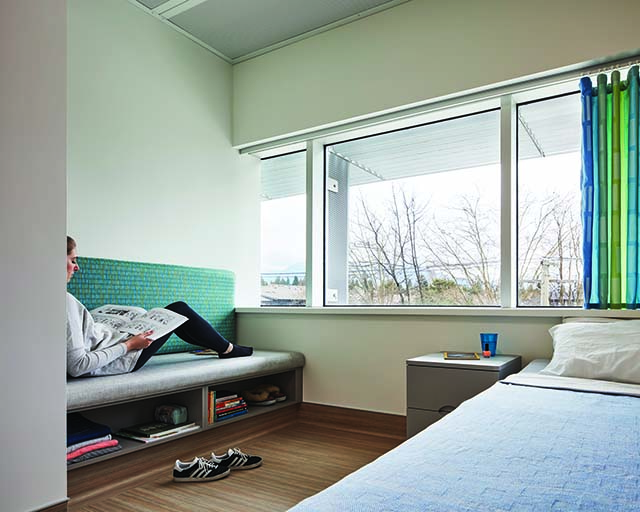 Andrew Latreille
Patient bedrooms at Carlile Youth Concurrent Disorders Centre in Vancouver feature a cozy reading nook for quiet activities instead of the more typical desk. The rooms also make use of large windows to maximize natural light.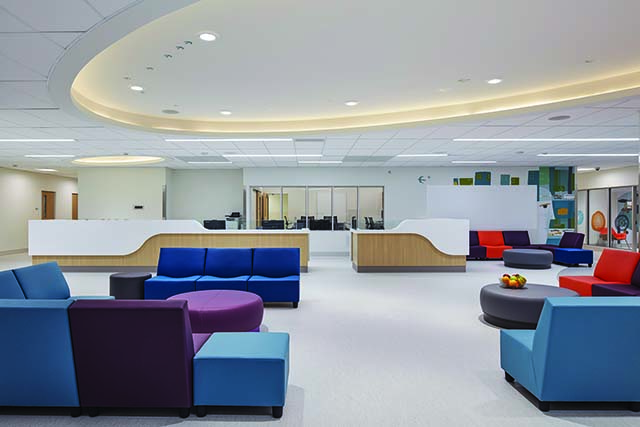 Andrew Latreille
A ceiling feature in the lounge area at the Carlile Youth facility provides warm lighting, creating a cozy glow in the evening when other lights in the space are dimmed. Additionally, the use of modular furniture gives patients flexibility in where to sit.
---
Delivering specialty care is in the DNA of children's hospitals, where the sickest of kids go to receive expert treatment for the most complex conditions. "Children's hospitals revolve around sub-specialty care niches—neonatology, pediatric oncology, pediatric cardiology, orthopedics—because when a child's sick, you need this whole cadre of specialists to come take care of them," says Diane Osan, principal at FKP|Cannon Design (Houston).
Now, many pediatric hospitals are widening their specialty scope to include behavioral health, driven by the rising number of patients with behavioral health needs who are presenting at children's hospitals, as well as growing recognition of mental health conditions and increased funding to treat them. "It's finally getting attention as an issue," Osan says. "There's increased awareness of the long-term challenges for society if we don't deal with mental health problems."
As of 2010, one in every four to five youth in the U.S. met criteria for a mental disorder with severe impairment across their lifetime, according to the report, "Lifetime Prevalence of Mental Disorders in U.S. Adolescents: Results from the National Comorbidity Survey Replication—Adolescent Supplement," published in Journal of the American Academy of Child and Adolescent Psychiatry.
Patients in crisis often enter a healthcare system though the emergency department (ED), and as the volume of behavioral health patients has risen, pediatric hospitals are finding that their existing care processes and treatment spaces aren't designed to answer that demand. This realization is fueling renovation and expansion projects and driving a new approach to operations and care delivery. "Children's hospitals are beginning to say, 'OK, how do we deal with this and how do we manage this differently? Because the influx of patients who need to have a behavioral health response and care process are presenting in unprecedented ways," Osan says.
Expanding care options
Among those addressing this issue is Cincinnati Children's Hospital Medical Center in Cincinnati, which saw mental health evaluations in its EDs almost double over the last six years, growing from 4,362 in 2011 to 8,324 in 2017. "The numbers have been steadily increasing," says Dr. Joseph Luria, who was named vice president for mental health operations at Cincinnati Children's last year after serving as the hospital's ED medical director for 9 years. He attributes the growth largely to improved detection within the community and earlier referral of at-risk patients for treatment.
In 2016, the hospital added a six-bed observation unit for behavioral health patients on its main campus to help offset some of the volume in the ED. It also operates a behavioral health inpatient and residential program off the main campus, which can take direct admissions when beds are available, and opened a three-story addition to the facility in 2015 that includes a seven-bed inpatient unit and 30 residential beds.
Still, the organization is finding its efforts aren't enough to meet the growing demand, or don't always work as planned. "One of the goals of creating [the addition] was to be able to move toward single-occupancy beds, but when the volumes kept rising, that went by the wayside," Luria says. "We're evaluating another expansion with the goal to go to more single-occupancy rooms—not to increase the number of beds but really focus on providing better patient care."
Even as it addresses space constraints, Cincinnati Children's is also adjusting its intake processes to improve flow in the ED. Benjamin Earls, associate at GBBN Architects Inc. (Cincinnati), which has worked with the provider on the ED renovation and expansion projects, says an intake model that places a physician in triage was designed to help segment patients by ailment and keep less acute patients out of the ED. However, with the influx of behavioral health patients, Cincinnati Children's has had to use the intake area for temporary observation of those patients until they're cleared to return to the waiting area, transferred to the observation unit, or admitted, which has had "an adverse impact on efforts to improve ED flow," he says.
As part of a larger campus expansion that's expected to be completed in early 2022, Cincinnati Children's is also renovating its main campus ED to support a designated behavioral health area and care team. Flexibly designed rooms that include ligature-resistant features and coiling metal doors to conceal medical gases will allow clinicians to treat a variety of patient populations, including behavioral health, and help improve throughput. "Keeping spaces flexible will allow for overflow during periods of influx rather than the log-jam that room designation can sometimes create," Earls says.
Design considerations
A variety of inpatient and outpatient facilities are being added to the healthcare landscape to treat young patients with behavioral health needs once they leave the ED. This spring, Virginia Commonwealth University Medical Center is opening the Virginia Treatment Center for Children in Richmond, Va., a 120,000-square-foot standalone facility with inpatient and outpatient mental healthcare services that triples the center's previous outpatient capacity. University of Rochester Medical Center's Golisano Children's Hospital in Rochester, N.Y., plans to break ground on a new outpatient building focused on pediatric behavioral health and wellness, slated to open in 2019.
As designers take on more pediatric behavioral healthcare projects, they're bringing solutions that create homelike, soothing environments—but with an eye for what a younger patient will like. "There's a lot of misconception," says Kirsten Reite, founder and principal at Vancouver-based architecture firm KRA, speaking of expectations for furnishings and amenity spaces.
For example, Reite says Canadian standards call for having a desk in every patient room. "Who do you know between the ages of 13 and 20 who actually sits at a desk?" she says. "They don't. They want to sit on a bench with their iPad." She also stresses the importance of providing space that supports the socialization needs of today's youth. "They just crave constant social activity," she says.
For her firm's design of the Carlile Youth Concurrent Disorders Centre, a 10-bed inpatient facility treating youth with concurrent mental health and substance abuse issues in the Hope Centre at Lions Gate Hospital in Vancouver, Reite says the client agreed to overrule the standard and swap out desks for built-in benches with cushions where patients can relax or do work. The 11,754-square-foot center, which opened in June 2017, also houses a lounge with a whiteboard where patients can write messages to each other, an open kitchen and dining area for communal meals, a gym space, and family rooms where family members can visit with their child or meet with staff members.
While a traditional solution for behavioral healthcare spaces has been a large, open day room where staff can host group activities and patients can socialize with one another while under staff supervision, designers should also remember that not everyone is comfortable sitting in the middle of a room with a bunch of people, says Angela Mazzi, senior associate at GBBN.
"For some children, that can be really disturbing," she says. Instead, designers should balance areas within behavioral health facilities to provide opportunities for socialization as well as to be alone. For Cincinnati Children's inpatient expansion, Mazzi says curved alcoves were incorporated within the open day room to "give people the opportunity to occupy the edges and have a little bit more distance from the heat of all the activity."
Mazzi would also like to see more clients add gyms or gross motor rooms that provide safe spaces for physical activity, controlled access to the outdoors, and stimulation rooms. "Some kids need to be able to touch things or experience hot and cold, so we want to provide the most opportunities for choice," she says.
While choice is important in social areas, the ability for personalization is an important consideration in the design of inpatient spaces, too. Cincinnati Children's incorporates chalkboard walls in the patient rooms and chalkboard swatches in the corridors by each bedroom of its new inpatient and residential units so patients can draw and write their name outside their doors. "[Chalkboards] are a great tool for patients' self-expression and even for communicating with staff or writing things they're interested in," Mazzi says.
Moving forward
As the need for behavioral health services continues to grow, Mazzi says she expects to see more segmentation in the market, with units designed for specific diagnoses and age groups rather than putting patients with a range of conditions in the same setting. "I think we'll see not just more beds but beds targeted to achieving something with a [specific] population," she says.
Luria says he'd also like to see more pediatric organizations provide options other than inpatient admission to help keep kids out of crisis. He says Cincinnati Children's operates two bridge clinics, which are used to treat patients after ED visits and until they can see an outpatient provider, and is adding more partial hospitalization services.
"My blue-sky world is that we start taking inpatient units offline because we're doing such a better job of taking care of everyday needs and identifying the high-risk kids and intervening earlier," Luria says. "It will be figuring out what's the right balance of outpatient and inpatient space, care delivery systems, and resources to maximize everything for the patients and families."
Anne DiNardo is executive editor of Healthcare Design. She can be reached at ANNE.DINARDO@EMERALDEXPO.COM.