A Critical Need For ICUs
---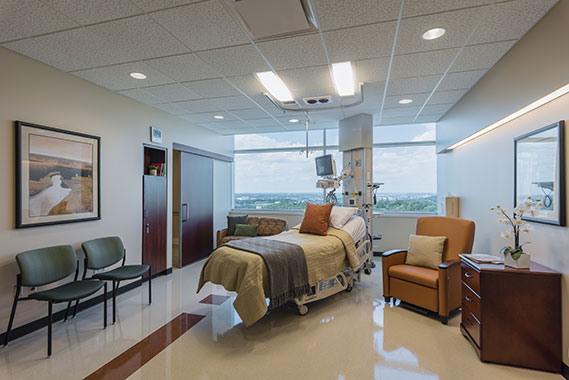 CallisonRTKL/Michael Cagle
Freestanding medical gas columns instead of headwalls were implemented within the ICU rooms at The Center for Advanced Heart Care at the University of Kansas, which was designed by CallisonRTKL, to allow staff easier access to the patient.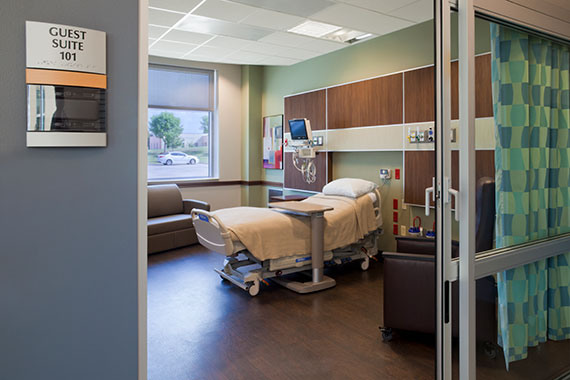 Matt Crow Photography
For the ICU patient rooms at The Heart Hospital Baylor Denton in Denton, Texas, E4H designed toilet rooms in a nested arrangement between two rooms, leaving the patient room itself more spacious and functional.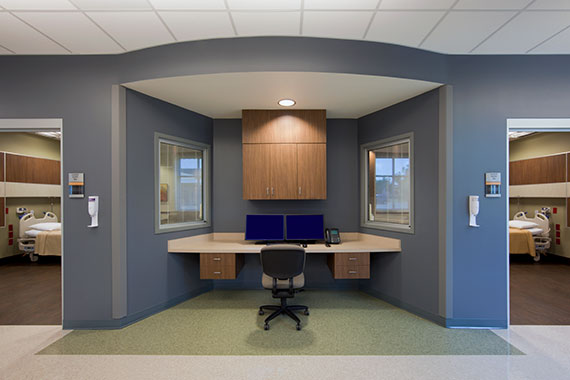 Matt Crow Photography
Nurses' stations directly outside of each patient room in the ICU at Heart Hospital Baylor Denton, designed by E4H, accommodate a 1:2 nursing ratio and provide the staff with clear visibility into the room.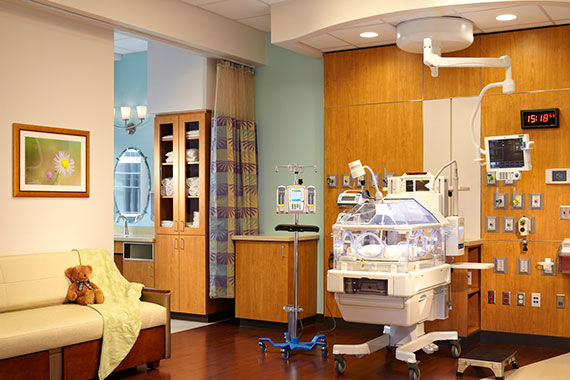 © Dugan Photography
The NICU rooms at Texas Children's Pavilion for Women in Houston, designed by FKP, include a private family zone that features a sink, mirror, and privacy curtain.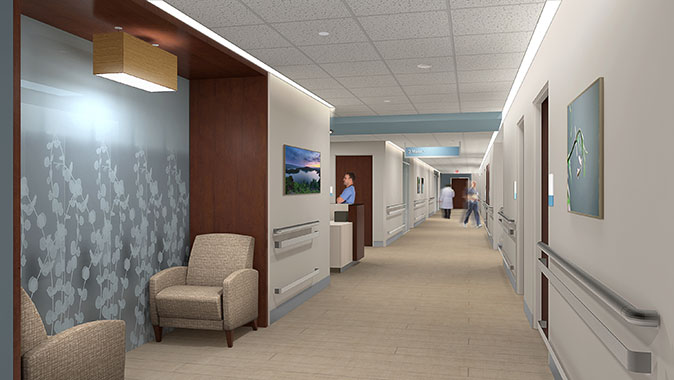 GBBN Architects
University of Pittsburgh Medical Center's Shadyside hospital is adding new ICU floors, designed by GBBN, to house a variety of accommodations for family members, including a sleeper sofa and lounge space in the patient room and subwaiting areas in the corridors where family members can take a quick break.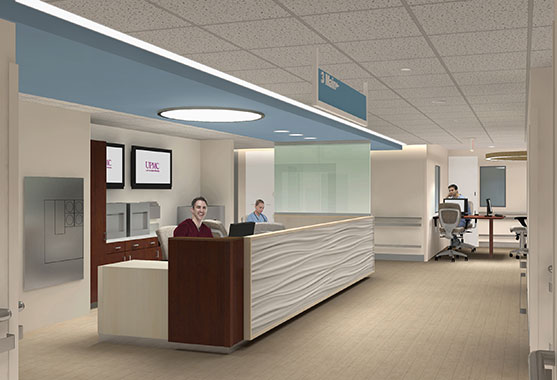 GBBN Architects
The University of Pittsburgh Medical Center's Shadyside hospital will feature a mix of decentralized and centralized (shown) work areas to balance caregivers' need to be accessible to one another while remaining close to patient rooms. The project is expected to be completed in fall 2018.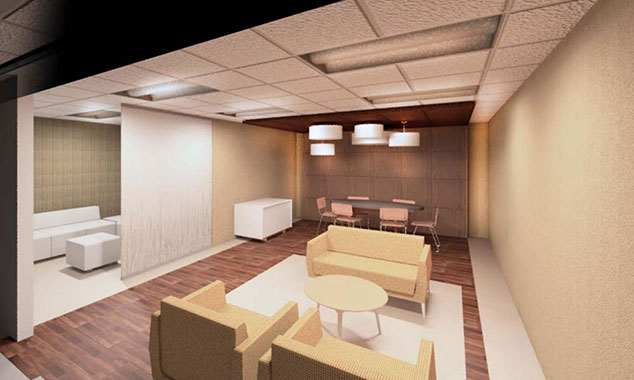 GBBN Architects
For a new inpatient floor with ICU rooms at the University of Kentucky Hospital's Pavilion A in Lexington, Ky., GBBN is designing a business center and lounge/library (shown in rendering) so families can keep up with their daily activities while supporting a family member in the ICU. Natural finishes were chosen to create a soothing environment.
---
Cleveland Clinic kicked off 2017 with a new expansion project to add about 20 ICU beds in the Glickman Tower on its main campus in Cleveland. The building, which houses outpatient services for urology and nephrology, was never intended to house inpatient beds. But after years of inpatient volumes rising faster than bed additions, Cleveland Clinic is exploring all of its available options to alleviate pressure on its ICUs, which are "busting at the seams," says Randy Geise, senior healthcare facility planner at Cleveland Clinic. "Every service needs more ICU beds—the NICU, neurology, even the general ICU could use more."
It's an issue that many hospitals, from academic medical centers to regional community hospitals, are facing. Several factors are driving demand, such as a larger patient population, including seniors, ending up in the ICU as people live longer and treatment improves. "We're seeing patients, stroke and heart attack victims especially, who would have died in the past now surviving the initial attack and needing critical care to recover," says Angela Mazzi, senior associate at GBBN Architects (Cincinnati).
Others are deferring medical care for economic reasons or seeking initial treatment in an outpatient setting, so when they do arrive at the hospital, they're in greater need of critical services, says Andy Lane, associate vice president at CallisonRTKL (Chicago). He says these issues could change further with the new administration, if new rules on penalties for readmission or reimbursements push hospitals to adapt their approach to inpatient care. But for now, when patients do show up, they're a lot sicker than they used to be," Lane says.
Acuity isn't the only thing on the rise, either. More medical equipment, including dialysis machines, is being used within the patient room to treat these patients, while larger care teams and multidisciplinary specialists are convening in the room and on the unit to discuss cases. Family members are also being invited to take active roles in the care of their loved ones in the ICU.
All of these factors are fueling a shift to larger patient rooms, while the ICU as a whole is evolving. "It's not just a highly clinical ICU space built around the staff anymore," Mazzi says. "It's really becoming a much more patient- and family-centered environment."
Making room for more
Today's ICU environment is shaping up to be much different than a decade, even five years, ago when open bay wards were the norm and families were held at arm's length and given limited visiting hours to see loved ones. "They would chase you out of the ICU," Mazzi says. "Now we're making rooms bigger to accommodate family space to allow them to stay overnight." The idea is that family members can help reduce patients' stress levels by staying nearby as well as provide an extra set of eyes on the patient, such as alerting staff if a patient tries to get up. This trend is pushing square footage, with many patient rooms averaging 250-300 square feet. They're also being fit out with larger work spaces for staff, clearly defined and open treatment areas, and expanded family zones with hospitality-like amenities.
For example, for a 24-bed ICU project for the University of Kentucky Hospital in Lexington, Ky., GBBN incorporated built-in casework, a couch that converts to a bed, and a wardrobe for family members. "For the unit itself, we're seeing additional spaces, including respite spaces, consultation rooms, and family education spaces," says Jason Groneck, a principal at GBBN.
Care teams choosing to do more procedures in the room instead of moving the patient for treatment are also driving changes in layout. In the pediatric ICU, that means more as resuscitations, extracorporeal membrane oxygenation, CAT scans, and orthopedic traction, instead of moving the patient for treatment are also driving changes in layouts. "When you start doing that, you get a whole host of physicians and staff converging on the space, so it's important to have enough room for all of the equipment and people," says Michael Shirley, senior designer/planner and senior principal at FKP (Houston, Texas.). Larger clearances are now required around the bed (14 feet in both directions and unobstructed by fixed elements, per the Facility Guidelines Institute [FGI]), further pushing up room sizes. At Texas Children's Pavilion for Women in Houston, Shirley says new PICU patient rooms measure more than 430 square feet, up from 160 to 260 square feet in an existing unit.
Bathroom guidelines are also influencing the planning of critical care space. In the past, the norm was to install a modular toilet/sink unit with a privacy curtain in the patient space, but now under the Facility Guidelines Institute's Guidelines for Design and Construction of Hospitals and Outpatient Facilities, hospitals are required to provide direct access to an enclosed toilet room or human waste disposal room (mainly for staff disposal of bedpan waste). Some hospitals choose midboard or outboard toilet rooms, which maintain the necessary visualization into the room so staff can see the patient. However, they also protrude into the room, which "minimizes the functional use of the space," says Erick Westerholm, a partner at E4H Architecture (Dallas/Ft. Worth). One solution being implemented at The Heart Hospital Baylor Denton in Denton, Texas, is putting bathrooms in a stack or "nested" arrangement between two patient rooms. This gives rooms an open, rectangular shape, allowing the space to be more functional and better utilized for clinicians and family members. However, staff travel distances can increase since there's more space between the rooms, which can lengthen the corridors and overall layout of the unit.
There's also a growing debate over whether showers are needed in the ICU, since most patients aren't ambulatory or can't use the facilities. Traditionally, the view was that if patients were capable of getting to the bathroom, they shouldn't be in the ICU. However, in response to studies that show patients who are less sedated can have a speedier recovery and healthier outcomes than those heavily sedated, some hospitals are trying to encourage certain ICU patients, such as those in the cardiac unit, to be more mobile. "There's the need to get them up, moving, and engaged more in normal life to give them a sense of coherence," says Mazzi. Some facilities are accommodating this need with toilet rooms that have a shower head and a drain in the middle of the floor, while another option is to designate a spa room or central shower on the unit for patient bathing.
Additionally, designers are seeing more demand for staff spaces to accommodate larger volumes of clinicians working on the units, including doctors, nurses, respiratory therapists, pharmacists, and cardiac specialists. Similar to other inpatient units, they're turning to a mix of decentralized nurses' stations between pairs of rooms for charting and observation, centralized staff spaces for team meetings, and enclosed offices where staff members can work privately or in a quiet setting while remaining close to patients and coworkers. To balance the need for patient privacy and visualization between the staff and patients, Mazzi says it's important for collaboration and office spaces to have some transparency, whether its glass partitions or walls with partial glazing.
Finding the right technologies
An expected influx of higher-acuity patients is being met with high-tech solutions. One trend is a renewed interest in booms instead of headwall configurations for medical gases and electrical outlets for equipment. "Booms are easier to move around the patient and even to add gases in the future than something that's built onto the wall," says Kori Chapman, associate vice president at CallisonRTKL (Chicago). Geise says he's specifying booms for the Glickman Tower project since he's not sure yet what patient types will be treated on the unit and booms will give him the most flexibility in handling a range of acuity levels. At Northwestern Medicine Delnor Hospital in Geneva, Ill., designed by CallisonRTKL, dual-arm booms were added so medical equipment can be placed on both sides of the patient bed within the 20 new ICU rooms built as part of a 20,000-square-foot renovation and expansion.
There's also a transition to mobile workstations rather than built-in computer desks. "You can have a computer on wheels, then place it where you need it and get it out of the way when there's a problem," FKP's Shirley says. Handheld tablets are another option, especially for ICU staff who may have to share difficult information with family members. "A tablet gives that caregiver some flexibility to interact with the family members differently," says Todd Dunaway, a principal at GBBN (Pittsburgh).
Remote monitoring capabilities, including using in-room video cameras and telemetry beds, are also finding a home in some ICUs. Cleveland Clinic developed an ICU telemedicine program, call eHospital, in 2014 to provide nocturnal monitoring. The program has expanded to nine hospitals and is staffed by two teams of critical care physicians, critical care nurse practitioners, and nurses. Each team can remotely monitor up to 100 beds using several in-room technology features, including ceiling-mounted cameras with zoom capability for visual assessments; a "TV hijack box," which gains control of the in-room TV to facilitate a connection between the eHospital and in-room staff; and a wall-mounted doorbell, which allow caregivers to request immediate assistance from the eHospital. "There's an extra set of eyes watching monitors and patients and they have a direct connection to the nurses on the floor," Geise says.
Best design practices
Looking to the future, designers say some facilities anticipate more bariatric patients, many with comorbidities, entering the ICU as that population grows in the U.S. The trend will require specific design considerations, including additional structural supports, bariatric furnishings, and patient lifts. Some projects are starting to address the need by designing one or two rooms in an ICU for bariatric patients. Other projects are starting to address the need by designing one or two rooms in an ICU for bariatric patients, while others, such as the University of Kentucky Hospital, are featuring dedicated bariatric floors with med/surg and ICU rooms designed to bariatric guidelines. "It used to be that hospitals would put [lifts] in a few rooms because of the expense, but now they're migrating to putting them in every room because they know the need for that is increasing daily," says Stan Parnell, senior associate vice president at CallisonRTKL (Dallas).
Also, as more organizations branch out into communities with neighborhood-based facilities, they're also bringing specialized ICUs for certain patient populations, such as a stroke or heart center, which is fueling more ICU projects. "The need to target and specialize care [for those patients] is greater," GBBN's Mazzi says.
Within all of these environments, Westerholm says it's important to consider finishes and materials that promote healing, such as flooring that reduces noise and lighting and shading materials that minimize glare. For a heart hospital ICU in Plano, Texas, Westerholm says he's talking with the client about using transitioning exterior glass to optimize the amount of light coming into the patient room. "We need to do anything we can that benefits the patients while they're recovering," he says.
Anne DiNardo is executive editor of Healthcare Design. She can be reached at ANNE.DINARDO@EMERALDEXPO.COM.