Best Practices For Rehab Center Design
---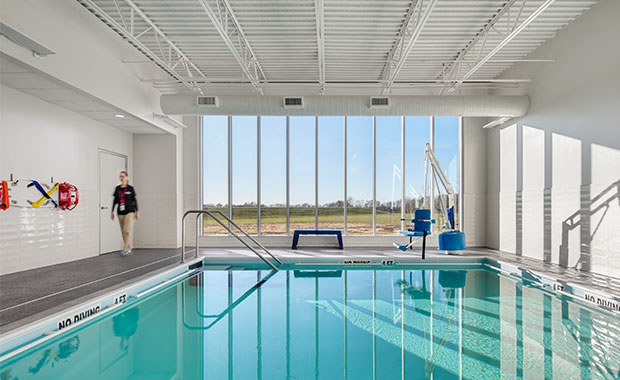 Darris Lee Harris
The Carlinville MOB includes a warm water therapy pool as part of its rehab program for patients in rural southern Illinois. An expanse of windows provides abundant light and scenic views of the pastoral setting beyond.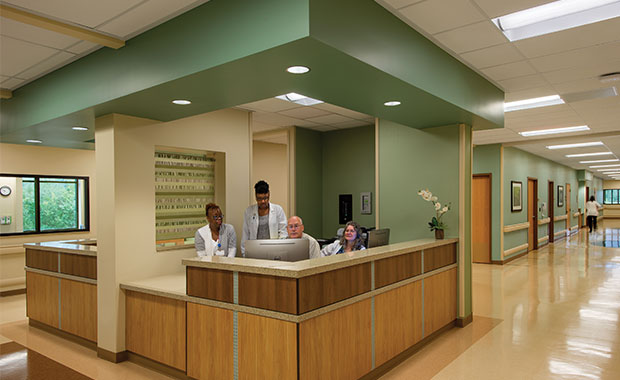 Michael Peck
Nurses' stations are centrally located on each floor, offering easy accessibility and lean staffing to support patients in the 25-bed general rehabilitation unit, the 12-bed brain injury unit, and the 12-bed stroke unit of Baptist Memorial Rehabilitation Hospital, designed by ESa and completed in October 2014. The stations, immediately accessible from the main lobby and elevators on each floor, maximize visitor wayfinding and support staff monitoring, particularly of after-hour activity.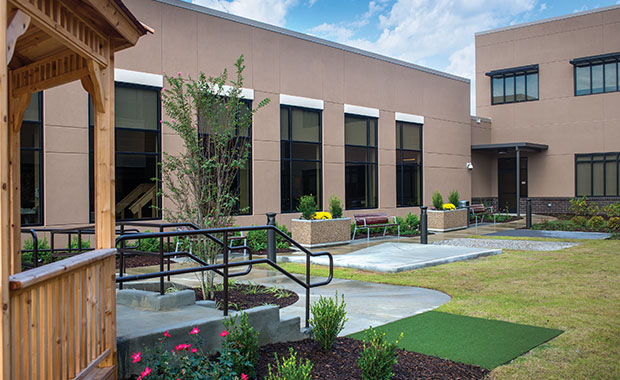 Michael Peck
Baptist Memorial Rehabilitation Hospital, a joint venture between Baptist Memorial Health System and Kindred Healthcare in Germantown, Tenn., includes a rehabilitative physical therapy courtyard with a gazebo and different walking surfaces for patients. Upraised flower and plant containers are also designed to help retrain patients to use their hands and arms for various tasks.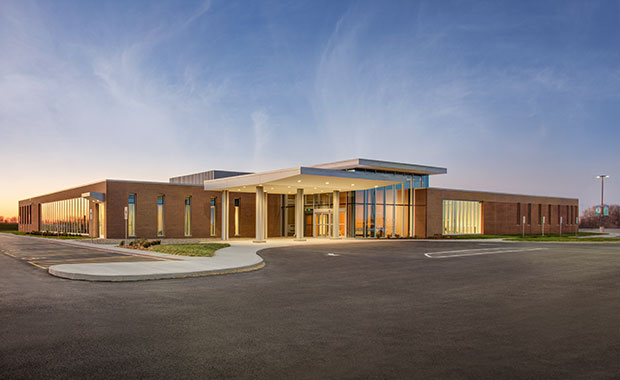 Darris Lee Harris
Carlinville Area Hospital's new medical office building in Carlinville, Ill., opened in 2015, and houses the hospital's outpatient rehabilitation space. The building features a covered drop-off area as well as a side-door entrance with dedicated adjacent parking to allow patients who have difficulty ambulating a short, clear, and unobstructed path toward the building.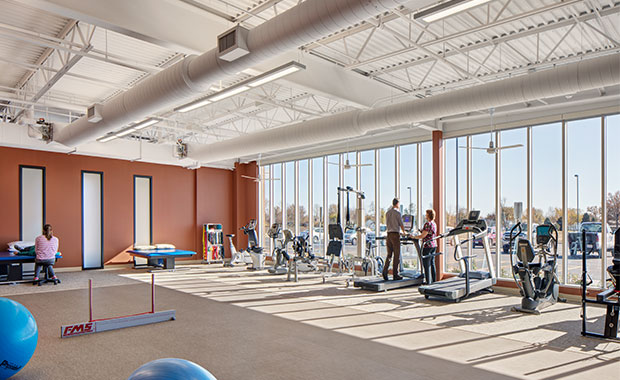 Darris Lee Harris
The rehab gym at Carlinville takes advantage of daylight access to create a light-filled space, providing pleasant imagery for patients as they recuperate from an injury or surgery.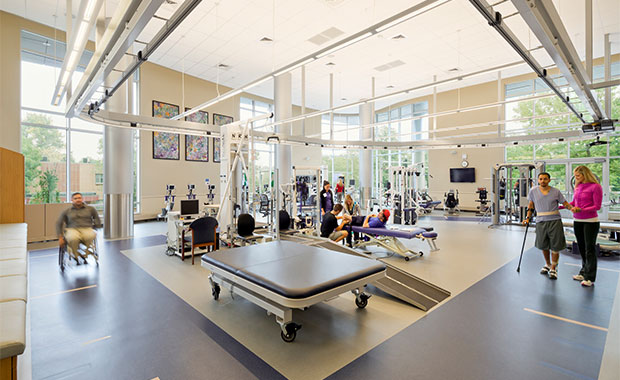 Cooperthwaite Productions
A combination of five different therapy gyms provides patients and therapists with ample space and advanced equipment to help patients regain their independence at Craig Hospital, in Englewood, Colo., designed by SmithGroupJJR and architect of record RTA Architects. Large expanses of windows offer views and natural light.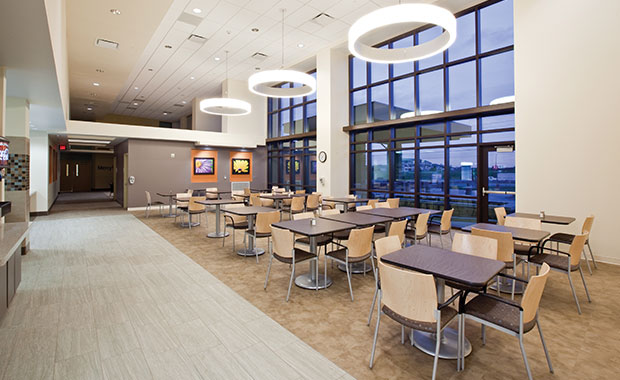 Simon Hurst Photography
The openness of the dining area of the Mercy Rehabilitation Hospital Springfield in Springfield, Mo., provides a respite space for patients, family, and staff. Mercy and Kindred Healthcare's 60-bed hospital, completed in April 2013 and designed by ESa provides inpatient rehabilitation services for patients recovering from strokes, brain or spinal cord injuries, amputations, and severe orthopedic injuries.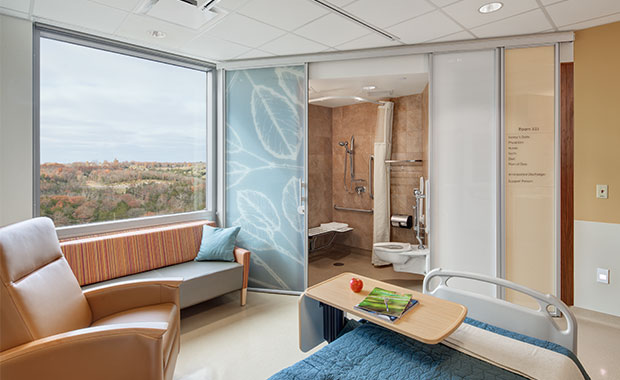 Darris Lee Harris
A wide opening to patient toilet rooms in SSM St. Mary's allows for two caregivers to provide assistance to patients when accessing the bathroom. Barrier-free showers reduce opportunities for slips and falls. Lawrence group served as architect of record on the project, with HGA Architects and Engineers serving as design team.
---
Therapeutic design for rehabilitation spaces
Today's rehabilitation spaces are designed to be motivating, welcoming, safe, and accessible. Everything from the layout and equipment to a mix of open and private areas are created with an eye on contributing to and promoting accomplishment and inspiration.
The outcome is facilities that are intrinsically therapeutic and achieve results, with each design detail collectively working toward one very specific goal. "Everything about the rehab experience is preparation to leave and in many instances to go home," says Diane Reinhard, vice president of patient care and chief nursing officer with Craig Hospital (Englewood, Colo.). "We want to expose patients to opportunities here that can enhance their opportunities when they go home."
Guiding principles of rehab center design
In general, rehab facilities offer transitional care for patients who no longer require hospitals' acute care services but who aren't quite ready to function on their own. The specialty requires well-tailored built environments—and more of them—to serve the specific needs of this unique patient.
As such, the market sector is expanding to accommodate aging baby boomers, with growth primarily seen in units built as new freestanding facilities often associated with a large health system, as well as with numerous expansion and renovation projects on acute care campuses.
Directing outpatient care to off-site centers is also a trend, with providers often seeking out highly visible, easily accessible spaces such as former big box stores, says Paul Widlarz, associate vice president, principal, and medical planner with HGA Architects and Engineers (Milwaukee).
This "transactional" experience in many cases will more closely resemble a retail concept where patients choose their provider and buy a service. With the move to high-deductible insurance plans, rehab patients "are considering cost, ease of access, and expectations for the quality of outcomes when they choose their healthcare provider for these outpatient interactions," Widlarz says.
As for the build-out of these spaces, rising to the top of the to-do list for architects and medical planners are considerations for the functional goals of buildings and fulfilling the unique emotional needs of patients and family, all with operational efficiency top of mind.
Providing choice in rehab center spaces
Traditionally, rehab lengths of stay range from a few days to two weeks for non-traumatic orthopedic, cardiovascular, and neurological diagnoses to several months at long-term acute care centers, serving traumatic brain injury (TBI) and spinal cord injury populations.
And there's usually some choice involved in where patients spend their time, with visits to rehabilitation centers often made in advance of an elective surgery; even rehab stays following unexpected traumatic events are frequently planned out while the patient is still in an acute care hospital. 
"Patients have more of a choice of where they can go. Facilities are having to design so that they are able to say, 'We have this, this, and that,'" says Brenna Costello, principal and medical planner with SmithGroupJJR (Phoenix). SmithGroupJJR, with RTA Architects (Colorado Springs, Colo.) as architect of record, designed an 88,000-square-foot addition to an existing rehabilitation center as part of a two-building campus unification for Craig Hospital.
(See a First Look gallery of Craig Hospital here.)
The addition, which broke ground in 2013, has opened in phases, starting in 2014, and includes renovation of a 135,000-square-foot building with completion expected this year.
"Everyone's going to have their own checklist of requirements regarding therapy, spaces, the continuum of care," Costello says. "I'd like to say, 'No matter what, the care comes first'; but in the last 10 years, we're seeing a preference among patients and families for a calming place to recover, not just a 'machine' to deliver care."
Answering patient and family needs in rehab center design
The Craig Hospital expansion and renovation includes several notable features to respond to patient and family desires for supportive services, advanced technology, privacy, and amenities. Since mid-2015, physical and occupational therapy gyms and adjacent spaces have been renovated and/or added; each floor, in fact, has its own gym and services including activities of daily living (ADL) suites, transfer training rooms, an assistive technology room, and an upper extremity training area.
Each of the two 26-bed units features its own private dining area for patients and families to socialize and forge ongoing camaraderie—all aspects of the healing process.
Two additional 20-bed units serve a transitional population, while an outpatient clinic will also expand.
On Craig Hospital's first floor, the relocated and enhanced PEAK center showcases a community and outpatient rehabilitation gym that includes two therapy pools. "It was important for people to see patients engaged in therapy. (PEAK) has become a metaphor for hope and strength," Reinhard says.
Patient preferences, in general, are often directed toward rehabilitation centers with single patient rooms, environments designed to promote community while incorporating elements of privacy, multiple common spaces, ample therapeutic space, accessibility to outdoor areas, and encouragement of extended visitation and participation of family members in the patient's therapy.
Design must create an environment that makes patients and families "feel good about that rehab choice," says Matt Manning, senior project designer and manager with ESa (Earl Swensson Associates; Nashville).
ESa's rehabilitation design portfolio includes a freestanding prototype for Kindred Healthcare Inc., a rehabilitation services operator in Louisville, Ky., for which the firm has served as architect of record since 2009 on several facilities averaging 50 beds and 50,000 square feet.
Considerations for staff in rehabilitation design
Design elements that contribute to a successful patient and visitor experience can be identified, but specific responses to patient and provider needs will vary. "You'll never have a one-size-fits-all facility," Costello says. A facility needs a "variety of waiting, respite, and clinical areas that will provide for each patient's disability and preferences. Some families would prefer a quiet moment to themselves and other families would prefer an environment of community and camaraderie."
Likewise, rehabilitation staff have their own wish lists, including elements such as respite areas, mimicking what's often heard in acute care; other requests, such as interior office spaces that overlook therapy areas for ongoing patient observation, are more specific to the rehab professional's needs.
Additionally, the sector is moving toward collaborative care, requiring multidisciplinary teaming areas that might integrate as many as eight disciplines to support ad hoc communication, conferencing, and patient treatment.
Building community in rehab spaces
To best support care, environments must also draw patients out of their rooms, preventing isolation and promoting involvement with the greater patient community—a critical component of the rehab healing process. "We wanted a Starbucks type of environment, with places where a patient or visitor could read a newspaper all day," Reinhard says.
The solution at Craig Hospital is smaller spaces, deliberately designed without formal definition, to allow staff, visitors, and patients to interpret how they're used, with other common spaces designed as bistros and cafes.
To meet different patient needs, Costello says flexibility and control of the environment are key, such as the optional use of bright or dim light or the ability to lower a portion of the ceiling or install partial walls to segment off areas.
To that end, large, open gymnasiums that enable staff oversight of many patients and afford easy movement among increasingly larger, complex equipment must also incorporate private spaces—ideally, three-sided treatment areas with a front curtain, for one-on-one therapy sessions and conducting conversations regarding progress and next-step decision making.
The environment must also be responsive to specific rehab patient populations. For example, the same closed, confined spaces offering security and minimizing distraction for a TBI patient could instill a feeling of claustrophobia with another patient population.
Exterior design for rehab therapy
Exterior design—courtyards, entrances, walkways—should be safe for patients and therapeutic, too, with design used to simulate maneuvering around a home garden or navigating down a driveway. "We strive to include any material that may be encountered at the home or in the patient's community, including asphalt drives, textured pavement, brick walks, wood decks, and even gravel," says Cleve Haralson, vice president of real estate and development for Kindred Healthcare.
The spaces are often varied, providing challenges along with amenities. At Craig Hospital, for example, different terrains were incorporated into the exterior environment—some paths landscaped with gravel, others with roughed-up concrete, and "lots of stairs," Reinhard says, adding that up to
92 percent of the hospital's population is discharged to home, requiring designs that intentionally re-create some of life's obstacles that will be coming their way. "People are going to have to learn how to maneuver in the real world," Reinhard says. "This is all about life; this is all about therapy and giving them the skills and confidence to go home."
Designing to accommodate rehab technology, equipment
Technology is a key ingredient in any healthcare space, but the range of services that it can support in rehabilitation is vast, especially in re-creating home environments or replicating the physical movements patients will find necessary after discharge.
For example, physical therapy spaces are being filled with equipment loaded with features that provide for different levels of disability. It's helping patients, but it's also enhancing space requirements. "It's hard for a facility to maintain that technology without doubling and tripling square footage," Costello says.
The design solution is often to keep space as open as possible, with high ceilings and adequate electrical receptacles. "We're finding it necessary to leave the ceilings and plenum spaces (for communications cables) free of clutter in order to allow for miscellaneous metal support for the new equipment," Costello says.
Case in point, Craig Hospital installed four zero-gravity machines, which permit a harnessed patient to relearn walking. Struts installed in the ceiling and a 10-foot ceiling height were needed to accommodate this equipment.
Earlier this year, Kindred unveiled touchscreen-aided therapy at the outpatient UH Avon Health Center in Avon, Ohio, and also integrated the technology into a post-acute inpatient therapeutic space at the freestanding UW Health Rehabilitation Hospital in Madison, Wis., in 2015. Parallel bars and a gait trainer are installed with this system to support therapy sessions in a video game-like fashion, with total building space occupied being about 100 square feet.
"Basically, the system is an interactive therapy tool that's used to provide treatment to the patients by way of physical interaction and motion tracking," Haralson says. "The progress of each patient is documented and charted in real time, showing the patient and therapist the growth and progress."
Other spaces are being dedicated to simulation areas, with scenarios including airplane seat transfer, driving, woodshop activities, and streetscapes with stop lights and sidewalk ramps. Other facilities have created spaces that simulate grocery shopping or going to the bank.
To address life's variable nature, facilities are also installing movable cabinetry in ADL suites to adjust to the proper height for wheelchair and power chair patients, Costello says. This allows a therapist to work with each patient at an optimal therapeutic height and, as applicable, provide specifications about the best surface heights, should a patient be renovating a home space as part of the discharge plan.
Using residential design to create home away from home
Compared to 10 years ago, rehabilitation environments today convey a less institutional atmosphere, starting with wood grain and warm earth tones to promote relaxation.
As for the patient spaces specifically, some providers view the patient room itself as a safe haven "owned" by the patient, offering respite from inpatient routines and therapy's rigors. Others want the room designed as a flexible environment, accessed for solitude and repose but also where therapy will take place, as needed. "People are trying to create a space that's comfortable to the patient," Haralson says. "It's the little things that count—they matter."
Those little details include a nod to the longer lengths of stay seen in rehab, with shelves and storage spaces in patient rooms to accommodate a greater number of personal belongings and wider, deeper shelves in adjoining bathrooms to store personal toiletries.
Dry erase boards serve as a communication venue where family and staff pen inspirational messages, and walls might have designated places for personal art and bulletin boards.
"My design preference is toward a clean and contemporary environment," Manning says, regarding the traditional hospital environment. "With a (post-acute) length of stay of several weeks, the clean look can continue, but should feel residential in nature."
With the countless pieces of therapy equipment involved in treatment, it's certainly a balancing act between the residential and clinical aspects of design. Technology's clutter can be minimized behind wall panels and cabinetry, for example. Yet showcasing, if not amplifying, technology is worthwhile: Displaying selected pieces of equipment can foster confidence, communicating therapeutic and clinical care is at the ready.
"We have a phrase in this industry of 'using high tech and high touch,'" Costello says. "It's comforting to know the latest technology is around. By hiding it all, we would ask, 'Where's my healthcare?'"
Sharon Schnall is a writer based in Northeast Ohio. She can be reached at schnallwriting@yahoo.com.