Bridging The Gap  
---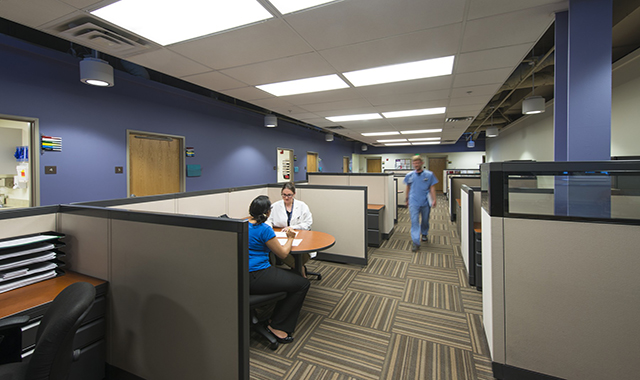 ©Ed LaCasse Photography
A primary care provider and a behavioral health provider discuss patient treatment plans in a shared interprofessional pod at Clinica Family Health in Thornton, Colo.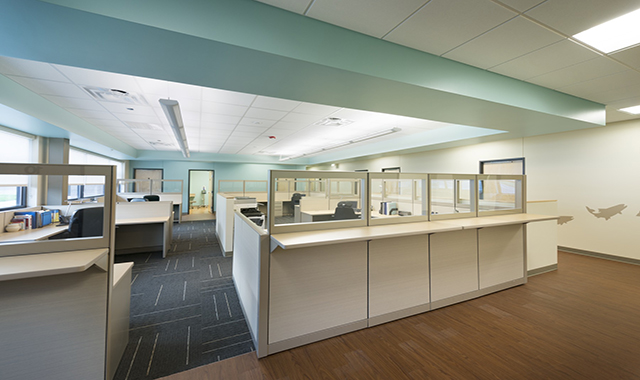 ©Ed LaCasse Photography
A primary care pod at Jefferson Plaza Family Health Home in Lakewood, Colo., includes a workstation for the adjacent clinic's behavioral health provider.
---
The majority of behavioral health diagnoses are made in the primary care setting, placing primary care physicians in an ideal position to create a cohesive treatment plan for patients with concurrent physical and behavioral health conditions. For example, a patient who suffered a heart attack may also require care for depression, a common comorbidity that if treated properly can significantly reduce the odds of a future heart attack.
However, primary care physicians may lack the time and expertise required to provide prolonged support for more complex behavioral health conditions, driving the need to integrate behavioral health and primary care services in a single setting. Healthcare organizations around the country are beginning to adopt this practice, recognizing that coordinated care reduces the burden on the primary care provider, improves health outcomes and cost effectiveness, and ultimately enhances quality of care.
To help support these outcomes, designers are optimizing built environments where clinicians can easily collaborate in a single space and deliver integrated treatment plans.
Integrating care
In a traditional model, a primary care provider refers a patient to an off-site behavioral health provider, requiring the patient to independently pursue and manage care. Alternatively, in an integrated model, care coordination takes place in a unified setting with a multidisciplinary team, including a behavioral health provider, primary care provider, and other social and clinical providers. Adopting this type of care model requires updates to the organizational structure, care delivery processes, and physical environment.
Key features of an integrated care model include the following:
• Access. A one-stop shop improves access by reducing separation points between primary care and behavioral health services. Physical travel distances are eliminated, plus a sense of anonymity around visit type is achieved.
• Patient experience. "Warm hand-offs," or the primary care physician being present to introduce a patient to the behavioral health practitioner, streamline the transferring of care between members of the care team. This helps build trusting relationships between the patient and care providers, and simplifies the logistical complexity, time, and stress that patients experience when receiving care from multiple providers.
• Collaboration. Providers collaborate as a team to create cohesive health goals for each patient. Providers exchange medical information, coordinate care plans, and work together to link patients with community resources. Contradictory instruction given to the patient is minimized and easily managed when it does occur.
• Care efficiency. The primary care provider acts as a navigator by connecting the patient with appropriate specialists. A case manager may enhance a patient's care by assisting the patient with external community health and wellness referrals. If a patient is in crisis, the multispecialty team is better prepared to address his or her needs, minimizing emergency transfers.
• Privacy. With increased staff communication and collaboration happening in open and semi-enclosed spaces, preserving patient privacy and confidentiality is critical.
• Flexibility. Different appointment and exam types, group sizes, and acuity levels are supported by flexibly designed spaces, which can accommodate changing needs in response to factors such as patient volume or policy impacts.
When considering how to support integrated care through design, parallel spatial variations emerge. A key distinction in layout is whether staff work and care delivery spaces are shared among the disciplinary providers. One example is an embedded layout, which is best suited to an organization with integrated practices. Here, a behavioral health provider is located within the same team workspace, or interprofessional pod, as the primary care team. Collaboration is supported through proximity, direct visibility to team members, and opportunities for spontaneous communication.
In an adjacent layout, separate behavioral health and primary care clinics are located within the same building, ideally on the same floor. This model simplifies physical access to alternate care services through clinic adjacency and offers more flexibility by allowing primary care and behavioral care practices to function independently and collaborate as needed. This layout also presents opportunities for the separate practices to share certain spaces and resources, such as community programs and educational sessions, entry areas and waiting rooms, and staff break rooms.
Embedded layout: Clinica Family Health
Clinica Family Health, a nonprofit healthcare organization serving low-income families in the northwest Denver metropolitan area, began utilizing a team-based care model with an embedded layout in 2001. The approach was introduced at a clinic in Thornton, Colo., which originally featured two pods of exam and consult rooms with centralized team workspaces and support areas. Each pod supports a dedicated team of primary care providers, nurses, medical assistants, a behavioral health provider (BHP), and a case manager, with dental hygienists and dieticians floating between the two pods.
Accessible, shared workspace is a key feature of this layout. Standing-height countertops located outside exam rooms provide a place to quickly print a prescription or patient education materials. Within the team workspace, there are desks where two to four clinicians can gather for a consult or team meeting. A daily "huddle" with all team members occurs in this area to review the day's patients and discuss care plans.
To improve access and reinforce the BHP's role as a resource during primary care appointments or when a patient is in crisis, the organization updated its layout for its clinic in Boulder, Colo., which opened in 2009, to make the BHP's workstation visible from all exam rooms. This set-up also reduced the time staff spent searching for a provider and the use of electronic notifications, such as pagers and call systems. "The distance between the primary care provider and BHP is so important," says Dr. Chris Keenan, a primary care physician at Clinica Family Health in Lafayette, Colo. "I sit right next to the BHP, so I can draw on her as a resource, as needed. In the pod, I can see what's going on, who's here, and who can help." A consult room within each pod is designed with homelike furniture and, when possible, a window to access daylight. BHPs use the consult room for follow-up visits with patients, thereby maximizing the use of the exam rooms for primary care. The room can also be used for confidential conversations between team members or as flexible space if a patient's appointment requires more time, allowing the exam room to be turned over.
Adjacent layout: Jefferson Plaza Family Health Home
Colorado-based healthcare organizations Jefferson Center for Mental Health in Wheat Ridge, Colo., and Metro Community Provider Network (MCPN) in Englewood, Colo., partnered in 2010 to open the Jefferson Plaza Family Health Home in Lakewood, Colo., which provides medical, dental, and behavioral health services to at-risk patients. The providers chose to use an adjacent layout featuring separate primary care and behavioral health clinics on the second floor of the building. A BHP employed by Jefferson Center is stationed within the primary care clinic to provide direct support, while the full-service Jefferson Center behavioral clinic is located across the hall. This layout allows the two entities to function as separate clinics but work collaboratively when required.
Locating the clinics on the same floor provided an opportunity to share waiting, reception, support, and staff break areas, as well. Additionally, consult, team planning, and group therapy rooms are centrally located between the two clinics, allowing these spaces to be shared and flexible. For example, the group therapy rooms are used for community support programs serving both primary care and behavioral health patients and the waiting room is used for after-hours yoga classes with a health coach. Further supporting the multidisciplinary approach, team members from both clinics meet weekly in the team planning room to discuss individual cases and develop care plans, while the shared break room supports informal communication and social relationships between both staffs.
For patients, the shared waiting room provides anonymity on appointment type. The exam rooms in the primary care clinic include a round table, which provides a more conversational setting for primary care and behavioral health providers to discuss care plans with patients and family members. During a primary care visit, patients may be accompanied to the shared consult room where they're introduced to a BHP with a warm hand-off, easing the transition for the patient and maximizing use of the space by both clinics.
Taking the next step
While a general rule of thumb is "closer is better" in supporting interactions among care team members, the designed environment alone can't sustain the model. Moving from a traditional to an integrated system requires aligning operational, cultural, technological, and physical processes to deliver care effectively.
This process begins with an organization defining what integration means to it. For example, in the case of Jefferson Plaza Family Health Home, the partnership between two collaborating entities was supported using an adjacent layout, which promotes care coordination while maintaining administrative separation. In the case of Clinica Family Health, the team-based care model was spatially mirrored using an embedded layout. As new specialties are added to the team—and team sizes grow—new physical layouts will need to be developed to accommodate the expanding delivery of integrated care.
The solutions described offer starting points for organizations pursuing this transition, but it's critical to find the variation that works best for the care team and the operational model desired.
Sarah C. Moser, AIA, EDAC, is a designer at Boulder Associates Architects in Boulder, Colo. She can be reached at smoser@boulderassociates.com. Meredith Banasiak, EDAC, Assoc. AIA, is a design researcher at Boulder Associates Architects. She can be reached at mbanasiak@boulderassociates.com.