Game Changers In Healthcare Design
---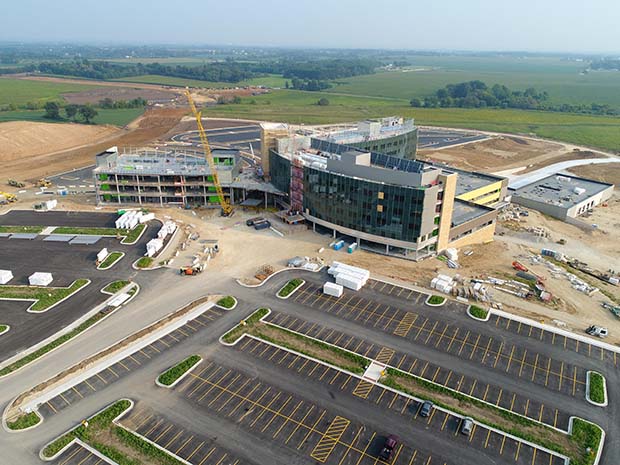 Courtesy of Uplift Data Partners
A drone scanned a mound of 165,000 cubic yards of dirt in half hour, whereas it took two people two days to gather the information
---
Mounting demand from healthcare clients for better visualization of projects throughout design and construction inspired architecture firms to turn to technology to provide a window into what a building will look like, long before it's open. However, those solutions—virtual reality (VR), 3-D modeling, and drone flythroughs—have come with additional benefits, as well. Now designers are realizing cost and time savings as well as enhanced project team communication.
Using drones
To help deliver the Mercyhealth Hospital and Trauma Center-Riverside, slated to open in 2019 in Rockford, Ill., Mortenson, the construction manager at risk on the project, is relying on the use of drones during construction of the six-story, 451,000-square-foot hospital and five-story, 81,500-square-foot clinic. For example, drones delivered precision video and images with dimensional data of the 65-acre construction site in near real-time, which was integrated with the project's 3-D models and other software tools, says Joel Jacobson, virtual design and construction project manager at Mortenson. "We deployed our drones to capture the site and within an hour we had all the information within the drone," Jacobson says. "Within two days, we had multiple deliverables that are arguably more useful than anything we could have produced using previous virtual design practices."
Having more richly detailed information faster also helped the team meet the requirement of a site logistics plan, he says, which enabled more accurate communications with the hospital owner. In the past, these plans were extremely time consuming and resource-intensive to produce, as well as being difficult to maintain and keep current with an ever-evolving project site.
Drone-captured images and information can also be merged with other useful data, creating rich, Google Earth-like visuals that are viewable on iPads in the field. This information can drive everything from determining current site grading, staging of materials, and movement of crews and equipment to establishing temporary site entrances, roads and exits, and calling-out ongoing digging and underground utilities.
The technology can also save valuable time on a project. During the Mercyhealth project, the construction crew had a stockpile of excavated dirt measuring more than 165,000 cubic yards that the firm had to quantify and then remove from the site. The project team compared the time it took a drone to quantify it with the time it took two people to do the same job on foot. "We had already bought out the conventional survey service, so we used the drone as a confirmation," says Jacobson. "We had two surveyors on top of that mound and it took them two full days just to capture the information. Our drone flew over that mound at the same stage. It took a 30-minute flight to capture the data, and we were able to get a report two days later." Furthermore, drones enhanced site safety by reaching high or out-of-reach site locations for inspection.
Project review software
Technology comes into play long before the construction phase, though, and more designers, builders, engineers, and subcontractors are leveraging building information modeling (BIM) in a design-assist delivery method. Team members come together during the preconstruction phase to integrate their BIM models. For instance, on hospital projects where the architect is the lead, the engineers, builders, and subcontractors will align their BIM models with the architect's plans. Each system is color coded, so when all the systems/colors appear on the screen, it looks akin to a transit map of a major city. The electrical contractor can now see how its networks align with the plumbing contractor's, which is then aware of the thickness, material, and other data related to the builder's walls thanks to the info contained in the 3-D model.
Project teams can use the software to detect and prevent or circumvent clashes before they appear in the field, while also enhancing communication, says Ryan Archer, senior design architect at TowerPinkster (Kalamazoo, Mich.), an architecture and engineering firm. Archer says TowerPinkster is using design-assist on two Mercy Health projects in Muskegon and Hudson, Mich., which has resulted in fewer field changes. "During construction we find design-assist is really bringing down our RFI requests and field changes, and we're not paying premiums for changes," he says.
VR and 3-D modeling
Other technologies making their mark in healthcare design are virtual reality (VR) and 3-D modeling/animation/rendering software programs, which can be used to deliver more high-end, photorealistic content to help owners visualize how spaces will look and feel. For example, VR software can give users a panoramic view of a space to illustrate everything from the texture of a wall to the color of furniture and the amount of sunlight a room will receive at various times of the day. It also enables building owners to see into rooms and around walls and allows architects to do continuous walk-throughs with clients.
Archer cites an example of a project meeting in which a client questioned whether the corridors were wide enough to accommodate patient transfers, including those in wheelchairs or in a bed. Using VR software, Archer projected onto a screen a line drawing perspective of what the space would look like and how equipment like a wheelchair and a bed would fit in the space. The process reassured the client about the design. "They otherwise won't believe it, if they can't see it," he says.
Such 3-D modeling/animation/rendering software is also being used during client meetings to create different iterations and show new ideas quickly, allowing firms to be responsive to the constant changes inherent in healthcare. For example, the software can show an owner how a new MRI or X-ray machine will affect the layout of a space or help a project team determine the best method for installing equipment by virtually showing what's behind a wall to prevent unnecessary construction or prevent problems such as slicing electrical, mechanical, or plumbing equipment.
Eyes on the future
Looking ahead, architects, builders, and engineers say they want BIM to incorporate more computational design options that extend capabilities with highly customizable, community source elements such as colors, textures, and even materials ordering options. Others note that it's important that more industry members adopt VR, 3-D rendering, and project review software so that project teams can come to the design-assist table speaking the same language, which would streamline the design and construction process and give clients the best possible deliverables.
Several other technologies are slowly being adopted by the industry, too, including project management software that allows project teams to create educated estimates, communicate with team members through one system, adjust schedules according to inclement weather or materials delays, and bill vendors. Subcontractors working on hospital projects are also stepping up to the plate, adopting such technologies as laser scanners, which help determine clashes before work begins. Firms that stay current with these technologies while continuing to look for new ways to meet clients' demands for faster timelines and more detailed projects documents will be ahead of the curve.
Nichole L. Reber is a journalist based in Chicago. She can be reached at ChicagoWriter1@gmail.com.
Sidebar: Backing it up
Just as sustainability was all the rage in the early 2000s, today's conversations in building and design often center around technologies such as building information modeling (BIM) and virtual reality (VR). Offering a glimpse of how architects and designers are using those technologies across sectors, ChaosGroup, a Los Angeles-based computer graphics technology company, released the report "Architectural Visualization Technology Report" in December 2017. The report analyzed survey responses from around 5,800 architects, visualization specialists, BIM specialists, and BIM managers across 70 countries.
One important finding was that virtual reality and cloud rendering are taking center stage, with more than two-thirds of respondents saying they plan to adopt or continue using VR, while one-half said they are already using it; large firms constitute most of VR's users (62 percent). Meanwhile, cloud rendering, which enables designers to create renderings in cyberspace without putting their computers at risk of crashing and to share images more easily, is expected to grow threefold. Eighty-five percent of respondents report that 3-D rendered imagery is integral to winning projects and most of those who use it say it allows them to do more iterations on a project faster. For the report, visit https://www.chaosgroup.com/news.