Elevate And Evolve
---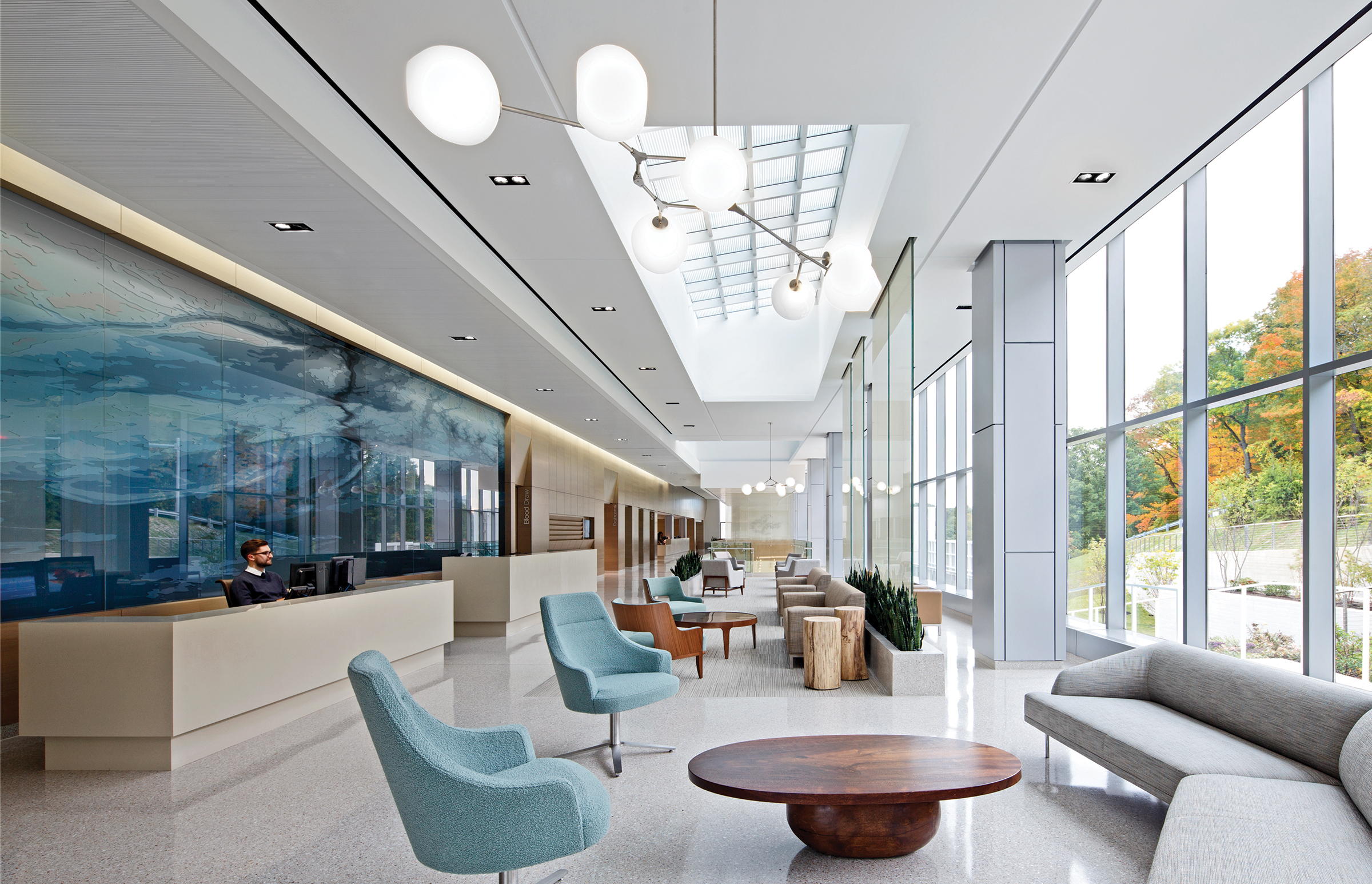 Halkin/Mason Photographer, LLC
At Westchester, a 35-foot-long multilayered glass feature wall depicts an abstracted image of the West Harbor, N.Y., area. This art concept was first introduced on this project and now serves as a signature element at each ambulatory location.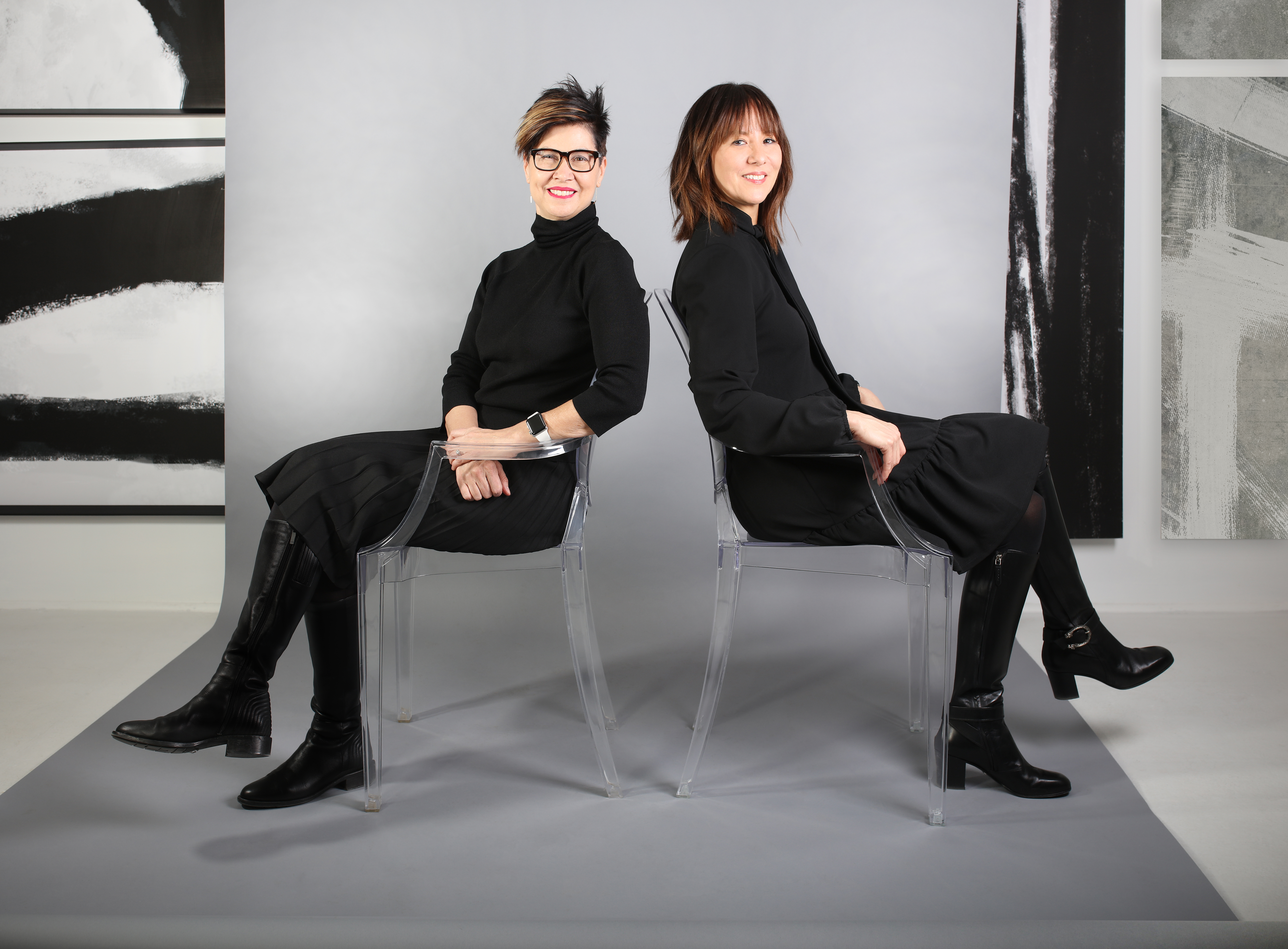 Mary L. Frazier, left, and Suzen L. Heeley, right, began collaborating in 2011.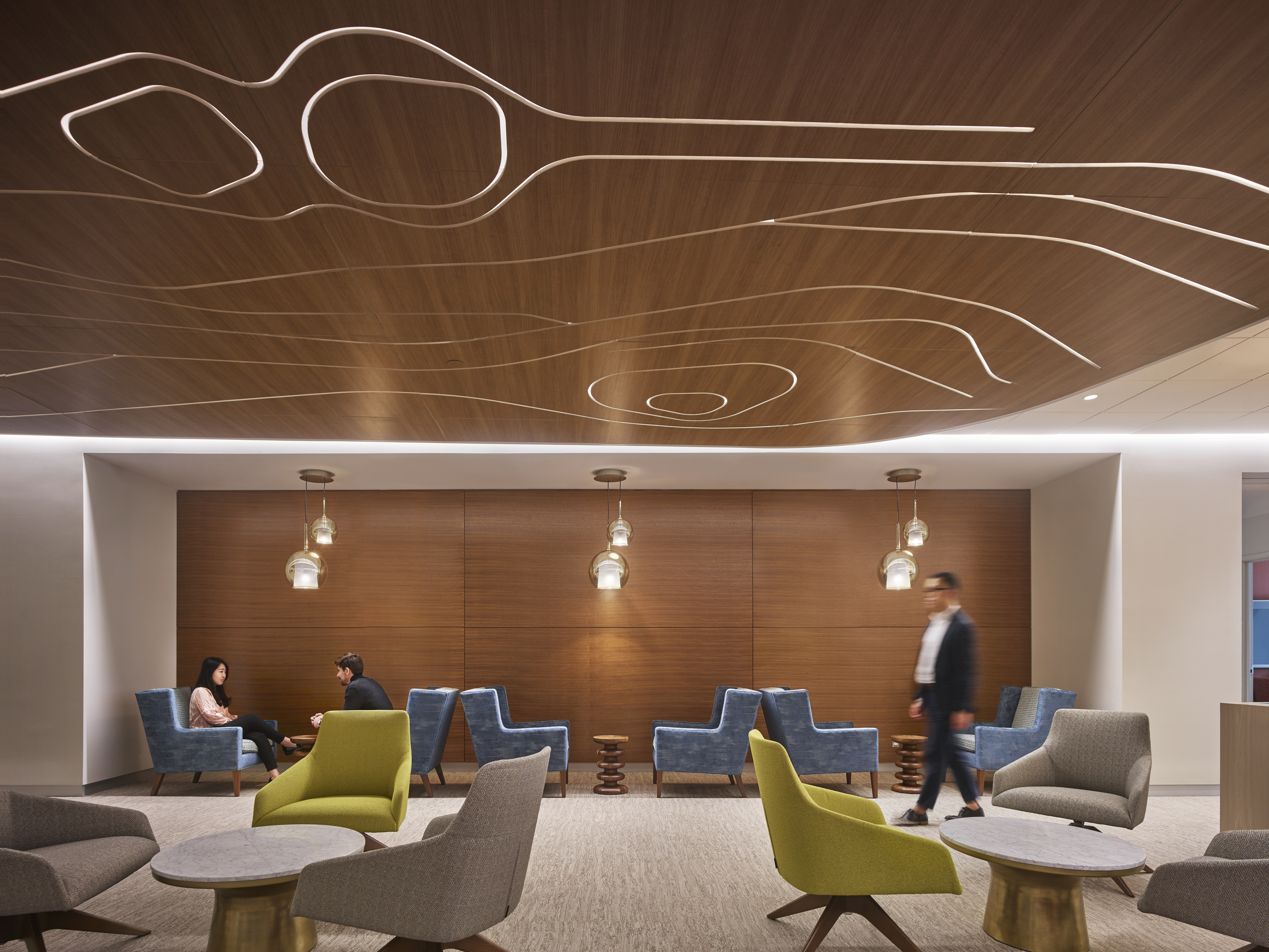 Halkin/Mason Photographer, LLC
Illuminated accent ceilings, natural wood grain, and hospitality-inspired furniture at MSK Bergen are elevated touches characteristic of the aesthetic created through Heeley and Frazier's collaboration.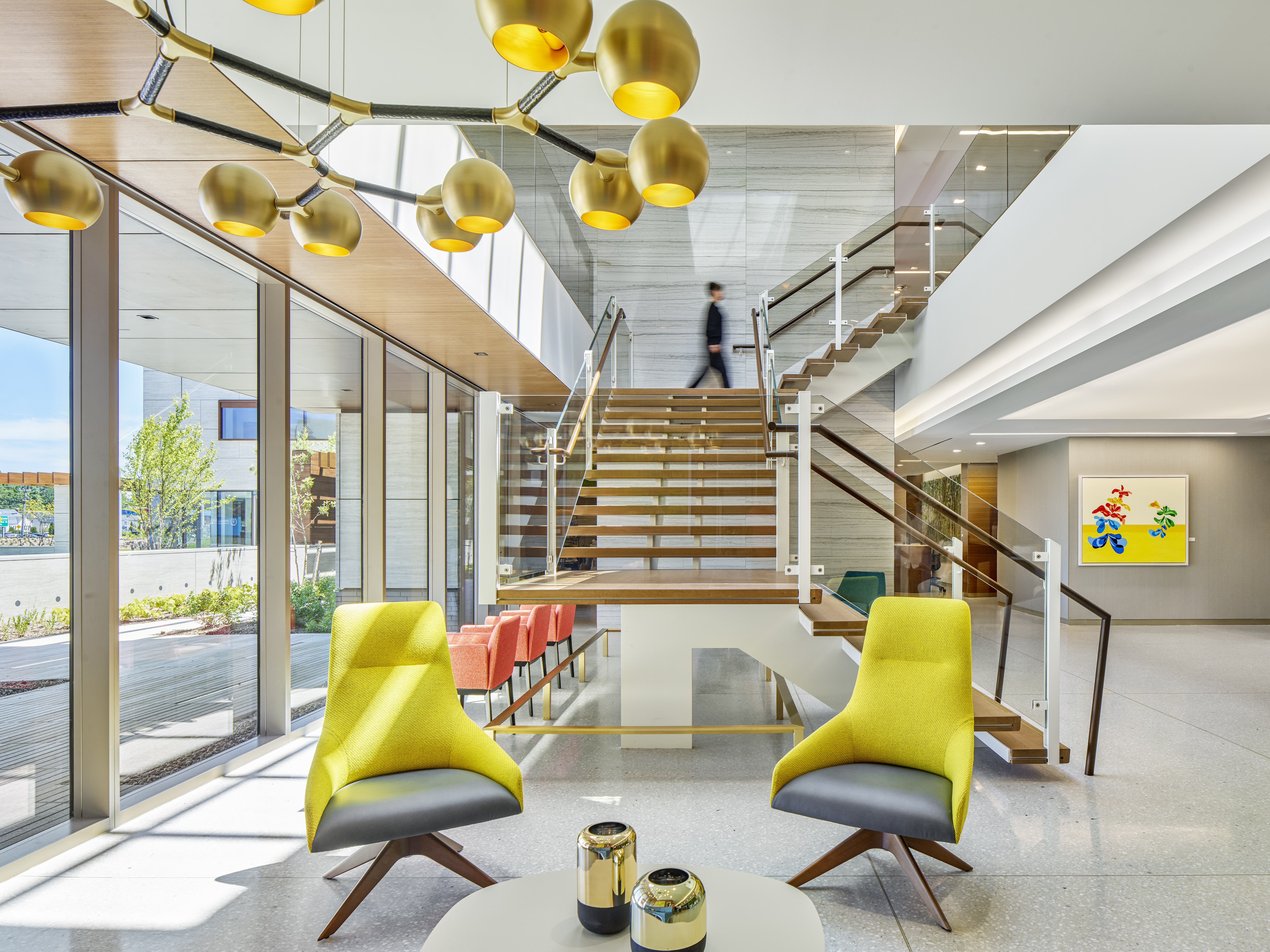 Halkin/Mason Photographer, LLC
MSK's branded aesthetic is defined by timeless interiors that boast clean lines and a neutral color palette accented by pops of color in the art pieces and furniture, as seen at MSK Nassau.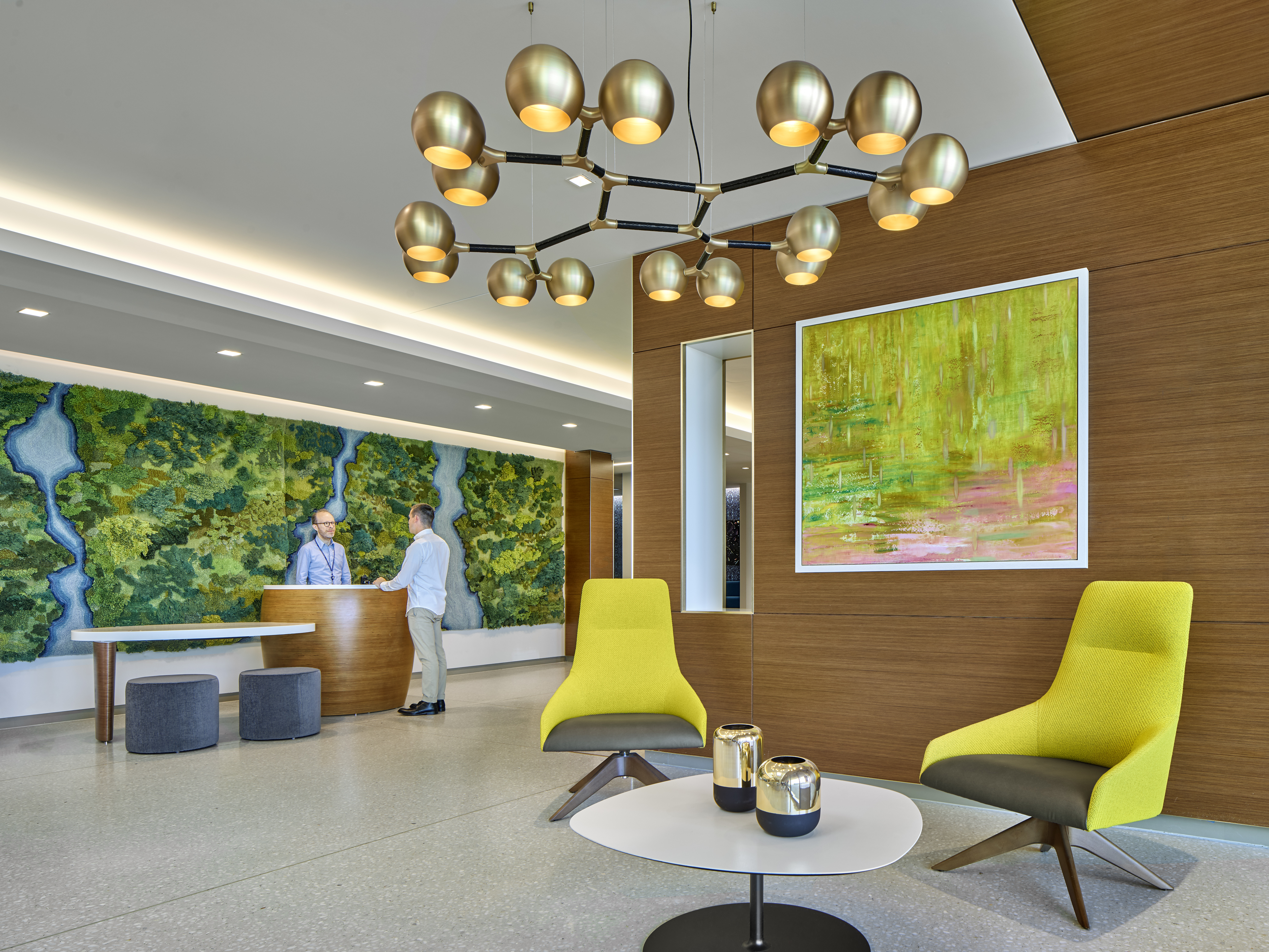 Halkin/Mason Photographer, LLC
A feature wall spans a public area at MSK Nassau, repeating the detail that originated in Frazier and Heeley's first project together, MSK Westchester. The traditional long reception desk has now been replaced with what's termed "beehives," where staff can converse more casually with patients and caregivers and easily move from behind the desk.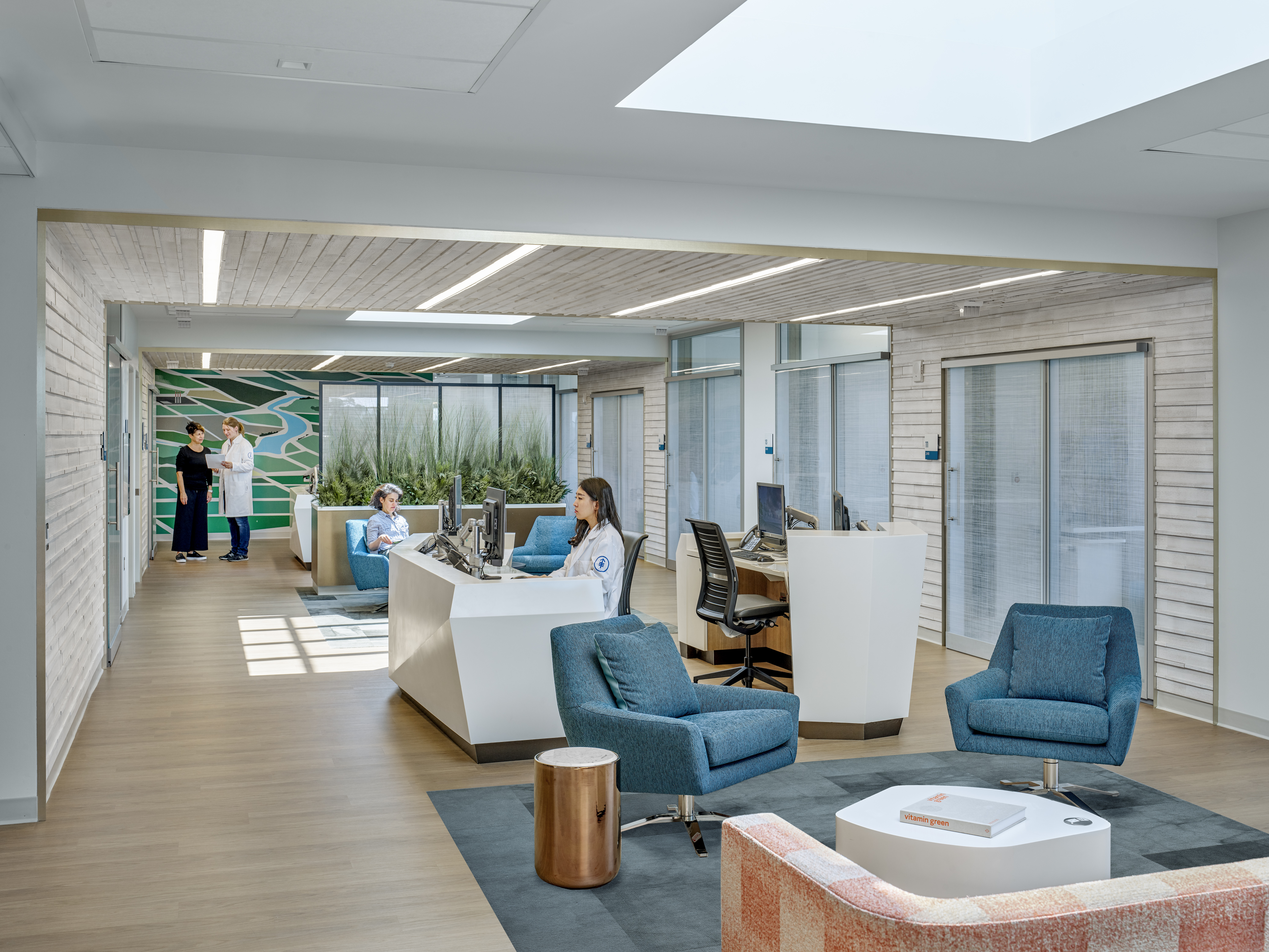 Halkin/Mason Photographer, LLC
Chemotherapy/infusion rooms at MSK Nassau are all private, with smaller adjacent mobility zones outside for family members or patients who prefer to socialize.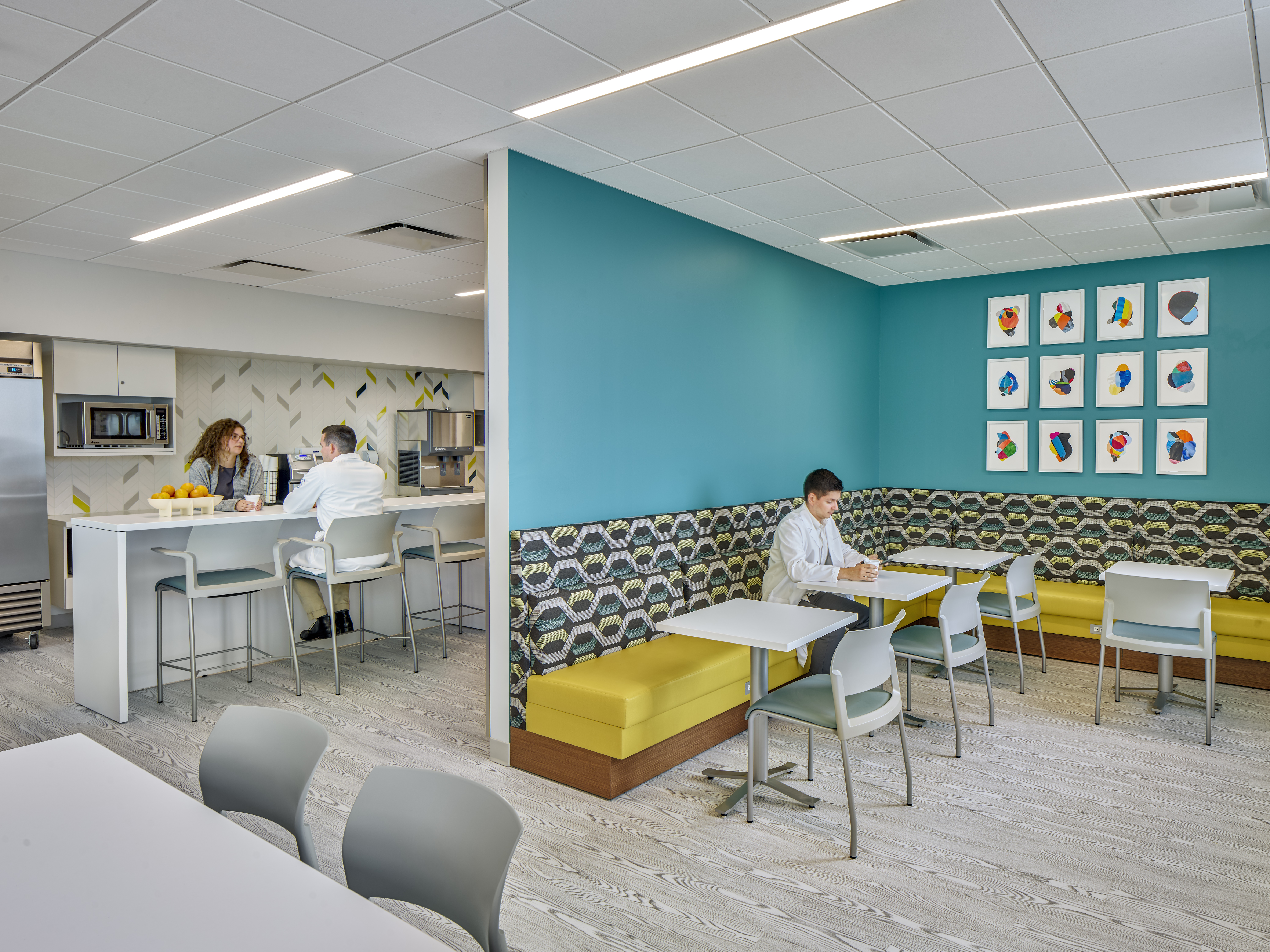 Halkin/Mason Photographer, LLC
Chemotherapy/infusion rooms at MSK Nassau are all private, with smaller adjacent mobility zones outside for family members or patients who prefer to socialize. MSK strives to create a positive experience for staff, too, as seen on the MSK Nassau project. "We now try to change up the color palette, so when clinicians walk into a staff lounge, it's a completely different palette than the rest of the space so they feel like they have something different," Frazier says.
---
In 2011, Memorial Sloan Kettering Cancer Center (MSK) was acting on a strategic plan to roll out regional facilities in New York's tri-state area, bringing care and services delivered at its main campus in Manhattan closer to where patients live outside the city. Two had been completed, one in New Jersey and another in Long Island, N.Y., prior to a significant change taking place: the hiring of Suzen L. Heeley as executive director of design and construction for MSK.
Heeley came to the organization after spending 16 years at New Jersey's Hackensack University Medical Center, where, as director of design and construction, she helped guide the hospital's development as it tripled in size and worked to take on big-city competitors. A major component of that strategy was taking risks and pushing the envelope on patient experience, she says.
But when Heeley landed at MSK, she saw something different in those regional projects being delivered. "I noticed that each location and project had been done well, but each project looked very different. Coming from a hospital that was creating a new brand, I thought it strange that MSK, which already was a very well-known brand, wasn't creating branded environments in its facilities. I made it my mission as we moved forward to create spaces that have a common thread tying them together," she says.
The origination of that common thread largely came from one key project, MSK Westchester in West Harrison, N.Y., and one key collaborator, Mary L. Frazier, principal at EwingCole (New York). EwingCole had already been working with MSK since 2001, but the Westchester site was the first that brought Heeley and Frazier together, launching a nine-year partnership that's inspired a design evolution in MSK's facilities and set a new standard for cancer center design.
One design goal for the Westchester project was to create a new aesthetic that pushed the envelope for cancer care environments but in a way that didn't feel like a New York City hospital got transplanted to the suburbs. "We wanted to create elements that were warm, inviting, and friendly, yet had a more elevated design," Heeley says.
Part of that process was introducing an aesthetic heavily influenced by hospitality and even some residential design. One striking element is a 35-foot glass wall that serves as a backdrop to the reception desk and beyond, delivering a wow moment upon entry that's also representative of the community as an abstracted map of the surrounding area. Other highlights include waiting spaces broken down into smaller nodes, public areas that offer variety in seating options such as small secluded nooks and large communal tables, and even an iPad bar (an innovation in its day). "We started with a number of different ideas that developed a design language that has morphed over time," Frazier says.
MSK's approach to enhancing patient experience was designed into operations and care delivery, as well. For example, at the time, chemotherapy was largely delivered in open bay settings organized around staff stations,
designed more to serve staff than patients. "The Westchester site is one of the first where all rooms are private, with views to the exterior and garden spaces," Frazier says. Additionally, adjacent "mobility zones" were created to support families or for patients to use if they wished for more social interaction during infusion. Exam rooms and consult rooms were also combined into a single exam/consult space, allowing easier communication between physician, patient, and caregivers. "That's an example of the thought processes that transformed this whole built environment design," Heeley says.
While many of these solutions are commonplace in healthcare today, MSK was a trailblazer in considering patient experience and how design can better support it. However, taking that leap didn't come without some pain points—specifically, Heeley's insistence that design partners challenge the healthcare status quo. "We, as an owner, push our consultants to a point where we always say, 'make us uncomfortable,' which in turn makes our consultants uncomfortable," she says.
Heeley and Frazier agree that it's been a journey from that original Westchester facility, noting that the two didn't come to the project with the same mindset at the time—in fact, it took a lot of work. For example, while in agreement that communal tables and variation in seating choices were good starting points, specifying materials that were interesting and different—decidedly not healthcare—took more time, Frazier says. In the end, the firm has been able to embrace products traditionally specified for other environments, such as hospitality, to achieve MSK's desired look. "What I appreciate with MSK is that all they want to ensure is that a design meets their cleaning protocol and is maintainable. And as long as we can do that, we can come up with some very interesting and beautiful environments," Frazier says.
The partners also had to work to refine the overall aesthetic of Westchester to achieve what today Heeley describes as "spaces that are timeless, stripped down to the basics, and have good, strong design bones. We don't have the luxury like hotels to refresh every few years. We live with these things for 10, 15, 20 years, so whatever we put in place, we want to make sure it's enduring." That's meant pushing back on some of
EwingCole's original ideas, stripping away some of the detail to achieve a simpler vision: a spa-like neutral palette with lots of wood tones and pops of color introduced in more easily replaced elements like furniture.
The evolution
Westchester remains the favorite for both Heeley and Frazier, setting the tone and design language for numerous follow-up projects including the lauded MSK Bergen in Montvale, N.J. (opened in 2018), and the most recent MSK Nassau in Nassau County, N.Y. (opened in 2019). And while it was a very strong start to their collaboration, solutions have evolved over time.
For example, when planning Westchester, the duo recognized that chemotherapy was changing and unknowns existed on how exactly treatment might be delivered in years to come—potentially in pill form or even within a patient's home. To ensure chemotherapy/infusion spaces would remain useful, they were—and continue to be—built using demountable partitions. Additionally, a single room module of 120 square feet for both exam/consult rooms and offices, also first introduced at Westchester, is now the norm to allow easy reassignment of space in the future.
In fact, flexibility has come to define solutions being delivered today. With their latest collaboration, MSK Nassau, space for the future expansion of each program housed there is already carved out. "It seems all of these facilities become such local institutions; 'if you build it, they will come' really does occur," Frazier says. On top of expansion plans in place, the 120-square-foot room module allows academic/office space to be repurposed for clinical space over time.
Care environments have also evolved to answer the needs of today's cancer patients and treatment protocols. "Patients in the ambulatory environment are much more acute than they've ever been," Heeley says. For example, the organization is working to ensure its waiting spaces can accommodate several wheelchairs at once, while seat heights throughout MSK are being addressed via a new organizational requirement that chairs have arms to assist patients as they sit and stand.
Also, recently at the Westchester site, shell space was completed to support an emerging "tele-triage" program, allowing patients who have concerns in off-hours to call into a clinician who can direct them to an appropriate next step for care. That location added an urgent care center, too. "Cancer patients have such a challenging medical history. Sometimes for them to go to a local emergency department might be a larger and longer process than they might want to go through. They can now go to the urgent care center that has clinicians there 24 hours a day to respond to their needs," Frazier says. Telehealth is being introduced to the ambulatory sites, as well. "We're thinking about what that experience is for patients in telemedicine: If they're calling in, who are they looking at, what is the lighting level like, how does that potentially make it feel?" Heeley says.
Personalized medicine—treating a person's genetic makeup rather than simply the disease—is taking a front seat in cancer treatment at MSK, too, calling for new built environment solutions. "For example, clinical trial spaces are being included in some of these ambulatory care facilities that we didn't have before. We're also having to beef up our clinical IT component to be able to track this information. We're working to cull all of this data, a huge amount of data collection that we do … we had to build a data center to support that," Heeley says.
Why not?
All of the original elements Heeley and Frazier introduced on MSK Westchester and that continue to be delivered today are inspired by the goal of improving the patient experience, particularly in clinical spaces. "How do we make this less of a scary place and more spa-like and comfortable, but still provide the clinicians with everything they need close at hand?" Frazier says. Solutions over time have been refined to the smallest of details, such as medical instruments in exam rooms not hanging on a wall but tucked into cabinetry and sharps containers kept out of sight.
And a lot of that has come from Heeley's insistence on pushing her consultants, including Frazier, to that level of discomfort that she strives to reach, asking the question "why not?" "There have been many meetings where we're all frustrated because we're not where we want to be, but without that, we're not getting to the level we want," she says.
When thinking about what the pair has accomplished in the past 10 years, Heeley says she looks deeper than simply the work itself but at the finances, too, finding that it's only "marginally more expensive" to create the facilities MSK is delivering. And at the end of the day, it's the patients who are inspiring the provider's journey to differentiate itself in a world where there's more choice than ever in where to seek care. "Patients are doing research, talking to friends, and looking online for best options, who's getting the best outcomes, who has the best care. And they care about what the spaces look and feel like, believe it or not," Heeley says. "For us, it's all about pushing forward and creating the next level." 
Jennifer Kovacs Silvis is editor-in-chief of Healthcare Design. She can be reached at jennifer.silvis@emeraldx.com.