February Online Focus: Wayfinding
---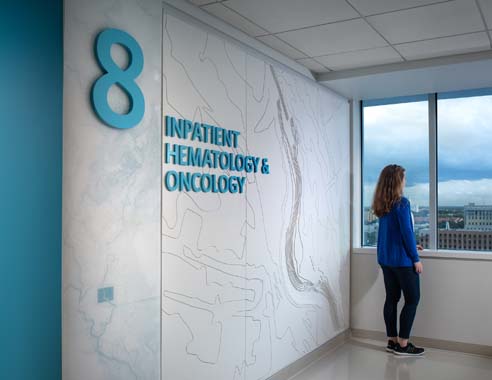 ©2016 Jim Roof Creative
Each floor of the Children's Hospital of San Antonio in San Antonio, Texas, has a theme that represents a portion of the San Antonio River, the blue box below the floor number showing what part of the river is depicted and an adjacent map highlighting its contours. For more on wayfinding strategies used on the project, click on the link below.
---
Healthcare Design is launching a new feature on HCDmagazine.com, compiling recent coverage on targeted topics to help readers quickly get up to speed on pressing issues or refresh themselves on latest trends. In February, we continue the series by digging into wayfinding.
If there's anything that ties just about every healthcare project out there together, it's wayfinding. Providing patients and visitors with navigation that's as seamless and intuitive as possible is so critical to the overall healthcare experience, whether that be at a dental clinic or academic medical center.
Best practice often dictates that design teams work directly with providers and staff as well as wayfinding and art consultants to ensure that the solutions put in place use a multifaceted approach, layering intuitive design, signage, landmarks, and verbal/written communication.
Use the links below to explore wayfinding trend stories we've reported recently that outline how to execute those methods as well as project profiles that detail how wayfinding was addressed in the design process, specifically at existing facilities and new buildings that consolidate previously disparate programs.
For more coverage, type "wayfinding" into the search bar at HCDmagazine.com to view how solutions to this constant challenge have evolved over the years.