HCD Rising Star: Annette Couvillon
---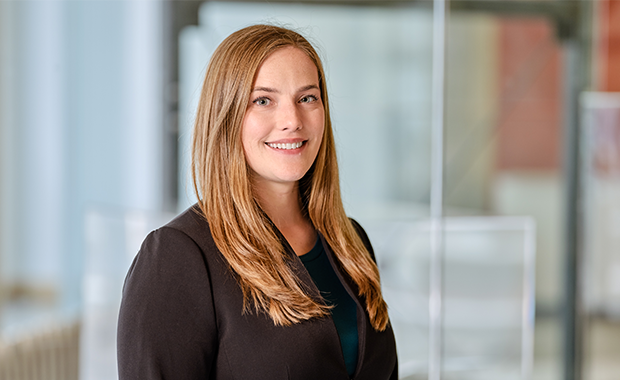 HKS
Annette Couvillon, associate, HKS (Dallas)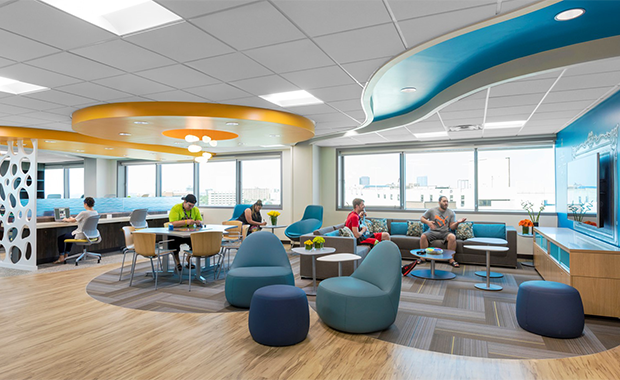 HKS
Fort Worth Adolescent and Young Adult Oncology Coalition unit within Baylor Scott & White All Saints Medical Center
---
Annette Couvillon comes to healthcare design with a diversity of experiences and backgrounds, including studies in heritage conversation, architectural history, and community design. She joined HKS in 2014, becoming part of the Dallas office's pediatric health team, garnering experience developing projects through all stages, which has provided her with a core body of knowledge to lead an evidence-based design process in her work.
As an architect and healthcare planner, Couvillon has been integral to providing a full-service design partnership with Cook Children's Medical Center, including several iterations of Site Analysis and Master Planning for greenfield and urban environments. Her colleagues note that customizing her work to the unique needs of individuals while still meeting the project's overarching goals is a hallmark of her work. Additionally, she promotes knowledge sharing within her workgroup by scheduling time for team members to share interesting work and lessons learned. As she develops materials for the Transition Operational Plan for Cook Children's Medical Center in Prosper, Texas, she's implementing Lean tools to document decisions determining operations and the move sequence of furniture, equipment, and supplies. Additionally, she's using her knowledge management practices to preserve relevant content for future projects, such as the design documentation needed to create a staff training program to fulfill the design intent.
Furthermore, as her team's Justice, Equity, Diversity, and Inclusion advocate, Couvillon facilitates dialogue to understand the uniqueness of her peers. For example, while participating in an interoffice exchange in Washington, D.C., Couvillon collected stories from her new colleagues to celebrate the individual experiences that influence their design methods. Her colleagues note that she's one of their most relied upon healthcare designers in the practice, armed with the perseverance, empathy, and curiosity to serve her well as she continues to rise in her career.
Path to healthcare design: Growing up in Louisiana, I was fascinated by the vernacular architecture, that emerged from a need to survive an unpredictable environment. In college I traveled to Amman, Jordan, to document the living conditions in a Palestinian refugee camp, a temporary solution that became multigenerational. I experienced first-hand how places created without gaining the community's trust will often be fruitless in influencing health and wellness. My passion for community-centered design led me to join HKS, which prioritizes design solutions that enhance the human experience. The health team taught me to listen earnestly to those intended to occupy a space to provide safe and comfortable environments that support safety and healing.
Describe your design approach: Empower choice and adaptation to transform space for individual requirements.
On your desk now: Implementing the design of the 240,000-square-foot multispecialty clinic and surgery expansion for Cook Children's Medical Center in Fort Worth, Texas. I'm also developing the transition move-in strategy to operationalize their 213,500-square-foot greenfield hospital in Prosper, Texas. As an architect and healthcare planner, I facilitate the selection of strategic guiding principles, site analysis, and master planning. I assist operational leaders in improving team performance and challenge user groups to evaluate their physical environment to enhance patient care and workflow.
Most rewarding project to date: The Adolescent and Young Adult Cancer Unit at Baylor Scott & White All Saints. I learned the power of choice in supporting unique psychosocial needs such as individual function and relationships. Designing for the often-overlooked adolescent and young adult population taught me the importance of adaptable sensory environments. This shaped my endeavors in strategizing the neuro-behavioral program at Cook Children's Medical Center, which was envisioned to serve another unique population.
What success means to you: Success is timely decision-making through collaborative analysis of risk and return. It's serving as a partner to a client from a project's inception to completion to ensure full ownership and acceptance of the environment to provide and receive care.
Industry challenge on your radar: While design is never a one-size-fits-all solution, great design transforms to meet the needs of individuals. Choice is a valuable catalyst for personal growth and connection. As an industry, we should promote flexible environments of equal value and avoid designing a primary experience paired with a limited or lesser experience.
Must-have skill for healthcare designers today: Curiosity is essential to healthcare design as an ever-changing industry that revolves around complex processes and tools. As time and nature will change best practice and possibilities, designers must be prepared to listen and learn every day to create spaces that provide comfort and community.
New pandemic-inspired work habit: Working remotely required adjustments to remain connected to my team. Recurring virtual coordination necessitated more concise communication. I regularly set aside time to catch up with my team and ask about their health and life events to align the project workplan to their personal goals and time off. On days at home, flex work allows me to care for my mental health by taking breaks to walk or play fetch with my German Shephard puppy. On office days, I have a greater appreciation for the opportunity to gather with coworkers.
Anne DiNardo is executive editor of Healthcare Design. She can be reached at anne.dinardo@emeraldx.com.