HCD Rising Star: Arjun Bhat
---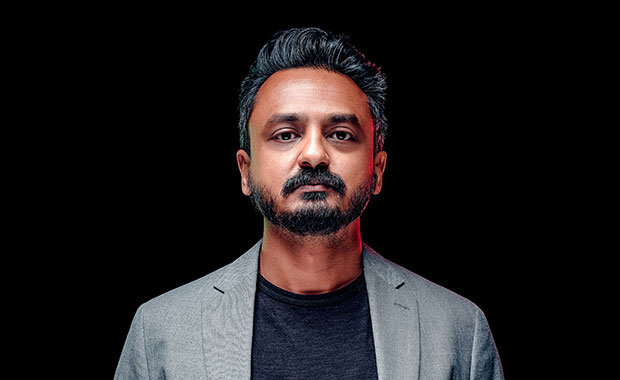 Credit: CannonDesign
Arjun Bhat, AIA, NCARB, Associate Vice President, CannonDesign (St. Louis)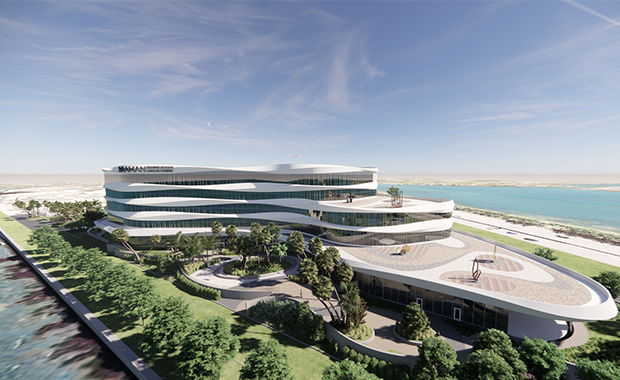 Credit: CannonDesign
Mount Sinai Medical Center Braman Comprehensive Cancer Center
---
Arjun Bhat, AIA, NCARB, Associate Vice President, CannonDesign (St. Louis)
Arjun Bhat's career began with a landscape and architecture practice in San Francisco for a few years before returning home to St. Louis and joining CannonDesign. Here, he began applying his skills in the healthcare design sector—his first foray was in creating rooftop gardens for healthcare facilities, often places where families would be waiting while loved ones were undergoing long procedures or staff could take a breather. This began Bhat's interest in designing for the various emotional states of people using healthcare spaces and recognizing the importance of the natural environment to patients and caregivers.
His healthcare work is characterized by expressive material and environmental responses to context. For a women and children's hospital in the Southwest, he proposed an undulating façade reminiscent of the wind-swept landscape.
Over the years, he's also moved into bigger, more comprehensive project roles. For the new 200,000-square-foot Mount Sinai Medical Center's Irma and Norman Braman Cancer Center in Miami Beach, a state-of-the-art cancer center scheduled for completion in fall 2025, he led site selection analysis and site orientation options. Additionally, he drove the exterior design work along with landscape design. He has become a trusted voice for the system's leadership, consistently helping them use new tools and design processes to address complex exterior design and sustainability issues.
For the University of Kansas Health Strawberry Hill Behavioral Health Hospital, in Kansas City, Kan., which converted a vacant government office building into a 48-bed inpatient hospital, Bhat sought to take significant advantage of the building's four-story central atrium to deliver access to daylight, nature, and views toward the city.
Currently, he's leading the design of an 18-story patient tower as part of BJC HealthCare's transformation to expand clinical programs and medical innovation for the next century. In shaping this project, Bhat has led the design of the tower's exterior and volumetric massing, redesigned the entry experience, and facilitated extensive design charrettes with executive leadership. Bhat has become a trusted partner, helping BJC rethink phasing and sustainable design solutions.
Bhat's compelling background in architecture, urban design, and landscape architecture informs his holistic approach to design. He believes embracing the landscape surrounding a building, no matter the scale, is one of the simplest, most natural ways to enhance the built environment and that providing access to nature in a healthcare space can improve outcomes for patients and provide workers with places of respite.
Path to healthcare design: My path to healthcare design was more a matter of happenstance than an intentional choice—I wanted to work in my hometown, and I wanted to work for the best firm there, so I ended up at CannonDesign. Our office in St. Louis isn't organized into studios based on discipline, which was a major draw for me when I joined, as I (still) believe it promotes lateral thinking and prevents burnout. I work across all sectors in our office, not just healthcare. As a designer, however, my approach to healthcare design isn't any different than my approach to any other project in any other sector—it's always centered around people, experience, and creating something beautiful.
Describe your design approach: I try to start with what makes a project unique—it may be the program, the site, the community—but the more I focus on what makes a project unique, the further I can move away from templated solutions.
On your desk now: I just finished work on the Mount Sinai Braman Cancer Center, which was a groundbreaking project for a multitude of reasons. It pushed our capacities in oncology planning, project documentation, and computational design to new horizons. For example, the precast spandrel units are highly sculptural sinusoidal forms that grow and shrink in height and depth as they wrap around the building.  As a result, they curve in 3-D. Our computational design leader wrote an algorithm, which, after many iterations and a lot of hard work, optimized the forms of the panels to maximize repetitions (which decreases the number of necessary concrete panel molds), while disguising the method so the building keeps its dynamic aesthetic. The tools built for that project have wide-reaching applications, and now we've got another design method in our arsenal. I'm also leading the design for a new allied sciences building for a higher education client.
Most rewarding project to date: A project I did in my hometown of St. Louis, a new 17-story bed tower for Barnes Jewish Hospital's main campus. The project will impact the skyline of the city along one of our major highways as well as the community and the urban fabric for generations to come. I have to mention the Braman Cancer Center, as well. The team worked so hard on that project, creating new tools and algorithms to design and deliver the client's vision for a landmark building.
What success means to you: Success is shared. We don't accomplish anything alone. Success is a collective outcome, and it opens the door to push and accomplish more, next time around.
Industry challenge on your radar: Finding ways to improve the downstream effects that the healthcare industry has on carbon emissions and our environment. Healthcare impacts an outsized proportion of the U.S. carbon footprint, compared to other sectors. Given the mission of our clients to improve the lives of patients and communities, I think we have a professional obligation to reconcile these conflicting points.
Must-have skill for healthcare designers today: I think as advancements in AI progress, expertise will be easily simulatable. From where I sit, the ability to weave together creativity, experience, and empathy into amazing design solutions is what we as human designers have to offer the world exclusively. I would advocate for less specialization and more agility in thinking as the best guarantor of success.
For more on the 2023 HCD Rising Stars, read here.